Happy Christmas from Natures Healing Home!
This year, I spent it in the Philippines with a fantastic couple Prescilla and Richard from Natures Healing Home and their family and friends. I wanted to share my Christmas with you, so here it is.
Most Christmases you will find me at work and then later on in the day, I will go to my parents and have a family Christmas dinner with them. But not this year. This is my second Christmas away in 32 years. My first being 8 years ago when I went to Hawaii.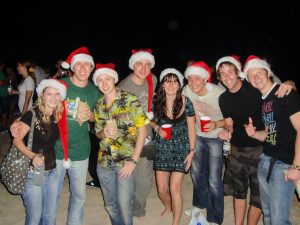 The day started at 7am after a great night before which involved a Christmas Eve feast, a bonfire with toasted marshmallows and chocolate bananas and live music in the way of a guitar and a recorder. Very retro, I hear you say. Does a recorder remind you of nails on a blackboard? Well the talented person behind this one could play the version of the Titanic theme tune which would make Leonardo DiCaprio never want to let go!
So at 7am, we start yoga as the sun slowly started to rise over the mountains in Natures Healing Home. This taught by Healer and Yogi, Prescilla. The twist to this was 3 minutes of dancing to a club hit classic, one of my favourite parts along with literally Laughing out Loud. Well laughter is the best form of medicine!
Following a large Filipino breakfast, we all headed to the truck. All 16 of us closely followed by the car which was packed also with the addition of two of the three dogs. So what do you sit on in the back of a truck? Well we had plastic chairs. What else do you need?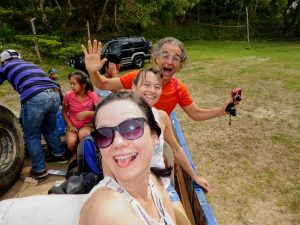 The journey down the mountain was slightly hair raising at times as the roads are windy and steep in places but there was an immense feeling of freedom alongside this.
San Fernando La Union City was a lot quieter than usual but still there were plenty of people going about their daily lives. The beach we went to was nearby so we were soon there once we got down the mountain.
Considering it was 10.30am on Christmas day morning, the beach was already busy with locals swimming and having picnics. We grabbed a table under a roof and left our stuff to go swimming. The feel of the warm sea on my skin felt amazing especially when I am used to being cold at Christmas.
The day passed quickly with a great lunch which had been packed back at Natures Healing Home and with the entertainment of some local children.
Along with a French couple, we had shoulder ride wars with the children in the sea, I was buried in the sand by them and I was also used as a life raft by a few smaller children who couldn't swim.
When we got back to Natures Healing Home, I was worn out. We arrived back just in time for sunset.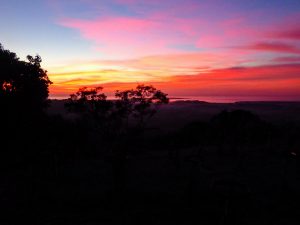 In the evening we went to a Sikh Temple to take part in their prayers. The Sikh Gurdwara welcomes people of all faiths. Prior to the service we ate bhaji (can't spell but like onion bhaji) and following the service we had one large communal meal. I didn't take any photographs during the service out of respect.
On entering the temple, we washed our hands and feet and covered our hair (both males and females). Our shoulders and legs also had to be covered and you sit separately, males and females. It was such a wonderful experience.
So this is how I spent Christmas this year in Natures Healing Home. How did you spend yours? Please comment below. Don't forget to subscribe (It's free!) to my blog for more  posts like this and interesting travel tips.
For more information about Natures Healing Home you can call them on +63 917 777 5138 or find their details here:
Want to get money off your first stay using AirBnB.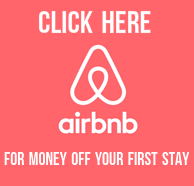 Disclaimer: This post contains an Airbnb affiliated link which means I also get travel credit when you use Airbnb for your first trip. However I would recommend Airbnb and use it frequency. All thoughts and recommendations in this post are my own.