We were riding out into the Sahara Desert as the sun was about to set. I clung on for dear life as the vigorous sway of the camel had left me leaning heavily to one side. Moody Mohammad seemed to be in a hurry, to much so to show any type of sympathy to this idiotic girl who couldn't stay on the camel for just 45 minutes. But who could have blamed him, it's Ramadan and it's time to break his fast. With each step he was closer to having a sip of water and some food which he had gone without since sunrise in the 40 degree heat.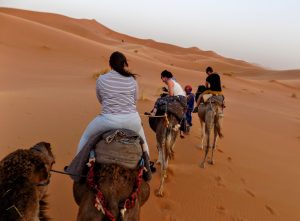 This trip started from Fès, Morocco's second largest city, which is full of history and charm. Fès is listed as a world heritage site and has some amazing sites to see such as the world's oldest university and its Medina, the world's largest car free zone.
From here, four of us travelled by air conditioned minivan towards Merzouga in the Sahara Desert. On the way we stopped at some beautiful places and when travelling in our comfortable vehicle, we shared stories and played games with our travel companions Holly and Mike, a couple from Liverpool, England.
The highlight of the first day was a place where we stopped as we travelled through the Middle and Higher Atlas mountains at Singe Magot near Azrou. Azrou is a Berber village in the middle of the cedar forest and home to the Barbary monkeys. Having met a few monkeys on my travels, I was well aware of the aggression that can be shown by these creatures when interacting with humans. But not here!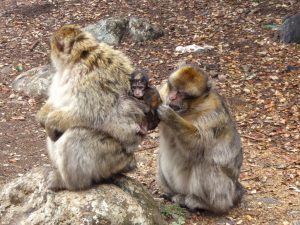 These placid creatures allowed you to approach them for great photo opportunities and to sit quietly with them, connecting with their instincts to care for one another. Mothers with very young babies allowed other adults to approach them and groom their young. Stray dogs sat amongst the troop. Acceptance was in the the air between these very different creatures and something that perhaps as humans we could learn from.
Moving on from here we experienced gorges and valleys within the barren landscape till we arrived in Merzouga on the edge of Erg Chebbi sand dunes some of which reached up to 350 meters high. Here we were met by Mohammad, our camel handler and got to experience the camel ride out into the desert. On most days, I am sure that Mohammad is the most relaxed, charming young Berber man. Berbers are known for their hospitality and patience but understandably, this time of day was not the best for Moody Mohammad. That said, his moodiness added to the enjoyment of the experience and is something that I can (less so for him) smile about.
As he walked off into the sunset over the dunes of the Sahara Desert, with a line of camels behind him with four giggling tourists experiencing camels for the first time, his mouth would have been gasping for water and his blood sugar running low.
After approx 45 minutes, I was pleased to see the tops of the tents we were staying in overnight as my bottom was getting sore. It led me to wonder how people spend several days riding out into the desert, perhaps they have memory foam cushions to sit on. The first thing we did when we arrived was to climb to the top of the nearest sand dune and watch the final bit of the sunset of the Sahara Desert for that day.
After a great meal at the camp, we were treated to Mohammad and friends playing the drums and singing to us. They had broken their fast and seemed to be in much better spirits. Apparently the drumming helped scare off unwanted roommates such as spiders and scorpions. However, I didn't feel that this was a problem in the well-built permanent tents. It even had a rather delightful toilet and sink. A lot of effort had been taken to make this a home from home. I was very impressed.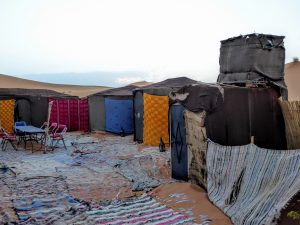 Day Two at the Sahara Desert
At 5.30am, we were woken with the option of watching the sun rise of the Sahara Desert from the sand dunes. As I walked up the nearest and highest sand dunes and felt the sand slide in between my toes, I thought to myself who else do I know that would be watching the sun rise over the red sands of the Sahara Desert today?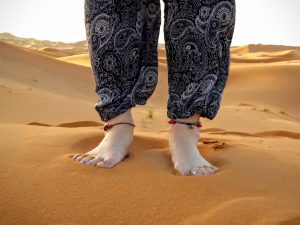 Life is just one big opportunity but only if you grab that chance. It would have been very easy to have stayed in bed but I would have been missing out on perhaps a once in a lifetime opportunity. As the moon set, the sun rose over a brand new day.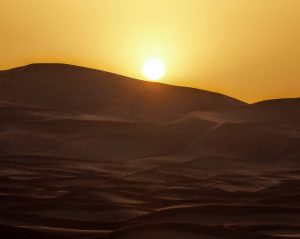 Before the sun got too hot, we rode the camels back to Merzouga where we had a wonderful breakfast and a shower to kick start another day. Today, we were travelling to Dades via some different gorges; however, the first stop was at a water well. You might think that this sounds pretty boring. Actually, along with the monkeys and the Sahara Desert, this was one of my highlights.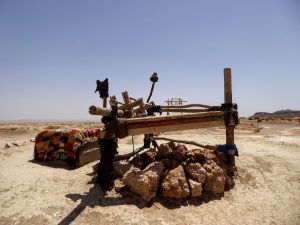 The first thing I noticed were lines of what looked like crater which were actually water wells. I couldn't understand why they would need so many wells next to each other but it turns out that these led to Khettaras which are underground tunnels which can be 100kms long.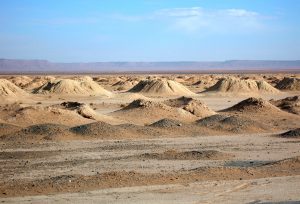 Our guide took us down for a small price of 10MAD (70p) and it was amazing. You could walk upright along them and they were used to tunnel water to local villages. The ones we visited had dried up and people often came down here during Ramadan to escape the heat of the sun.
Later, we had the opportunity to to walk through the Todra Gorge, the highest and narrowest gorge in Morocco. During the day, the local people come to spend Ramadan in the shade of the gorge, sleeping on mats on the ground and wading into the river.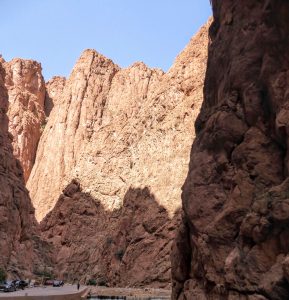 We also got to experience a rock formation in the Dades Valley known as the monkey toes. However to us it looked more like multiple 'parts of the male anatomy'.
I suppose when I really concentrated it could look like a monkeys toes.

>We stayed overnight in a little village called Dades, in a valley. As a group, we walked along the river and built a camp fire whilst on the edge of the river before returning back to the hotel. Everything is so peaceful here.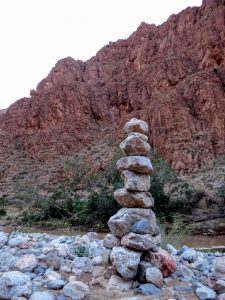 >On our final day, we headed towards Marrakesh via the thousand Kasbahs route where we climbed up to Ait Benhaddou, the oldest Kasbah in the south of Morocco. It is also well known for films such as The Mummy, Gladiator, Lawrence of Arabian and Game of Thrones being filmed here.

Here we came across a man painting with indigo, tea, saffron and water. Without doing anything to these paintings, it could be suggested that they look rather plain and boring, but once held over a naked flame they were transformed into works of art! Now it takes a lot of skill to use the correct amount of tea and heat to caramelise to to create the darker colours.

This picture was only £3.50. An absolute bargain considering the talent that it takes to make it.
Following an extremely travel sickness inducing drive through the spectacular Tizi Ntichka pass (don't forget your travel sickness tablets, sufferers) we arrived in Marrakesh at approx 5.30pm. Over the past few days we had spent a lot of our time in the van, air conditioned and spacious. However along the way we really had some fab experiences.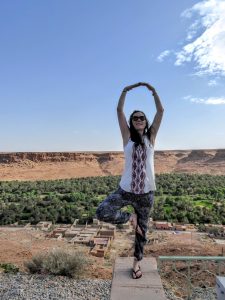 As it was Ramadan, tours were limited and this was a really good way of getting from Fez to Marrakesh whilst seeing some beautiful places on the way. However I was keen for the next few days to do everything by foot, which is something that can be achieved in Marakesh.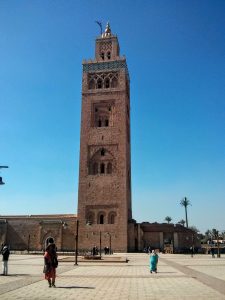 Please comment below if you have any questions or stories to share about Morocco or it you have any tips on the subject. Don't forget to subscribe (It's free!) to my blog for more  posts like this and interesting travel stories.
Below is some additional information that you need to know if you are thinking of undertaking a trip like this in Morocco.
1/ I booked this trip through the Sahara Desert Crew which costs approx 310Euros. There is a lot of time spent in the car on this trip so if you have more time then it might be best to pick a different one with more places to stop. However due to the distance covered (approx 1000 km) in a short time this is neccessary. The trip I took, "Fes to Marrakech via Sahara – 3 days" is a great way of making the journey between the two cities whilst seeing some other parts of Morocco.
2/ I would really recommend that you find out when Ramadan is and not to book any type of trip during this time. As the locals are not eating during the day, only touristy food places which are commonly low quality, high priced  are open for lunch.  Sahara Desert Crew chose places that will be enjoyed by their customers but understandably are severely limited during Ramadan.
3/ Make sure you take warm clothing with you as it can get very cold at night. I didn't find it to be too bad as it was the middle of the summer when I was there but most of the time I am told it is very cold.
4/ If you get travel sick then please do not forget your tablets. You will need them. Make sure you take plenty of things to do in the vehicle. As I can't read due to my sickness I found that my iPod and plenty of speaking games to play with my fellow passengers were adequate.
5/ Take plenty of water even on short walks – it's really hot!
6/ Dress respectfully. Remember the culture. Things you might just about get away with in Marrakesh are quite insulting and astonishing to people in small villages, not used to tourism.
7/ Tipping – Tipping is required if you enjoyed a good service. For a guide of 4 or less, tip 120MAD per day per person. For someone that provides a good service for a short amount of time, 30 – 50MAD (per couple) is reasonable. Tipping 5-10% for  a great meal is expected; but if you are not happy, a tip is not required. Expect to pay 10MAD if someone shows you back to your hotel if lost, but only if you want to be taken. Make it clear if you do not require them to take you. In Marrakesh Medina, find the wheelbarrow men who carry people's luggage to ask for directions. Another option is someone who has a shop; they can give directions but won't be able to leave their shop to go with you. Keeping spare coins in your pocket to avoid getting your purse out.
8/ Travelling around Morocco? Check out these backpackers itineraries for Morocco.