As a sea eagle circled above me carrying a sea snake in its talons, I breathed in the fresh sea air. I am hiking along the top of the sea cliff with amazing views all around. I feel like I am on a deserted island. However, this is not some island out in the wilds of the sea. I am sea breeze hiking in Goa with Adventure Breaks between two of  Goa's most northern beaches, and I'm heading towards Karma jungle. A place I have heard about from many a traveller.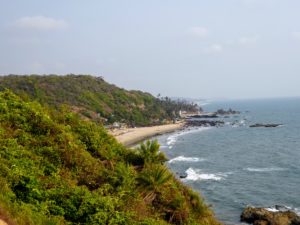 The afternoon of sea breeze hiking in Goa started on Keri Beach, Goa's most northern beach. Before heading up onto the cliff tops, along with my guide, we explored some sea caves at the far end of the beach. The sound of the crashing waves whistled through these naturally carved out caves.
Up on the cliff side with amazing views of the Arabian Sea, I saw many types of wildlife. The most interesting was the circling eagle with the sea snake being mocked by crows. I spent some time watching it as the warm salty sea air blew my hair as we hiked along the pass.
Soon we got to Kalacha Beach.  As there s no direct road to the beach, it wasn't packed with tourists like many other beaches in Goa. Not far from the crashing waves was a lovely lagoon called Sweet Lake. We swam in the tranquil waters surrounded by the hillside, listening to the crashing waves, safe in the knowledge that we were in the calm waters of the lake.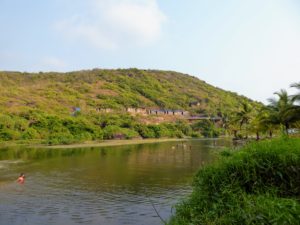 Next we entered Karma Jungle, a place that reminded me of the film 'The Beach' but the forest version.
Close to the entrance of Karma Jungle are many small pools where you can have a clay bath next to the stream. A few people were there giving themselves body masks as the clear water trickled past. The peace and tranquillity made this the perfect place to spend some time relaxing whilst listening to the birds singing in the trees.
Check out my Kayaking trip in Goa HERE
Further along the well worn  path surrounded by twisted vines, we came across a group of travellers who had set up camp. Oblivious to our presence they danced like fairies in the sun which filtered through the leaves. A steady stream of travellers high on life passed us as they walked towards the banyan tree where there is a resident baba.
After a climb up out of Karma Jungle, we arrived at Paliem plateau, a deserted grassland where you can get access to the road. Here Adventure Breaks can arrange a pick up, however we decided to trek back through the forest, across the beach and along the cliff top to our starting point for this sea breeze hiking in Goa.
On the way back I saw a beautiful sunset over the ocean which soothed my soul. With my spirits lifted, I sat with my guide on Keri beach enjoying an ice cold beer and breathing in the sea air.
This is not the typical Goan experience, but one of magic and mystery.
Do you like hiking? Have you ever tried sea breeze hiking in Goa? Please comment below. Don't forget to subscribe (It's free!) to my blog for more  posts like this and interesting travel tips.
Tips for Sea Breeze Hiking in Goa:
1/ I took this sea breeze hiking in Goa with Adventure Breaks. They can arrange for you to walk just one way or a return journey.
2/ You are best taking this tour in the morning when the weather is cooler.
3/ Make sure you take suntan lotion, sunglasses, your camera and something to swim in and a towel if you want to take a dip. I would recommend you wear longer trousers to avoid being scratched by thorns however I did manage to do it in shorts with little injury. Good walking shoes are a must.
4/ Check out other trips arranged by Adventure Breaks HERE.