On a warm sunny day in September, what more can you want, than to be sat up on top of the world, with buzzards circling above and eating a cheese and pickle sandwich. Breathing in the cool mountain air whilst looking out over the spectacular view with limestone cliffs, jutting out into the sky, I am sat on the edge of the PR-PNPE15 path in the Picos de Europa, Spain, which literally translates to the peaks of Europe. I can hear the soothing sounds of the cow bells, from the herd down in the valley below.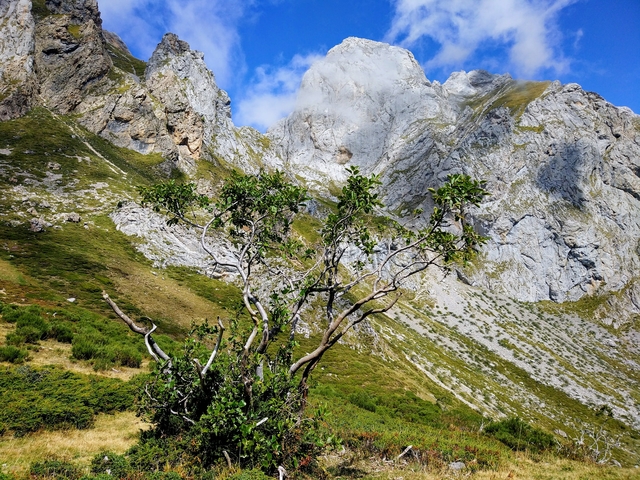 I hadn't really heard of Picos de Europa prior to being in Santander during my drive around Europe living and travelling by car. Imagine my surprise after travelling for nearly a year and only seeing my parents a handful of times when I visited home for a wedding, to hear that they were just a drive away from me in Picos de Europa , Spain. There is nothing more that my parents love, than to hike and they had taken this trip to do just this, walk for two weeks in the Picos de Europa. So of course, I drove there to meet them.
Our day together started by the side of the road in nearby Portilla de la Reina where I had slept over night. We drove through the mountain roads to Prada, near the village of Posada de Valdeon where there is a great place to park on the roadside. Here we were joined by a dog, a gentle giant who walked the trail with us.
We followed the PR-PNPE15 towards the village of Fuente De in the next valley. It climbed steeply up a track surrounded by trees which quite quickly opened out onto pasture land giving amazing views of part of the Picos de Europa National Park. From here the track is well marked with the yellow and white markers.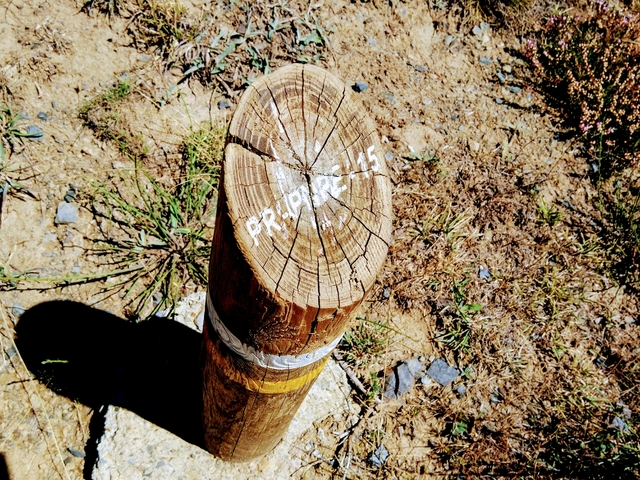 From an elevated position there is also a handy overnight hut where you can take your own sleeping bags and mats. It would make for a beautiful night's open fire cooking under the stars and an amazing sunrise and set. From here the track bares to the right, so make sure you check the rocks on the grounds to find the markers. When we were hiking there were lots of autumn crocus in bloom, making a beautiful purple blanket.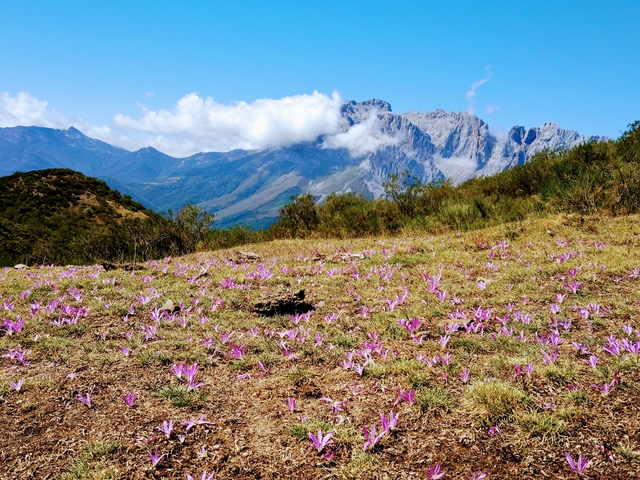 We hiked as far as the track branching off to Vega de Liordes and then up slightly higher to get even better views. We sat for a while, watching all the birds of prey circling before retracing our steps back down towards Posada de Valdeon.
As you can see Picos de Europa National Park in Northern Spain is truly an unspoilt area. With its dramatic rocky peaks, it is home to many species which are unaffected by tourism. There have been sightings of brown bears and wolves in the remote regions. Eagles, vultures and buzzards are regularly seen in the sky observing their prey. As you wander through the more inhabited areas, the chiming of the cow bells, echo across the mountainside
Tips for hiking the PR-PNPE15 path near Prada in the Picos de Europa:
1/ Be prepared for sudden changes in the weather. Do not start the walk if there is risk of fog or snow as the conditions on top can change very fast and visibility would be poor.
2/ The path is well marked with signs and painted marks on rocks, but you need to pay attention so as not to lose the trail.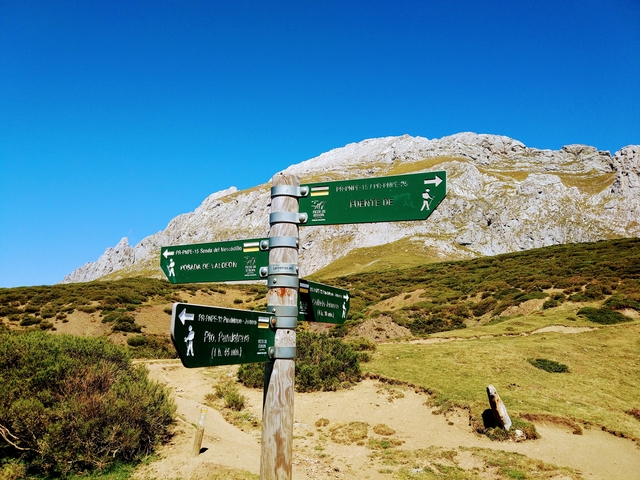 3/ Make sure you have the correct walking shoes. You need good strong walking boots.
4/ Make sure you carry enough water.
5/ Make sure that you have sun protection. The sun is very strong even in September.
6/ There is road side parking here. Try and get there early before it goes in the summer holiday months.
Places to stay close to the PR-PNPE15 path near Prada in the Picos de Europa:
Just a short drive of about 30 minutes away there is lovely hotel which price includes breakfast where my parents stayed called Hotel San Glorio in Llanaves de la Reina. They have stayed a couple of times and highly recommend it as it is a friendly hotel full of character.
Alternatively there is accomodation for all budgets in Posada de Valdeon including a campervan parking area for a small fee.
So there you have it, my experience of  hiking the PR-PNPE15  path in the Picos de Europa  in Spain. Have you been? Where in the world is your favourite walk? Comment below.  Make sure you check out my other posts on Spain and don't forget you can subscribe to my blog (It's free!) to keep updated each fortnight with what I am doing and for more posts like this one.

Just a note to say:
Have you noticed I do not have intrusive adverts on my page making the site run slow for you, or that interrupt your reading. This is because I want to make your reading experience as pleasant as possible. Writing blog posts isn't as easy as it looks. I spend a long time making sure I give you correct information about places, edit the posts so they read well and then add the edited photos I have taken or add the google maps location. I do this as I love to travel and love helping other people to travel. If you enjoyed what you have read then there are other ways you can support me as a travel blogger other than putting up with annoying adverts:
You could buy me a coffee
Use the links on my sources page which are affiliates.
– Head over to Amazon to buy some products using this link .
– Looking for website hosting? Take a look at Bluehost using this link.
– Need to book some accommodation then check out Booking.com and Skyscanner for flights, check them out using this link.
Thank you for your support.