High in the tree tops, I walked along the rope bridge being at one with nature. Through the gaps in the trees I could hear the birds tweeting, see the greenery of the leaves against the bright blue sky and the tops of skyscrapers. I'm in KL Forest Eco Park in the Heart of Kuala Lumpur in 9.3 hectares of forest where the rope walkways stretch between the trees.
Some of the trees here are a few hundred years old and have survived war, logging and being surrounded by 1.7 million people. KL Forest Eco Park is a haven of original species that used to cover this area before the building of Kuala Lumpur.
Found at the base of the KL tower, the rope bridges connecting the platforms in the trees are a surprising find. And what is even more surprising is that it is free!
There are several different nature trails within the area as well as the rope walkway and it is the perfect opportunity to take a little break from the hustle and bustle of the city.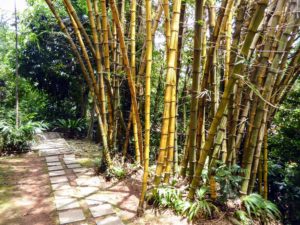 Tips for Visiting KL Forest Eco Park
1/ To get to the KL Forest Eco Park take the Rapid LRT till Dang Wangi LRT Station. From here take the overhead bridge across Jalan Ampang right in front of the station towards Monorail Bukit Nanas Station. In a short distance you will see the entrance to KL Forest Eco Park.
2/ No need for sturdy shoes. I walked in flipflops. The structure is well built.
3/ I wouldn't head here if it is raining due to mosquitos, snakes and spiders. There are signs warning of this.
Have you ever done anything like this? Would you visit the KL Forest Eco Park? Please comment below. Don't forget to subscribe (It's free!) to my blog for more  posts like this and interesting travel tips.