What more can you need than soaking in Tekapo Hot Springs after a very cold overnight hike to Mt. Cook National Park, New Zealand's South Island. Tekapo Hot Springs certainly took the chill and the ache out of my body and left me feeling so much more alive. So this is why I really recommend a visit to Tekapo Hot Springs which is found at the base of Mt. John at Lake Tekapo, New Zealand.

Tekapo Springs is in such a scenic location with a lake, mountain and forest view. It is on the main tourist route to Mount Cook National Park and is a perfect place for a stop off. I decided to head there after climbing up to Mueller Hut which proved to be a very cold night. However after sitting out in the cold to watch an incredible sunrise, I knew that I had to continue to make the day as amazing as it was.
Tekapo Hot Springs has three hot pools ranging from 36 – 38.5°C as well as a steam room and sauna. The ordinary ticket gives you use of the three hot pools but I also had access to the steam room and sauna which, in my opinion, is well worth the extra cost. They also have a day spa where you can find a range of treatments.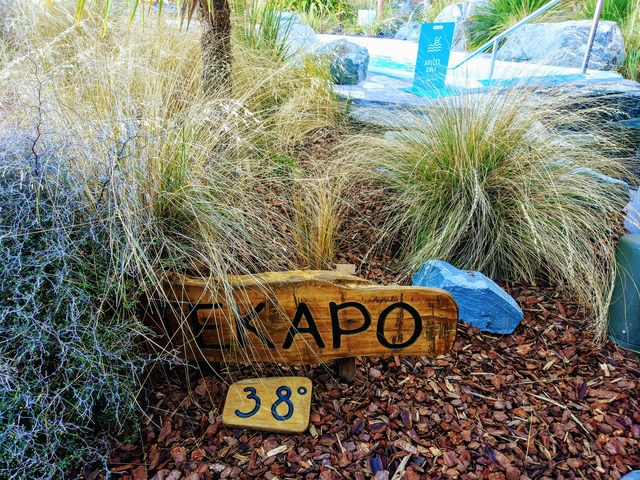 Following a well earned relax in the pools, I had a yummy chai latte in the cafe there whilst taking in the great views of the surroundings at the base of Mount John and Lake Tekapo. You are able to sit inside or outside the cafe and they also have wifi so that I could make contact with family and friends back at home.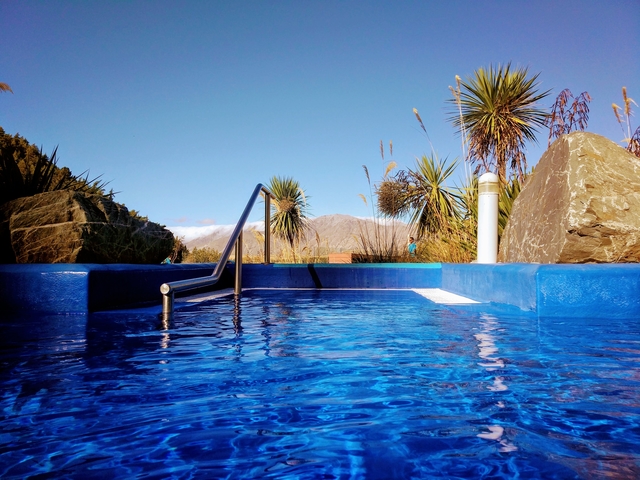 So if you are in the area or are planning a trip to New Zealand's South Island then I highly recommend Tekapo Hot Springs. It is just a 3-hour drive from Christchurch and Queenstown and on the scenic drive route to Mt. Cook National Park.
Things to know about Tekapo Hot Springs:
1/ Tekapo Hot Springs is open 364 days a year.
2/ It is located on Highway 8 between Christchurch and Queenstown.
3/ Swimming costumes and towels can be hired from Tekapo Springs.
4/ Lifeguards are on duty at all times around the hot springs.
5/ The warmest hot pool is an adult-only pool so you can relax in peace without being disturbed by children. They also have a children's play pool.
6/ You can find out more about Tekapo Springs prices here.
How to get to Tekapo hot Springs:
Unfortunately, there are no local airports near Tekapo Hot Springs so the only way to get there is by road. It is located in the middle of the South Island of New Zealand, therefore the nearest airports are Queenstown and Christchurch. It is a 3 hour drive from both Christchurch and Queenstown and just a 1.5 hour drive to Aoraki/Mt. Cook. Once you are in Tekapo town centre, Tekapo Hot Springs run a free return shuttle bus.
Tekapo Springs has three shuttles providing free return transfers to the Tekapo town centre and local hotels. Additionally, The Cook Connection operates a daily return bus service between Tekapo, Twizel and Aoraki/Mt Cook.
Other things that Tekapo Hot Springs have to offer:
1/ The Mackenzie Region is well known for its incredible night sky as it is a dark sky reserve. Tekapo Hot Springs offer stargazing tours where you get to explore the night sky with expert guides and then lie back in the Hot Springs to soak in the amazing display above.
2/ Tekapo Hot Springs also opens an ice skating rink from April until September. Here you can also try your hand at Ice hockey.
3/ As previously mentioned they also have a day spa where you can get the ultimate treatment for yourself and your loved ones.
Disclaimer: Tekapo Springs hosted me during this experience however all of my thoughts about this trip are my own and real.