Luckily, I have been blessed with the ability to talk to anyone.  Hence, I don't seem to have problems making new friends or making friends whilst travelling. However, not everyone is like this and I thought I would write a post about some of the ways I make friends whilst travelling.
Stay in hostels.
Hostels are a great way of meeting new people and making friends whilst traveling. You can just spend one day or plan several days together. Most people only stay in hostels if they are sociable people. Introduce yourself to your room mates. Ask them what they are doing that evening or if they would like to go out for something to eat. The likelihood is that if they have been there for a day or two, they will have made other friends and therefore can introduce you to other people.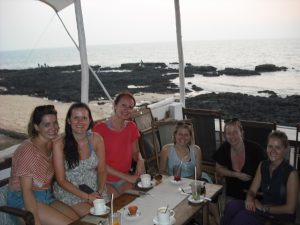 Some hostels also have activities organised such as day trips, pub crawls or social evenings. This is another great way of meeting people.
Taking a walking tour.
A lot of major cities around the world have free walking tours. The guides always encourage the attendees to talk to each other. I always come away having made new friends to meet up with over the next few days. If there are not any free walking tours in the area then most paid tour will have the same effect. Anywhere where a big group of people gather and speak to each other will give you opportunity for making friends whilst travelling.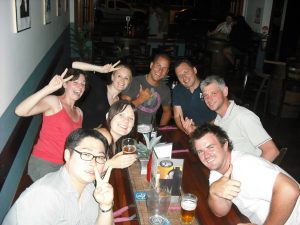 Couchsurfing.
I absolutely love Couchsurfing. It is a website to connect like-minded people. It is known mostly as a way for you to stay at peoples' homes not for money but for cultural and social experiences.  
However,it is not only used for accommodation  – you can also request to meet people via the website. Perhaps meet for a coffee and a bit of sightseeing with a local. Perhaps, spend the day sight seeing with another tourist. You can also use the events section of the website to attend an event through Couchsurfing.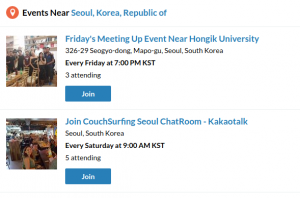 There are all sorts of events all around the world from Couchsurfing meetups, attending festivals, open mic nights to language exchanges. I have been making friends whilst travelling through Couchsurfing.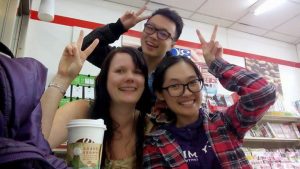 Advertise.
If you are going to be in a city for a while and have a particular hobby that you enjoy why don't you advertise for a buddy to do this with?  One of my friends made a great friend through Gumtree when he answered an ad from a girl looking for a badminton partner. Look for notice boards for that city on the web and post on those. Advertise in a coffee shop that travellers tend to go to.
Tinder.
I have not done this personally but I met a girl who was travelling and making friends by using Tinder. "Tinder!" I hear you say. . . as in the dating app. Yes! She wrote on it that she was looking for friendships only, someone to spend time with on her travels and see the local sites and started swiping right! She reaffirmed when talking to the guy that she was looking for people to hang out with for friendships only and ended up meeting so many great people. As it works by location she got to meet local and other travellers. She swears by this app.
Other times.
I find that whenever you are sharing an experience with a group of people, there are always opportunities to make friends. Whether it is sitting on a train, taking a long distance bus journey to waiting in line to buy a coffee. Talk to people, compliment them or even just asking them where they are from can initiate a conversation. What have you got to lose? You are never going to see them again if you don't manage to make friends with them or find that they are not the type of person you want to be friends with.
I have made friends just walking down the street and local people asking me where I am from. This can lead to unique experiences such as one I had in South Korea where I attended a cultural celebration after speaking to two girls for 10 minutes on the street.
But most importantly, stay safe. If you make a new friend, tell someone where you are going.  Unfortunately you cannot trust everyone in this world so therefore listen to your intuition. I have never had a bad experience yet when making friends and hope that there will never be that one time.
Please comment below if you have any other tips on making friends whilst travelling and don't forget to subscribe (It's free!) to my blog for more  posts like this and interesting travel stories.