(The following is a guest post by Kate the Great, from Elysianmoment blog)
Antwerp, is the second largest city in Belgium and has many proud sights to offer. But you've probably heard about this pocket-sized city from the movie "Snatch" or you just have good geographical knowledge. Nevertheless Antwerp is famous for a variety of things like the great painter Rubens, fashion and popular design schools, it's harbour and last but not least a girl's best friends, diamonds. Architecture is another aspect that makes this little metropolis so special. Most of the structures were built during the medieval times but you can also discover impressive Art Nouveau creations or even varied modern complexes.
Antwerp is a small and cosy Belgian city and one day will be enough to explore it's astonishing treasures. It's also typical for travellers who are exploring Belgium to stay in every city just one day. So don't hesitate to do the same!
The magnificent Central Station
The best way to start your day trip to Antwerp is to arrive at the Central Station by train. The reason is, you will arrive in the most terrific Central Station worldwide. It's beauty is unique and it's difficult to claim one particular architectural style on it, because it was built and then rebuilt in different centuries. It has influences of 19th century and modern time. One fact is sure, it's not just a train station where you use standard public transport but a magnificent work of art.

Shop 'till you drop
Modest Antwerp is also an international fashion capital. It may not seem like this from the beginning but when you reach the shopping street Meir, you will realise, it's a little paradise for fashionistas. You will definitely find something that will match to your individual style. If you want to keep your wallet safe and your intention to refill your knowledge box, then I have good news for you. Ruben's House is located directly on the Meir street. You do have fashion in your veins? Then step by MoMu, the museum of fashion.
Tip: Visit Antwerp in the last week of the month. On the last Wednesday all museums are gratis, so you can spend this money on a Belgian delicacy, waffles!
Stroll through the Old Town
Antwerp's Old Town is a historical pearl and the heart of the town. Start your exploring tour from the amazing square surrounded by various restaurants, Groenplaats. Or take a seat on one of the benches and enjoy the view of the majestic gothic Cathedral of Our Lady. It's the largest church in Belgium, that survived through the centuries and nowadays presenting it's glory inside and out. The finest masterpieces are displayed on the walls of the Cathedral. Furthermore you can observe the remaining works of Rubens.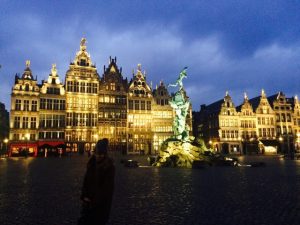 Be curious and go through the narrow streets of Old Town. So you can discover Antwerp's Grote Markt with the splendid town hall and the imposing statue of Brabo, the symbol of Antwerp. It's also an ideal spot to have a cold Belgian beer or to savour a delicious meal.
The maritime part of Antwerp, harbour
Antwerp has been the most important European industrial port since the 15th century, because of it's perfect location. It's also Europe's third largest sea-port. Immerse yourself into the maritime atmosphere and enjoy the calm moment in one of the cafés. My recommendation is Pelican Rouge, it offers great service and delightful coffee in all kinds of variations. Ideal to charge your batteries for further sightseeing, like the tremendous modern MAS museum. Doubtlessly you need to get to the top of the red-brick-architecture and experience the panoramic view of the city. Let's meet the sunset in the South!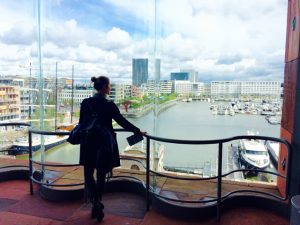 After a long touristic day, it's time to relax and interfere with the locals. The ideal area for this is the young and vivid district in the South with numerous exhibitions, cool cafés and good restaurants. Marnix Square with it's fascinating statue of Neptune, which is located in the South. It's a place where you can observe artistic folks, enjoy your drink and have nice conversations until the sun rises!
Have you seen the Antwerp? What do you recommend doing? Any other must see things to do? Let me know in the comments below, and follow Elysianmoment for more travel and incredible foods  from around the world!
Kate is the adventurous and enthusiastic girl, who runs travel and food blog Elysianmoment.
Kate the Great was born in Russia, finished high school in Germany, studied in Austria, worked in Australia, lived in Belgium and now she moved to New Zealand. This adventurous and enthusiastic girl, has a lifestyle of a nomad, which explains her affinity for travelling. Kate discovered her passion for literature when she was a teenager but her studies of publicity and science of communication emphasised her deep interest for writing.
Connect with her on social media Instagram  | Pinterest | Twitter