As the paddle cuts through the clear blue sea, I glance down to see a penguin swimming through the waves. And that is not the only wonder of the sea that I will see today as seals, a stingray and many a sea bird make an appearance. I am sea kayaking in the Abel Tasman National Park on a beautiful sunny day.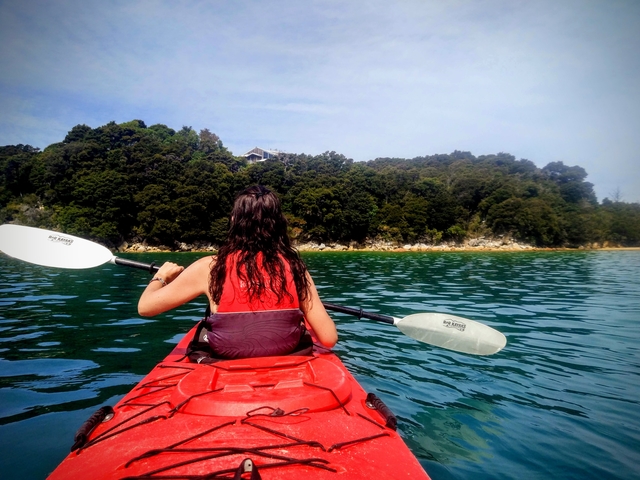 I am in New Zealand and have 4 months to kill on the South Island. I am travelling around with my childhood friend Izzie and have already been on lots of hikes. We knew we wanted to explore the Abel Tasman National Park but wanted to do it in a way that was slightly different from the normal Abel Tasman Coast Track. After doing a little bit of research, I found a small family run business which had a lot to offer, R&R Kayaks.
We went on their Earth, Sea, Sail trip which incorporated a hike, kayaking and then turning the kayak into a sailboat using a large sail. Unfortunately there wasn't a hint of wind when we went out, however, kayaking across the bay we were going to sail across was still so enjoyable. We chose this trip as it incorporated a hike and the kayak. There are many other different types of trips but as my friend had already hiked part of the Abel Tasman coastal track, we wanted to start a little further along the coastline
The day started at R&R Kayaks in Motueka. Here we met our guide Jake who is a local and very knowledgeable about the area. He gave us a short briefing before we headed out on an Abel Tasman AquaTaxi to Torrent Bay.
From here, with great prior instructions from Jake, we did an 8 km self-guided hike to Bark Bay. This hike was very scenic, with the trees parting to amazing views and tracks down to deserted beaches. We crossed Falls River Swing Bridge and there was plenty of time to take a quick dip before setting off walking again.
At Barks Bay, we met with the rest of the tour and had a delicious lunch. I have to say it was one of the nicest sandwiches I have ever eaten with unlimited juice, tea and coffee and of course a sweet treat at the end.
After a quick dip, we headed off in the sea kayaks, along the granite coast listening to tales and facts about the area. Here we saw penguins, a stingray and headed into lagoons and rivers. I felt like I learnt so much about the area and about nature from Jake. Everyone in our small group found the information so interesting.
The true highlight of the trip for me was visiting the seal colony island. To be respectful to the resting seals, you are restricted by how close you can get although some playful seals swam very near to the kayaks and you were easily able to view the basking seals on the rocks and many young pups.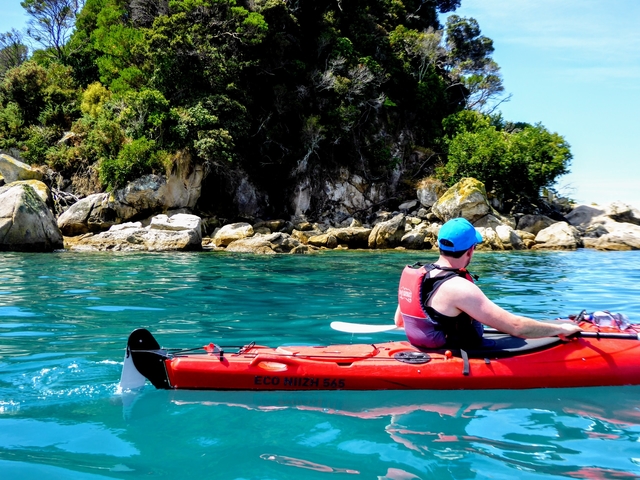 The large bay we were meant to sail across was a breeze to kayak over due to the still sea air. We all paddled together and listened to Jake's tales and legends. He pointed out a hostel which is a boat and many different types of birds. As we pulled into Anchorage Bay, we had time for another quick dip before heading back to Motueka on the water taxi.
If you are in the area of Abel Tasman, in the north of New Zealand's South Island, then I recommend taking this trip. R&R Kayaks is truly "a small company with a big heart".
Things to know about your Abel Tasman kayak tour with R&R Kayaks:
1/ R&R Kayaks have high-quality equipment and a great standard of safety.
2/ They have two warm showers back at their base and Wifi so great for anyone travelling on a budget in the Abel Tasman.
3/ R&R Kayaks make the most incredible lunches and cater for vegetarians and vegans.
4/ R&R Kayaks offer a range of different Abel Tasman kayak tours from ½ a day to multi-day.
Information on R&R Kayaks Earth, Sea, Sail trip:
1/ Cost at the time of writing is NZ$190 per person.
2/ There is some walking but this is not too tough. However a general level of fitness is required for the trip. The walk is from Torrent Bay to Bark Bay and then you kayak, Abel Tasman from Bark Bay to Anchorage.
3/ You will need to take two water taxi rides on this trip but it does get you further out into the National Park.
4/ Check-in is at 8.30am.
5/ The group size is small compared to a lot of trips. The maximum group size is 8 people, however you can request larger groups.
6/ R&R Kayaks provide bus transport from Nelson which costs NZ$30.
7/ Lunch is optional and costs a very reasonable $15. It is well worth it even for those travelling in the Abel Tasman on a budget.
What to bring on your Abel Tasman kayak tour:
water bottle
sunscreen
a hat to protect you from the sun,
insect repellent
swimsuit or fast drying clothing
a warm jacket as it is cooler on the ocean
change of clothes
towel
shoes adequate for walking in
your camera. (This can be sealed in a waterproof bag whilst in the kayak)
Disclaimer: I was hosted kindly by R&R Kayaks on this tour but as always my opinions are my own.