Imagine taking a scenic boat ride for 20 minutes across a beautiful bay as your daily commute. Well this is what some of the locals in Santander, Spain do each day. However, along with them are tourists who want a wonderful day trip to Somo and, of course, the pilgrims walking the Santiago de Compostela which crosses Northern Spain. And all this for a bargain 5 Euros, return ticket. Great for budget travellers.
I started my day with a scenic walk along the seafront of Santander, a city in the Cantabria region of Spain. I highly recommend you take your time and sit, breathing in the sea air and watching the array of people passing here; tourists, locals and workers grabbing a bit of fresh air before heading back inside. I was extra lucky as I sat with my feet hanging over the edge and watched a cute golden retriever dog jump in and out of the water after its toy.
Quite near the Renzo Piano's Centro Botín art gallery is the ticket office of the Los Regina ferry, the ferry from Santander to Somo. Somo is known for Playa de Somo y Loredo with a beautiful golden beach which stretches as far as the eye can see. Here you can wander along the the beach, swim, sunbathe, surf and even birdwatch.
It was only a short wait for the ferry which runs daily between Estaciόn Marίtima Los Reginas and Playa de Somo y Loredo. On the ferry to Somo, you have the choice of sitting inside or out. I recommend outside as you get to see so much more. It was lovely to have the sea wind in my hair and see the sea birds flying alongside the boat. Make sure that you also turn around to see the view of Santander, disappearing behind you.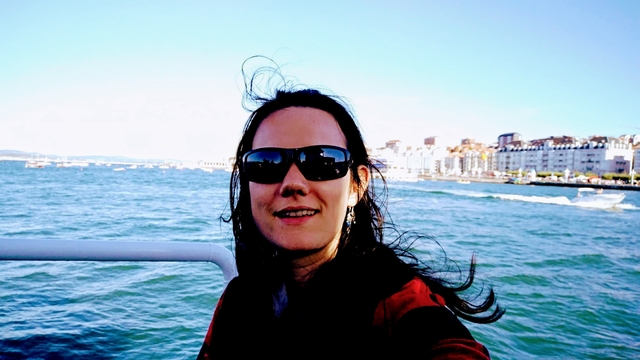 In 20 minutes I was dropped off at the town side of the Playa de Somo y Loredo, with views back across the bay to Santander. This is perfect if you want to explore the area of Somo or if you want to head straight to the beach. I ended up taking a walk along the full length of Playa de Somo y Loredo and stopped a few times to let the cool Atlantic Ocean wash the sand out from between my toes.
There are sporadic places along the beach where you can stop for a drink and a bite to eat – the squid is highly recommended here but this can be pricey for the good quality squid so might be a little too much when travelling on a budget. There are several highly regarded surf clubs around here as well as SUP (stand up paddle boarding). Due to my schedule, I made this trip in the afternoon. I had a good couple of hours of wandering along the beach and time for a few beach cocktails before heading back for the last boat, the 9.15pm ferry, as the sun sets across the sky.
Things to know:
1. In Santander you catch the ferry from Estaciόn Marίtima Los Reginas (Paseo de Pereda).
2. You can see the full list of ferry times on the Los Regina's ferry website here.
3. The ferry costs: €2.70 one way and €4.85 for a return trip. It takes between 20-30 mins.
4. Somo Beach is only 20 minutes from Santander Airport. There is a large surfing vibe here so it might be nicer to base yourself here and get the ferry into Santander to explore the city.
Getting to Santander in Spain.
Ferry:
Brittany Ferries sails from Plymouth and Portsmouth to Santander.
Flights.
A few airlines fly to Santander. I recommend you check Skyscanner for a budget flight from your local airport. Additionally, Ryanair flies to Santander from London Stansted and Edinburgh (April to October). Alternatively, you can get a flight to Bilbao airport where you can hire a car and drive to Santander.
Where to stay in Santander Spain.
You have two choices really. You can either stay in the city of Santander to get your city fix, or in Somo which has a more surfer/hipster chilled out vibe. It depends what type of trip you are looking for. Seeing as the ferry to and from Somo is budget friendly, it makes transportation from Somo to Santander easy. I have some suggestions for you to cover all price ranges.
Budget:
Don't forget to take a look on CouchSurfing in plenty of time before your trip and see if there is someone who is willing to host you. Safety is of importance so check out my post on how to stay safe whilst Couchsurfing.
Airbnb is great for finding places to stay on all budgets. You can either rent a room in a shared house or find an apartment to yourself. Don't forget to use my link to get money off your first Airbnb stay.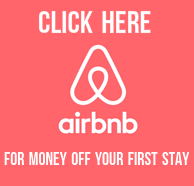 A good budget option for Santander is Hostel de las Facultades. It has good reviews and is a great options for solo travelers. It even has free parking and is located close to the University area of town.
In Somo check out SURFtoLIVE House which has beds in dormitories. It has good reviews and includes a free breakfast. Great for a budget traveller
Mid range:
Again check out Airbnb where you can pick up a beautiful apartment for not too much damage to your purse strings. Alternatively check out Le Petit Boutique Hotel which offers nice accommodation for mid-range prices and has great reviews.
Alternatively over in Somo, check out Hotel Torres de Somo which has free parking, friendly staff and good reviews.
Luxury:
For those who are looking for something a little bit extra special, I suggest the Gran Hotel Sardinero. With consistently great reviews and a superb location, and is one of the best rated hotels in Santander.
Over in Somo check out this penthouse apartment at Apartamento Carmen Somo. It has fantastic reviews.
So there you have it, everything you need to know about the ferry from Santander to Somo in Spain. Have you been to Santander before? If not, would you like to go? Have you been on a great scenic boat ride in a city before? And don't forget you can subscribe to my blog (It's free!) to keep updated each fortnight with what I am doing and for more posts like this one.
Just a note to say:
Have you noticed I do not have intrusive adverts on my page making the site run slow for you, or that interrupt your reading. This is because I want to make your reading experience as pleasant as possible. Writing blog posts isn't as easy as it looks. I spend a long time making sure I give you correct information about places, edit the posts so they read well and then add the edited photos I have taken or add the google maps location. I do this as I love to travel and love helping other people to travel. If you enjoyed what you have read then there are other ways you can support me as a travel blogger other than putting up with annoying adverts:
You could buy me a coffee
Use the links on my sources page which are affiliates.
– Head over to Amazon to buy some products using this link .
– Looking for website hosting? Take a look at Bluehost using this link.
– Need to book some accommodation then check out Booking.com and Skyscanner for flights, check them out using this link.
Thank you for your support.