I always feel lucky when I come across a hidden gem of an experience. This happened to me in Seoul when I was wandering around the Gwanhun-dong region. We came across the Templestay Information Centre which was advertising free cultural experiences that lets you be crafty in Seoul.
We thought to ourselves, why not? It's cold and it looks warm in there. After all, it's free. Read about my experience about being culturally crafty in Seoul.
First of all, we had had a tea tasting lesson. Here, a buddhist monk showed us how to warm the green tea leaves over a candle before adding the hot water. The smell was amazing and you could feel it in the pit of your stomach.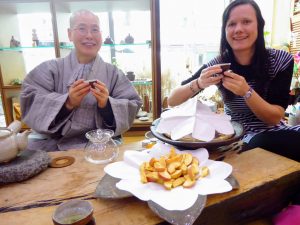 Whilst we waited for the leaves to infuse we got to try injeolmi. This is a chewy mugwort tteok coated with soybean powder. It is made by steaming and pounding rice flour and is really chewy and sweet. Following this, we had semi-dried apple slices.
Tea ceremonies are used for important occasions such as birthdays, anniversaries and also a way of meditation. You sit at a low table with the other guests on one side and the host on the other. They carry out the whole tea ceremony and even clean the teaware as part of the ceremony.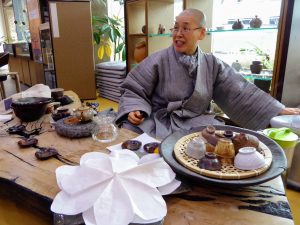 After finishing our tea we decided to try our hand at Lotus flower making, which is a form of meditation. A really kind lady called Yeonok Lee talked us through step by step on how to make this beautiful creation. She was so patient with us helping us every step of the way. She also shared some food with us as she could see we were hungry as we had previously been at the demonstration supporting the Comfort Women of Seoul.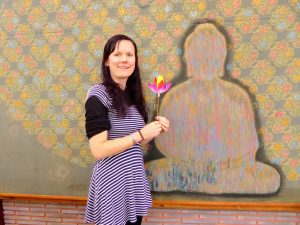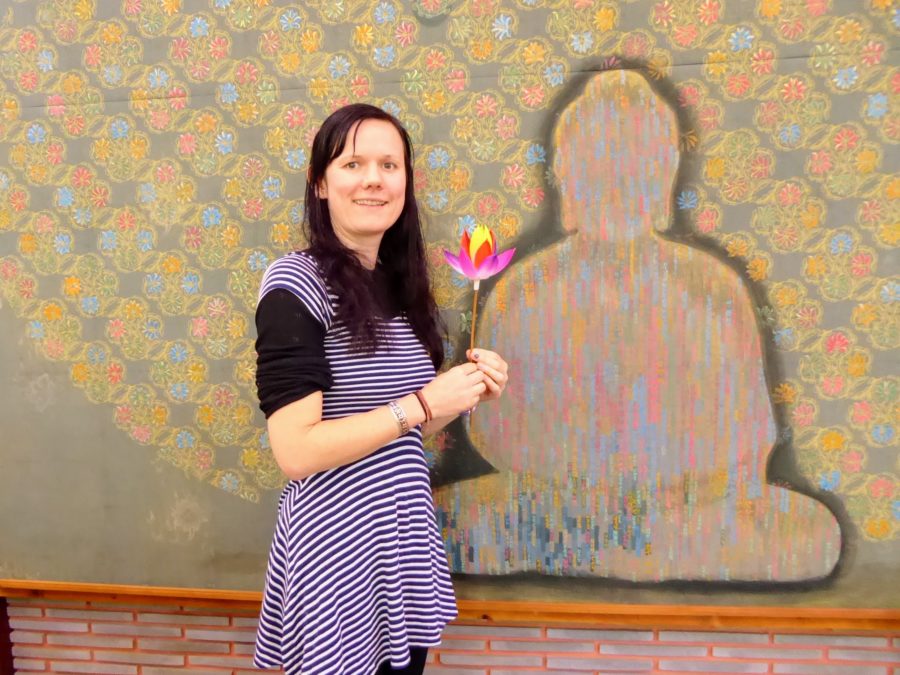 It was a delicate process after the hard decision of choosing what colour petals we were going to use. Pinching the petals and gluing it onto the fine stems.
However, it was worth the time as our final creations were revealed!
Other activities were available such as wood block printing and colouring. Thus, anyone interested on getting crafty in Seoul would have plenty of options available. However, we felt that we should get on our way and explore more of Seoul.
And the price of all this. Absolutely free! No intense asking for donations. Just a voluntary donation pot sat quietly on the table.
At the end of the experience, we thanked Yeonok for her kindness. We were touched when she said that she felt like we were her family.
The Templestay Information Centre is great for giving details on different temples throughout Korea which allow tourists to stay in them. Their advice is free and they will help you book your stay or give you the information for free. That's a bonus on top of the experience to get crafty in Seoul.
Upstairs, there is a Buddhist restaurant which we were taken to by a Korean friend a few nights later by chance. Here everything served is vegetarian and you can help yourself to unlimited side dishes of different types of vegetables with your vegetarian main course. The food was so good here and I came away feeling very satisfied.
I would really recommend you visit the Templestay Information Centre. You can find it opposite Jogyesa Temple on Ujeongguk-ro Street near Jonggak Station (subway line 1) and Anguk Station (Subway line 3).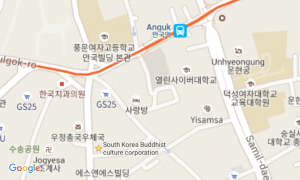 You can contact them by telephone: +82-2-2031-2000 or email: support@templestay.com. Find them on facebook HERE.
Have you been to Seoul? Do you have other ideas on how to get crafty in Seoul? Please comment below. Don't forget to subscribe (It's free!) to my blog for more  posts like this and interesting travel tips.