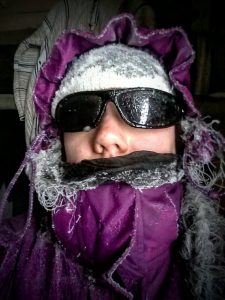 My hair was frozen, my sunglasses were attached to my face with ice, and my fingers! What fingers? I couldn't feel them. The view was none existent, in fact I could only just see my guide who was a metre in front as we trudged down Toubkal.
It was a complete white out!

After spending a week in Morocco, having spent the majority of my time in Essaouira by the coast, I decided to delay the hustle and bustle of Marrakech for a little longer and challenge myself to climb Toubkal, the highest mountain in Northern Africa. Standing at 4167 metres, it's recommended that you summit Toubkal over two days. I choose the day of the summit to coincide with the year anniversary of the death of my beloved dog, Leon.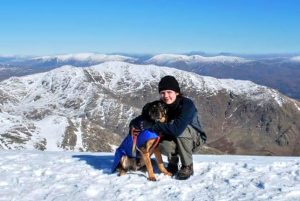 As a keen walker, being used to altitude walking and always one for a challenge, there was not a doubt in my mind that sumiting Toubkal was going to be successful.
The weather conditions were perfect, and extraordinary for the time of  year of February, there was practically no snow on Toubkal. We were late leaving Imlil due to starting an overnight trek the day before and only arriving back that morning. A walk which was a lot less challenging to Tizi-n-Mzig with a guide to a Berber village where we ate our home cooked evening meal  in tradition attire next to a wonderful open fire.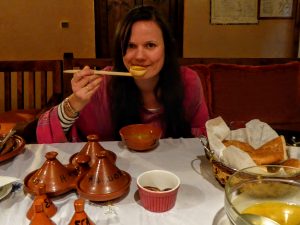 This trek gives you a true sense of the area around Toubkal and the Berber hospitality without the high altitude walk. One could argue that resting prior to climbing Toubkal would have been sensible; however, always wanting to live life to the max, this isn't me.
We were met by our guide and our overnight bag packed on the mule.  Mules are the only way to get items up Toubkal, other than on your back to the overnight refuge. However, packing light and going with a good company ensures the good treatment of these gentle creatures.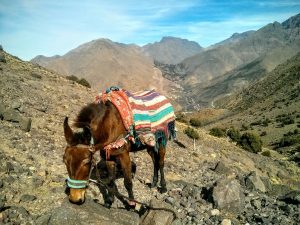 My heart broke whenever I saw a mule carrying up an overloaded basket. They carry gas bottles strapped on their backs struggling up steep sections of the route. Some mules were even carrying people, as well as their load, who had decided to conquer the trek but were too lazy to walk or those who were unwell. These animals have been walking this route for years, I have the utmost respect for them and their aged handlers.
We commenced the walk and shortly was taken across a dry flood plain before the steep ascent weaving up the mountain side. Around that same time, shepherds brought down their flock for the night. By the time we stopped for a tagine pot at a small cooking area, we had been warned that a snowstorm was expected that evening. Therefore, the mule and handler would be going ahead and leaving our belongings before heading down the mountain back to the village. The mules sleep outside and they cannot be expected to sleep in a snowstorm.
The higher up Toubkal we got, the lower the temperature gets. However, it was hard to believe a storm was approaching. The land was so dry and barren; as the falcons circled above us, a hint of exciting hit at the thought of walking through fresh snow to the summit. Toubkal refuge was approaching, our home for the night.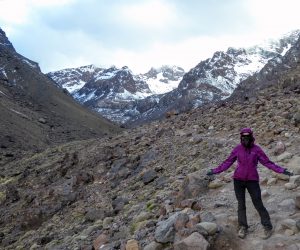 We spent the evening in the communal area eating yummy food and socialising with a lovely Australian couple, Erin and Andrew, before calling it a night early. The wake up time the next day was 5:30 AM. There had been a warning that if the weather conditions were too bad, then we would not be able to summit. At this point, it still didn't seem bad outside.
As my alarm bleeped and I slipped wearily out of the sleeping bag, the coldness struck me. As my eyes focused on the dim light, I spotted a pile of snow under the closed window next to my bag. The wind had forced it through and had soaked my bag. Luckily, the clothes for the days trek was in a pile on my bed.

Downstairs the guide told me that there was no chance of setting off in the dark due to safety risks in the snow. However, he would assess the situation in the light. Later, again we were told it wasn't possible and that we would have to descend. However, my guide kindly allowed me to climb up with him for 20 minutes. This was tough, the snow was knee deep and visibility was poor. I saw first hand how impossible it was to summit Toubkal.
Carrying all our stuff, as there were no mules, we layered up and I put my sunglasses on to prevent the blizzard from going into my eyes. The path was traitorous, staying on two feet was difficult and losing the guide in front of us could lead to disastrous circumstances.
This really was a life or death situation. I doubt a search helicopter could make it up here in these weather conditions. My camera was frozen along with most of my clothing as we made our way down the 1500 metre descent. At lower altitude, my hair defrosted leaving a trickle of water down my back and a soggy head. 
As you trekked into Imlil, the villagers were working together to clean the snow off their roofs, clear the roads and footpaths. The spirits were high. Following a warm shower and clean dry cloths, I felt more inclined to go out and enjoy the snow, the views it brought and the cheer of the local children.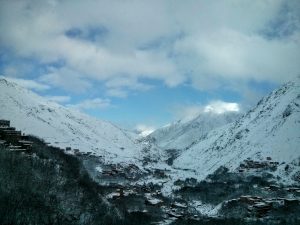 This was the first snowfall of the year for Imlil and it happened as I was attempting to summit Mount Toubkal.
Toubkal, you may have defeated me this time but I will be back.
Please comment below if you have any questions or stories to share about Toubkal or it you have any tips on the subject. Don't forget to subscribe (it's free!) to my blog for more  posts like this and interesting travel stories.
Below are some additional information that you need to know if you are thinking of attempting Toubkal.
Additional info:
Safety: Walking in altitude affects some people more than others. It is not dependant on your fitness levels. Know your limits and listen to your experienced guides. You are not able to make a clear decision when suffering from altitude sickness. If you are climbing without a guide then ensure that you are experienced at walking at altitude and that you have buddy climbing with you. In the summer months experienced trekkers should not have too much of a problem climbing Toubkal. Always make sure someone knows where you are.
Timing: The best time to trek is in Autumn (September – November) and Spring (March – May). However, most tours will provide you with Winter Trekking gear and as you can see from my experience, unless you are used to trekking in blizzard conditions, I would not attempt this climb without a guide in winter.
Accommodation: There is an old and new refuge which are next to each other. The first refuge is newer and called Les Mouflons de Toubkal and the next is called Refude du Toubkal  and is run by Club Alpin Francais. I stayed in the latter, older refuge and did not get the opportunity to enter the new one. The old refuge has dorm rooms although subject to availability you may be able to book one to yourself if you do not want to share. The newer Refuge have both dorm and private rooms available but these need to be booked in advance. The toilets are quite smelly but this is normal for a mountain lodge.
Camping: There is also an area to camp at the refuge and you can buy your meals. The cost is 50MAD (£5). Due to the rocky ground, camping away from this area is limited. There were people camping when we arrived; however they were moved inside for their safety at night and due to the weather conditions, their tents were ruined.
I took a tour with Toubkal Trekking which costs 160 euro per person for a group of 2-3 people.
You can arrange a pick up from Marrakech to Imlil or make your own way to Imlil. Most tours will meet you at your guest house or their office in Imlil.
Recommended kit list:
Good walking boots which are worn in. You do not want to be breaking in a new pair of boots when attempting Toubkal.

Hiking socks – a clean pair for each day in case they get wet.

Comfortable shoes for the night in the Toubkal refuge. You will have worn your boots all day. Give your feet a break.  

Trekking pants. Light weight ones and can be layered with a thermal base layer in winter.

Light weight water proof jacket and waterproof pants. This really was required for my trip but also weather conditions can change quickly on the mountain at all times of year.

Underwear

Thermal base layer

Fleece jacket to layer and also to wear in the evening

Breathable t-shirt and a long sleeved top.

Hat and thermal gloves. Make sure these are decent. In winter months these really were needed and I still could not feel my fingers.

Sunglasses and perhaps goggles in the winder months if you don't want your sunglasses to be frozen to your face like me.

Sleeping bag. Check if your tour company provides them; however I always like to take a sleeping bag sheet as you never know how clean the sleeping bags are.  I would recommend a 3-4 season sleeping bag.

Walking sticks. I didn't use these as I never do; however a lot of people were using them on the mountain.

Day pack. This is required if you have a mule taking your overnight bag up. You need this for water and other personal belongings.

Head torch. Always useful in shared rooms but also you will be starting the second day trek in the dark in winter months. Also required in the case of power cuts or in the worse case if you are lost on the mountain.

Camel back or water bottles.

Basic first aid kit with plasters, antibacterial wipes and medication.

Ice axe and crampons in the winter months. Check if your tour company provides them. These can be hired from Imlil however make sure you rent them the day before as there was a shortage on the day we climbed therefore we had to collect them from people coming down.

Something to sleep in. It is going to be cold and if you are going to be in a shared dorm then you need to wear something respectable. To save on packing I wore my thermal base layer.

A rubbish bag. Leave nothing but foot prints.

Personal items such as sun screen (high factor as the mountain is very exposed), a sun hat, toilet tissue, soap and tooth paste etc.

A towel.