With each step I take, I sink further and further into the soft snow. Perhaps there is a cavity due to rocks below me but with each step I felt the snow give way a little. I needed to move a little to the left, or perhaps to the right! Either way, I am not going to get very far if I continue like this. I'm hiking up the snow flanked Bronze mountain also known as Mount Tunc, near Antalya, Turkey.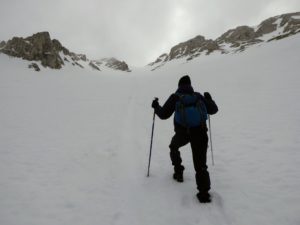 Standing a little over 2,700 metres, it has amazing views over Antalya, a package holiday destination. But Turkey is not all about sun, sea and sand but also adventure, spectacular scenery and of course in winter . . .snow.
The morning had started with a hike along the road as there was a slight blockage meaning that we couldn't get the van through to the village of Fesleken Yaylası. As the houses in the village lay eerily silent, almost as a ghost town, we hiked the streets of this summer destination. A destination to escape the heat of Antalya, something which is hard to believe right now.
As the peak in front of us dominated the skyline, we started our walk across the snow plain and up the snow covered scree ahead of us. Daunting for some, however I had my good friend Moris and expert guide for Demavend Travel company with us. I just followed in his footsteps knowing that he would be choosing the best path.
Stopping to refuel on the way up with chocolate spread sandwiches and lemon cake and tea, we got nearer and nearer the peak.
As we passed over the ridge we turned a sharp left over some clay rocks and snow. The tattered flag and pile of rocks marking the top was in sight.
Balancing the time on top was important. Spending as little time as possible getting cold but still taking in the breathtaking view. And then the fun bit . . . what goes up, must come down.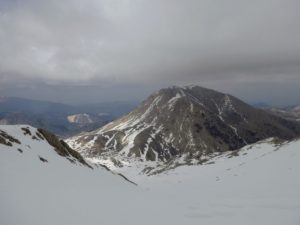 Back on the snow slope, we tucked our jackets into our trousers and sat down. The most fun I have had in a long time was sliding on my bum, down Tunç. It can be safely said that it was a lot quicker getting down than it was up.
Close to the bottom we finished off our treats and had a cup of tea. The wind was up on the top and the clouds passed over our heads quickly, making the shadows dance across the snow plain. The sun peeking out heating our hands up since our gloves were rather soggy.
Disclaimer: I undertook this hike to Mount Tunc with my friend Moris (Maurits) who is also a guide, on his day off with his wife. He is an excellent guide who I can highly recommend. Check out Demavend Travel company which he works for who arrange adventure tours around Turkey.
Have you ever been to Turkey before? Would you like to go walking in the snow at Mount Tunc? Please comment below. Don't forget to subscribe (It's free!) to my blog for more  posts like this and interesting travel tips.
TIPS for Climbing Mount Tunc:
1/ From the end of the track after the village (Tunç Dağı) head up till you reach the steep snow slope (in summer a scree slope) up to your left. At the top of here once you have reached the ridge, turn left and cross the rocky outcrop till you reach the summit.
2/ The best time to climb Mount Tunc is late winter/early spring, when the rocks and scree are well covered with a thick covering of snow.
3/ Go well prepared. An ice axe is mandatory and crampons are advised. Be prepared for changeable weather. Warm clothing is a must as well as gaiters to stop the snow from entering your hiking boots.
4/ The full hike can take up to 5 hours depending on your fitness.
5/ I would not advise you to hike Mount Tunc alone. There can be snow cavities that you can get stuck in and need assistance to get out of. Always let someone know where you are going and your expected time of return.