On a beautiful day in Italy, I decided I wanted to experience via ferrata in Lake Garda. The actual translation for this is iron way,  and it is literally this, a way made of iron. Iron rungs and rope are added to the rock to supplement natural hand and foot holds. In the event you were to slip, your harness would break your fall. . . well falling too far!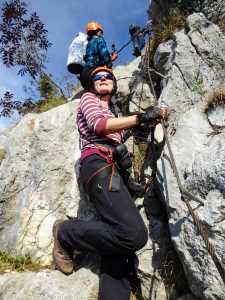 These are very popular throughout Italy and were used in the First World War to help the Italian Allies move around easily whilst fighting. I was lucky enough to do this in an area which gave us the best views over Lake Garda in the north of Italy as well as being  full of history and ruins from this era. During the climb you cross old walkways, fortifications and tunnels made during the First World War.
Via ferrata Cima Capi overlooks Lake Garda and the Ledro valley. It's a 6km loop path with a point which gives you 360 degree views of the area but is not too demanding and suitable for beginners. However a reasonable level of fitness is necessary.
The morning started by driving into the village of Arco where Friends of Arco is based. Here we met the group that  would our experience and our guide drove us approx 20 mins to the start of the walk at Biacesa di Ledro. We walked for about 1 hour to the start of the rope system.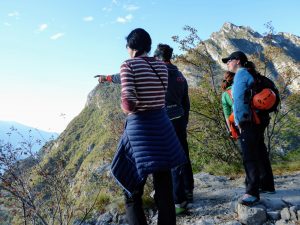 Looking for other things to do in and around Lake Garda? Check out my post about horse riding.
Here we put on our safety equipment of a harness and a helmet and had a lesson from our guide. The one thing you had to remember was to always have at least one karabiner clipped onto the cable at any one time. When you reached a piton (the metal peg holding the cable to the rock) unclip one of the two karabiners and reattach it before moving the second.  This way you will always have one karabiner attached to the cable at any time.   Then we set off – clip, clip, move, unclip, clip, unlock, clip, move.
The climb up takes 45 mins – 60 mins depending on your speed. On many occasions we had fantastic views of the lake below and of the Dolomites. Just before the summit there is the 360 degree panorama with lovely clear views over the lake. If you dare, then lean back with no hands.
At the end of the cable, it is another 15 minutes to the highest point of the via ferrata. We stopped for lunch at the summit (929 meters) where there is an Italian flag and book in a metal box. A book for visitors to sign is found on many Alpine summits.  The whole walk took approx 5 hours therefore allow 6 hours for the return trip.
Overall, this was a great experience and is an activity which is a little more exciting than just hiking. As this was my first time doing this, I decided to take part in a group. However, now that I am confident in doing via ferrata, I would hire the equipment and do it alone.
Please comment below if you have ever done via ferrata or similar before or any other advice on fun activities to do in Italy. Don't forget to subscribe (It's free!) to my blog for more  posts like this and interesting travel tips.
Tips for this trip:
1/ Maps of the via ferrata routes throughout Italy are readily available on the internet. Hiring equipment is always easy in areas where this is popular.
2/ I undertook this tour with Friends of Arco. The cost of this trip is 80€ and for this you got a local guide, good equipment, insurance and no worries of getting lost. This trip runs with this company every Thursday at 8am. They have other trips on other days.
3/ Most people go to Lake Garda between May and September however the route I took is accessible all year round due to its low altitude.
4/ This is not for people who are scared of heights but is great for a whole range of ages. At times it was a bit like rock climbing but some parts were quite mild.
5/ You need to wear strong shoes, clothing for hiking and have a backpack with food and drink. In addition don't forget a torch to explore the tunnels, a camera and sunscreen.
6/ if you are doing this without a tour you also need a helmet, climbing harness, a belay set and strong gloves to protect your hands from the cable. You can hire this equipment from Friends of Arco.
Disclaimer: This trip was arrange for me by Discovery Media Network and I was hosted by Friends of Arco. Due to the experience I had, I wanted to share this with my readers. As always, all thoughts and recommendations I give are my own.