I love hiring bikes when I get to a new place, it's a great way to get around and get off the beaten track. I searched for bike rental in Wanaka and thanks to Wanaka Bike Tours, I got to really experience this without having to cycle the same route there and back, plus I got to try out some mountain biking trails on a great bike.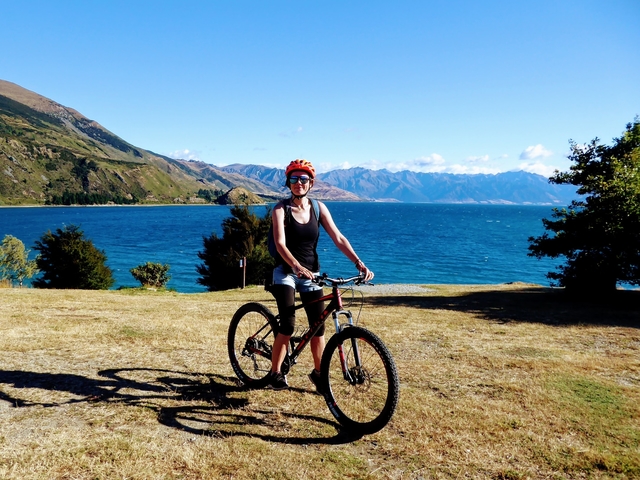 Wanaka Bike Tours shuttled us from Wanaka to Lake Hawea, cutting out that return trip. From there, they gave us a map, clear directions and some top tips of cool cafes and places to see along the way. We then cycled the Hawea River Track with great mountainous views, before heading along the Clutha River to Lake Wanaka, taking our time to enjoy the area.
I had high expectations of this ride but these were well and truly blown away. The area is so picturesque to the point that we decided to head back that way the next day as it took our breath away that much. A great thing about this shuttle and cycle tour is that it really didn't feel like a tour at all. We were free to go at our own pace and really did feel like we were going alone but with the reassurance of back up rather than us trying to fix a puncture if one occurred.
You have the option to hang out in Albert Town to have a few coffees and cake which is en route or to extend your ride with a trip to Rippon Winery, Wanaka's oldest vineyard. However we decided to use our time in a different way. We got to hang out in secluded places along Lake Wanaka and take a dip, riding at our own pace whilst taking in the breathtaking views of the rolling hills and fresh blue water around us. We would never have explored this area unless we had booked the trip with Wanaka Bike Tours.
Wanaka Bike Tours have a range of different tours to offer including ones that involve jetboats and helicopters. They also rent just bikes and have E-Bikes too. Head over to their website if you are in Wanaka, New Zealand's South Island as they are a great company.
Things to know about the Hawea to Wanaka tour with Wanaka Bike Tours
1/ This route is graded for Beginner to Intermediate and takes approx 4 hours.
2/ The cycle is 30km long and is a Grade 2 trail (Grade system 0 – 6)
3/ Wanaka Bike Tours will provide a free Shuttle from Wanaka to Hawea
4/ Good quality equipment will be provided with the latest model of mountain bike and safety helmet.
5/ You can upgrade to an e-bike for an additional $65.
6/ As mentioned you can extend your tour to Rippon Vineyard for some wine tasting.
7/ Price of Hawea to Wanaka bike tour is Adult: $85, Child: $55 and Family (2 Adults. 2 Children: $252)
Things to know about Wanaka Bike tours:
1/ Wanaka Bike Tours run a range of tours such as shuttle tours, guided e-bike tours and helicopter and bike tour, jet boat and bike tours and single track mountain biking for a range of experience levels.
2/ They do bike rentals Wanaka and for an extra NZ$10 they will deliver to your accommodation. Hardtail for a full day: $65, Full suspension for a full day: $85
Things to take on your Wanaka bike tour:
1/ Decent shoes for cycling.
2/ Wear active clothes as freedom of movement is required. Take a waterproof because New Zealand weather is unpredictable. You can check the Met Office weather forecast for the weather in the area you are taking the trip.
3/ Sunscreen as the New Zealand sun is very strong.
4/ A water bottle.
5/ Bring your camera as the area you are cycling through is so beautiful. You will want to stop for photos.
6/ Swimwear and towel as the lakes are so appealing to swim in.
Disclaimer: Wanaka Bike Tours hosted us on this tour however all of my thoughts about this trip are my own and real.