It's everyone's dream to quit your job and travel the world. Right? Well at least it was mine. And this is what I did last year. I set off on my adventures in South Korea and then headed over to the Philippines.
Living the dream! Now I don't want it to sound like I am not still 'living the dream' as I truly am. But there is one reason why I stopped travelling for a while. Stopped me in my track and has kept me from spending even one night away from where I have been calling home in the Philippines for the past 6 weeks.
He is called Echo and has 4 legs, a waggy tail and eyes which could melt anyone's heart.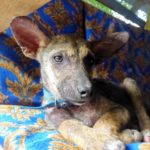 So how did Echo become my priority over travelling around the Philippines? How did he become the reason why I stopped travelling? Well, it all started when I was surfing on San Juan La Union beach. As I came back to shore I noticed a little dot of a creature sat in the sand, just where the sea hit the shore line.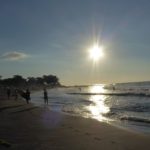 I realised that it was it was a puppy, no more than 10 weeks old, mostly hairless with sores all over its body. It was boiling hot on the sand and all other dogs were sat in the shade. It was quite a way from the shaded area. What was he doing here?
And then it happened, I looked him directly in the eyes and I felt my heart break. That was it, I couldn't ignore his request for help. I reached down and scooped him up. With the surfboard under one hand and the puppy under the other, I walked up the beach.
I asked around and no one owned this pup. A stray from the day he was born and sent away from all the surf rental places and restaurants. Comments were made about how much he smelt and I even heard stories about how he had been thrown in the sea to stop him from smelling so much.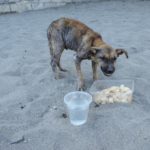 So off we went to the local vets. Whilst in the tricycle I could see the extent of his pain. With open sores, a severe flea and tick infestation and a mouth abscess. It took two hours at the vets to sort him. After bathing him in medicated shampoo, treating his multiple infestations (he had a belly full of worms also), giving him a series of injections and putting him on a course of antibiotics, he was ready for home. He was the reason why I stopped travelling so I could look after him. I am extremely lucky that the family I am staying with allowed me to keep him in my cabin. A massive thank you to Natures Healing Home.
Echo was named and sporting his first ever collar, he spent his first night in his new home. Both of us were awake all night scratching. Me with flea bites and him with his skin condition. My flea bites subsided over the next few days, Echos skin is taking a lot longer to heal.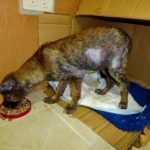 Echo has had to go through a lot with baths (twice a week – which terrify him due to his fear of water presumably due to being thrown in the sea), a spray which has to be put on his open sores which make him cry out in pain and, even worse in his eyes, me taking food away from him which he steals due to his insatiable appetite. However approx two weeks after his rescue he was like a different dog. I knew my decision as to why I stopped travelling did not go in vain.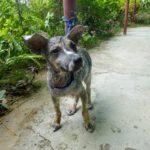 He played with his new friends Tarzan and Xena, he wagged his tail (and his bottom) every time he see me/anyone here and stopped keeping me awake at night with his scratching. He has put on weight and his open wounds have healed. Although he is still a little pig.
When I first rescued him I set up a GoFundMe page to help pay for his treatment. Donations came flooding in and I exceeded all expectations partially with the help of my local animal rescue centre  back at home, Animal Care who shared it on their Facebook page. Not only is there enough for Echo's treatment, neutering and vaccinations but I have enough to start helping other dogs.
Maria the vet and I spent the day on the beach where Echo came from. We treated 11 dogs for a range of conditions such as mange, infected legs, flea and tick infestations and sadly arranged for Maria to return to euthanise one who had tumours all over its body and was in a lot of pain. We tried to arrange neutering – however the dog's owners were reluctant to travel to Maria's shop. I felt very disheartened.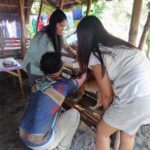 Then Maria the vet introduced me to Nana Mely, a 75 year old lady who has dedicated her life to caring for dogs in need in her home village of Balaoan. Crippled with a broken hip, Nana Mely uses what little money she receives from her US nursing pension to care for the dogs. Her funds are getting less and less due to her having to pay helpers to care for her and her dogs. Here was a wonderful lady asking for help. I knew this is where I needed to focus my efforts.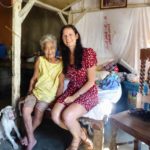 With arrangements put in place with Maria, deals struck with a dog food provider and donations already given from my own pocket for dog food, I can now safely say that Nana Mely's home for dogs will benefit from the kind donations received from around the world. Please check out my Facebook group here and show your support by liking and sharing the page.
And as for Echo, unfortunately I couldn't stay in the Philippines forever as my visa was running out for the second time. He might be the reason why I stopped travelling but I need to move on. It broke my heart to leave him but he has a forever home at Natures Healing home. With 5 hectares of land to play in with his new best friend Tarzan, I know I did the right thing by leaving him there rather than arranging other things for him.
On the day I left, he knew I was leaving,. As I walked away with my backpack on, he ran to the top viewing point of the area and watched me walk away. Not forever as I know I will be back to visit him and to support Nana Mely further.
I am a traveller at heart so I do need to keep on moving. He was the reason why I stopped travelling for a while;  however I will be back to see him in the future.  For those who know me, Echo is not the first dog I have rescued and certainly will not be the last.
We can all make a difference to anyone and anything.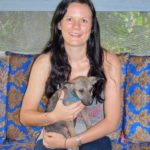 One life at a time.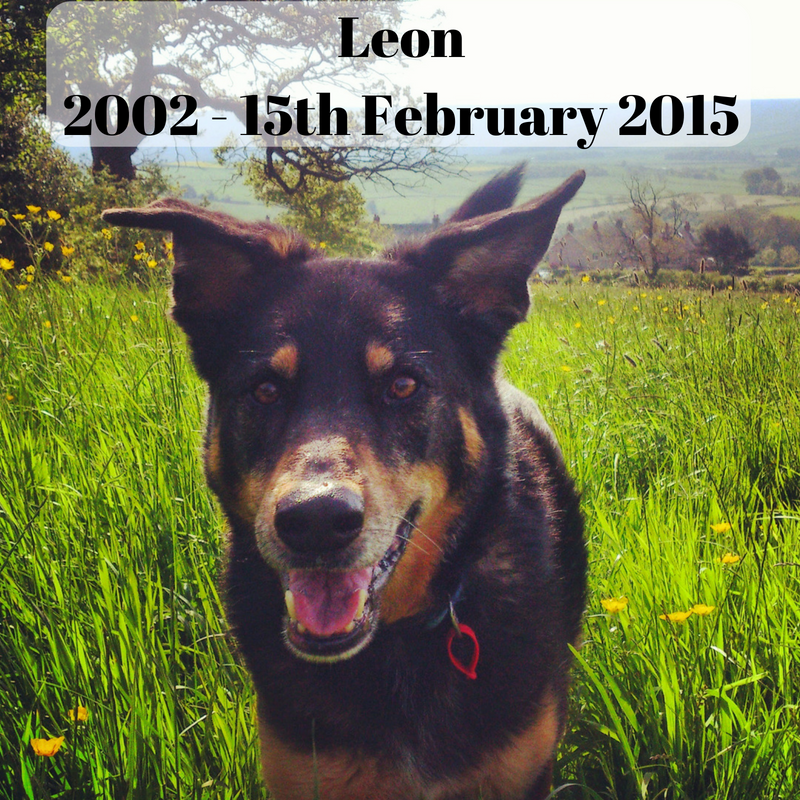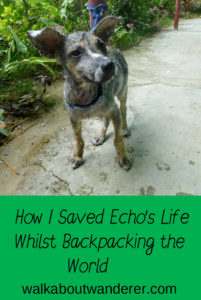 Just a note to say:
Have you noticed I do not have intrusive adverts on my page making the site run slow for you, or that interrupt your reading. This is because I want to make your reading experience as pleasant as possible. Writing blog posts isn't as easy as it looks. I spend a long time making sure I give you correct information about places, edit the posts so they read well and then add the edited photos I have taken or add the google maps location. I do this as I love to travel and love helping other people to travel. If you enjoyed what you have read then there are other ways you can support me as a travel blogger other than putting up with annoying adverts:
You could buy me a coffee
Use the links on my sources page which are affiliates.
– Head over to Amazon to buy some products using this link .
– Looking for website hosting? Take a look at Bluehost using this link.
– Need to book some accommodation then check out Booking.com and Skyscanner for flights, check them out using this link.
Thank you for your support.