I had wanted to visit Nepal to go trekking in the Himalayas for a long time and finally I managed to get some time off my job in 2013. I knew which company I wanted to do the trek with, World Expeditions. I had used World Expeditions before to summit Kilimanjaro and I liked their ethics when it comes to the guides and the porters. In addition, they had routes which stayed on the beaten track and those which are completely off the beaten track.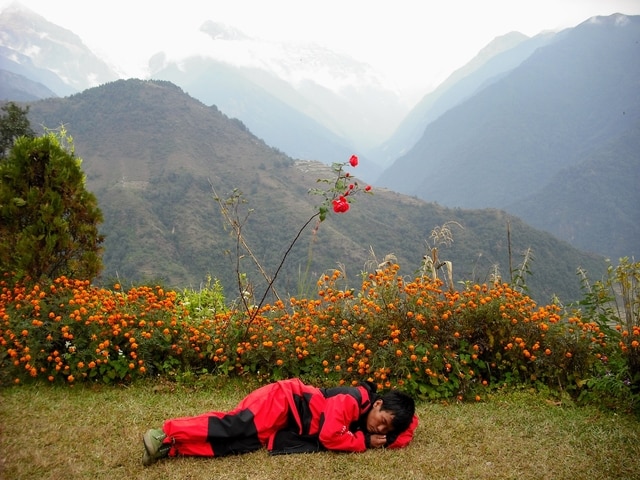 Off the beaten track is more my thing. The best of Annapurna Dhaulagiri (now called the Ultimate Annapurna Dhaulagiri Trek) took my interest. It wasn't a touristy route such as Everest Base Camp and the Annapurna Circuit but instead, it took you through small non-westernised villages, alpine woods, deep gorges, grassy ridges and through a 1000 year old rhododendron forest.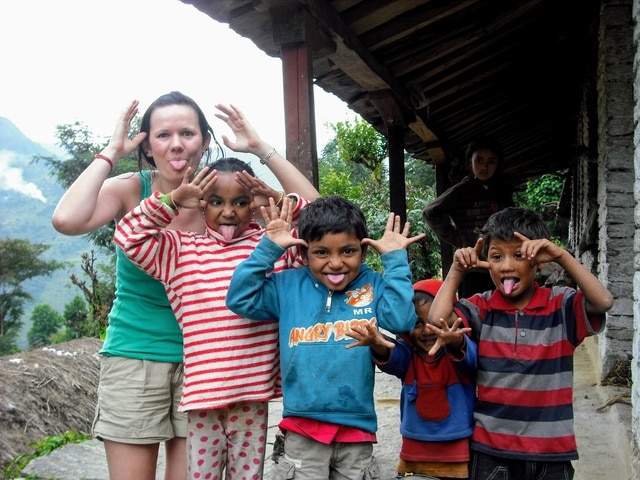 The highlight of this trek was a two night stay on Kopra Ridge at 3660 metres. Our tents lined up one by one giving us amazing views of Dhaulagiri for our rest day.
Of course, this rest day was optional, the second option was a 220m ascent to Kaire Lake, also known as the hidden lake. Tucked away on the mountain side are the sacred waters of Kaire Lake along with a Hindu Shrine.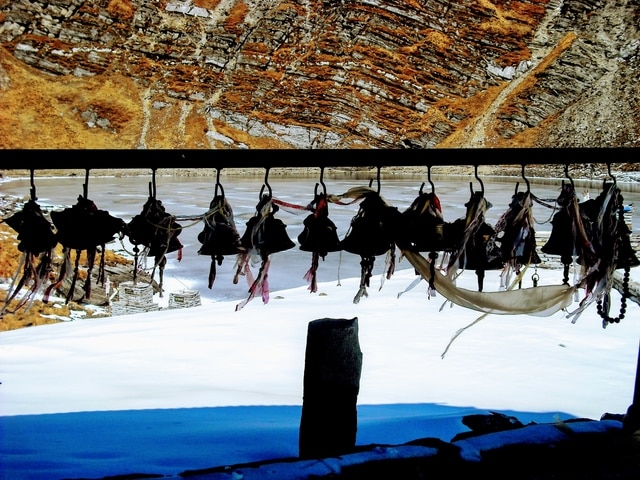 Five of us went with two guides setting off before it got light. It was – 15 degrees in the night so we had to wrap up warm. Armed with an ice axe, off we went following an ancient pilgrim trail which leads us up the mountain side.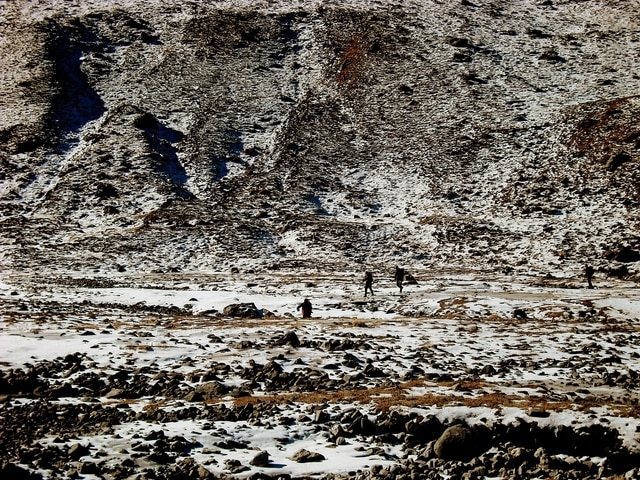 We crossed iced-over streams and snow fields without a single footprint in the snow. The last snowfall was a few weeks before, showing just how off the beaten path we were. We kept a lookout for snow leopard prints. Oh what a thought to see one of these amazing creatures.
After hours of walking and a nibble on a lovely packed lunch prepared at the Hut on Kopra ridge, we headed up the steepest part of our climb – a small shrine marked the way. We passed over a small ridge and there it was, the gently iced over water of Kaire Lake and the Hindu Shrine. We had made it.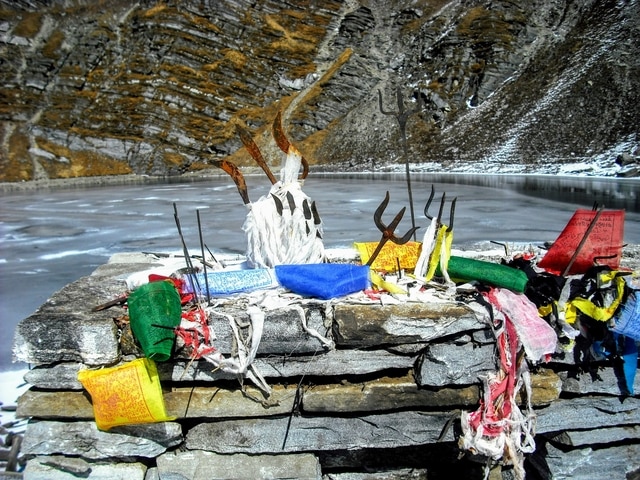 We spent a bit of time there, but we didn't stand still for long although the sky was blue. At 3880 metres it was cold. After posing for a group photo and beating the timer on the camera to race over to be included, we headed back down the mountain.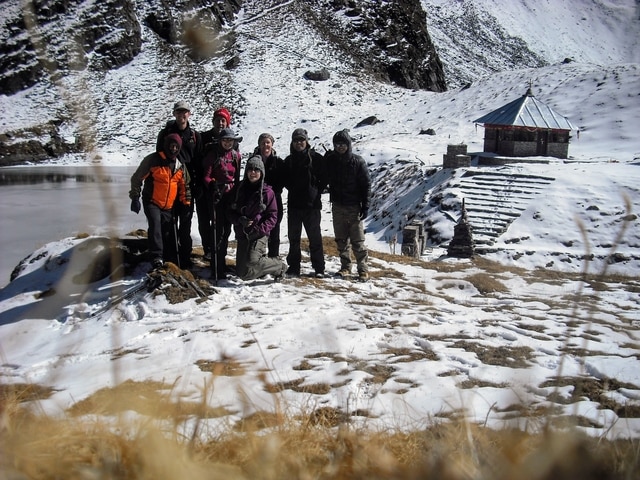 We arrived as it was going dark with a round of applause from the rest of the group. And what had they been doing during my hike? Well, they had been relaxing by the fire in the Hut on Kopra Ridge, reading, eating, sleeping and talking about the wonderful 6 days hiking we had just had and the 5 days hiking we had ahead of us.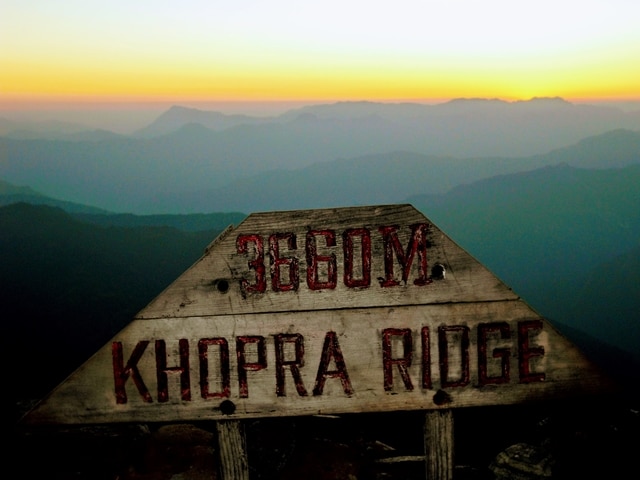 As I turned off my torch and slipped into my 4 season sleeping bag, I knew that this day would be one that stays in my mind forever.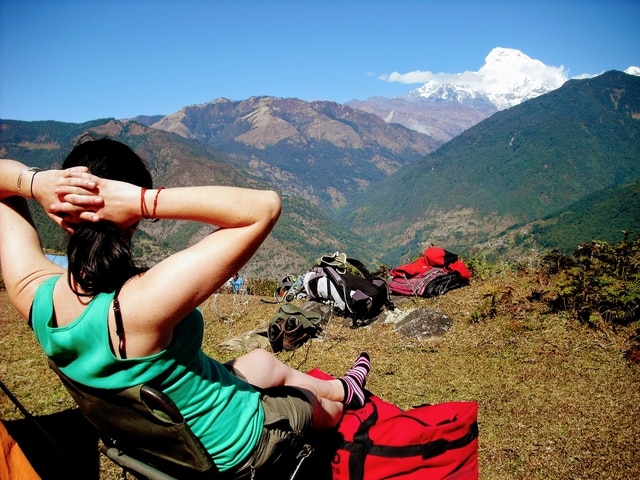 What do you think about this trek? Would you like to visit Nepal? Comment below. And don't forget you can subscribe to my blog (It's free) to get fortnightly updates. Or follow me on Social media; Facebook, Instagram, YouTube and Twitter.