The historic city of Angers is in western France. Situated in the Loire Valley it is a popular place to use as a base to explore the surrounding areas. But visiting a city can really tug on your purse strings which is why I have tried and tested these 10 free things to do in Angers, France. It's just a train ride away from Paris and London; it is well worth visiting even if just to see its Gothic Angevin architecture style. Angers was the fourth city I visited on my grand tour of Europe where I lived and slept in my car.
I stayed three nights in the area, and slept in a carpark down by the Maine River. However, Angers is easily accessible to those without transport, being a 1.45 hours TGV Express train from Paris. From abroad, it is not as costly to get to Angers as you think. By trail you can get a return ticket from London to Angers from £89 through Rail Europe.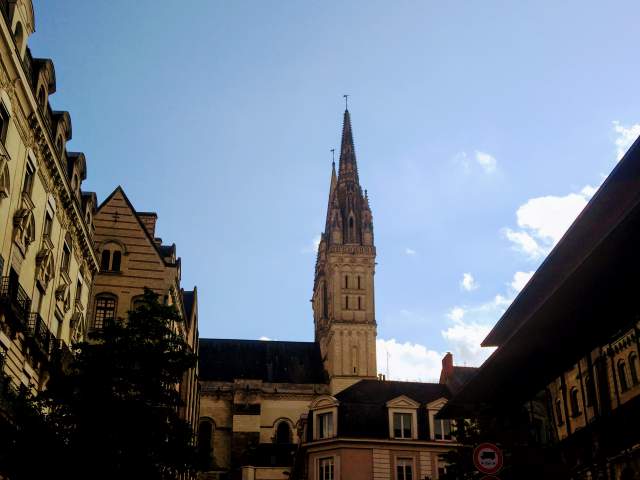 Free thing to do in Angers, France No. 1: Visit Angers Cathedral
Angers cathedral was constructed in the 13th century but has been altered over the years which has passed. Therefore it is a wonderful array of styles. For example the towers were built in Renaissance style in the 16th century where as the western portal are wonderfully Gothic.
The red and blue stain glass windows were put in place in 1453 following a fire in the 1400s.
Opening times: 8.30am – 7pm (April – October), 8.30am- 5.30 (November – March)
Free thing to do in Angers, France No. 2: Take a wander in the Old Town
The streets in the old town of Angers, France are very walkable. Take time to wander around the cobbled, medieval streets. Start off in Place du Ralliement where you can see a few other free things to do in Angers, which are mentioned later.
From here, get lost in the cobbled stone streets and nip into different churches. You will see the cathedral from lots of different angles so make sure you keep on glancing up.
Free thing to do in Angers, France No. 3: Take a photo of the city
Angers is a very photogenic city especially in summer when the flowers are out and the city lights up with colours. The best photos of the towers and château can be taken from across the bridge towards La Doutre.
Free thing to do in Angers, France No. 4: Check out Angers Castles
Angers has quite a few castles. The most visible from the city is the Château D'Angers. Here you can view the Neolithic tomb, the medieval Apocalypse Tapestry, and venture out to the interior gardens.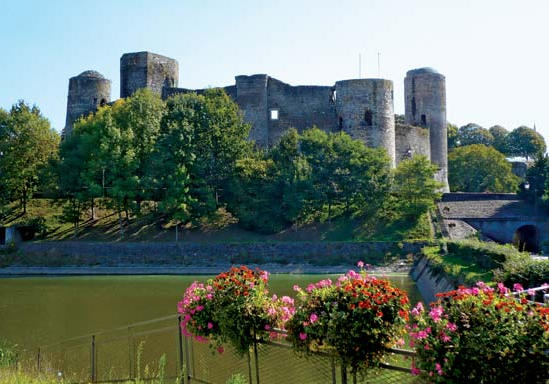 Entering the castle costs €9 (€7 for under 26 years old non EU citizens) but viewing the castle from the outside is free. Positioned on the edge of the Maine River it is best viewed as you walk over the Pont de la Basse Chaine bridge towards the city.
Free thing to do in Angers, France No. 5: Walk to Maine Lake and feed the fish
The Maine River is a 12 Km tributary to the River Loire. This is also very nice to hike or cycle along. You can set out from the centre of Angers and cross the River Maine at Pont de la Basse Chaine. Then follow the path of the river to Maine Lake which boasts great views of Angers. At Maine Lake especially in the summer you can take some bread to feed the fish.
Free thing to do in Angers, France No. 6: Take a walk in the Gardens
The Jardin des Plantes (Garden of Plants) in Angers hosts trees which are over 100 years old including a 125 year old Siberian Elm. Looking similar to an English Garden the Garden of Plants has many walking paths and a children's play area.
The second garden, the Jardin du Mail (Mall Garden) is home to over 40,000 plants, statues and a fountain built in 1855.
Free thing to do in Angers, France No. 7: Eat some vegetables
You might wonder why eating some vegetables make this list. Well that is because in the heart of Angers, France there is a garden and a cooking area. This can be found in the spring and summer months in the city centre.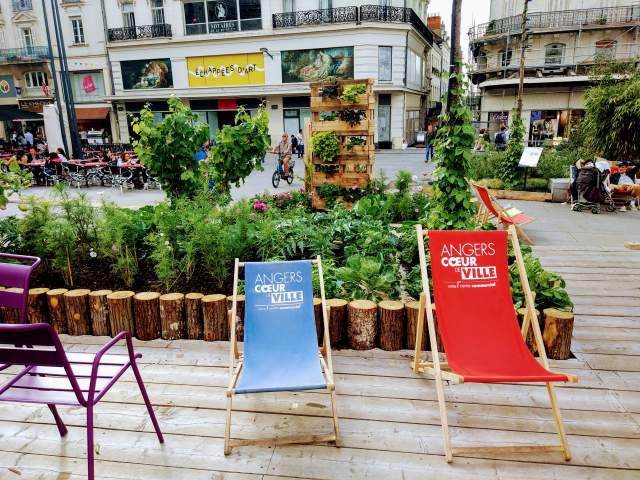 You can't pick your own, however anything that is ripe will be placed in boxes for people to help themselves too. There are also seating areas throughout the vegetable patch where you can sit and read, gossip or just people watch.
Free thing to do in Angers, France No. 8: Loire Valley
Situated in the Loire Valley, Angers makes the perfect base for a trip around the area. The Loire Valley offers so much. From visiting beautiful castles, tasting the 32 different wines produced in the local vineyards or taking one of the many trails through the valley, there is plenty to do.
There is the 800kms of the Loire à Vélo cycle network passing through Angers. You can easily hire a bike in the city and have a day cycling a stretch of this.
Free thing to do in Angers, France No. 9: Play the piano
At Place du Ralliement which is also known as Rally Square, you will find a piano.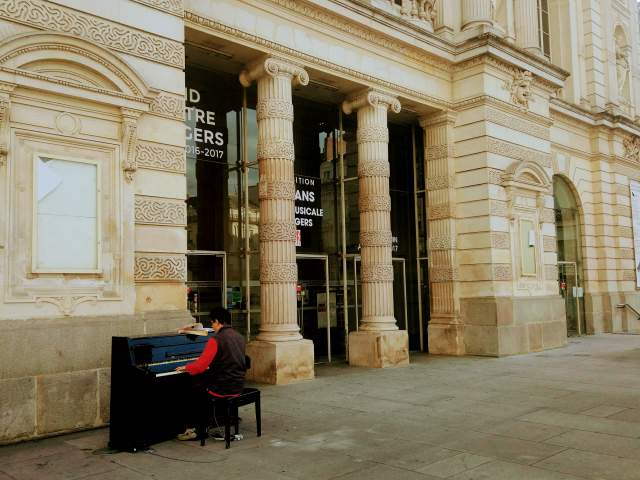 You can take a turn to play a tune or just sit and listen to other people play whilst absorbing the atmosphere.
Free thing to do in Angers, France No. 10: Browse the markets.
Angers, like most French cities has no shortage of markets. This website provides a great lists of the different markets. In fact there is one every day. My favourite is Marché Bio which sells 100% organic produces from 10 carefully selected sellers. Look out for the free tasters! You will find this market every Saturday at Place Molière from 8am to 1pm.
I am also a big lover of flea markets and Angers has a large one on the first Sunday of every month. You can find it at Place Kennedy.
Bonus 11th Practically free thing to do in Angers, France: Have a glass of wine.
At just €1.50 for a glass of wine, it is practically free! Take the time to choose a nice place either overlooking the river or in a good place for people watching.
Thing you need to know whilst you are in Angers, France:
On Monday, most museums are closed, however the Chateau and Tapestry are open each day.
Purchase the 24 hour City Pass ( € 15), 48 hour City Pass (€ 23) or 72-hour City Pass (€29) card if you are planning to visit a lot of attractions. Using this you can save time queuing for tickets and save money or can give you free entry on attractions and tours. To see a full list of places you can get free entry to and discounts take a look at this City Pass Angers website.
Getting Around Angers:
Angers has a great modern Tramway system. You cannot miss the multicoloured trams . The Angers Loire Valley bus network has connections to most tourist sites.The cheapest way to get around is on foot and this is easily done in the town centre. However if you buy a Ticket Journée which costs €3.60 it will give you unlimited travel on public transport.
Where to stay in Angers:
There are many places to stay in Angers and I have a couple of recommendations for you to cover all price ranges.
Budget:
Don't forget to take a look on CouchSurfing in plenty of time before your trip and see if there is someone who is willing to host you. Safety is of importance so check out my post on how to stay safe whilst couch surfing.
Airbnb is great for finding places to stay on all budgets. You can either rent a room in a shared house or find an apartment to yourself. Don't forget to use my link to get money off your first Airbnb stay.
I struggled to find somewhere for budget travellers as most of the guest houses and hotels are the mid price range to luxury. However check out Camping d'Angers – Lac de Maine, where you can pitch a tent for between 20 -25 Euros.
Mid range:
Again check out Airbnb where you can pick up a beautiful apartment for not too much damage to your purse strings. Alternatively check out Appart' City Angers which offers nice accommodation for mid-range prices.
Luxury:
For those who are looking for something a little bit extra special, I recommend the La conciergerie appartement privé & spa. Which consistent great reviews and a superb location. This is an ideal place to stay .
So there you have it. 10 free things to do in Angers, France. Why don't you head over to read my other '10 free things to do' range to see where else I have written about.
Have you ever been to Angers? Is it somewhere you would like to visit? Comment below. And don't forget to subscribe to my blog (It's Free) to receive fortnightly updates on recent blog poss and about my adventures. 

Disclaimer; This post is a collaborative post. It may contains affiliate links meaning at no extra cost to you, I receive a small amount of money when you purchase them to help with running costs of my blog. All thoughts I have on these items are my own and I would only ever recommend products I truly believe in. Please support my blog by using the links.