New Zealand's South Island is often considered one of the most stunning places on earth to visit. Because of its vibrant cities and numerous historical landmarks, however, the North Island attracts much more attention. In fact, the South Island only contains about 23% of the total country's population! Although it's sparsely populated, this island offers plenty of gorgeous landmarks, glaciers, mountains, and views to feast your eyes upon. There are also plenty of activities and adventures to partake in as well. The great news about visiting the South Island is that because so many of the attractions are outdoors, they are usually free! Here's our pick of the top ten free things to do on this breathtaking Kiwi island.
1. Wine Tasting in Marlborough.
The Marlborough region produces around 70% of the total wine exports of New Zealand. It's famous for many varieties, including Chardonnay, Riesling, Pinot Noir, Pinot Gris, Sauvignon Blanc, and Merlot as well as some lovely sparkling wines. The Marlborough Wine Trail gives visitors the opportunity to explore many of the vineyards and try out plenty of free samples along the way.
2. Explore Abel Tasman National Park.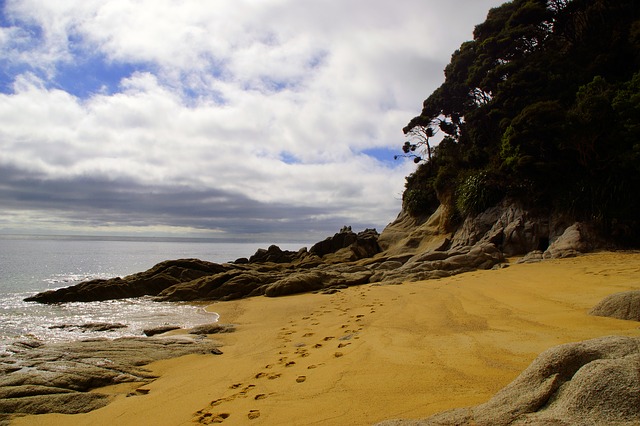 With its golden sandy beaches and beautifully clear water, you could easily spend a good chunk of your vacation exploring Abel Tasman National Park. It's really a natural wonderland: there are rock pools to dive into, plenty of flora and fauna to see, and even opportunities for spotting seals. If you're interested in spending the night, then there are nineteen campsites to choose from.
3. Fiordland National Park.
The Fiordland National Park has it all: fjords, mountains, lakes, and rainforests, with over 1.2 million hectares of land to explore! There are many species of plants and animals that are unique to the area, including the rare flightless Kakapo parrot.
4. Walking trail along Lake Wanaka.
There are plenty of walking trails in this area, including many maintained tracks that are suitable for wheelchairs or pushchairs. You can choose a riverside or lake view walk as well as some steeper trails for the more adventurous types.
5. Climb Mount Iron to see Lake Wanaka.
Climb to the top of Mount Iron to feast your eyes on a stunning view of Lake Wanaka. It's a loop of 4.5km and is suitable for all ages and abilities.
6. Spot for Dolphins and Seals in Kaikoura.
You won't even need a boat to spot the seals in Kaikoura, as they are often found playing on the shoreline. If you're visiting during seal pup season, look out for playsome pups playing in the waterfall pools.
7. Visit the unique black pebble beach at Kekerengu.
This uniquely beautiful beach is nestled between turquoise water and the snow-capped Southern Alps. Take a dip in the icy water and you might be joined by seals!
8. Take a dip in Lake Tekapo.
You won't believe the colour of Lake Tekapo until you see it! The crystal blue waters are truly something to admire, and the land is all open to the public so you can swim or relax wherever you choose.
9. Find locations from Lord of the Rings in Glenorchy.
If you're a fan of these fantasy films, start at Glenorchy and drive to Paradise where you can see Lothlorien, Amon Hen, and Isengard.
10. Glow Worms.
After a day hiking or seal spotting, relax outside and keep an eye out for the multitude of glow worms that light up the night sky. There's a glow worm grotto near Peppers Awaroa Lodge on the Abel Tasman Coastal Track.
Whether you're a nature lover, walking fan, or film buff, South Island has a wealth of attractions to offer anyone, especially those on a budget. Take a New Zealand self-drive tour to explore all these gorgeous sites that don't cost a dime. Happy travels!
So there you have it, 10 free things to do on New Zealand's South Island. Would you like to visit Braga? What from the list of things to do, would you want to do? Comment below. Make sure you check out my other 10 free things to do posts and don't forget you can subscribe to my blog (It's free!) to keep updated each fortnight with what I am doing and for more posts like this one.