Braga, for me, is a lesser-known city in Northern Portugal. However, I was surprised to learn that it is, in fact, Portugal's third-largest city. Braga in Portugal is well known for Pilgrims and for religious reasons. But being in a large city in Portugal does not have to break your bank balance. You can't go wrong with this tourist guide to Braga which will give you the top 10 free things to see as well as other options and some great tips to make your stay in Braga, Portugal more enjoyable.
Braga was my first city stay in Portugal when I was travelling through the west of Europe and sleeping in my car. I found many rural places around Braga to sleep in meaning that I didn't have any additional costs in visiting the city. I found these great 10 free things to do when exploring and can highly recommend them. I managed to see Braga in a day, but there is so much to do that you can easily spend a long weekend here or a week-long trip which also includes exploring the surrounding area as I did in my camping car.
Why you should visit Braga in Portugal as a tourist.
Not only is Braga one of the most religious cities in Portugal, it also has its history with 18th-century houses and Baroque churches. There are so many churches to explore but don't expect it to be full of elderly tourists sightseeing. Braga's upscale old centre has many trendy cafes as well as student bars. Braga was pronounced the European Youth Capital in 2012.
Away from the city, however, Braga is set in an idyllic area surrounded by mountains and forests and it makes a perfect base for exploring the north of Portugal. With stunning wild beaches along the northern coast and the hills and lakes to the East, there is plenty to do in the area surrounding Braga. Additionally, Braga is a handy one hour train ride from Porto which makes it ideal as a day trip.
Free things to do in Braga, Portugal No. 1: Sé Cathedral
Braga's historic centre has the oldest cathedral in Portugal, the Sé cathedral. It is a mixture of Baroque, Gothic, Manueline, Renaissance, Romanesque and Baroque styles due to its modifications since it first started to be built in 1070. The Se Cathedral features a large statue of the Virgin Mary and child to its exterior and its highlights inside include ornate Manueline towers and roof, as well as the carved altarpiece and gilded wooden twin Baroque organs.
There are several tombs of Braga's archbishops and members of the Portuguese royal family such as the 15th century recumbent tomb of King John I's son Afonso. You can enter the Sé Cathedral for free; opening times are 9.30 – 12.30 and 14.30 – 17.30 (18.30 in the summer).
Free things to do in Braga, Portugal No. 2: Bom Jesus do Monte Sanctuary
High on the hilltop in Tenões and overlooking Braga is Bom Jesus do Monte Sanctuary which has been attracting religious devotees since at least the 14th century. It has a famous 100-metre Baroque stairway which zigzags up to the church and has spectacular fountains which are themed on the five senses and also statues along the way. This 640 step climb in itself is a great free thing to do in Braga. You can also drive up or take the funicular (cable car) to the top which costs €1.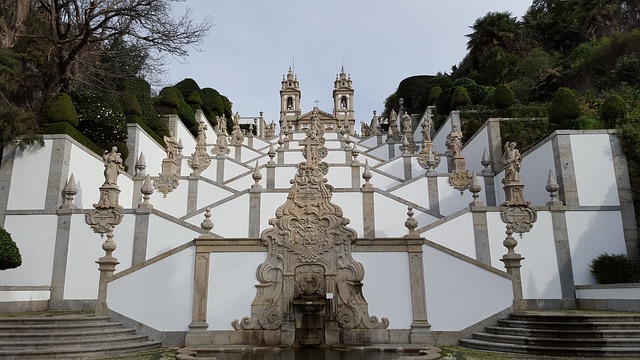 Bom Jesus do Monte Sanctuary is thought to be one of the most beautiful in Portugal. Surrounded by magnificent gardens, it is understandable why this neoclassical church is Braga's most visited tourist attraction. With amazing views of Braga, I would highly recommend that you visit Bom Jesus do Monte Sanctuary by day and by night. Opening times are 7:30 a.m. to 8 p.m and admission is free.
Free things to do in Braga, Portugal No. 3: Sanctuary of Our Lady of Sameiro
Set even higher than Bom Jesus do Monte Sanctuary and set on another hilltop to its east is the much less visited Sanctuary of Our Lady of Sameiro. I actually slept nearby in a layby in my camping car one night so I could really take in the night time views of the surrounding areas.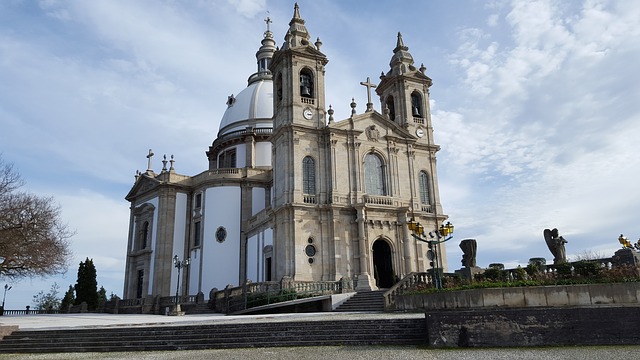 Many people just visit the Sanctuary of Our Lady of Sameiro purely for its views but it is also beautifully illuminated at night and, even though it is younger, it still has a beautiful church dating to the 1860s.
Free things to do in Braga, Portugal No. 4: Praça da República
Moving back to the city, Braga has a historic plaza known as the Archa. It is lovely to walk around this area and spend time at the fountain and taking in the winding streets and beautiful buildings. It is busy both day and night.
Free things to do in Braga, Portugal No. 5: Chapel of São Frutuoso
The Chapel of São Frutuoso is a pre-Romanesque chapel that can be found tucked away in the Igreja de São Jerónimo church in the civil parish of Real. It is part of a group of religious buildings that include the Baroque Church and originally built in the 7th century, in the form of a Greek cross. During the Islamic period, damage was done to the chapel but this was repaired in the 9th and 10th centuries. You can access the chapel on the right-hand side of the nave in the Royal Church.
Free things to do in Braga, Portugal No. 6: Raio Palace
Raio Palace, also known as Casa do Mexicano, has a striking blue façade. The palace, from the 1750's, can be found in the centre of Braga and was commissioned by João Duarte de Faria, a wealthy merchant and knight of the Order of Christ.
Not only is it beautiful to view from the outside, it is also really interesting to go inside especially the beautifully tiles staircase. Although it is free, you will have to put down your camera and view it with your own eyes, as photos are not allowed. The small museum there is also free.
Free things to do in Braga, Portugal No. 7: Jardim de Santa Bárbara (Santa Bárbara Garden)
The stunning Santa Bárbara Garden dates back to the 17th century and is said to be one of the most beautiful gardens in Portugal. One of its boundaries is the palace's wall which features interesting coats of arms and other bits of stonework. The stone archways make for a great photo and best of all, this well kept, formal garden is absolutely free.
Free things to do in Braga, Portugal No. 8: Arco da Porta Nova
This archway into the historic centre of Braga marks the spot of the old gateway into the city. Local sculptor André Soares created the Arco da Porta Nova in the 18th century, to have two very different views, depending on the direction you approach it. The east side is understated, with a recessed niche which mounts a sculpture of Nossa Senhora da Nazaré (Our Lady of Nazareth).
The west side is neoclassical and features a stone coat of arms of Archbishop Gaspar of Bragança, a Baroque arch flanked by four pyramidal pilasters.
Free things to do in Braga, Portugal No. 9: Street art
One thing I search out in every hip city such as Braga is street art. As a massive fan of Berlin, La Rochelle and Lisbon for this very reason, I was really impressed to spot some great areas within Braga. Round the University area, I found some great street art posters as well as bigger pieces of art.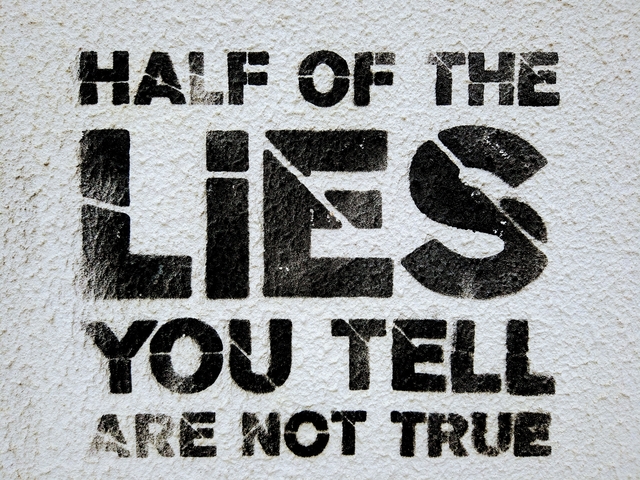 Free things to do in Braga, Portugal No. 10: Bragas Market
There is nothing like window shopping at a great market and even better if they allow you to taste a free sample. There are a few different markets in Braga but here are two that I would personally recommend.
On a Saturday morning, you can find the Braga's local farmers' market at Mercado Municipal. With mountains of fruit and vegetables, you will most likely find some products you have never seen before. This isn't just a place for people to do their food shopping, but also somewhere to socialise after a busy working week. The sound of Portuguese chatter and laughter is hypnotising. This is a great place to hang out and people watch.
Like many cities throughout Europe, Braga hosts a flea market once a month. If you are lucky enough to time your trip right, you might be in Braga for the Feira da Velha flea-market which happen on the first Sunday of every month. But make sure you get there bright and early as it happens first thing in the morning.
Free things to do in Braga, Portugal: Bonus 11: Visit during Holy Week.
During Semana Santa (Holy Week), Braga is the place to be in Portugal. Flocks of people arrive in the city making travel very expensive. However, it is the very famous procession and other traditional events that attract people to come here. Braga decorated with flowers and violet sheets is something not to be missed as well as the night time procession. I have heard so much about Braga in Holy week but was not lucky enough to be there at that time, I will point you over to this site for more information.
Other things to do in Braga Portugal
Citânia de Briteiros (Briteiros citadel)
On the outskirts of Braga, you can find one of the best preserved archaeological sites, Citânia de Briteiros. This Celto-Iberian settlement dates back to 300 BC. The foundations of more than 150 round stone huts, cattle sheds, roads and water conduits have been uncovered. Two of the stone huts have been reconstructed on site. However the Citânia de Briteiros is hard to get to, so you will need a car.
Ruínas Romanas de Bracara Augusta (Roman ruins of Bracara Augusta)
Within Braga, there are the Roman ruins of Bracara Augusta, a city founded by Emperor Augustus between 300 BC and AD 400. They have been working on preserving what is left of the complex archaeological structures for decades and these can be viewed Tuesday to Friday 9 am – 1 pm and 2 pm – 6 pm and Sat-Sun and Public Holidays: 10 am – 17 pm.
When to go to Braga in Portugal
The best time to visit Braga all depends on what you are looking to experience from the city. Obviously, with the Semana Santa celebration, Holy Week is not the best time to visit if you are looking for a quieter experience. This can be said for late July and August which are the Portuguese summer holidays. I visited in the middle of September, which was the perfect timing for me. The sun continued to shine and the other tourists had mostly gone home.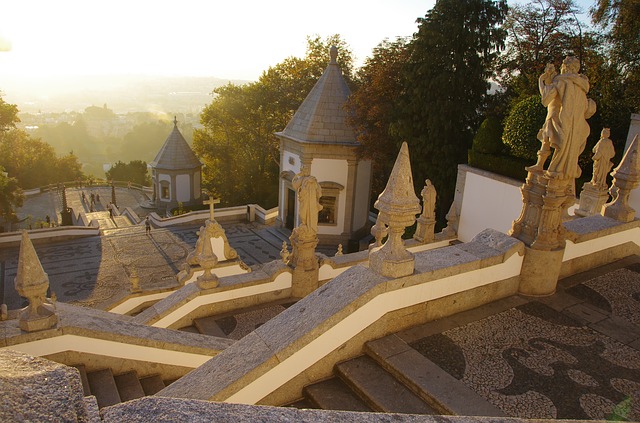 Just remember if you are visiting in the summer months of July and August, the temperature is mostly around 30 degree meaning that sightseeing in the middle of the day can be made difficult. Additionally, most of the rain happens between November and March so if you are spending a lot of time outside, this timing might not be the best for you.
For budget travellers, I highly recommend the shoulder seasons of May – early July and September and October. During this time, the weather will be nice, accommodation cheaper and major sights less crowded.
How to get to Braga, Portugal.
By plane:
If you are coming internationally to Braga then you will most likely come by plane. Porto is the nearest airport to Braga. Once you land, you can either catch the metro to Campanhã Station or São Bento Station and then get a train to Braga, get a direct bus transfer to Braga from the airport or take a taxi which costs approx €60 – €80
Train
Most people will be getting the train to Braga from Porto. You can get the train from São Bento or Campanhã train station in Porto and it will cost just over €3 euros for an hour's journey. Make sure you take the regular train rather than the one that is classed a "high speed" as this will cost you a lot more for saving only a few minutes.
Other places you can get to/from are the long distance trains to Lisbon and Coimbra. Some of the other local cities nearby are not connected directly to Braga and you will have to go to Porto and return up on another line. Sometimes buses are quicker and cheaper for these types of trips.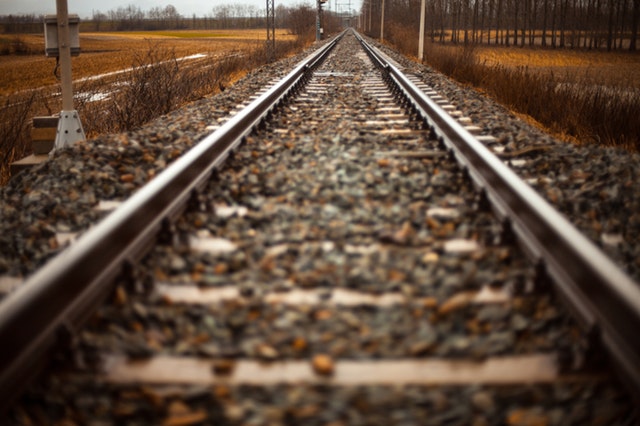 By bus
Braga is well connected to most places within Portugal by Rede Expressos. They cost as much as a train ticket to some places with a direct link from Braga by train and are a lot slower but this is a better option when direct train links are not available.
By car
I travelled to Braga by car coming from Spain via Chaves. Heading south you can take the toll highways which mean travel is a lot quicker of the scenic coastal and mountain roads.
Where to stay in Braga, Portugal
Staying in a popular city like Braga for pilgrims and tourists alike can be pricey so here are a few options that will cover all budgets.
Budget:
Don't forget to take a look at CouchSurfing in plenty of time before your trip and see if there is someone who is willing to host you in Braga. Safety is of importance to check out my post on how to stay safe whilst Couchsurfing.
Airbnb is great for finding places to stay on all budgets. You can either rent a room in a shared house or find an apartment to yourself. Don't forget to use my link to get money off your first Airbnb stay
A good budget option for Braga is to stay in one of its many hostels such as Bracara Hostel. Here you can get a budget private room. With its good location, free parking and free bikes, it is a winner in my eyes. It is also great as you can prepare your own meals in its common room.
Mid-range:
Again check out Airbnb where you can pick up a beautiful apartment for not too much damage to your purse strings. Alternatively check out this stunning place, Villa Garden Braga. It has great reviews, lovely rooms and even has an outdoor pool.
Luxury:
For those who are looking for something a little bit extra special, I suggest the five star Melia Braga Hotel & Spa. With it's heated indoor and outdoor pool and selection of spa treatments, there are plenty of things to do after spending your time exploring Braga. An added bonus is that they allow some pets but restrictions of size do apply.
So there you have it, my tourist guide for things to do in Braga in Portugal and everything else you need to know about visiting Braga. Would you like to visit Braga? What from the list of things to do, would you want to do? Comment below. Make sure you check out my other 10 free things to do posts and don't forget you can subscribe to my blog (It's free!) to keep updated each fortnight with what I am doing and for more posts like this one.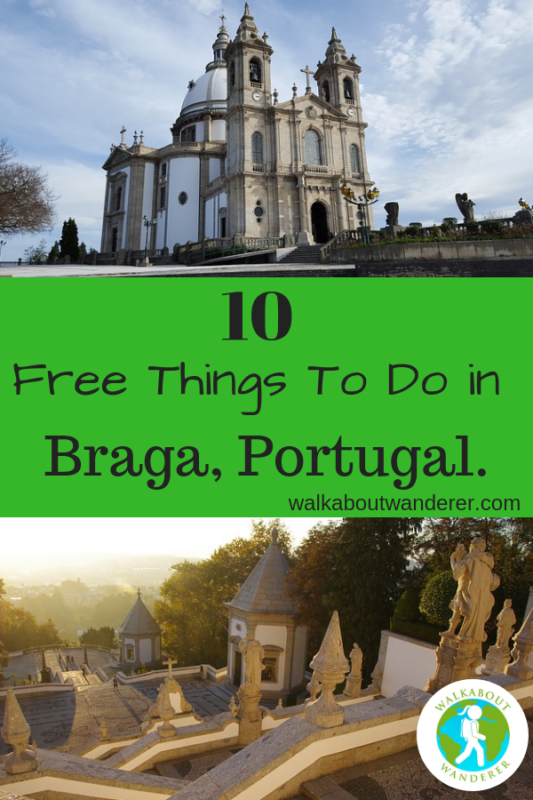 Just a note to say:
Have you noticed I do not have intrusive adverts on my page making the site run slow for you, or that interrupt your reading. This is because I want to make your reading experience as pleasant as possible. Writing blog posts isn't as easy as it looks. I spend a long time making sure I give you correct information about places, edit the posts so they read well and then add the edited photos I have taken or add the google maps location. I do this as I love to travel and love helping other people to travel. If you enjoyed what you have read then there are other ways you can support me as a travel blogger other than putting up with annoying adverts:
You could buy me a coffee
Use the links on my sources page which are affiliates.
– Head over to Amazon to buy some products using this link.
– Looking for website hosting? Take a look at Bluehost using this link.
– Need to book some accommodation then check out Booking.com and Skyscanner for flights, check them out using this link.
Thank you for your support.