Unfortunately, gone are the days when you can turn up at the airport and be guaranteed cheap flights to somewhere interesting. In fact, booking a flight at any point can be very expensive.
For over the last 8 years, I have been mastering the art of finding cheap flights. With these 10 tips, booking cheap flights is made easier.
1/ Use a variety of different search engines for cheap flights.
There are many different flight search engines; Jetrader, Momondo, Kayak, Skyscanner, Google flights, just to name a few. The two I regularly check are Skyscanner and Momondo. However, these are my personal favourites and you may find you prefer others.
I always check Skyscanner first when looking for cheap flights. They give you a view of the cost of flights to a certain destination over a month and even a year which is good for tip #3.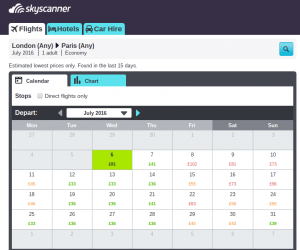 It also allows you to type in countries rather than exact airports showing the cheapest place to fly from and to for that given day. It also has the ability to search your chosen departure airport (and close by) to everywhere showing you the cheapest destinations which is great for tip #4 and #5.
Skyscanner makes its money by advertising rather than an affiliation with an airline so it has those budget airlines that will give you a bargain deal. I personally dislike the Skyscanner app and find it is a pain to use; therefore I always open my browser on my phone/tablet and search that way.
Secondly, I check Momondo as not only do they search all major and budget airlines but also English as well as non English sites.

Once you have put in the exact dates, a chart will appear at the top of your search results giving you an overview of prices for the whole month. This allows you to see if different dates are cheaper.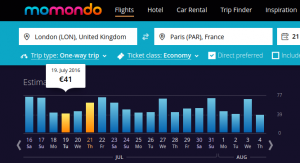 Lastly, check whichever flight you want on the carrier's website. Sometimes, this will come up cheaper to encourage customers to book directly with them although this does not seem to be the case with budget airlines. There are also websites that you can follow who post about cheap flights.
2/ Search in secret.
When I am researching flights I always clear my cookies. Ever wonder why the price of your flight has gone up on your second/third search for a particular route. Clear your cookies and reduce the risk of this. See how to here.
Even better, search for flights incognito/private browsing mode. It is real easy to do.
Google Chrome or Safari: Control/Command + Shift + N
Mozilla Firefox or Internet explorer: Control/Command + Shift + P
Mac: ⌘ + Shift + N
Your cookies are cleared each time you open an incognito window. Remember to open a new window on each new search for cheap flights.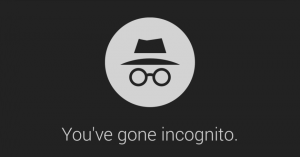 3/ Be flexible with your travel dates.
Depending on the time of year, some dates are more expensive than others. Public holidays and school holidays will be the biggest variable on the pricing.
It is cheaper to fly mid week than weekends and following a major holiday. However, it does seem to be cheaper to fly on Christmas day and New Year as most people do not want to be travelling on these days.
Check the days around your chosen day as even the difference of 24 hours can save you large amounts of money. By using websites (as discussed above) you can search for the whole month, and even the whole year!!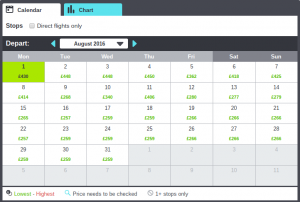 4/ Be flexible with your destination.
Not too bothered about where you actually travel to as long as its hot/adventurous/snowy? Try choosing your destination by the cheapest place to fly to on that day.

Using Skyscanner or Momondo (as discussed above) you can search your departure airport of choice  to 'Everywhere' or 'explore'  listing the cheapest flights. Then work your way home perhaps via another major city

Which leads into . . .
5/ Fly in and out of different destinations
If you have an idea of where you want to go then try nearby airports. Often flying in and out of different airports can be cheaper as budget airline entice you to places with a cheap one way ticket then charge you the world to get home again.
Make this the main part of your trip. See two places or three or four in your single trip. I often do this when I have 4 or 5 nights to spare and don't want to be in one place for this number of days.
An example of this is:

Return flights to Lisbon.
Total: £347 to explore one city.
OR

Outbound flight to Lisbon £22
+

Train to Porto approx £20
+

Flight to Manchester £46
Total: £88 and the chance to explore two cities.
Total Saving: £259 
6/ Be flexible on your route.
Researching alternative routes can be hard work but can pay off big time. This particularly works if you use the search tools above to find out the cheapest places to fly to and then get a return flight to there. An example of when I did this was when I got a return flight to Miami and another return flight to Guatemala. I had an over night stay in Miami on the way there and a 5 hour wait in Miami airport on the way back, perfect time to get something to eat. This is especially great if you can pay for access to the business class lounge for a shower and a meal in a pleasant atmosphere.
Total: £841 to Guatemala.
OR

Return flights to Miami £306

Return flights to Guatemala £216
Total: £522 to Guatemala.
Total saving: £319!
However, be aware that this can cost you more if the cost of the hotel  and transport there, food etc is more than your saving. Also allow yourself plenty of time in between flights as if they are separate bookings with separate airlines, you will have to carry the expense of a new flight if one flight is delayed and you miss your flight.
7) Avoid budget airlines additional charges.
Be aware of additional charges added to the cost of your cheap flights by budget airlines. Adding a bag can vastly increase the cost of your flight – try flying hand luggage only. See my guide for packing liquids for hand luggage only flights.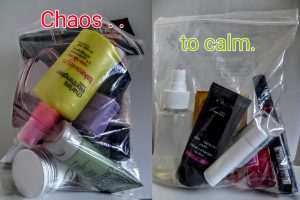 Also, when travelling with these airlines, ensure you jump through the appropriate hoops to ensure you don't get landed with extra charges. Use their apps, check in online and print off tickets where necessary.
To avoid paying extra for a meal, why don't you take your own food (ensuring that there is no liquids over 100mls) to eat on the way.
8/ Sign up for air fare deals.
I particularly like Holiday Pirate. They show fares all over the world, special deals and mistake pricing so you can grab yourself a deal whenever one pops up.

Also sign up to the main carrier which leaves your local airport so you get those bargain deals on your doorstep.
9/ Collect air miles.
Sign up to air miles for the airline that leaves your local airport. Get an air miles credit card and put everything on it but make sure you pay it off in full.
10/ Follow your instincts.
Searching for a flight should not take all day. In fact, I never spend more than an hour searching for a destination. Value your time! You might find a saving by searching for days on end but put a price on your time.
Following your booking, don't keep on checking the flight price and thinking what if. If you find the perfect flight, don't hesitate as the price may increase at any point.
A lot of airlines give you 24 hours to cancel. Perhaps do a quick check within this time and see if it's worth rebooking and cancelling your old flight but again only do this if there are real savings to be made.
Want to read another post like this for more advice?
Check out Television of Nomads post "DO A CHEAP FLIGHT SEARCH LIKE A PRO".
Please comment below if you have any additional thoughts or tips to find cheap flights. Don't forget to subscribe (it's free!) to my blog for more  posts like this and interesting travel stories.