Carved out of the hillside by the Ifugao people, it is absolutely amazing to think how such a spectacular place was made from the most basic tools. I'm at the Rice Terraces of Batad, a UNESCO World Heritage Site and I am doing this self guided tour.
Without a guide, we made this trip solo, a hard task to do with no signposts and local people less than willing to help (unless of course you hire them as a guide). However, we made it and so can you as I have created directions for you as a gift in 'Batad – Self guided' which can be found at the end of this post.
My day started in Banaue, Philippines. Here they have their own rice terraces, nice but not as amazing as Rice Terraces of Batad.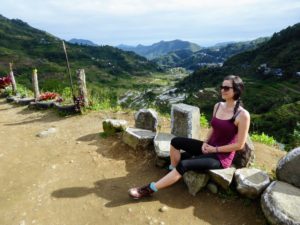 Batad is a remote village which is only accessible by foot. You either need to take a Jeepney, but no one will ever tell you where and when they leave or what time they go back, or take a tricycle. The journey by tricycle will take 45 mins over the Saddle which gives you spectacular views. You can choose to walk over the Saddle but be aware that it is a steep 3 km uphill and another steep 3 km downhill. Your Tricycle driver should stop on the way to or from the start of the walk so that you can see the amazing views. They also sell yummy coconuts here.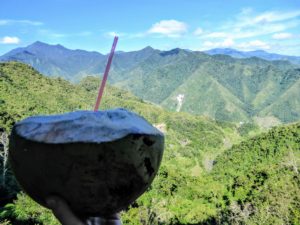 The tricycle will drop you off and will wait for your return at the point the road ends. We decided that we wanted to go to Batad Rice Terraces and Tappiya Waterfalls.
The beginning of the trek is not that spectacular but as soon as you rise over the hill you will start to see the rice terraces and the mountains surrounding it. At this point there are plenty of cafes to soak up the views and there is also a place to sign in. Here there is an opportunity to pay a donation to the village.
From here and at the start of the walk, we were regularly asked if we wanted a guide. I politely said we were just walking and exploring and all then left us alone. It was nice as in other places of the world they would follow you however they did respect when I said no. They did however not really tell me where we were meant to be going.
So after getting a little lost following lots of small tracks down and along the rice terraces, we stopped at a little shack to drink a not so cold, warm Mountain Dew.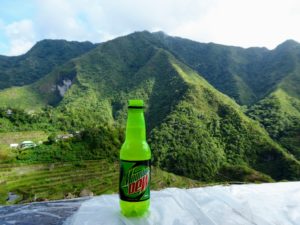 Following her sale, the lady was happy to point out the direction we were meant to be going in to get to the Tappiya Waterfalls. Basically we needed to walk across the rice terraces towards the red roofed house on the far side of the valley. We thanked her and headed on our way.
As we walked through Batad village we literally passed through people's yards (which is perfectly normal here). Groups of people sat around tables eating, playing cards or working in their yards, feeding their livestock, pigs and hens everywhere. This was an amazing insight to the real Philippines.
We reached the red roofed house and decided to take a slight detour to a viewing point here. As we climbed up the many steps which were torture on the knees, we were rewarded with fantastic views of the local area. There was also a little shop here, in prime position for the tourists needing a sugar fix or to quench their thirst.
Following a rest here to sit in awe of the view and of course to take the mandatory viewing the view photos, we headed back down to continue to the Tappiya Waterfall.
The path leads you steeply down lots of steps and then follows the river along, up and down, up and down till you reach the waterfall. You pass area of landslides and erosion as the river cuts through the valley.
Then around a corner you will see and hear Tappiya Waterfall. You can take the best photo by wading across the river to a stone island in the middle. From here you can also swim in the ice cold waters if you dare.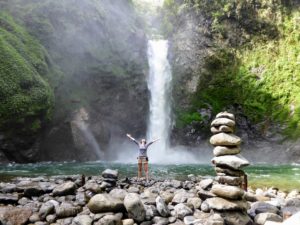 To me it was well worth the additional trek to the waterfall as I enjoy seeing Mother Nature at its finest. However it is a hard climb back up the mountain to the Rice Terraces of Batad.
We took a different route back along the top of the terraces and the route I would advise to get to the viewing area to prevent an unnecessary trek down into the village and back up again. As we walked the local children played along the stone edges of the rice terraces, locals worked out in the fields and we saw the rice paddies at all stages of development.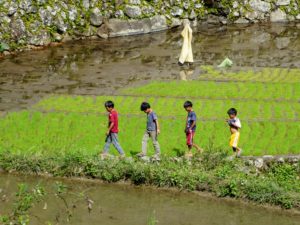 Back at the sign-in area, we had our last glimpse of the Rice Terraces of Batad over a cup of instant coffee and milk powder and turned our back on it, knowing that I had truly seen one of the wonders of the world.
Would you want a guide or would you attempt to hike the Rice Terraces of Batad alone? Have you encountered any other spectacular rice terraces from around the world? Please comment below. Don't forget to subscribe (It's free!) to my blog for more  posts like this and interesting travel tips.
Tips for Hiking Rice Terraces of Batad
1/ You really do not need a guide for this trip but if you do feel it is necessary then I would recommend you get a guide from Sanafe lodge and restaurant. I would also recommend you stay here at Sanafe Lodge with their clean affordable rooms and great fried banana in honey and sesame seeds. The view from their restaurant and some rooms are lovely especially in the morning mist.

2/ Wear good walking shoes and take enough drinking water and snacks. There are also places to eat and drink on the way.
3/ The Rice Terraces of Batad are at their greenest between April – May and October – November. I went to Batad at the beginning of January therefore missed this season however I still thought it was beautiful with its patchy colouring.
4/ The cost of taking a tricycle is P1000 return trip. This seems to be a fixed price and can fit 3 people. Alternatively you can hire a jeepney privately. I found it very hard to find the information about how to take a local jeepney there and no one seemed to know if I could then get back. I felt it wasn't worth the hassle.
5/ I really do not recommend that you take the minivan to or from Banaue to Baguio unless you are extremely small and wish to hold your own head in place. It was sheer hell. There are buses which run at 5.30pm from Banaue and although they take a lot longer, are definitely worth it.
6/ When arriving in Banaue town you need to register at the tourism office and pay the P50 environmental fee however I was never asked for this. Some people have reported paying again at Batad but this is a voluntary donation, not a fee.
7/ Here is my guide 'Trekking to Batad and Tappiya Waterfall without a guide' as my free gift to you.