As I looked up, all I could see were coffins above me. No. I hadn't been buried alive, this is Echo Valley where some of the hanging coffins of Sagada are. Why are the hanging coffins of Sagada in the Philippines hung on the cliff side?
There are lots of different reasons documented but the reason my guide gave me is in Igorot indigenous culture it is believed that the deceased are closer to heaven and so that they can look over their loved ones.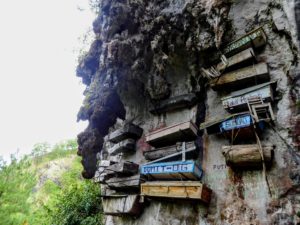 This trip starts with a trip to the Community Guide Centre to get a guide. The prices are fixed and here you will get a registered guide. You must have a guide to go to Echo Valley.
Echo valley is just a very short walk from Sagada, approx 10 mins making it the most accessible attraction from the town. The walk starts at St Mary's church and it is a short distance to Calvary Hill  Cemetery.  Here you have to show your ticket and pay an additional fee of P10. This is a new addition to help the locals maintain the cemetery grounds. As you can imagine a lot of people pass through here every day.
The cemetery is interesting in itself. Instead of lightning candles for the dead, they light little fires. Apparently on the 1st November the graveyard looks like one massive fire during the panag-apoy (meaning to produce fire) where the Anglican priest blesses the graves.
After the cemetery you take a short walk down through the wood to the cliff side. Along the way you will see great views. Try shouting at this point and you will realise why it is called Echo Valley. I'm not sure about the policy of shouting at the Igorot equivalent of a graveyard as it does seem a little disrespectful to the dead.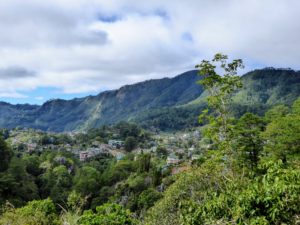 You will soon get to a cliff with Hanging Coffins of Sagadaattached to the edge. Here there are only 18 Hanging Coffins but the most recent was placed there in 2008. This ancient traditional practice is more than 2,000 year old and is not just common in the Philippines, being found in parts of China and Indonesia. Only those who died of natural causes such as old age are allowed to be laid to rest in this way so there are no children here.
Our guide gave us so much information about the Hanging Coffins of Sagada. It was tradition to place their dead here in the hanging coffins however when American missionaries came they introduced the cemetery. Another thing they introduced was rather than placing the dead in the fetal position making the coffin smaller, they introduced laying out the dead straight so it was more comfortable for them.  As you can see some of the coffins are smaller than others. This is due to the person inside having their knees forced to their chin and then bound using rope made from the maguey plant. This is due to the fetal position symbolising a new life, something that helps the dead move onto their next life.
They also have a couple of chairs next to a few coffins. This isn't somewhere for the loved ones to sit whilst mourning their loss. It is traditional for the dead to be strapped to the chair prior to being placed in the Hanging Coffins of Sagada.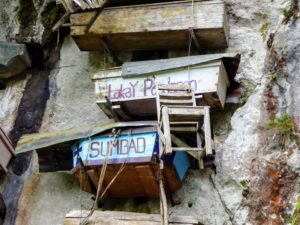 From here you can continue to walk to the Sagada underground river, natural swimming pool and forest trails. However we decided to keep it brief and go to another area where we could walk freely. Plus we wanted to go to the cave connection.
What is your thoughts about the Hanging Coffins of Sagada? Have you encountered a different way of laying the dead to rest other then burial? Please comment below. Don't forget to subscribe (It's free!) to my blog for more  posts like this and interesting travel tips.
TIPS for Visiting Hanging Coffins of Sagada
1/ Do not attempt to see the Hanging Coffins in Echo Valley without a guide. You are providing people with jobs by having a guide for not much money, you learn so much more and it is rather difficult to sneak in without a guide as they check. That said, if you are on an extreme budget, there are hanging coffins that can be viewed from the roadside in the south of the town.
2/ Get a guide from the guide centre. Prices are fixed at P200 for 10 people or less. If you like the guide then think about hiring them for other trips. There are so many on offer. Here is a photo of the trips and prices:
3/ Echo Valley is just a short walk from the town centre of Sagada. Have shoes that you are comfortable walking in and remember that there is a bit of walking up and down hills.
4/ Check out this list of great places to stay whilst in Sagada.