If you're looking for a break that combines romance, excitement and plenty to do- why not travel to a city? Sure, they're not your average beach vacation, but vibrant cities have much to offer tourists and travellers. Great restaurants, plenty of shopping, entertainment and attractions and more all packed into one place. Plus lots of cities are very historic giving you a dose of history and culture too. Whether it's a long weekend or a full two week vacation, if you fancy a city break for your next getaway, here are a few places to research!
Italy
There are plenty of great Italy holidays you can go on if you want to get to a city. From Florence, Siena, Pisa and Lucca in Tuscany to Naples, Bologna, Verona and of course Rome.If you're looking for history and culture you won't go wrong with Rome- ancient ruins, museums, galleries and more can all be explored. The Colosseum, Trevi Fountain, Roman Forum, Spanish Steps and more all provide a fascinating insight to the past and make for some incredible photo opportunities. But on top of all of this, Rome also has a very modern side too so is often considered to be a city of contrasts. From festivals to restaurants, shopping and more- there's something for everyone.
With Rome being home to Vatican City, you also have the political and religious aspect since it's the religious center of the Roman Catholic religion. You can visit Apostle Peter's burial place which makes for a really interesting place to look around. Milan is another popular Italian city, and is known as Europe's fashion capital. It's the largest urban and metropolitan area in the country and is well frequented by supermodels and celebrities giving it a very glamorous appeal. On top of the luxury boutiques and high end restaurants, you can see incredible architecture from cathedrals and castles to monasteries, museums and more.
The Netherlands
Rotterdam, The Hague, Haarlem and of course Amsterdam are all fantastic cities within the Netherlands that are well worth visiting. In Amsterdam you have all of the waterways- in fact there are over a hundred kilometres of them. Along with ninety islands, and toughly one thousand five hundred bridges. This means that travel by canal boat gives you access all over the city, a much more fun way to get around than using the bus! Since the city was built around these waterways they take you right to to heart of the action too. You could even hire a houseboat or canal to stay in and sleep there at night instead of booking a hotel. Something a little more unusual and you have your transport and accommodation in one.
Being one of the most bicycle friendly cities in the world, it also gives you an opportunity to travel that way. The perfect opportunity to get some light exercise in, meaning you can indulge yourself on the fantastic food while you're away guilt free!
Spain
From Valencia to to Seville to Malaga, Spanish cities are particularly nice since many are right on the coast giving you a beach and city vacation in one. Madrid is an elegant city which is known for its beautiful boulevards, plazas and large parks. There are plenty of museums, markets, stadiums and much more- along with everything else you'd expect from a city.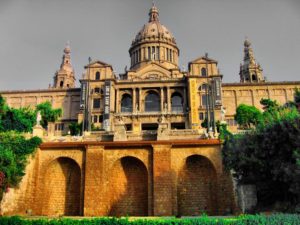 If a party vacation is more your kind of thing, how about a trip to Barcelona. Brimming with exciting nightlife it's a popular destination for younger groups of friends, hen and stag parties. However if this isn't your kind of thing don't be put off, it's also rich in history. Barcelona has plenty of things to do in the daytime as well, in fact it's very rich in history containing many Roman archaeological sites. There are tonnes of modernist landmarks dotting the city, so have your camera at the ready and prepare to be wowed.
Russia
Russia is an incredibly interesting country, and is a land where East meets West. Part of Russia is Europe, with the other being in Asia making it a place of huge contrasts. On the European side you have Moscow, the large capital city full of history, culture and architecture. There are galleries, museum, churches, palaces and theatres showing world famous ballet and opera shows. For a break from the busy city visit one of the beautiful, well maintained parks. These are considered the pride of Moscow and provide somewhere you can ride bikes, enjoy the scenery and have a picnic.
Another European Russian city is St Petersburg. This is hailed as Russia's most cultural and tourist- worthy city due to it's young, trendy and exciting vibe. While there's plenty to do for the modern traveller- festivals, nightlife and modern hotels and restaurants, you get a strong link to the past too. Fortresses, palaces, theaters and cathedrals all give you a glimpse of the culture and history of the city. Because there are great links between Moscow and St Petersburg, so you could visit the two cities in one trip if you wanted to see more of Russia.
France
Paris is an obvious choice to visit when it comes to French cities. The Eiffel Tower, Champs Elysees, The Louvre and even Disneyland have been wowing tourists for generations. But there's more to France than just Paris, and some other fantastic cities to check out include Nice, Toulouse, Marseilles and Lyon. If you're visiting during the colder months and skiing is on the agenda, how about Alpe d'Huez? Located in the French Alps, there are plenty of slopes suitable for beginners to experts. With seventy four lifts, it's the fifth biggest ski area in France. There are pretty rustic villages to stay in nearby meaning you get the benefit of the city and villages in one. Check out the expected snowfall for different times of year so you can time your skiing trip just right.
Cannes in another popular city in the glamorous French Riviera. It's known for it's famous film festival and high end lifestyle- it's a firm favourite with celebrities and a generally gorgeous destination to visit. Forts, bays, monasteries and winding roads make for an interesting and picturesque vacation. Whether you're after sunshine or snow, French cities have a whole lot to offer. If you're travelling from the UK, France is only a short ferry ride away too making it ideal for a long weekend or mini break.
Cities have been captivating lovers for centuries, so if it's a romantic break you're after then you won't go wrong with any of these destinations. Whether it's to pop the question or visit for an anniversary a city break is a fantastic plan. Equally due to the great nightlife they work well for groups of friends, and with attractions for all ages are something families will love too. Regardless of who you are or what you enjoy, a city break is always going to be fun-filled and exciting. Decide on your budget and how long you're happy to travel for, and then go from there. If you research your destination as much as possible you'll be sure to get the very most of your trip- with so much to do you won't want to waste time and should cram in as much as possible!
Do you go on many city breaks, or do your vacations usually just involve the beach? Which of the cities in this guide appeals to you most?

Disclaimer; This post is a collaborative post.