Tours in France is popular not only because it is on the Loire Valley route but also due to its historical attractions. Tours is well known for its good food and wine. However good French food and wine comes at a cost. This is why I have put together these 10 free things to do in Tours France so that you can continue being a budget traveller whilst in this beautiful city.
Tours was the third city I visited on my grand tour of Europe where I lived and slept in my car. The two nights I stayed in the area, I slept down by the river Loire just outside the city. However, the Loire is easily accessible to those without transport, being a 2 hours TGV Express train from Paris to Tours. Tours France also makes a great base for exploring the western area of the Loire Valley.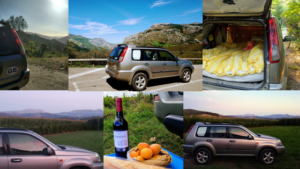 Free things to do in Tours France No. 1: Visit the Cathedral.
Tours Cathedral was certainly not built in a hurry. Building began in 1170 and was not completed till 1547. Due to the extraordinary length of time it took to build, it is a great summary of the evolution of gothic art. The cathedral has information panels giving you more information behind each image.
The cathedral contains the marble Renaissance tombs of King Charles VIII and Anne of Brittany's children which sadly both died in childhood. If you are in search of things to do in Tours France, a visit to this cathedral is a must.
During summer, they have a light and sound show each night at 10:30 pm, where they basically project a story on the cathedral. If this isn't your kind of attraction, don't fret as there are more options for Tours France tourism.
Free things to do in Tours France No.2: Tours Botanical Garden
The Jardin Botanique De Tours has had a few major floods due to its location between the Loire and Cher river. In the mid-19th century it had two floods which filled the greenhouses with two metres of water. It has even been hit by a bomb in the Second World War. But this goes completely unnoticed due to its beautiful, quiet surroundings.
It has a small animal park with farm animals for children to pet as well as imported species like wallabies. You will also notice many different types of tree from Asia. If you're a nature lover, you must add this to your list of free things to do in Tours France.
Free things to do in Tours France No.3: Le Vieux Tours
The old town of Tours is full of local life. The old buildings are bars, restaurants and shops.
Take a wander through the historic city centre and take in the hundred of years old timber beamed houses. It is highly recommended for those not only looking for free things to do in Tours France, but also those seeking a cultural experience.
4/ Free things to do in Tours France No.4: Saint-Martin Basilica
Built in the mid 1880s to replace the original Basilica Tour Charlemagne of which all that remains is the tower which is close by.
Saint-Martin Basilica was built between 1886 and 1924. Nearby is the small Musée Saint-Martin, with displays on the life of the Saint Martin, a soldier who became Bishop of Tours in the 4th century and helped spread Christianity through France. His remains were rediscovered in the 1860s and are sheltered in a crypt that still attracts numerous pilgrims. It is therefore highly recommended in the Tours France tourism industry.
5/ Free things to do in Tours France No.5: The River Loire
Down by the River Loire is where I called home whilst staying in Tours. It is easily accessible with lots of car parks and paths. They have special bridges just for pedestrians and bikes so you can cross over the river with ease. If you are looking for ideas on what to do in Tours France, you can head to the River Loire.
6/ Free things to do in Tours France No.6: Loire à Vélo
I spoke about cycling the Loire Valley in my post about why you should visit Orleans. If you are feeling energetic then try hiring a bike and cycling parts of the 800km (500 miles) cycle route from Cuffy in the Cher to the Atlantic coast. As part of this runs through the Loire Valley there are many places to branch off the main route and visit several beautiful chateaux along the way.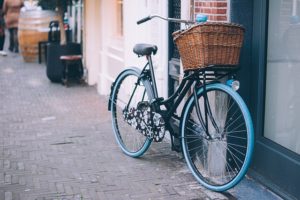 The route is clearly marked and this section is particularly easy going. Check out Amboise or Villandry, which are both reachable in about an hour from Tours. Or if you are looking for more of an adventure then try spending the night at one of the B&Bs on the route. You won't regret this experience when you make it part of your Tours France travel itinerary.
7/ Free things to do in Tours France No.7: Roman Remains
If you head over to the gardens of the Musée des Beaux-Arts and Rue des Ursulines and you will find some Roman wall remains. The Romans also built one of the largest  amphitheatre in Tours  which could seat 34,000. You can only find the remains of this in the cellars of private mansions.
8/ Free things to do in Tours France No.8: Brocante Béranger
I was lucky enough to be in Tours on the fourth Sunday of the month when they hold a massive flea market. The prices are so cheap compared to the UK. I had to control myself and not fill up the sleeping space in my car with some beautiful wooden wine crates and vintage bottles and tins. There are around 150 stalls here each month with beautiful aged books, agricultural equipment fit for most museums along with fine French porcelain and other antiques. If you're into visiting local markets when you travel, you should definitely make a note of this when you travel to Tours France.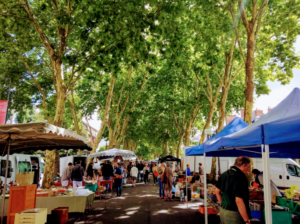 You can find the flea market on Boulevard Béranger on the 4th Sunday each month except December from 8 am to 6 pm. Only professional antique dealers are allowed so you know it is of the highest quality.
9/ Free things to do in Tours France No.9: Markets in Tours
Leading on from the massive flea market in Tours on the fourth Sunday of the month, Tours also has markets every day except for Monday. I recommend that you check out the flower and food market on a Wednesday and Saturday at Blvd Béranger, the gourmet market on the first Friday of the month at Place de la Resistance and the smaller antiques market on the first and third Friday of the month at Rue de Bordeaux. There is also the Christmas Market which starts three weeks before Christmas.
10/ Free things to do in Tours France No.10: Hôtel de Ville
Hôtel de Ville was built from 1896 to 1904. It was designed to project both republican values and municipal prestige and has some lovely food places nearby. The architecture is so grand that you can't afford to miss it during your Tours France travel.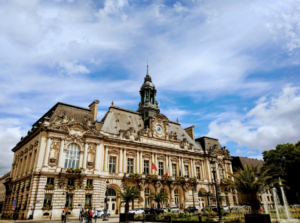 Bonus number 11: Pizza from a machine
Head over to the student area of town and you will find a vending machine that will make you a pizza. Padova Pizza is obviously 'open' 24 hours a day and costs round the 9 – 10 Euro. It's not really free as the pizza will cost something, but it is a fun idea to add to your list of things to do in Tours France.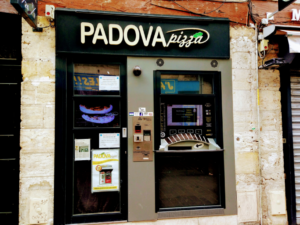 Not exactly free so why is it a bonus? I was so amazed by this that I had to mention it.
So there you go. 11 ideas of things to do in Tours France, 10 of which are free. Have you ever been to Tours, France? Have you got any other advice on where to go? What other cities do you like to go to? Don't forget to subscribe to my blog (It's Free) for more posts like this, travel this and adventure posts.