As I sat at our picnic spot, with incredible views of the Franz Josef Glacier on New Zealand's South Island, I felt like I was on top of the world. However, I knew that the environmental impact of my tour wasn't adding to the reason why this Glacier is retreating at such a rapid pace. It leaves me wondering how long this glacier will be here if the helicopter tours continue at the pace they are.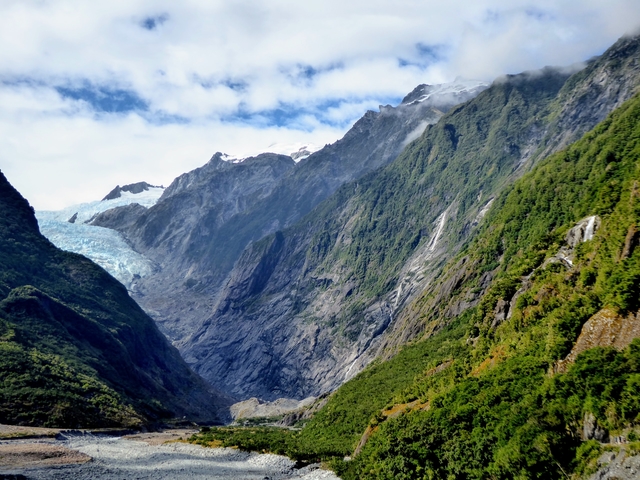 I am taking a tour with Glacier Valley Eco Tours who, I believe, are the best Franz Josef tour because they care for the glacier rather than being just another of the many, very polluting, expensive helicopter ride tours that are being advertised. You will learn so much more about the area which is one of just three glaciers in the world which end in a rainforest and you will not be adding to the pollution that causes glacier melt in the area which the ecosystem relies on.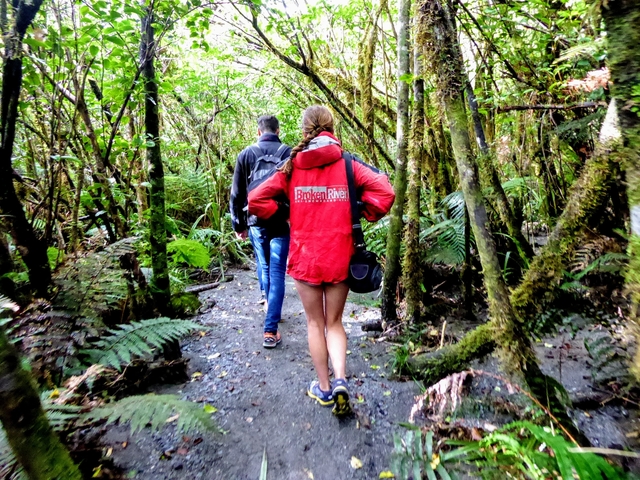 Our guide Lisa took us for a trek through the rain forest keeping our minds active with lots of interesting information about the glacier, geology and the plant life of the incredibly dynamic area. We learned about how far the glacier has receded over the years and why this happens.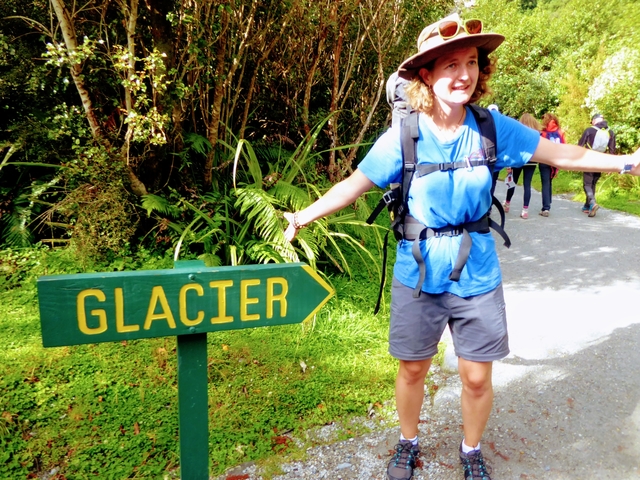 From there we followed the path up to the glacier whilst learning even more about the glacier than you would on a self-guided tour. She taught us so much and certainly made me feel that this was the best Franz Josef Glacier tour out there due to their minimal carbon footprint and strong educational focus.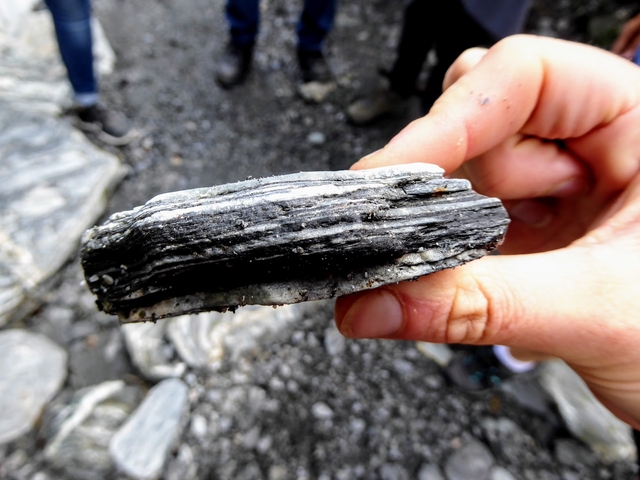 .
When we reached the glacier, we headed off the tourist path (something that only tours are allowed to do) and sat on top of a great viewpoint with out own private bird's eye view of the Franz Josef Glacier. And what more could a travelling Brit want, but a cup of tea and a biscuit at the best private viewpoint of the glacier?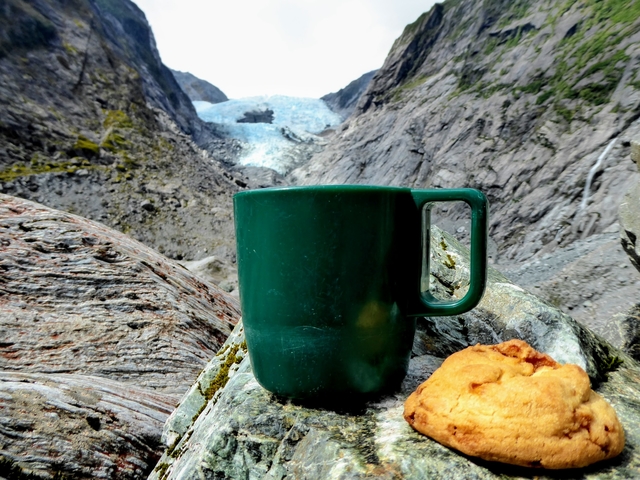 On the way back to the carpark, I even got to hold some dead ice from the glacier, something I would not get to do on a self-guided tour. I highly recommend if you are in the area that you take a trip with Glacier Valley Eco Tours.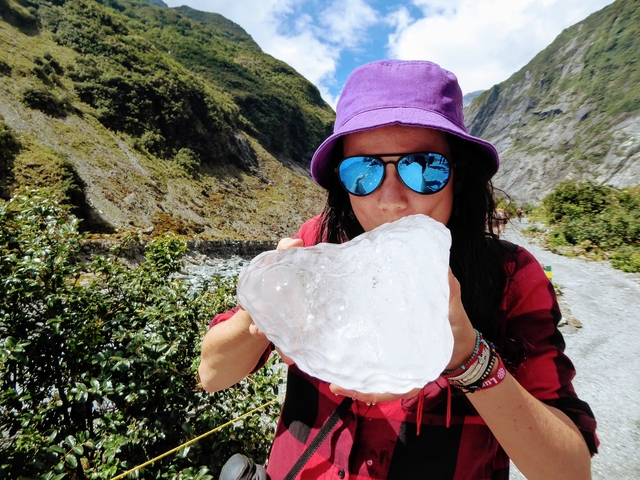 Things to know about their Franz Josef Eco Tour:
1/ The prices at the time of writing are NZ$80 per adult and NZ$40 for children (4 – 15yrs). Children 3yrs and under are free of charge.
2/ There are several different departure times throughout the day. Summer: Daily at 9:30am, 1:30pm and 5.30pm. Winter: Daily at 11:00am and 3:00pm.
3/ The walk to the glacier is an easy to moderate walk. A reasonable level of fitness is required.
4/ You will not walk on the glacier. This is not permitted.
5/ You will have a better view of the glacier than doing the self-guided walk.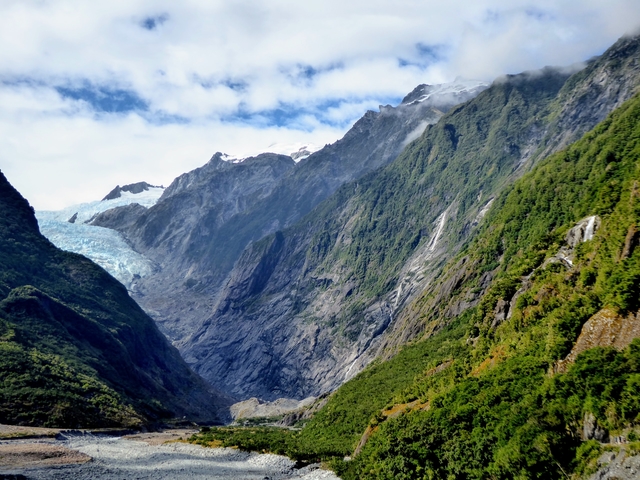 Things to know about the best Franz Josef Glacier Tour :
1/ Glacier Valley Eco Tours offers quite a few trips around Franz and Fox glacier as well as Lake Matheson and Okarito areas.
2/ Glacier Valley Eco Tours offer you raincoats, over trousers and large heavy duty umbrellas to keep you dry as the weather in the area is very unpredictable.
3/ Obviously as the best Franz Josef Glacier Tour they offer you free hot drinks (which includes yummy hot chocolate) and a biscuit with each tour.
4/ If you are travelling light then Glacier Valley Eco Tours have a limited supply of hiking boots for you to use.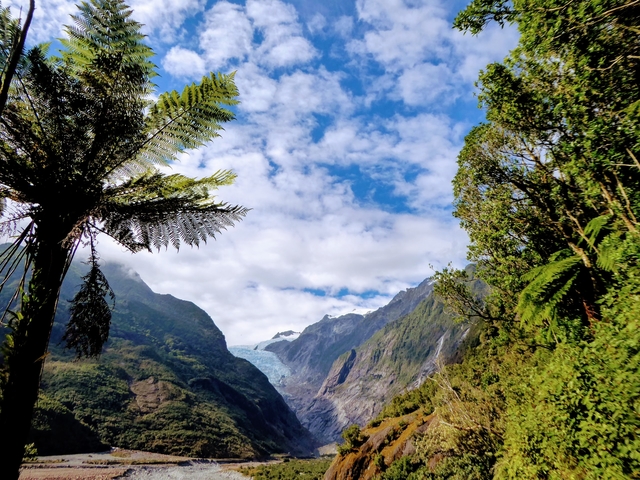 5/ They give complementary pick-up and drop-off from your accommodation.
6/ Private tours are also available.
7/ Glacier Valley Eco Tours is a New Zealand owned local family business.
8/ Glacier Valley Eco Tours also provide lunch packs (for the combo tours) for NZ$25 per person.
Things to take on your Franz Josef Glacier Valley Eco Tours:
Decent footwear. Glacier Valley Eco Tours can lend you a pair.
Your camera as there are amazing photo opportunities
Warm clothes as the weather can change quickly.
Sunscreen as the New Zealand sun is very strong.
Water.
Have you ever been to Franz Josef? Is this the type of place you would love to visit? Comment below. And don't forget to subscribe to my blog (Its free) to get free fortnightly updates.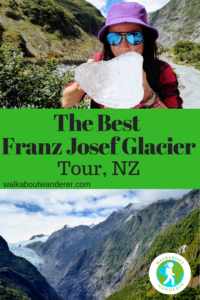 Disclaimer: Although Glacier Valley Eco Tours hosted me on this trip, all opinions are my own.