As I walked along the rugged cliff top road, with the waves crashing beneath and the sea breeze in my hair, I caught a glimpse of something. Eerily a white marble angel towering over some iron gates. One wave of relief was that I wasn't travelling here alone at night. For I was about to go into a graveyard here in northern Spain in the town of Comillas. I was respecting the dead in the cemetery of Comillas.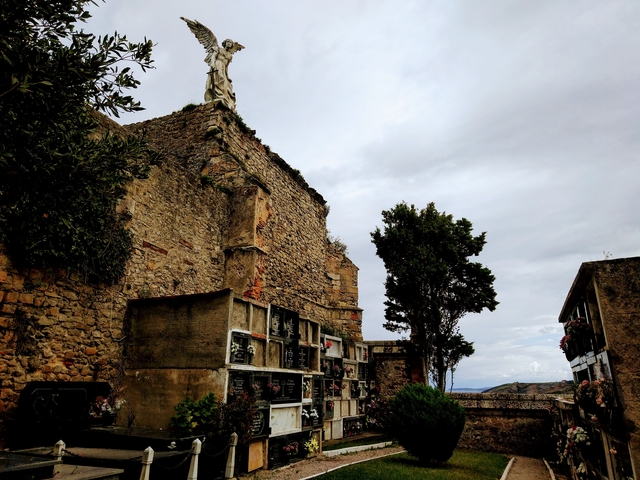 Comillas is a popular destination for holidaying Spanish, and most go there to visit el Capricho or spend time on its beautiful beach. I was passing through Comillas as I travelled from Santander to the Picos de Europa national park when I was travelling through Europe and living in my car.
Graveyards are not high on my tourism list of things to do in Comillas but for some reason the cemetery of Comillas caught my eye. You will see the burial style which is common across Spain. Coffins are placed in a space in a wall, which is rented for a number of years. Once the rent is finished, the coffin is then moved to another burial area in Comillas. Most coffins are moved to the graveyard just up the road from the cemetery of Comillas.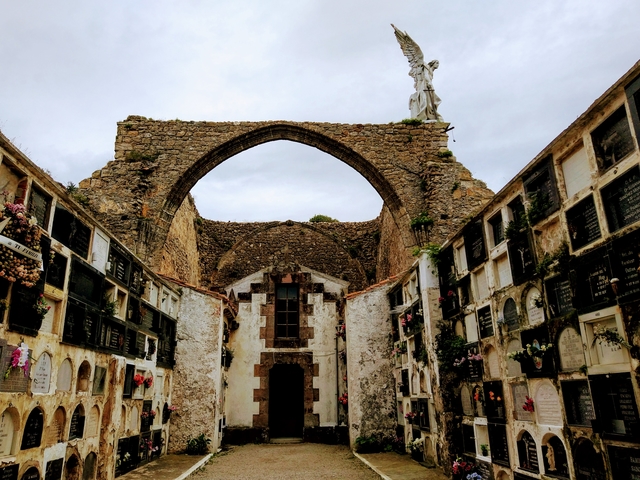 This particular graveyard area is full of history. The cemetery was built on the site of Comillas' old parish church (XV or XVI century) after it was abandoned by locals. In 1893, the modernist architect Lluís Domènech was given the task of extending the site making it into the impressive sight it is today. He kept some of the old temple, protecting some of its beautiful architecture , but also extended the area including giving the cemetery a face lift.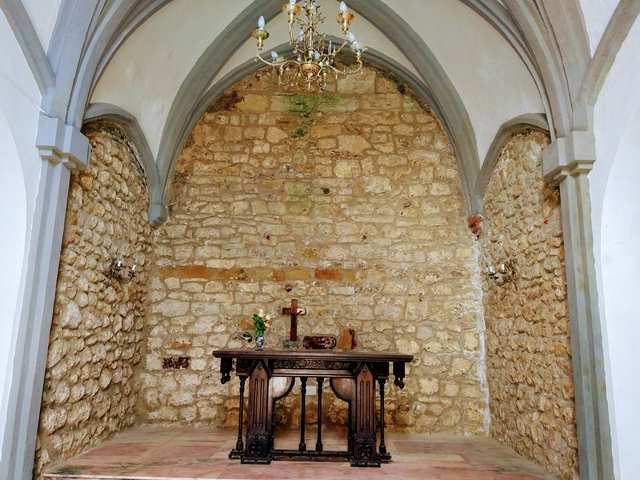 The archway at the entrance to the site is part of the 15th Century church which the cemetery was built over. On top of this archway is the guardian angel which was made by Josep Llimona, a Catalan Sculptor in 1895. Underneath are the large iron gates which beautifully capture the Gothic element of this spooky yet quaint place.
Tips for visiting cemetery of Comillas:
1/ The graves are still in use, and whilst I was there, I witnessed local people tending to the tombs and graves of their loved ones. Please remember this is a place of mourning and that you should be respectful at all times.
2/ There is very limited parking so please be respectful for those who are visiting loved ones and do not take up the limited spaces. Further along the headland there are lots of places to park on the road.
3/ If you fancy going for a walk following visiting the graveyard then there is a nice walk along the headland if you cross over the road from the cemetery of Comillas. Here you can look down at the waves crashing below.
4/ From the graveyard, you have lovely views over the town of Comillas.
So there you have it, my guide for cemetery of Comillas in Spain. Have you visited any interesting graveyards/cemeteries? Comment below.  Make sure you check out my other posts on Spain and don't forget you can subscribe to my blog (It's free!) to keep updated each fortnight with what I am doing and for more posts like this one.
Just a note to say:
Have you noticed I do not have intrusive adverts on my page making the site run slow for you, or that interrupt your reading. This is because I want to make your reading experience as pleasant as possible. Writing blog posts isn't as easy as it looks. I spend a long time making sure I give you correct information about places, edit the posts so they read well and then add the edited photos I have taken or add the google maps location. I do this as I love to travel and love helping other people to travel. If you enjoyed what you have read then there are other ways you can support me as a travel blogger other than putting up with annoying adverts:
You could buy me a coffee
Use the links on my sources page which are affiliates.
– Head over to Amazon to buy some products using this link .
– Looking for website hosting? Take a look at Bluehost using this link.
– Need to book some accommodation then check out Booking.com and Skyscanner for flights, check them out using this link.
Thank you for your support.