There are lots of open spaces in Seoul, South Korea to take a stroll in – Tapgol Park, Dwanaksan Mountain and Olympic Park to name a few. But nothing tops the Cheonggyecheon Stream which is lovely and tranquil at day but even nicer by night.


Cheonggyecheon Stream was once covered by an elevated highway following the Korean war. In 2005, it was opened to the public after a $900 million project to restore it. It passes lots of famous landmarks such as Seoul Plaza, Changdeokgung Palace and Deoksugung Palace.

The 10.9 km (7.0 miles) long recreation space in downtown Seoul has become popular with residents and tourists alike. As the stream is more than 4.6 meters below the street it is extremely quiet. It is full of little waterfalls, numerous stepping stones across the stream and over 20 bridges. With lots of wildlife, this is like the heart and Soul of Seoul.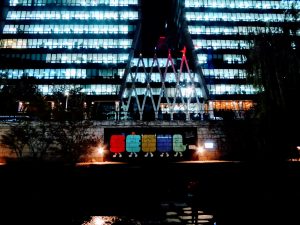 Looking for other things to do in Seoul? Check out my post about 10 free things to do in Seoul. 

By night the Cheonggye Stream changes from wildlife haven to cool hip walk with its bridge lights and cool street art captured in the moonlight. This well lit area really is safe to walk at night and to soak up the tranquility whilst admiring the hipness of the area.

The starting (or finishing) point of the Cheonggyecheon Stream is Cheonggye Plaza. Here, there is  a small waterfall which is also lit up at night. The Spring Sculpture is the centrepiece for the plaza and was designed for the restoration of the Cheonggyecheon Stream. At night the bridge next to Cheonggye Plaza is lit up in rainbow colours creating a colourful creation.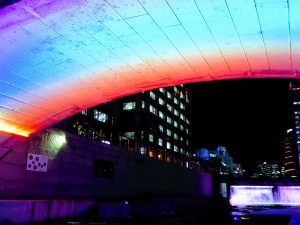 This is one place to escape the city and find your Seoul!
Tips for Exploring Cheonggyecheon Stream

– Start at Cheonggye Plaza in the daylight and take a stroll till the sun sets then wander back by night to see the river lit up.

– You can take an organised walking tour for which you need to register in advance online or take a walk alone. There is no need to have a guide unless you want the additional information about the river.
Have you been to Seoul? Do you recommend anywhere? Please comment below. Don't forget to subscribe (It's free!) to my blog for more  posts like this and interesting travel tips.