Travelling on a budget can be difficult at times especially in big cities when there are so many things to do that cost money. Entrance fees and and tours can take a huge chunk out of your travel budget. However in Seoul, we found travelling on a budget wasn't as hard as we thought it would be. There are plenty of free things to do in Seoul! With cheap public transport getting around was easy; therefore, it was finding things to do within our budget that was needed.
Here are my top ten things to do for free in Seoul, South Korea:
1. Free things to do in Seoul: TempleStay Information Centre.
This offers free activities where you can be part of a tea ceremony, get crafty by making a lotus flower or do wood block printing and colouring. I have written a post on my time here which I really enjoyed. Read all about it HERE.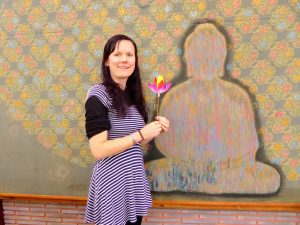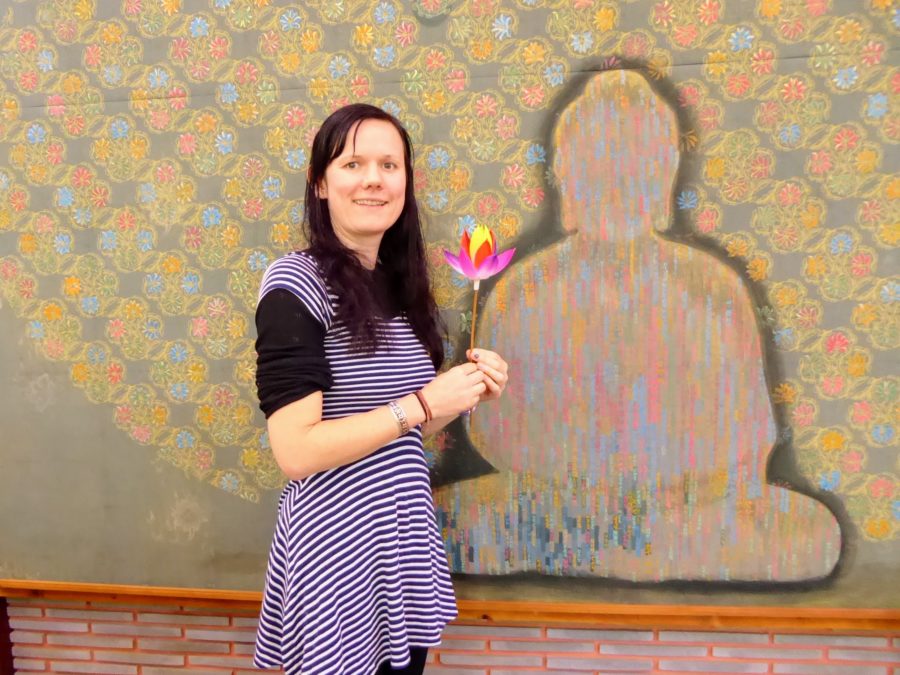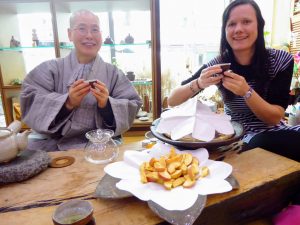 In addition the centre can give you advice on temple stays throughout Korea and also has a great vegetarian restaurant upstairs. You can find it opposite Jogyesa Temple on Ujeongguk-ro Street near Jonggak Station (subway line 1) and Anguk Station (Subway line 3).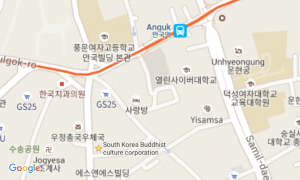 2. Free things to do in Seoul: Jogyesa Temple.
This temple is best viewed at night when it is all lit up. It can be found opposite the TempleStay Information Centre on Ujeongguk-ro Street near Jonggak Station (subway line 1) and Anguk Station (Subway line 3). Best of all, it's free!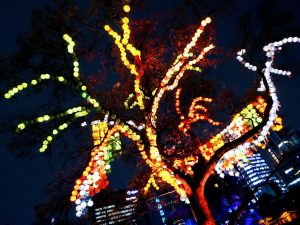 3. Free things to do in Seoul: taking a walk along Cheonggyecheon Stream.
This newly restored stream which was once covered by an elevated highway following the Korean war is now an urban oasis. It is lovely to walk along this area by day with plenty of stepping stones across the stream so that you can pop out on the streets either side of the stream. Full of street art, this stream and path are well maintained. However it is better still after dark when the bridges are lit up. The best treat is next to Cheonggye Plaza where the bridge is lit up in rainbow colours.
See my full post on the Cheonggyecheon Stream HERE.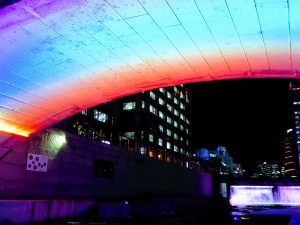 4. Free things to do in Seoul: supporting Comfort Women.
For those who do not know about "Comfort Women", they are females who throughout the world were used by the Japanese army to provide them with 'comfort' during the war. Read more about them HERE.
A lot were forcibly seized within Korea and the survivors now live together in a home called The House of Sharing. Every Wednesday, a demonstration gathers outside the Japanese Embassy with live music to show their support and to ask for recognition and an apology for what these women went through. You can join them at midday every Wednesday next to the Golden statue of a female near the Japanese Embassy.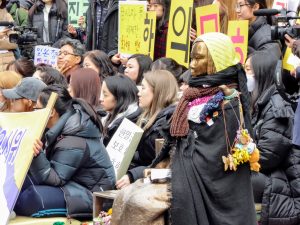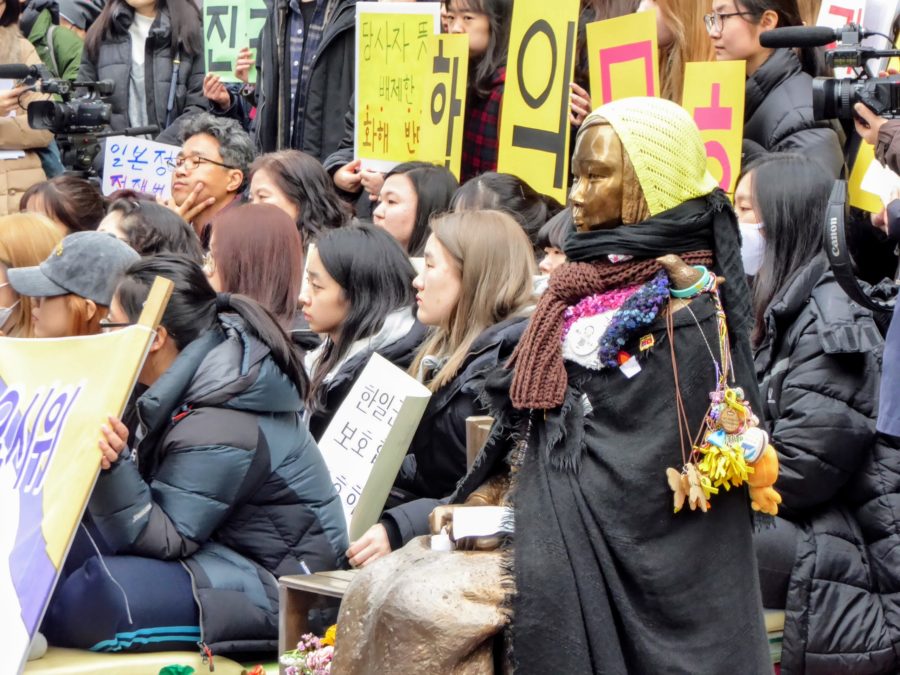 5. Free things to do in Seoul: Bukchon Hanok village.
Hanok is a traditional style house and Bukchon is the area where aristocratic classes lived. Some of these traditional style houses are still occupied but many are now converted into trendy cafes, galleries and homestays. The area is a maze and quite hilly so grab yourself a free map on entering the area but sometimes it is nice just to wander around and get lost.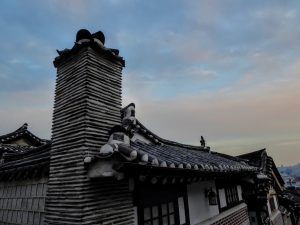 To get here take Exit 5 from Gyeongbokgung Palace Station (Line3) or Exit 3 from Anguk Station (Line 3).
6. Free things to do in Seoul: walking the city walls.
The 18.6km length of the circular city wall walk takes you over the peaks of Bukaksan (342m), Naksan(125m), Namsan (292m) and Inwangsan (338m). For Bukaksan, foreigners will require their passports. This 2.5km section has been closed to the public for 38 years following an assassination attempt on a former president by a North Korean agent. Note that this area is closed on a Monday and, if it is a public holiday on a Monday then it is closed on a Tuesday.

This is a great way of seeing different areas of the city as well as keeping fit. It can be done in one day but is best to do over two days so you can sightsee in the different areas along the way.
7. Free things to do in Seoul: changing of the guard.
A Deoksugung Palace you can view the Royal Guard-Changing Ceremony for free. In fact they come out onto the street in front of you. Although this is a performance put on for tourists it is still great to see. I was also quite amused by the fact that this serious occasion and beautiful Palace is right next to 'Dunking Donuts' and due to where I was standing, it is in a lot of my photos. Nonetheless it was still nice to see.
The changing of the guard happens daily at 11 a.m., 2 p.m. and 3:30 p.m. (except on Mondays). Following the Changing of the Guard, you are able to take photos with the guards.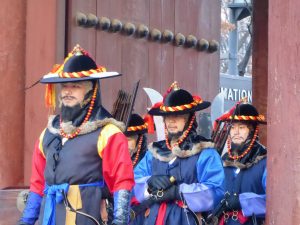 8. Free things to do in Seoul: food markets.
There are many food markets in Seoul which are fascinating to look around but also it is highly tempting to purchase something, especially around the sweet section with delicious smells wafting towards you. You also might, like I did, come across things you have never seen before and still do not know what they are. It's all an experience. My favourite is Gwangjang Market which is near Exit 8 of Jongno-5-Ga station (line1).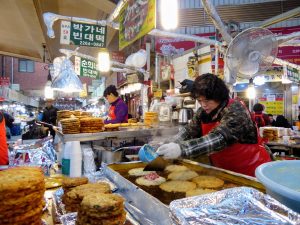 9. Free things to do in Seoul: enjoying buskers.
Maronnier Park is in the theatre area of Daehangno and is normally, during the milder weather, full of talented performers showing off their skills. It quietens down during the winter months however there was a talented guitar player there whilst we were walking by. We sat in the sun listening and my travelling companion even joined in for a few songs.
Well worth a visit and close to the city walls too. See the video here:
10. Free things to do in Seoul: eating for free in supermarkets.
I'm going to end on a strange one but in South Korea all supermarkets have many free samples on offer. It's like having a meal in itself. So head into your nearest large supermarket and sample what they have to offer. Perhaps buy something too but this is optional.
So there you have, my list of 10 free things to do in Seoul. 

Have you been to Seoul? Do you recommend anything to do there on a budget? Please comment below. Don't forget to subscribe (It's free!) to my blog for more  posts like this and interesting travel tips.