Sometimes all it takes to refresh your mind and body is a seaside day out and great beach experience. But with the thousands of islands and beaches around the world, it would require a bit of exploration to find perfection. Lucky for you, I have listed five best locations in the world to take a dip. From isles off the coast to hidden waterholes and tropical islands inhabited by swimming pigs, here are five places where you can find some of the bluest waters in the world.
1. Maui, Hawaii
Voted 16 times as the "Best Island in the World" by Conde Nast Traveller Magazine, Maui island has a stunning mix of stunning teal waters and 30 miles of white sand beaches. This slice of paradise covers at 727.2 square miles of land where you can hike, swim, kayak and snorkel.
2. Sydney, Australia
Sydney is best known for its harbourfront Opera House and the arched Harbour Bridge. But this Australian city also offers so many opportunities for great swimming. Bordered by the Hawkes River to the north and the Pacific Ocean to the east, Sydney is a true treat for those who love the water. From white, sandy beaches void of tourists and secret swimming holes to crowded and busy beaches, there are enough waters to satisfy every person's taste.
Some of the best places to take a dip in Sydney include Bondi beach, Congwong Beach, Karloo Pools, Milk Beach, Nellie's Glen, Resolute Beach, Wylie's Baths, and the Figure of Eight Pools.
3. Rio De Janeiro, Brazil
This seaside city in Brazil is one of the most visited spots in the Southern Hemisphere and for good reason. It has dramatic two-tone aqua waters, cool breeze blowing off the blue waters of the Atlantic Ocean and magnificent landscape and vegetation.
Glorious beaches where you can spend an afternoon on include the famous Copacabana Beach, Ipanema Beach, Prainha Beach, Itaipu Beach and Leme Beach. Along the beach, expect a stream of vendors hauling everything from barbecued cheese, iced tea, and pizza to trays of cocktails and beer. You can even find some selling souvenirs that make unique gifts for fishermen and water lovers.
4. Lisbon, Portugal
Lisbon has become an increasingly popular destination for beach lovers and it's not hard to see why. The city is surrounded by Portugal's finest beaches that features brilliantly deep blue waters, mangroves, and beautiful coral reefs.
Whether you're looking for a secluded coastline, calm family-oriented beaches or charming resort towns, Lisbon has it all. If you want to throw in some excitement, try snorkelling or swimming with sharks in the North Atlantic Ocean.
5. Palawan, Philippines
This archipelagic province in the Philippines is made up of the Palawan Island plus other smaller islands surrounding it. The islands and islets are surrounded by turquoise waters teeming with tropical fish and colourful reefs and an incredible array of coves, lagoons, and secluded beaches.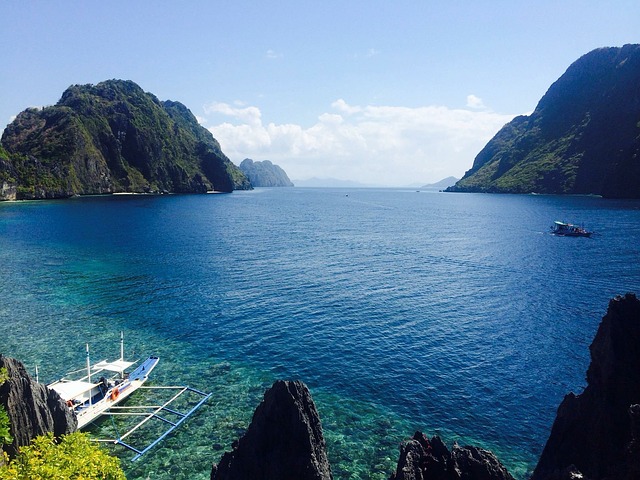 Go snorkelling in the pristine waters off of Linapacan Island or bravely swim through the five-mile-long Puerto Princesa Subterranean River.
These five places have seas, beaches, and bays that any water lover would fall in love with. Needless to say, they are great places to reconnect with family/friends, nature and yourself.