I am just going to come out and say it. I really think you should visit La Rochelle in France. The delightful coastal city of La Rochelle lies between Nantes and Bordeaux. However, visiting a city can be an expensive trip which is why I am going to tell you about these 10 free things to do in La Rochelle in France.
La Rochelle is my favourite city in France. I visited La Rochelle whilst travelling through the north of France during my trip around Europe in my Nissan X-trail camping car. I parked just outside the city and travelled in using the Yélo bus although there are a few free parking places in the city.
Free things to do in La Rochelle no. 1: Walk along the harbour medieval fortifications
The weather-beaten towers are the seaward defence that surrounds the town. There are two 14th-century towers, the Tour de la Chaîne and the Tour St-Nicolas which guard the harbour entrance. Also the 15th-century Tour de la Lanterne which is a short walk along the wall. You can walk along the wall and see the Tour de la Lanterne, the only surviving medieval lighthouse and former prison.
And if you do want to splash out, the views from the top of the Tour de la Lanterne are great – with an outdoor gallery 38 metres above the ground and with panoramas of the old town and harbour. However each tower is interesting to enter. You can buy tickets to visit two of the towers for €7.50 or all three towers for €10.50.
Free things to do in La Rochelle no. 2: Harbour Vieux Port (Old Port)
The sea port of La Rochelle is lovely to wander around by daytime with its old fishing boats and the trendy quayside restaurants are a great place to sit with a glass of wine or a coffee and people watch.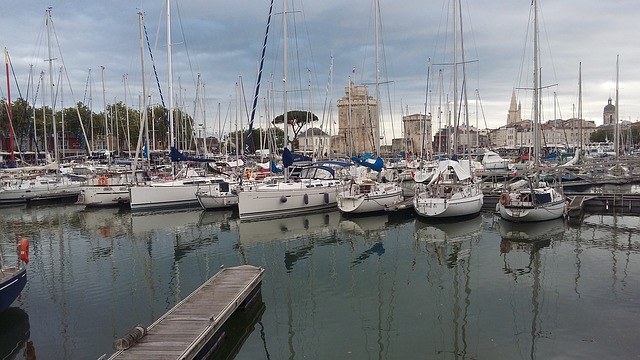 From most places in the Harbour Vieux you can see great views of the two medieval towers that guard the old port, the Tour Saint-Nicolas on the east side and the Tour de la Chaîne on the west. If you head down to the south side of the the harbour, there is a beautiful view of the harbour and the town.
If you are impressed by this harbour by day as I was, then you will be even more stunned by night when the harbour is lit up and the towers reflect in the calm water of the harbour.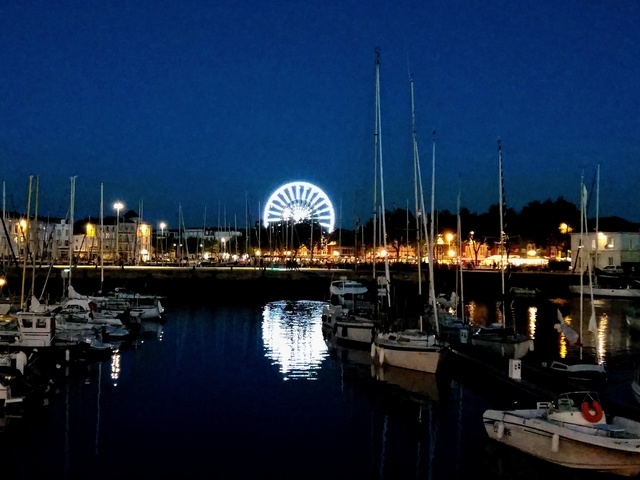 From the old harbour, you can take a walk to the new harbour of Port des Minimes. You can also take the 'bus de mer', a small boat that takes 20 minutes to cross the Vieux Port at Tour de la Chaine to quay number 10 at the Port des Minimes. It costs €3 per person. You can take a look at this site to see how often it sails as between October and March, it only runs at the weekend,school and bank holidays.
Free things to do in La Rochelle no. 3: Vieille Ville (Old Town)
The old town of La Rochelle is full of cobblestone streets and impressive historic monuments. It is like travelling back in time wandering through the streets surrounded with seventeenth and eighteenth century buildings.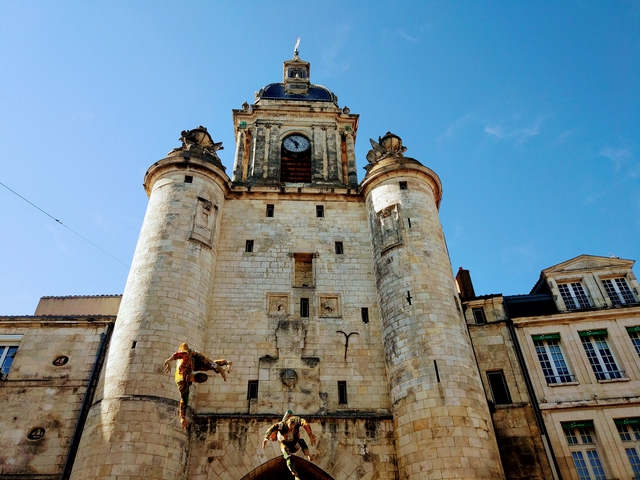 At the centre of the old town is the Town Hall (Hôtel de Ville) which was built between 1595 and 1606 and decorated Renaissance style. To the edge of the Old Town, you will find the 14th-15th century Porte de la Grosse-Horloge at the end of the Rue du Palai, which is a remnant of the old town gate. This, along with the old port is lit up at night and is definitely worth a visit once the sun goes down.
Free things to do in La Rochelle no. 4: Street performers
Like most major cities in France, you will find street performers. Some of the main locations are near the medieval fortifications and the old town gate. There were many performances to stand and watch when I visited from singing to ones that get the crowd more involved. But please remember if you feel the act deserves it, do donate some money at the end to the person who is performing as this is how they make their living.
Free things to do in La Rochelle no. 5:Feed fish
Like many harbour towns, there are many hungry fish who will be willing to keep you entertained. So why not take along some leftover bread and feed these aquatic creatures.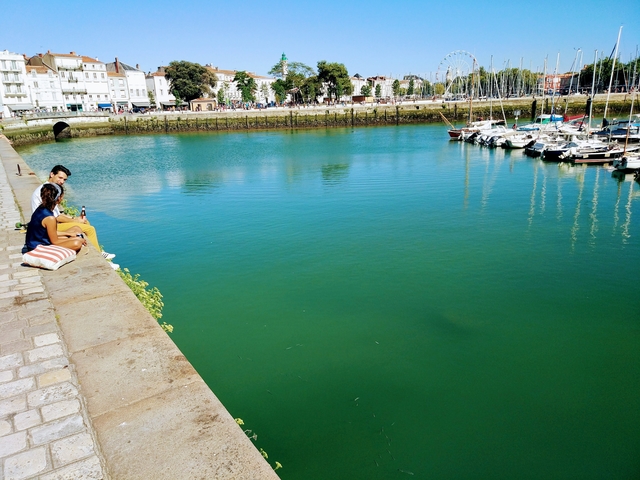 It is lovely to sit with a cold drink with your legs hanging over the edge of the harbour whilst feeding them.
Free things to do in La Rochelle no. 6: People watch in Parc Charruyer
Parc Charruyer follows the old fortifications and is not too landscaped, preferring to be a little more natural, filled with a range of trees and flowers. There is a river filled with ducks and a pedestrian footbridge. To the south end of the Parc Charruyer there is green area along the seafront called the Allée du Mail. To the western side of this area, there is the city's memorial to remember the residents of La Rochelle who were killed or missing whilst serving in a number of wars War.
Free things to do in La Rochelle no. 7: Street art
As a massive lover of street art, I was pleasantly surprised by what La Rochelle had to offer. Check out the area in and around the cafe/bar Belle de Gabut. Within its grounds there are some magnificent pieces. There were also some dotted around the harbour and through the winding cobbled streets of La Rochelle.
Free things to do in La Rochelle no. 8: Cathedral of La Rochelle
La Rochelle's Cathedral might not compare to some of the other medieval Gothic cathedrals found in France in the nearby cities of Tours, Angers and Bordeaux. However it is still impressive in its own way. Contained within a Neoclassical building it has a Baroque style interior. Don't forget to look up as the ceiling frescoes are very dramatic.
Free things to do in La Rochelle no. 9:Take a ride
One of the great things about La Rochelle is the free bike hire offered by the city. The first two hours are free and then at the cost of €1.30 per hour, it is practically free. But please note that you will be required to leave a deposit of €150.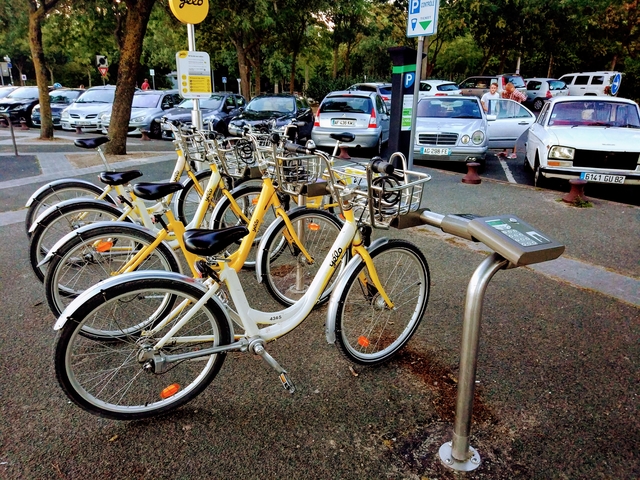 Take a look at Quai Valin and Place de Verdun where you will see rows of yellow bikes. To hire, all you need is a form of ID such as a driver's licence.
Free things to do in La Rochelle no. 10: La Rochelle's Beaches
Being a coastal city, there are a few beaches at La Rochelle. The most poplar is Plage des Minimes which has golden sand and a small promenade. This is where you will find La Rochelle's Grand Roue ferris wheel.
Plage Chef de Baie is known as the best because there are breakwaters which reduce the current and wind. It takes 15 minutes by car.
The closest beach to La Rochelle is Plage de la Concurrence. However at high tide, it almost disappears so make sure you check out the tide times before heading off to the beach.
Bonus Free things to do in La Rochelle no. 11:
I love watching the sun going down and in La Rochelle, there are a few places you can see this. La Plage des Minimes is a great beach to sit with a loved one or a friend to see the sunset.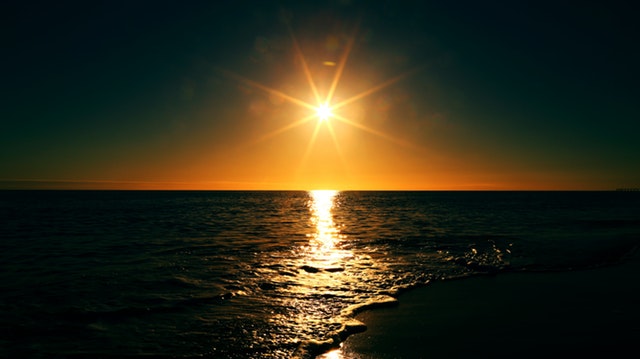 Alternatively for a birds eye view, you can go to the cliff top near Le port du Plomb to see the sunset over the Ile de Ré bridge.
Getting Around La Rochelle, France:
Bus:
The Yélo bus connects La Rochelle with the surrounding area with its 29 different lines. It is easily recognisable as it is the big yellow and white bus. It costs €1.30 per trip or you can pick up a 24 hours ticket for €4.50 or 7 day unlimited travel ticket for €12.50.
Train: 
The largest train station in La Rochelle is Gare de La Rochelle which is in the city centre. From here there are many intercity trains and buses which will take you around. There are daily connections via TGV trains to Paris which takes a little over 2 hours.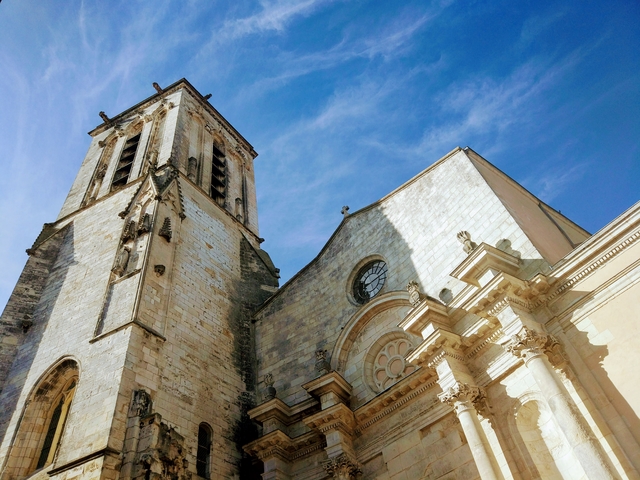 Boat:
As La Rochelle is a port city, they have a cool transport system to help you get around. There is a network of small solar powered Yélo barges which can take you across the harbour in less than 5 minutes. They have also provided a sea bus which can transport you around La Rochelle and beyond. Again check out the Yélo website for more information about this service.
Bike:
As talked about above, La Rochelle provides free/low cost bikes for those who want to exercise as they get around. Check out the 9th free thing to do in La Rochelle for more information.
Where to stay in La Rochelle, France:
There are many places to stay in La Rochelle and I have a couple of sugguestions for you to cover all price ranges.
Budget:
Don't forget to take a look on CouchSurfing in plenty of time before your trip and see if there is someone who is willing to host you. Safety is of importance so check out my post on how to stay safe whilst couchsurfing.
Airbnb is great for finding places to stay on all budgets. You can either rent a room in a shared house or find an apartment to yourself. Don't forget to use my link to get money off your first Airbnb stay.
A good budget option for La Rochelle is Première Classe La Rochelle Centre. It has good reviews and great options for solo, couple or even groups of travellers.
Mid range:
Again check out Airbnb where you can pick up a beautiful apartment for not too much damage to your purse strings. Alternatively check out Accostage Hôtel which offers nice accommodation for mid-range prices.
Luxury:
For those who are looking for something a little bit extra special, I suggestion the Hôtel La Monnaie Art & Spa. Which consistent great reviews and a superb location, this quirky boutique hotel is an ideal place to stay.
So there you have it, 10 free things to do in La Rochelle, France. Have you ever been to La Rochelle? If not, would you like to go? Why don't you head over to read my other '10 free things to do' range to see where else I have written about. And don't forget you can subscribe to my blog (It's Free) to keep updated each fortnight with what I am doing and for more posts like this one. 
Just a note to say:
Have you noticed I do not have intrusive adverts on my page making the site run slow for you, or that interrupt your reading. This is because I want to make your reading experience as pleasant as possible. Writing blog posts isn't as easy as it looks. I spend a long time making sure I give you correct information about places, edit the posts so they read well and then add the edited photos I have taken or add the google maps location. I do this as I love to travel and love helping other people to travel. If you enjoyed what you have read then there are other ways you can support me as a travel blogger other than putting up with annoying adverts:
You could buy me a coffee
Use the links on my sources page which are affiliates.
– Head over to Amazon to buy some products using this link .
– Looking for website hosting? Take a look at Bluehost using this link.
– Need to book some accommodation then check out Booking.com and Skyscanner for flights, check them out using this link.
Thank you for your support.