Giovanni is a jolly Italian man with a passion for leading horse riding experiences in the Alto Garda Park, Lake Garda.  With years of experience, he started his guiding days at the young age of 18 years taking tourists on walking tours of the area. He then taught himself to ride and borrowed horses to take tourists out into the local area, to show off the beauty of the area he lived in. Now with Scuderia Castello ranch, Giovanni has a well run yard with healthy horses and can offer trips from a few hours in length to week long trips. You can learn more about my experience horse riding in Lake Garda below…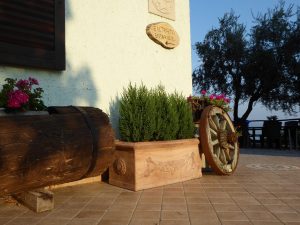 As Giovanni knows the National Park around Lake Garda like the back of his hand, he leads an enriching trip through countryside, quaint villages and to the peaks of mountains. He will show you breathtaking views of the lake and the peaks of the Lombardy Alps. Riding here is fully supervised and the horses well behaved, so Giovanni's treks are suitable for all levels of rider.
Due to time restrictions on my part, we only have the afternoon horse riding in Lake Garda with Giovanni. Therefore, he took us out around the local area and down into the village. Whilst I am used to riding English style, the horses were very well behaved whilst we got the hang of the western style of riding.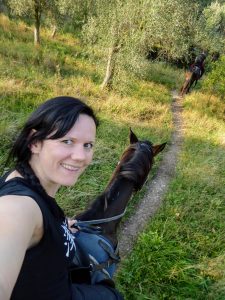 We hacked out on tracks down to the villages and along quiet countries road. It was a great way to see village life, old women chatting on benches and farming life. These are a few of the reasons that make horse riding in Lake Garda a must!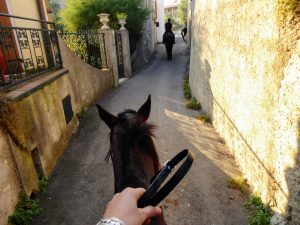 The hack out was the best experience I had with getting at one with nature and seeing the beautiful area of Lake Garda. 
Back at Scuderia Castello, there is a cafe with amazing views over the lakes. It is lovely to see the horses being looked after so well and the smiling faces of a group who had been on a 4 day hack out into the national park.
You can also read about my experience on the Iron Way in Lake Garda or check out this post about cycling in Venice.
Please comment below if you have ever experience horse riding in Lake Garda or at a similar holiday destination. Perhaps, you have any other advice on fun activities to do in Italy. Don't forget to subscribe (It's free!) to my blog for more  posts like this and interesting travel tips.
Other tips for Horse Riding in Lake Garda
1/ No level of riding experience is required for this trip but seeing that you will be spending a long time on a horse you need to know that you will be confident on a horse.
2/ Sturdy shoes are required and long trousers to protect your legs from the overgrowth. Don't forget your sun cream!
3/ Check out Scuderia Castello website to see the riding tours and what else Giovanni has to offer including hikes and cuisine. Scuderia Castello also has eight rooms and food straight from the farm making for a comfortable and traditional stay.
Disclaimer: This trip was arrange for me by Discovery Media Network and I was hosted by Scuderia Castello. Due to the experience I had, I wanted to share this with my readers. All thoughts and recommendations I give are as always my own.