There are certain things which I really must take on my backpacking trip yet the rest of the time they stay in a box unused . .  . Unloved. However,  I would feel lost without them whilst backpacking. I have therefore compiled a list of essential items every backpacker needs to help those who have still not mastered the art of packing.
I wanted to share these items with you so that you don't have the same trial and error that I had with these items. So here is my list of essential items every backpacker needs.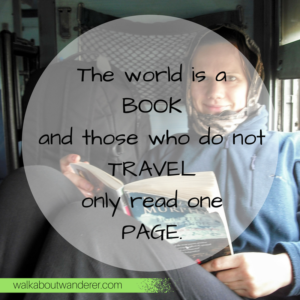 10 Essential Items Every Backpacker Needs
I love them and is one of my essential items every backpacker needs. They are basically what it says on the tin! Cubes that you pack things in. Not only do they come in all sizes but they come in different colours so you can pack your evening wear in one and your casual day wear in the other. Also you can get small ones for underwear or larger ones for your cold weather gear or if you just pack a lot.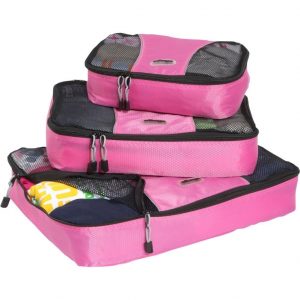 I find the small size (11″ x 6.75″ x 3″) (28cm x 17cm x 7.5cm)  is perfect and have two in my backpack. You basically roll your stuff up and shove them in. They come out not so creased and in the same order as you put them in.
There so many different brands out there but my preference is Ebag packing cubes.
Always great to use if you are in a hostel where there are limited plugs or when you are using your phone a lot for Google Maps offline etc.
Running low? Then plug it in. As with the packing cubes there are many different types of power banks. I did a lot of research before buying and found that the Solar Charger by Innoo Tech has good reviews.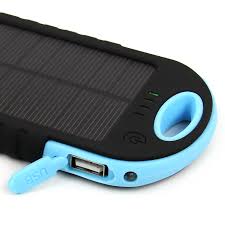 It is waterproof, shockproof and when I haven't power available, I can recharge it via the sun. However, I would advise that this is just used as a back up as you need a lot of hours of sunlight to recharge this pack. I have sewn a little pouch into my day pack so it can recharge as I walk.
I loved my toothbrush at home but I felt it was a little bit bulky and impractical for charging whilst I am travelling. I did a lot of research before I purchased a new one and found this little beauty, the Colgate Omron.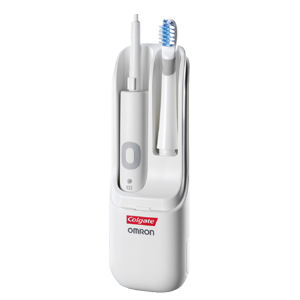 It's small, light and has the same charger as my phone and my power pack. The charge lasts for approx 2 weeks meaning I don't need to keep on worrying about finding a spare plug. Plus it charges in its handy travel case.
It's the envy of every traveller I meet. Therefore, it is a must in this list of 10 essential items every backpacker needs.
Not in the Uk: 
And don't forget to purchase your additional tooth brush heads: Colgate ProClinical Triple Clean Replacement Electric Toothbrush Heads – Pack of 4
I'm very particular on the style of wash bag I use. It has to have a hook. I don't want to be dropping it in a hostel or cheap hotel shower and have my bag getting soaked, dirty or trying to balance it in some impractical place.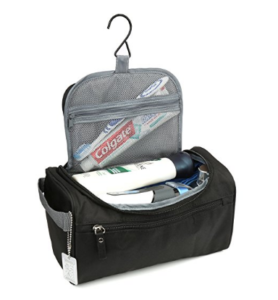 I also like to have it hung next to my bed in hostels so I can grab things easily especially when there is limited space. It is truly a life-saver and is one of the 10 essential items every backpacker needs.
Mine was a free gift but this is a similar one.
Perfect for travelling. They are thin and lightweight. Great for sleeping on those not so clean bed sheets, avoiding paying to hire bed sheets in European hostels and for curling up in sleeper trains.

I have a cotton one but I should really upgrade to a silk one. They stop pesky bedbugs and are extremely light weight.
My best friend got me one as a leaving gift before I set off on my travels. We frequently used hers on the BBQ when we camped to heat water for a coffee.

These are so handy as, like I said, you can put them on a hot surface to heat your water (be aware that the handle will be hot too). They are great to use in hostels when there are not enough cups and they can be used to eat your cereal out of, make porridge in and for sharing wine :+)
Argh! The female travellers' nightmare: keeping hair free when in hot countries. No one likes to continuously shave and getting a wax can add up. So I invested in an epilator that charges. That way it doesn't matter if your voltage is a bit low etc. Just charge it when you can.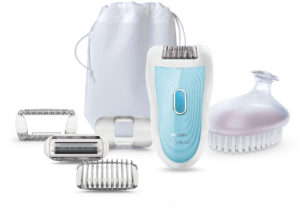 Mine is also waterproof so you can use it in the shower if you are staying in a hostel dorm.
I have mentioned Lush shampoo bars in my post about liquids when travelling hand luggage only. I love lush products. A lot are natural, animal testing friendly and smell amazing.

The lush shampoo bars is perfect for travelling and lasts for ages too.
For when I am at home I like to use Lush sea salt shampoo. It might be pricey but again it lasts for ages. Hence, it is a practical addition in this list of 10 essential items every backpacker needs.
This is a new purchase for me and it is great. It provides you with WiFi wherever you are in the world.
You can either hire it by day and they will deliver and you return it from wherever you are in the world, or you can buy the set and pay per 24 hours.
It also has a space to insert a SIM meaning you can use it as a router if you find cheap deals on a local SIM.
This one doesn't get packed away as I use it at home and away. I love this camera as it's small and compact meaning I am not drawing attention to myself with a large DSLR camera but the features on it are amazing. You can really zoom in and it takes great night shots.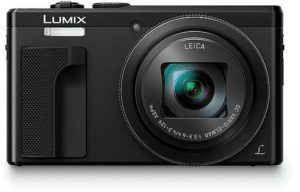 The only thing I was a little disappointed about was the flash but then I realised that due to the way I hold my camera, my finger was always over it. Doh!
So there you have it. My 10 essential items every backpacker needs. All of these I just can't travel without. My friends over at Cheeky Passports have a fantastic electronic packing list which I always go to when looking for new gadgets. I have just purchased the multiple USB charger as I always have so much to charge.
Please comment below if you have found this post useful. Are there any items you can't travel without? Don't forget to subscribe to my blog (It's free!) for more  posts like this and interesting travel stories.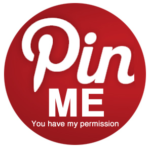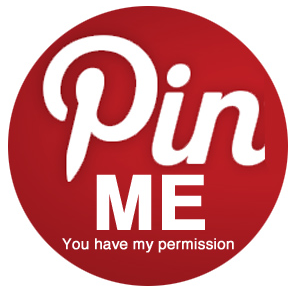 Disclaimer; this post contains affiliate links meaning at no extra cost to you, I receive a small amount of money when you purchase them to help with running costs of my blog. All thoughts I have on these items are my own and I would only ever recommend products I truly believe in.