Opinions on the country south of the USA may be varied, but there is no doubt that Mexico is a breathtaking country that attracts millions of visitors every year. Emigrating to Mexico may be the best decision you will ever make, and here's a list of some of their most gorgeous and safe cities.
Sayulita, Nayarit
Nature lovers and adventure-seekers rejoice—Sayulita may be the perfect place for you to call home! This sleepy surf town is the perfect haven for sports and beach lovers. There are two main beaches in this west coast town, the Playa Principal and Playa de los Muertos. Playa Principal, or the main beach, is perfect for tourists to engage in watersports or relax on the beach close to the town's amenities. Going further up the beach or to Playa de los Muertos (Beach of the Dead) will give you a more relaxing feel with less people around and calmer waters.
Campeche, Campeche
This historical capital city will make you think you're on a set of Pirates of the Carribbean, with its cobbled streets, colorful houses, and Mayan influence everywhere. This quiet town is perfect for retirees or those looking for a slower-paced way of life. You can walk almost anywhere, and attractions, including other cities like Merida and Cancun, are a cheap bus ride away. Located on the Yucatan Peninsula, Campeche may be the most relaxed hidden gem on this list!
Tulum, Quintana Roo
If you're able to spend more money, Tulum's extremely low crime rate and beautiful scenery will entice you. One of the best things about this tourist haven on the Yucatan Peninsula is its weather. With highs in the 80s and 90s Fahrenheit during the day, and rarely going below the mid-60s at night, your visit could likely turn into a permanent stay because of the dream weather. While this town is known for its beaches and resorts, the town has an amazing art scene and laid back lifestyle. A trip to go diving or see Mayan ruins in Cozumel is only a ferry ride away. Live the best of both worlds in the safety of Tulum—if you can afford it.
Mazatlan, Sinaloa
Call the northernmost city of the Mexican Riviera home by moving to Mazatlan in the state of Sinaloa. This is the cheapest of places to live in the Mexican Riviera, and home to some of the dining options and entertainment in Mexico. Many of the rentals here are just a short walk to the beach, which is a dream for not having to shell out a lot of money. Because it's also a tourist destination, the nightlife here won't let you down. There are plenty of places here to fill your time but also save you a peso.
Cancun, Quintana Roo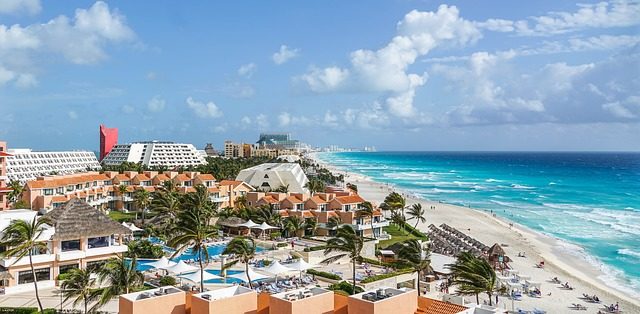 Get the quintessential Mexican vacation-like vibes from the city of Cancun. One of the country's many places to have afun beach trip, this resort town is the perfect place to get that big city feel in a small town. Being one of the most popular destinations in Mexico, Cancun is great if you're looking for excitement and social living.
No matter which city you choose to move, you're guaranteed to be living surrounded by scenic views and friendly people.