As the waves crashed against the bridge connecting the little church on the rocks, to the mainland, my mind could imagine how the pilgrims coming to this place would feel edging their way here in a storm. How the many lives that have been lost at sea around this treacherous coast. San Juan de Gaztelugatxe in Spain used to be just know well known amongst pilgrims but now it is the most well known due to the tv series, Game of Thrones. This hermitage, on the small island which you can access via a man-made bridge is historically known as an important fortress in battles and against pirate attacks.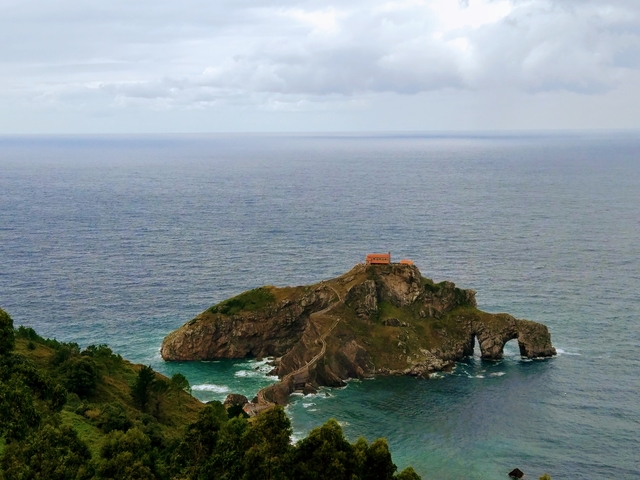 The Basque Country was the first place I went to in Spain on this trip and the very first location I went to was San Juan de Gaztelugatxe. I would have missed this beautiful hermitage on the rocks if it wasn't for my BlaBla Car passenger who recommended this place for me to visit. Set in a scenic area in Northern Spain, this island church set on a dramatic coastline is highly recommended by me for pilgrims, Games of Thrones lovers and travellers who are neither, like me. I slept nearby in my camping car in which I was travelling around Europe and got to see a lot of this area.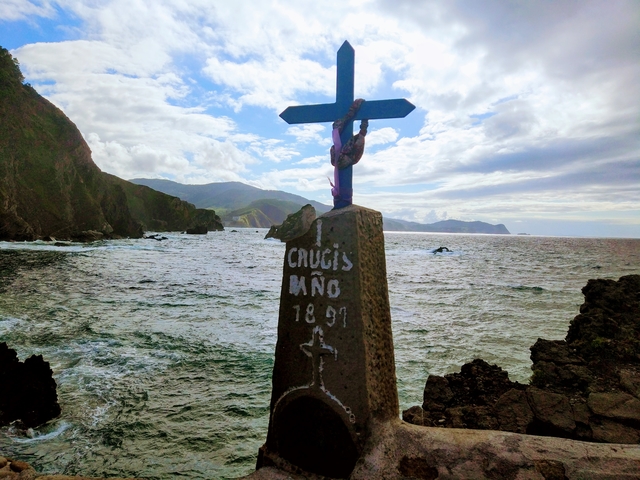 From afar, San Juan de Gaztelugatxe is impressive, but it is only as you head down the hill from the car park to the start of the bridge that it really shows how magnificent the church on the rock island, really is. The hermitage which dates from the 10th century, Gaztelugatxe Doniene is dedicated to John the Baptist. The local fishermen come here to seek out St. John's (San Juan's) blessing for good weather and protection before setting out to sea and I don't blame them as the coastline looks like a place of many shipwrecks.
I was lucky enough to arrive at this dramatic high just after a light shower, and just as the sun was peeking through the clouds. The darkened sky added even more mystery to the legends of the areas and the memorials of those who lost their lives in this area. Crossing the bridge on this rough day for the sea was fantastic and, even though it was a rainy day, there were still a lot of people coming here. Each one climbing the 241 steps to reach the top to the small church. A few were walking the Santiago de Compostela, but most, I am guessing, were Game of Thrones fans.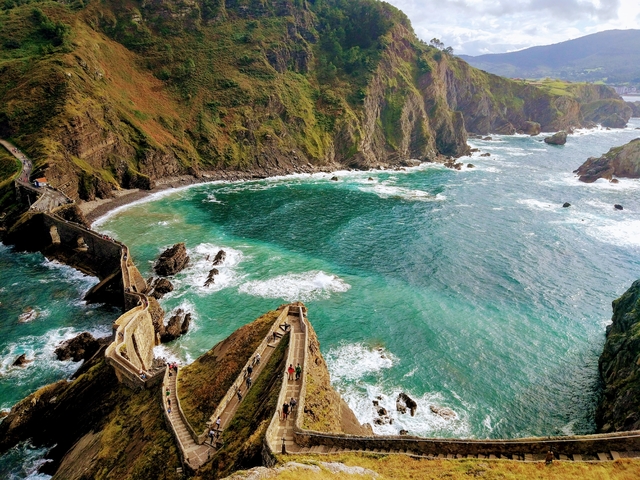 The strenuous climb is rewarded at the top with a view along the coastline. The rough sea has carved many caves and arches out of the coastline. After enjoying the views and the sea breeze, make sure that you ring the church's bell three times for good luck. Some Spanish people believe that if you ring it three times then you can make a wish.
If you are able to time it right, visiting the San Juan de Gaztelugatxe on the 24th June, 31st July, 29th August or 30th December a mass is held which allows you access to the church. At other times it remains closed to visitors.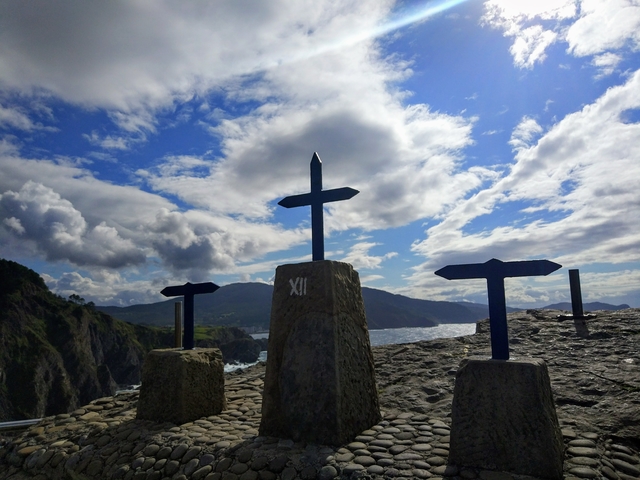 And now for a little bit about the Game of Thrones. San Juan de Gaztelugatxe was spotted straight away on my Facebook post by Game of Thrones fans as season 7 was filmed here. Throughout my travels, Game of Thrones filming places are becoming more and more popular due to the hit series. From my time in Morocco, to other areas of Spain like Seville and Almeria and also Malta, people seem to want to become more and more Game Of Throne tourists. So my advice is see it before it becomes more on their radar, to have this fantastic historical eerie area slightly to yourself or, if you are a Game of Thrones fan, check it out, it is beautiful 🙂
What you need when visiting San Juan de Gaztelugatxe:
1/ Wear good shoes. The hill up down to the bridge is steep and the steps can be slippy with mud.
2/ Most people of any age can do it. There are many places to stop and rest along the way.
3/ Take some water. It is very exposed and the Basque area of Northern Spain gets quite warm in summer.
4/ Head there early to avoid the other tourists and to have the perfect eerie picture without other people being in it.
5/ Take a waterproof jacket as the area is prone to showers. Also take something warm to wear as the area is very exposed.
Getting to San Juan de Gaztelugatxe in Northern Spain.
Car:
If like me you have access to a car when you are there then you can park on the road for free near the start of the walking point to San Juan de Gaztelugatxe. It is pretty easy to get to. Take the BI-631 from Bilbao (45 mins) or San Sebastian (2 hours) . Then follow the route to the point marked on the map below. From here you can follow a 1 km paved road down to the bridge which gives you great views. Alternatively, you can walk from Bakio which takes approx 1 hour. Just follow the path from the coast.
Bus from Bilbao:
Take the green Bizkaibus ( A3518) from Plaza Moyua (in front of Barclays Bank) or from San Pio X Plaza near the University of Deusto. It runs every hour between 6.30am and 9.30pm Monday to Saturday and every 2 hours from 8am till 10pm on a Sunday and public holidays. Get off the bus at the last stop at Bakio. Walk towards the coast and you will find a marked path which leads to San Juan de Gaztelugatxe.
Have you heard of San Juan de Gaztelugatxe in Spain? Are you a Game of thrones fan? Comment below. And don't forget to subscribe to my blog (It's Free) to get fortnightly updates to your inbox with posts like this one and travel tips. 

Just a note to say:
Have you noticed I do not have intrusive adverts on my page making the site run slow for you, or that interrupt your reading. This is because I want to make your reading experience as pleasant as possible. Writing blog posts isn't as easy as it looks. I spend a long time making sure I give you correct information about places, edit the posts so they read well and then add the edited photos I have taken or add the google maps location. I do this as I love to travel and love helping other people to travel. If you enjoyed what you have read then there are other ways you can support me as a travel blogger other than putting up with annoying adverts:
You could buy me a coffee
Use the links on my sources page which are affiliates.
– Head over to Amazon to buy some products using this link .
– Looking for website hosting? Take a look at Bluehost using this link.
– Need to book some accommodation then check out Booking.com and Skyscanner for flights, check them out using this link.
Thank you for your support.