I had never heard of Coimbra, a lesser-known city in central Portugal. However, it has a place in many Portuguese hearts as a place where they studied at its UNESCO World Heritage University. But being in a historic city in Portugal does not have to break your bank balance. You can't go wrong with this tourist guide to Coimbra which will give you the top 10 free things to see as well as other options and some great tips to make your stay in Coimbra, Portugal more enjoyable.
I came across Coimbra in Portugal when looking for a place to stop. I was driving from Porto to Lisbon when I was travelling through the west of Europe and living and sleeping in my car. I found a cheap Airbnb in Coimbra which had free on-street parking. I found these great 10 free things to do when exploring and can highly recommend them. I managed to see Coimbra in a day, but there is so much to do that you can easily spend a long weekend here.
Why you should visit Coimbra in Portugal as a tourist.
Situated on the banks of the River Mondego, medieval Coimbra is known best for its university, one of the oldest in Europe and the oldest in Portugal. This historic city should be on your list when visiting Portugal whether you are a lover of architecture and history, or not. With its beautiful outdoor spaces, there are so many things to do even if you are going to Coimbra on a budget. Coimbra is appealing for all types of tourist.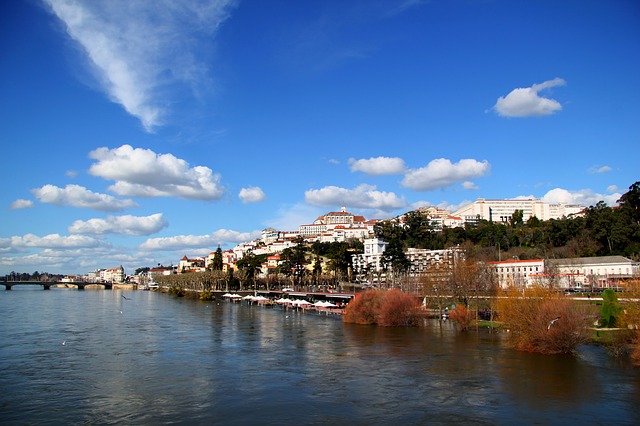 Free things to do in Coimbra, Portugal No. 1: Coimbra University
Universidade de Coimbra opened in 1290 and is regarded as the second oldest in the world. It is a World Heritage Site and sits on a hillside in the centre of the city. It has so much history. The 16th-century tower has amazing views of the town to the Iron Gate, which was once the entrance to Coimbra's medieval citadel.
You can also take a University Guided Tour every day at 11.00hrs and 14:30hrs but this needs to be booked well in advance. You can read more about it here.
Free things to do in Coimbra, Portugal No. 2: Castelo de Montemor-o-Velho
Standing tall in the beautiful scenery to the west of Coimbra, you can find the castle of Montemor-o-Velho and its fortified town. The town dates back to 2000BC and the castle from the 14th century. The castle is free to visit between 10.00hrs – 17.30hrs and is one of the oldest castles in Portugal. The castle's small Romanesque church (Igreja de Santa Maria de Alcáçova) is home to paintings dating from the 18th Century.
Image by Rui Ornelas
You can get to Castelo de Montemor-o-Velho by catching a train from Coimbra to Figueira da Foz and getting off at the Montemor-o-Velho station. From here it is a 4km walk along a road to the town. Trains run hourly and it will take you approximately 45 minutes to get to Montemor-o-Velho. Alternately you can get a bus (Moisés Correia de Oliveira) which runs between Coimbra-A and Figueira da Foz. The stop is closer to Castelo de Montemor-o-Velho than the train but the journey time is longer.
Free things to do in Coimbra, Portugal No. 3: Botanical gardens
The 13 hectares of Coimbra's botanical gardens is one of the largest in Portugal. It was created in 1772 for medical and natural studies and botanist Avelar Brotero has published his studies and set up the university's school for botanical studies. Coimbra's botanical gardens boast an array of plants from a bamboo plantation to many eucalyptus varieties.
Additionally, you will find a colony of brown squirrels within the botanical garden which were introduced in 1994. The garden is, of course, free to visit which is rare throughout Europe and is open daily from 09.00hrs till 17.30hrs. It is a lovely place to sit and relax as well as looking at the many different colourful flowers.
Free things to do in Coimbra, Portugal No. 4: Take a free Walking Tour
Walking tours are very popular in cities all over Europe and the rest of the world. It is a great way to learn more about a city and hidden wonderful places form locals and expats. Here in Coimbra, there is an array of walking tours to be taken and guess what, they are all free (but you are expected to tip at the end). Please remember that these people have donated their time to show you their city and so you really should tip at the end if you have enjoyed the tour.
You can choose your walking tour here and as you can see there are many offered, from the standard free walking tour to others that are more specialised. Make sure you book in advance so as not to be disappointed.
Free things to do in Coimbra, Portugal No. 5: The main Square (Largo da Portagem)
The main plaza in Coimbra is full of history and a great place to hang out. There are many restaurants that spill out into the square along with important architectural buildings such as the Astória Hotel which was built in 1926. The statue of the former prime minister, Joaquim Antońio stands proudly in the square.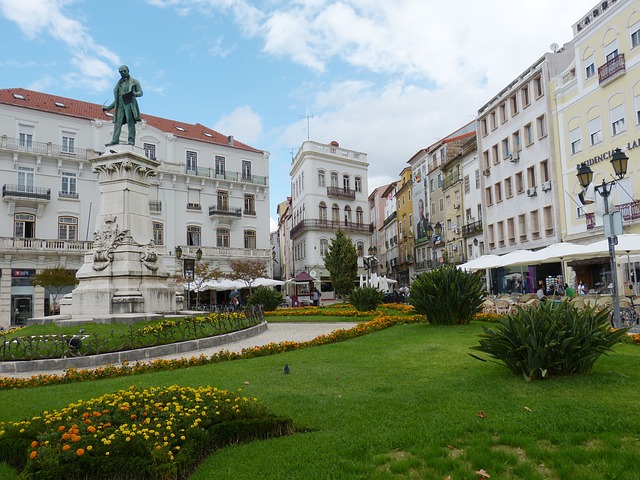 Free things to do in Coimbra, Portugal No. 6: Monastery of Santa Cruz
Coimbre's Monastery of Santa Cruz dates back to the 12th century but the architecture within is the 16th century and later. The monastery is home to the tombs of the first two kings of Portugal, Afonso Henriques and Sancho I. The monastery is free to visit and is open Monday – Friday, 09.00 – 1700hrs, Saturday 09.00 – 1200hrs and 1400 – 1700hrs and on Sundays and holidays 1600 -17.30hrs.
Free things to do in Coimbra, Portugal No. 7: Coimbres Cathedrals
Coimbre has two cathedrals, the old one and the new one. Built in the 12th century, the old cathedral is known as Se Velha and has amazing Romanesque style architecture.
It is beautiful to view from the outside, however to enter it will cost you €2.50 which goes towards the upkeep of the cathedral. Opening times are Monday – Friday 10.00 – 17.30hrs, Saturday 10.00hrs – 18.30hrs and Sunday 11.00 – 1700hrs.
The New Cathedral is known as Sé Nova, which isn't so new as it is nearly 500 years old. It has a few pieces from the Se Velha (old) cathedral such as the 17th-century choir stalls and baptismal font. It started life as a Jesuit temple but in 1759 was chosen as the New Cathedral due to its size.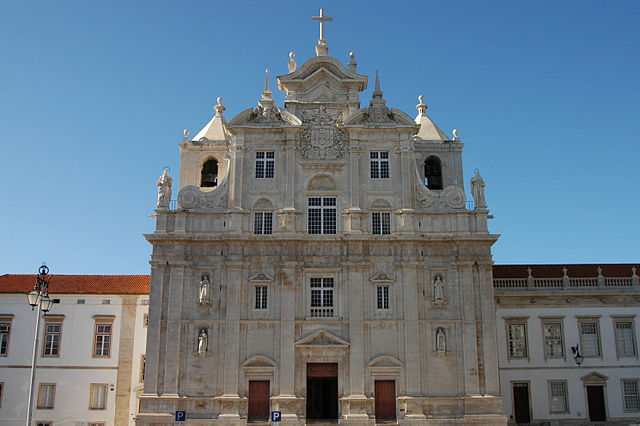 It is one of the most visited attractions in Coimbra with its upper facade which is in Baroque style and its lower facade in a Mannerist style. Again, this cathedral is beautiful to view from its outside but will cost you a mere €1 to enter and opening times are Monday-Saturday 10.00 – 18.30hrs and Sunday 10.00 -12.30hrs.
Free things to do in Coimbra, Portugal No. 8: Pedro and Inês Bridge
The Pedro and Inês Bridge is a footbridge that opened in 2007. The two halves which don't appear to meet, actually join together to create a viewing platform. Its bright colours and cool design makes it unmissable.
View this post on Instagram
It is a great place to take a wonderful photograph of Coimbra University and Mondego River. The grassy banks of the riverside is a popular place to laze the day away where you can read about in No. 10 of this list. It is named after a Crown Prince of Portugal, Pedro, and a lady-in-waiting, Inês, and their ill-fated love.
Free things to do in Coimbra, Portugal No. 9: The words at the Penedo da Saudade
Penedo da Saudade (Rock of Nostalgia) is the historical public garden in Coimbra where Pedro came to mourn Inês. The rocky walls of the gardens have many plaques with writings about love, homesickness and life. This hilltop garden has a partial view over Coimbra, Mondego River and the Lousã and Roxo mountains and is a wonderful place to hang out.
Free things to do in Coimbra, Portugal No. 10: The riverside Manuel Braga Park
The large riverside park in Coimbra is known as the Manuel Braga Park. There are many things you can do here such as renting pedalos and bicycles. The park has a 4km cycle track. You can spend the day sitting watching the fountain in the river, sunbathing in the grass or sitting in the shades under the trees. There are even ducks you can feed, but please remember that these birds do not naturally eat bread in the wild and things like lettuce, sweetcorn and sunflower seeds would be better.
BONUS Free things to do in Coimbra, Portugal: Museu Da Agua
The small Water Museum  in the Manuel Braga Park regularly has art exhibitions and also an annual craft and book fair in June. It is free admission and has a fantastic platform that hangs over the river on the lower level.
Other things to do in Coimbra, Portugal
Visit the Baroque library
This historic library of Biblioteca Joanina in Coimbra dates back to the 1720s. It has spectacular doorways, Brazilian dark hardwood tables and gilded shelves. It has a massive array of books ranging about all subjects and, surprisingly, it also has a colony of bats used to eat any insects that may damage the books. Opening hours are daily 9.00 – 18.15hrs and admission costs €7.00 or €5.50 for students and the over 65-year-olds.
Cuddle a kitten at Pet & Tea Cat Café
Yes, Coimbra has a cat café, something that I have seen a lot in Asia. For just €5 you can get a drink and some cat cuddles at the Pet & Tea Café.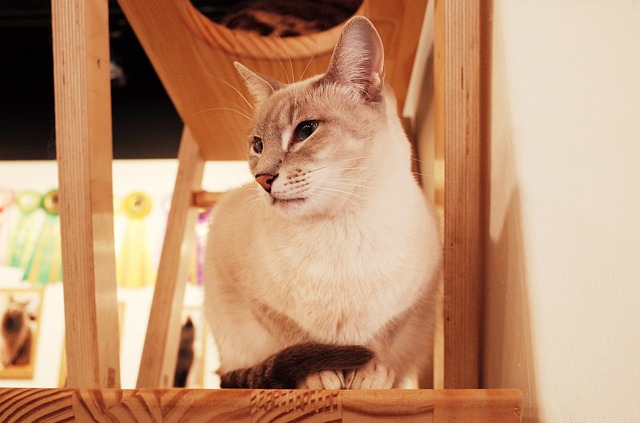 Your money goes to a great cause as it pays towards their care and that of other homeless cats in Portugal. It's open Monday to Friday, 10.30 – 20.00hrs, Saturday 10.30 – 20.00hrs and closed on Sundays as even cats need a break from loving.
Convent of Santa Clara-a-Nova
This beautiful old convent in Coimbra, Convent of Santa Clara-a-Nova was built between 1649 and 1677 and replaces an earlier monastery which was flooded. It is home to the statue of Saint Isabel which is carried in all the religious festivals in Coimbra.
It is worth a visit to see this and many of the other pieces of art here. It is open 7 days a week, 10:00 – 19.00hrs (summer), 10:00 – 17:00 (October to April). Admission is €4 with 50% discount for students.
When to go to Coimbra in Portugal
Coimbra is great to visit all year round for a number of different reasons. Summer months are comfortable at averages around 25ºC – 30ºC, meaning it is great for lazing around the numerous parks in the shade and sightseeing in the morning and late afternoon.
Winter is between 4ºC – 10ºC which may be cooler than the average holiday you might take but it does mean there are a lot less tourists. Additionally in the winter in Coimbra, the students come to life. There are many celebrations such as the Latada (Tin can parade) which happens at the beginning of the academic year in November. The students parade through the city hitting tin cans and end at the Mondego River where the new students are 'baptised' into the academic way of life by immersion in the river.
There are many other traditional student celebrations throughout the year such as' the Burning of the Ribbons' at the end of the academic year. This is a week-long celebration and is said to be one of the biggest student parties in Europe. That said, if you do want time away from Coimbra's students then visit Coimbra at the weekend as most students go home on a Friday.
How to get to Coimbra, Portugal.
By plane:
The closest airports to Coimbra are Lisbon and Porto. From Lisbon airport, you can take a taxi (€10) to Oriente station and from here there are two trains per hour to Coimbra (Journey time: 2 hours, Cost: €28). Alternatively, Coimbra Airport Shuttles provide a door to door service from Lisbon airport which takes 2 hours and 15 minutes.
From Porto airport, you can get the metro to Campanhã station from where you can find two trains each hour to Coimbra (Journey time: 38 minutes, Cost: €14 for the fast train, Journey time: 55 minutes, Cost €3 for the slow train. Again Coimbra Airport Shuttles run a door to door service which takes 1 hour and 45 minutes.
Train
Coimbra has two train stations conveniently named Coimbra-A and Coimbra-B. Coimbra-A is located in the centre of the city and Coimbra-B is outside the city. All long-distance trains stop at Coimbra-B but the ticket includes the 5-minute train journey to Coimbra-A.
Long distance trains are regular from Lisbon (Journey time 1 hour 45 minutes) and Porto (Journey time 1 hour). Train tickets can be found and bought HERE.
By bus
The Bus station is just a 10-minute walk from the city centre or easily accessible by the local buses. It is found at Av. Fernão de Magalhães. Apart from Porto and Lisbon which have direct fast trains, buses are normally a faster and cheaper way to travel than trains for most destinations in Portugal. You can find the timetable and tickets HERE.
By car
As I found out in my camping car, Coimbra is a hard city to drive in and park, especially with its steep hills and a failing handbrake. The whole city is built around medieval structures. However, I did manage even though I was in a right-hand drive car so if you are taking either your own car or hiring one then it is possible. I would suggest finding accommodation with free parking and then walk around the city. All of the main areas to see in the city are within walking distance of each other. It takes approximately 1 hour to drive from Porto and 2 hours to drive from Lisbon.
Where to stay in Coimbra, Portugal
Budget:
Don't forget to take a look at CouchSurfing in plenty of time before your trip and see if there is someone who is willing to host you in Coimbra. Safety is of importance to check out my post on how to stay safe whilst Couchsurfing.
Airbnb is great for finding places to stay on all budgets. You can either rent a room in a shared house or find an apartment to yourself. Don't forget to use my link to get money off your first Airbnb stay.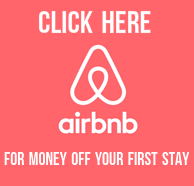 Be Coimbra Hostels is a great budget option offering a range of rooms. It's in a great area of the city.
Mid-range:
Coimbra Vintage Lofts is a cool hotel near the river. It has great reviews and a great display of vintage items. It even has an onsite bike hire.
Luxury:
The five star Quinta Das Lagrimas is a great slice of luxury in Coimbra. It has an indoor and outdoor pool along with a spa. It has great reviews and delicious food.
So there you have it, my tourist guide for things to do in Coimbra in Portugal and everything else you need to know about visiting Coimbra. Would you like to visit Coimbra? What from the list of things to do, would you want to do? Comment below. Make sure you check out my other 10 free things to do posts and don't forget you can subscribe to my blog (It's free!) to keep updated each fortnight with what I am doing and for more posts like this one.
Just a note to say:
Have you noticed I do not have intrusive adverts on my page making the site run slow for you, or that interrupt your reading. This is because I want to make your reading experience as pleasant as possible. Writing blog posts isn't as easy as it looks. I spend a long time making sure I give you correct information about places, edit the posts so they read well and then add the edited photos I have taken or add the google maps location. I do this as I love to travel and love helping other people to travel. If you enjoyed what you have read then there are other ways you can support me as a travel blogger other than putting up with annoying adverts:
You could buy me a coffee
Use the links on my sources page which are affiliates.
– Head over to Amazon to buy some products using this link .
– Looking for website hosting? Take a look at Bluehost using this link.
– Need to book some accommodation then check out Booking.com and Skyscanner for flights, check them out using this link.
Thank you for your support.