I sat on the edge of the rock with my legs hanging freely in the cool air with a 700 metre drop below. Was I scared of falling? No! But was I able to sit a while and take in the surrounding landscape; the beautiful ice capped mountains and the lake below. No. As I was not sitting on the edge of any rock looking at the amazing view. I was on Trolltunga and there was a queue of at least 20 people eager to get a photo on this iconic rock formation.
The day at Trolltunga started at 7 am, when I woke in the tent at the beginning of the trail at Skjeggedal. We packed away the tent and had some breakfast in the car to give us some much needed energy. Trolltunga is not an easy hike. A 23 km round trip which most people say takes 10 – 12 hours. We had read about it and heard the stories of a lot of rescues the week before. We knew what we were letting ourselves in for and had the equipment required to make this climb safer.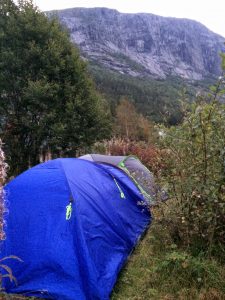 The first hour was gruelling – up steps cut into the hillside. Rocks of uneven sizes making each step different. After what seemed like 5 km, we finally reached the 1 km mark with a not so helpful '10 km to go' Trolltunga sign. Here the area flattened out a little with a walk over bog land and streams. This gives you amazing views of the mountains around and a brief rest for your knees until the next bit of climbing up to a lake.
The next bit of climbing was not as bad and we were rewarded with a lovely lake and, looking back, great views of the mountain range.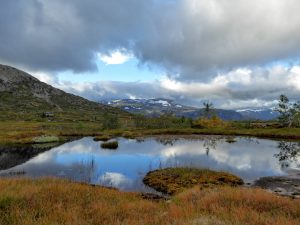 The next part is less steep but with many annoying ups and downs. There are many photo opportunities but fewer toilet opportunities. With nowhere to hide it is difficult relieve yourself as a female. We sat and had an early lunch a little after the halfway point, soaking up the views of the lake below.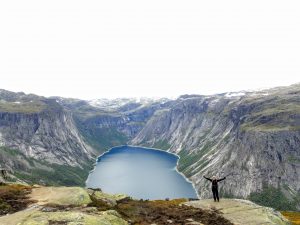 We saw the gathering of people across a valley before we saw the trolls tongue itself. As we got closer we passed people who were on their way down. Some with tents who had stayed up overnight at7 Trolltunga, and others who had set off a lot earlier. All of them  were giving us words of inspiration.
Finally, with just 1 km to go, we crossed lots of rocks towards the ledge.  We arrived at 12.15 hours, we had completed the climb in just over 4 hours. The views were breathtaking and the crowds of people were unexpected. I knew there would be a lot but surely not everyone would want to walk this far!
I headed over first whilst Wendy took up photo station on the edge of the cliff. The queue took nearly 1 hour to get to the point where I could have my photo taken on the cliff top. As I walked out onto the ledge, I felt on top of the world. Following a few necessary poses such as star jumping and looking out over the distance, I edged nearer the edge and sat down. As my feet dangled over the edge I felt happy. Content that I had achieved this challenging graded hike but did feel a little pushed to have that photo taken and to get off the rock.
As I returned to Wendy, I found her feeling very cold. Now it was my turn to wait with the camera. However this was my opportunity to soak up the breathtaking views. Approximately another 50 minutes later, she returned and we had some more to eat. There were some other amazing photo opportunities around Trolltunga including what seems to be a smaller, fatter tongue lower down.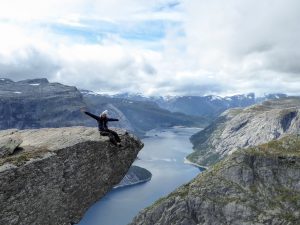 We started our hike back down the mountain at around 2 pm. Only another 11kms to go!
The walk back to the start seemed long with no beautiful view at the end to spur us on. We stopped often to soak up the view and to treat ourselves with handfuls of M&Ms (other chocolatey, peanut treats are also available).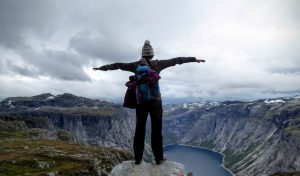 The final 1 km was a killer on the knees. The ground was wet and very slippy. With our knees shaking, we slowly made our way down. We were so glad that we had proper walking shoes on but even still we were slipping often.
On the final stretch we came across an older gentleman who had fallen. With a cut to his hand and broken glasses, I carried his backpack as well as mine down whilst Wendy gave him words of encouragement. He was a keen hiker and was there with his wife. It seems that he was a little dehydrated therefore not performing his best. At the bottom the nurses came out in us and we sent him off with hydration salts and a dressing for his hand. It just goes to show the importance of drinking enough fluid when hiking.
Overall Trolltunga was a great experience and I believe it was worth the climb. Would I do it again? Possibly if I was camping at the top overnight but the sheer amount of tourists put me off. I have heard about frequent rescues off Trolltunga every week due to tourists going up there without equipment. I saw many people walking in jeans and trainers. They were lucky the day I climbed, as the weather was good to us but as with all mountains, be prepared.
Please comment below if you have any questions or stories to share about Trolltunga or it you have any tips on the subject. Don't forget to subscribe (it's free!) to my blog for more  posts like this and interesting travel stories.
Looking for other inspiration hikes. Check out my attempt at Mount Toubkal here!
Below are some tips that may help you complete Trolltunga:
1/ The trail is well sign posted. Just follow the T's.
2/ If you have not reached Trolltunga by 4 pm then you must turn back.
There are reminders everywhere of this unless you are camping overnight.

3/ This is a difficult hike. Make sure you have the fitness levels to carry this out safely.
The hike can be completed from mid June to mid September. We climbed on the 9th September 2016.
4/ Make sure you have the right equipment. You need good walking
boots, warm clothes, waterproofs and a rucksack with food, a bottle of water and a first aid kit. There are plenty of streams on the hike which are clean therefore you can easily fill up your bottles throughout the climb.
5/ There is poor mobile phone signal on the mountain. Let someone know where you are and an expected time back.
6/ Transportation:
Car – We hired a car and drove to the carpark but be aware of high parking fees. 400NOK for 24 hours and 200 NOK for 12 hours.
Shuttle bus – There is a shuttle bus from major accommodation in Odda. www.oddataxi.no
Public bus from Odda – Route 995 www.skyss.no

Hitchhiking – We did see a lot of people hitch hiking up to the start of the trek. We travelled up and camped with three girls and their two friends who we met hitch hiking in Odda.
7/ The nearest airports to Trolltunga are Stavanger and Bergen however Oslo is also a popular airport to fly to. Check out my post on how to find bargain flights here.