The sound of the bitterly cold wind whistling through the rocks was music to my ears. Almost meditation inducing if it hadn't been so cold. It's winter time in Seoraksan National Park, South Korea and I'm hiking up to Ulsanbawi rock.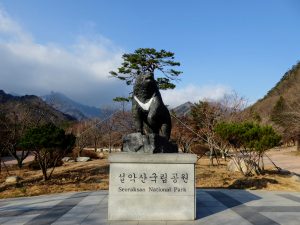 Seoraksan is one of the most famous mountains in Korea therefore the national park it is within is called Seoraksan National Park. It is located in the east of South Korea, near the North Korean border and is easily accessible from Sokcho. Seoraksan National Park is so big, it is split into different sections. Today I was in the Cheonbuldong valley in search of nature after spending a week in Seoul.
In true Korean style, there is a distinct overlap of natural beauty and commercial tourist attractions at the park's gates. Amusement arcades, restaurants and hotels a plenty are to be found just inside and prior to the park gates. Cable cars were at the standby to take wannabe trekkers up Mount Gwongeum. Even in winter the area was pretty bustling, however just a short walk from this area and you will find the crowds disappear and you are at one with nature.
To warm up we decided to take a left shortly after the main entrance towards Biryong Falls, a 4.8km round trip. As we walked through the forest we saw signs for bears and wild boar but didn't get to see any. As you rise up through the valley which the river had cut out of the mountain, the well kept trail crossed over bridges and climbs steps until you come to Biryong Falls.
If I am absolutely honest, Biryong Falls was nothing spectacular but the walk up there was nice therefore we decided to add an extra onto it, a hike up to Towangseong Fall Observatory. The many steps to the top were tiring but with lots of stops, it wasn't an issue. The view across the mountain was great and made extra spectacular with the placement of a telescope at the top.

Looking for nature in Seoul? Check out my post on the Cheonggyecheon Stream.
On our way down we stopped at Biryong Falls again but this time to join some locals who were waiting for their friends to come down from climbing Towangseong Fall Observatory. Here they shared their rice wine, rice cake and chocolate with us whilst playing Korean music on their radio. We ended up walking back down to the entrance with them before they headed on their way.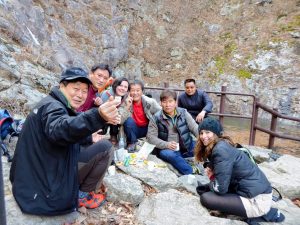 Sinheungsa Temple is just a short walk from the entrance and you will walk past this when heading to the start of the 7.6km trail to Ulsanbawi Rock. This Jwabl Statue is the largest bronze statue in Korea standing at 10 metres high.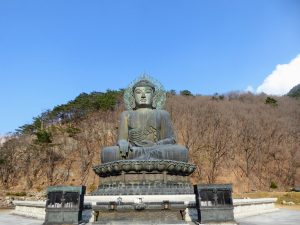 The walk from here to Heundeulbawi, it is a pleasant 1.5km walk. Here you will find a rock that people daringly rock to and fro, no-one has yet dislodged it from its place. Here there is also a Gyejoam temple, and around it ancient graffiti carved into the rocks. We took a little break here before continuing towards Ulsanbawi rock.
From here the trek gets more strenuous, however it is surrounded by lovely scenery. At one point there is a viewpoint of Ulsanbawi rock which is where we could hear the wind singing a tune through the rocks. I could have stayed there all day however even though it was sunny, the cold wind bit at you.

You have no option but to continue walking up the approx 900 steps up narrow stairways without pausing, which will take you to Ulsanbawi. It really was a workout for the muscles but as my body heated up with the walking, I no longer felt the icy cold wind.
Here, at the 873 metre summit of Ulsanbawi rock, you have amazing views of the Pacific Ocean and Sokcho.
Have you been to Seoraksan National Park or hiked Ulsanbawi Rock? Do you recommend anywhere else to go? Please comment below. Don't forget to subscribe (It's free!) to my blog for more  posts like this and interesting travel tips.

Tips for the trip to Ulsanbawi Rock:

1/ We took a bus from Sokcho. Number 7 or 7-1 from the city. The National Park is the last stop. Price 1200won.
2/ Stop at a tourist information at the city for a basic map although the route is well signposted. You may also be able to get these maps at the entrance.
3/ You have to pay 3500won to enter the park. However you will understand why when you see the many well kept toilets and great paths and signposts.
4/ I took just a 750mls water bottle with me thinking I could fill it up in rivers.  However there are plenty of springs and places at temples to fill up your bottle on the way.
5/ Take some snacks with you. You will need some energy walking up all the steps. I did hear that in summer there are regular vending stalls but these were not around in winter.
6/ Take warm clothing in winter. It was very cold in exposed places and in the shade.
7/ We stayed at the Egg Sokcho Guesthouse. This was really nice with spacious rooms, nice bathrooms and a free breakfast. From here it was a short walk to the bus stop. Book your stay here: