Bordeaux is a UNESCO World Heritage Site before it is a city. Why? Because all of the city centre and a lot of its surrounding areas are UNESCO sites. Not only is Bordeaux known for its classical and neo-classical architecture but it is also world famous for its wine. But being in a cultured city such as Bordeaux in France doesn't need to put you out of pocket. That is why I have found these 10 free things to do whilst you are in Bordeaux on a budget and have put it together as my Bordeaux tourism guide.
Bordeaux was the last place I visited whilst driving through the north of France on my European adventure in my camping car. This trip saw me follow the River Loire before heading along the coast towards Spain. My camping car allowed me to travel on a tight budget spending nothing on accommodation as I bedded down in my car most nights.
Free thing to do in Bordeaux, France No.1: Visit the world's largest reflecting pool
The Miroir d'Eau is the world's largest reflecting pool. It was inspired by the flooded Piazza San Marco in Venice and was designed by Michel Corajoud and Jean-Max Llorca. This contemporary UNESCO World Heritage Site is the most photographed place in Bordeaux.
On a hot summer's day, the reflecting pool is a favourite spot . There are activities such as salsa going on there, children and dogs playing and romantic couples walking hand in hand. The Miroir d'Eau goes through a 3 minutes cycle of fog and then mirror followed by 10 minutes of pool. This makes it very difficult to capture a beautiful photo of the mirrored water in the 3 minutes without any people in it. My top tip is to head over there early in the morning whilst all the tourists are still enjoying their breakfasts.
Free thing to do in Bordeaux, France No.2: Challenge yourself to a bike ride around the city.
Bordeaux is extremely bike friendly. You can hire a bike from one of the many VCub where you hire the bikes on a pay as you go basis. The quirk here is that you can hire the bike for the first 30 minutes for free. Check out where all the stations are and make your way around the city changing your bike as you go.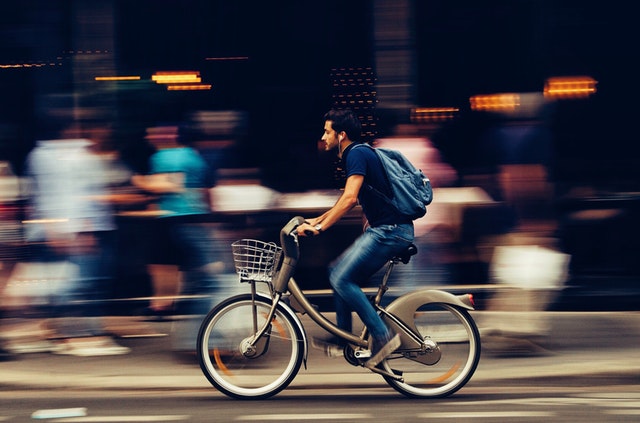 I liked this idea as not only did I see it as a challenge (and a very doable challenge at that) but also it took me to places I wasn't planning to go to and I discovered so much more of the city. And if you don't fancy this challenge then its ok as at the cost of €1.50 a day, it might as well be for free. If you are going to hire it for the day then I highly recommend cycling out of the city and following the picturesque Roger Lapébie bike path along the river.
Free thing to do in Bordeaux, France No.3: Doing a beach activity.
The Plage du Lac offers a range of free activities like canoeing, sailing, paddle boarding, capoeira and giant board games. Anyone can take part in these daily activities from 2 pm to 6 pm between June 1 and August 31.
The Plage du Lac is easy to get to on the C tram line, getting off at the Les Aubiers stop. From here the beach is a 10 minute walk away.
Free thing to do in Bordeaux, France No.4: Grab a free hug
Every second Tuesday of the month, the association Free Hugs Bordeaux gives away hugs. Head over to Place de la Bourse between 5-7pm and take part. Not only is it nice to receive a free hug, but it is also good for your health. Oxytocin is the hormone that is produced by our brains when we bond socially and makes us feel happy. So add an extra dose of happiness to your day.
Free thing to do in Bordeaux, France No.5: Relax in the Jardin Public
This very English-designed garden was built to give the local people somewhere to sit back and relax. During the hot summer days, you will find people sleeping in the shade of the trees and sun seekers trying to tan themselves.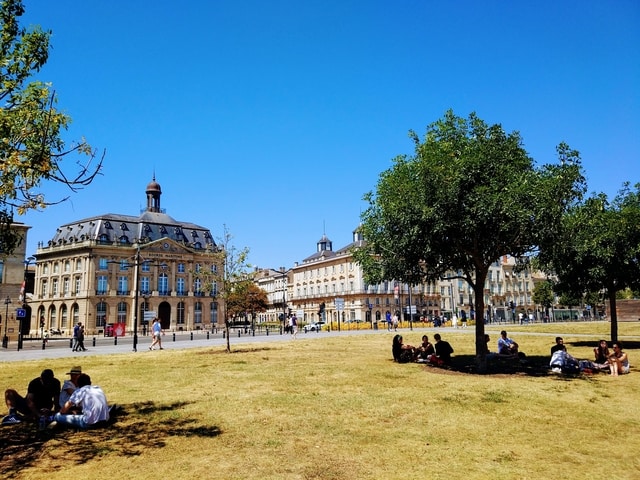 In the summer months there is also a puppet show and a playground for children. Within the the Jardin Public, there is also a small free botanical garden.
Free thing to do in Bordeaux, France No.6: Check out the museums
Bordeaux has many museums. Visiting them all can be a costly affair but the good news is that, like many French cities, museums are free on the first Sunday of every month. The bad news is that this does not apply in the peak season of July and August.
Free thing to do in Bordeaux, France No.7: Watch the sunset from the largest city square in France.
Place des Quinconces in the heart of Bordeaux, is the largest city square in France and one of the largest in Europe. Head here just before dusk and watch an amazing sunset. It is a popular place to be photographed in Bordeaux and it seems to be first choice for pop-up events, concerts and festivals.
Free thing to do in Bordeaux, France No.8: Wander docks and the river banks.
Bordeaux's docks and river bank are certainly worth a stroll. If you are lucky, you night even see a cruise ship come in and pass under the Pont Jacques Chaban-Delmas bridge.
I watched in amazement wondering how this cruise ship was going to get out to sea and then noticed the bridge lift up. The Pont Jacques Chaban-Delmas rises so that it is 53 metres above the water to let ships pass under it.
In the summer months, this is something best done when the afternoon starts to cool down as it lacks shade in this area. You can refill your bottle of water at some of the drinking water fountains dotted along the riverside.
Free thing to do in Bordeaux, France No.9: Discover Bordeaux by night.
Bordeaux is not only beautiful by day, but also by night. Go to the middle of Pont de Pierre (stone bridge) where you can see an illuminated panorama of the docks as well as parts of the city. Additionally the downtown monuments are lit up beautifully, as well as the three churches on the pilgrim route to Santiago de Compostela.
Free thing to do in Bordeaux, France No.10: Take in the architecture
As I said at the beginning, Bordeaux is jam packed with UNESCO-listed sites. Rather than planning to visit each place, I just wandered (and cycled) and came across many beautiful places.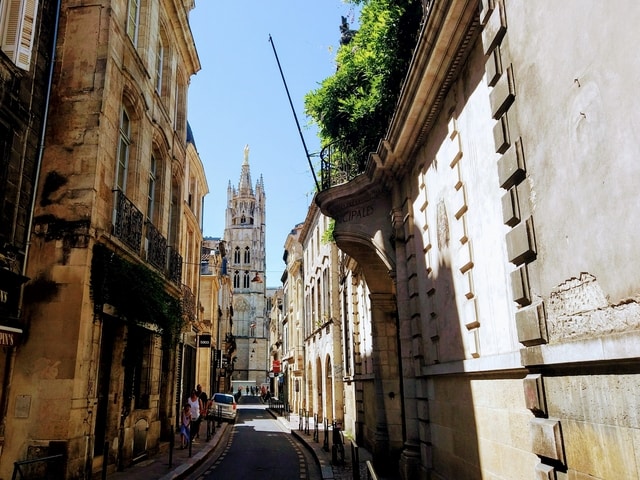 One area to certainly visit is the Cathedral of Saint André and its surrounding area. This is a great area to find a seat and sit and people watch whilst admiring the stunning surroundings. Make sure you take the time to go into the Cathedral to check out its stained glass window.
Bonus No.11: Climb the second tallest bell tower in France.
This is only free if you are under 12 years old. Climb the 114 metre tall La Flèche Saint-Michel (bell tower) and see Bordeaux from a birds eye view. It took over 20 years to build in the 15th century and is the second tallest bell tower in France, after Strasbourg Cathedral at 142 metres high.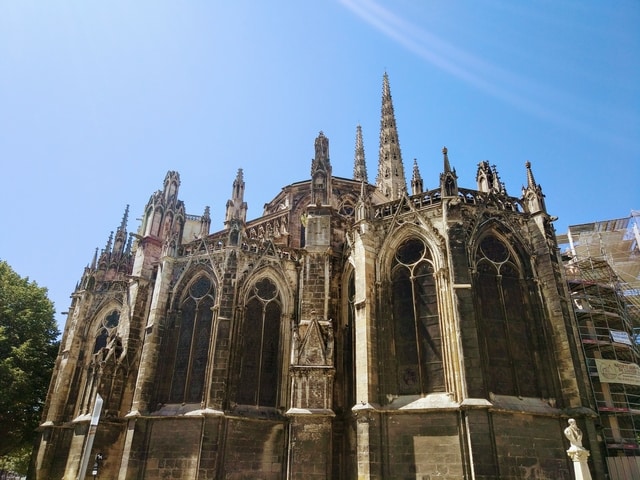 The durability of the bell tower has been tested over the years when it was hit by lightning in 1574, nearly demolished in 1675 by Louis XIV and when it was damaged by a storm in 1768 and a spire was swept away.
It is free for children under 12 but if you can't pass for a 12 years old then it will just cost you €5. The La Flèche Saint-Michel is open every day from 1st April until the 31st October between the hours of 10am – 1pm and 2pm – 6pm. It is free to enter for those who have the Bordeaux City Pass.
Other things I recommend to do in Bordeaux, France.
Chartrons District:
This is a really hipster neighbourhood in Bordeaux where there are bistros and cool cafes, bric-a-brac and boutique shops and former warehouses and mansions sitting side by side. Amble along Rue Notre Dame and dip in and out of the shops. I guarantee that in this area you will find some hidden gems.
Day trip to the highest sand dunes in Europe.
Just 40 miles (65 Km) out of the city of Bordeaux, Dune du Pilat towers above the Atlantic ocean at over 100 metres high. A handy staircase helps you climb the Dune du Pilat and gives you great views over the Bassin d'Arcachon . You will find adventurous people paragliding off the top of the dunes. Another way you can get a bird's eye view of the dunes is via a scenic helicopter flight over Dune du Pilat.
Bordeaux Sunday Market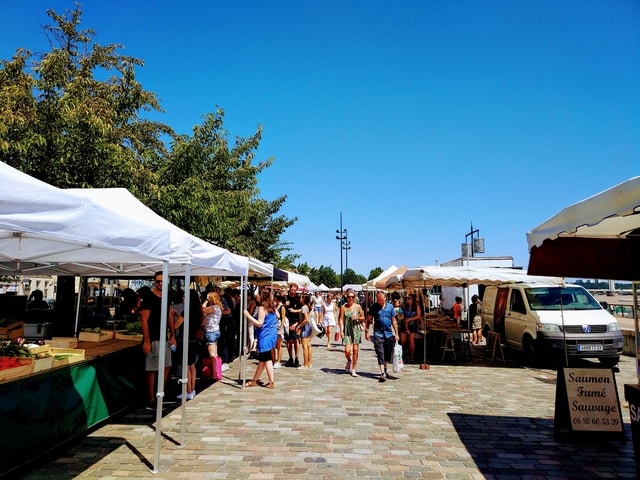 Not only does Sunday mean free parking in Bordeaux but it also means the Marché des Quais is on. Discover the fresh local products but make sure you get there in the morning as the market closes at 1pm.
Top tips for visiting Bordeaux on a budget:
1/ Grab a Bordeaux City Pass which gives you free public transportation and free entry into 20 museums. Additionally you get a free walking tour and discounts on many other attractions. One day pass is €26, three day pass is €40.
2/ If like me you take your own car to Bordeaux or you hire one then you will find that parking is really expensive. Therefore take advantage of the free parking on a Sunday.
3/ As previously mentioned, museums are free on the first Sunday of every month. However this does not apply in the peak season of July and August.
When to go to Bordeaux in France.
The sunniest months to visit Bordeaux and the most popular time is July and August although this is when everyone else will be there. To try and avoid the crowds of tourists, take advantage of the mild Spring and Autumn by visiting then. June can be very pleasant also. Make sure you take a waterproof jacket when visiting in Spring and Autumn as, although it is nice weather, there may be frequent short showers.
Note that the wineries start their harvest in September and some do close their doors to visitors, so if this is a must visit then avoid at this time. Bordeaux gets very traditional in December in the run up to Christmas so if this is your kind of thing then make sure you visit in the weeks running up to Christmas.
How to get to Bordeaux in France.
Bordeaux is well connected with the rest of France due to a high speed LGV rail link running from Paris. This allows you to grab a budget airline flight from most places within Europe or a Eurostar train from London.
Where to stay in Bordeaux in France.
There are many places to stay in Bordeaux and I have some suggestions for you to cover all price ranges.
Budget:
Don't forget to take a look on CouchSurfing in plenty of time before your trip and see if there is someone who is willing to host you. Safety is of importance so check out my post on how to stay safe whilst Couchsurfing.
Airbnb is great for finding places to stay on all budgets. You can either rent a room in a shared house or find an apartment to yourself. Don't forget to use my link to get money off your first Airbnb stay.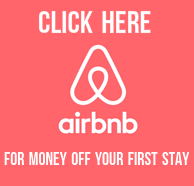 A good budget option for Bordeaux is Hotel F1 Bordeaux Ville. It has good reviews and great options for solo, couple or even groups of travellers.
Mid range:
Again check out Airbnb where you can pick up a beautiful apartment for not too much damage to your purse strings. Alternatively check out Ténéo Apparthotel Bordeaux Maritime which offers nice accommodation for mid-range prices.
Luxury:
For those who are looking for something a little bit extra special, I suggestion the Villa Reale. With consistent great reviews and a superb location, this quirky boutique hotel is an ideal place to stay.
So there you have it, 10 free things to do in Bordeaux, France. Have you ever been to Bordeaux? If not, would you like to go? Why don't you head over to read my other '10 free things to do' range to see where else I have written about. And don't forget you can subscribe to my blog (It's free!) to keep updated each fortnight with what I am doing and for more posts like this one.

Just a note to say:
Have you noticed I do not have intrusive adverts on my page making the site run slow for you, or that interrupt your reading. This is because I want to make your reading experience as pleasant as possible. Writing blog posts isn't as easy as it looks. I spend a long time making sure I give you correct information about places, edit the posts so they read well and then add the edited photos I have taken or add the google maps location. I do this as I love to travel and love helping other people to travel. If you enjoyed what you have read then there are other ways you can support me as a travel blogger other than putting up with annoying adverts:
You could buy me a coffee
Use the links on my sources page which are affiliates.
– Head over to Amazon to buy some products using this link .
– Looking for website hosting? Take a look at Bluehost using this link.
– Need to book some accommodation then check out Booking.com and Skyscanner for flights, check them out using this link.
Thank you for your support.