Istanbul, a transcontinental city in both Europe and Asia. Istanbul straddles the Bosphorus Strait resulting in it being part of Eurasia. I have to admit Istanbul surprised me. The first time I went there, I had 10 days free and was keen to explore Istanbul attractions and activities, as well as other areas within that region. I loved the city so much, I stayed there for the full 10 days. We all know that exploring cities can be expensive wherever you are in the world which is why I have put together these 10 free things to do in Istanbul.
No 1. Free things to do in Istanbul: Taste some Turkish delight
Turkish delight is a sweet confection based on starch gel and sugar with added flavouring. There are shops selling Turkish delight all over Istanbul, some are delicious, others are not so much. You seem to get what you pay for. Traditional varieties are flavoured with rose water, lemon and orange but you can find all sorts of flavours nowadays.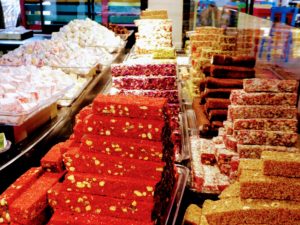 There are many shops lining Istiklal Street which leads up to Taksim Square. These have little testers so you can try before you buy. These are all nice but most are not the best quality of Turkish Delight you can find.
I highly recommend you head over to Ali Muhiddin Hacı Bekir where I found the best Turkish Delight to sample. Just remember if you are going to buy some Turkish Delight then it is polite to buy from the sample shop. Besides, this is why they are offering samples!
No 2. Free things to do in Istanbul: Watch the trams in Taksim Square
One photo that is easily recognisable as Istanbul and splashed with colours is the tram coming along Istiklal Street to Taksim Square. It makes for such a nice photo and it is a lovely street to walk along, especially to try that Turkish delight and to see number 6 in this list.
These trams could be found all over Istanbul but they began to slowly close and were completely stopped in 1966. The trams returned to Istanbul in 1990 when the heritage tramway Taksim-Tünel Nostalgia Tramway (T2 line) started running again. On the European side of Istanbul, you will find both heritage trams and modern trams, on the Asian side you will find just the heritage trams.
No 3. Free things to do in Istanbul: Visit the Blue Mosque area.
The Blue Mosque (Sultan Ahmed Mosque) is a popular tourist site in Turkey and is still used today as a place of worship. Hence, they are on the list of the top Istanbul attractions to visit.
Named after the hand painted blue tiles which adorn the interior walls it is a beautiful place to visit.
But be respectful, avoid visiting at prayer time and wear the clothing given to you before entering. It is open every day and is free to enter; hence, it is a must for those looking for ideas on what to do in Istanbul on a budget.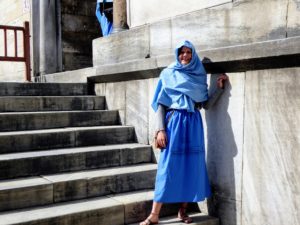 Another mosque right next to the Blue Mosque is the Hagia Sophia which is now a museum. The whole area is somewhere I would recommend you spend some time. The best times are early in the morning before the tourist buses come or at night when the Mosques are lit up. It is definitely one of the best sights and activities in Istanbul to explore.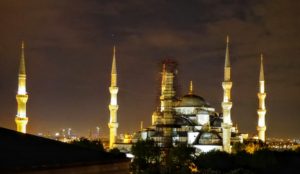 Other mosques which are among the free Istanbul attractions are:
The Ottoman Imperial Suleymaniye Mosque located on the Third Hill of Istanbul, Turkey.  It is one of the known sights of the Istanbul skyline.
Eyüp Sultan Mosque is located outside the city walls near the Golden Horn in the Eyüp district of Istanbul.
The former Church of the Saints Sergius and Bacchus, Little Hagia Sophia Mosque is in the district of Faith. It was a former Greek Eastern Orthodox church converted into a Mosque during the Ottoman Empire.
No 4. Free things to do in Istanbul: Walk around the hipster area.
Istanbul is split into lots of different areas. The traditional, the business, the touristy and the hipster area. Here in Karaköy, you can find cool cafes, eco friendly shops and reclaimed furniture places. You can decide which area you must visit based on what to do in Istanbul, as is available for each area.
You can also find tons of street art. Check out the alley of umbrellas, the painted steps and the Moss earth art. These are definitely one of the best free Istanbul attractions.
I came across a little warehouse where an old man sits and allows other artist to paint. A basic set up but a place that anyone is welcome to show their talents. I really enjoy this area of Istanbul. I recommend you add it to your list of free activities in Istanbul.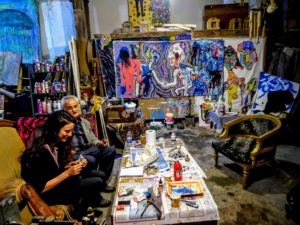 No 5. Free thing to do: Walk over the bridge
The Galata Bridge crosses the Golden Horn and is lined with street vendors and fishermen. Visit one of the free Istanbul attractions during your stay.
It's a lovely walk to take to see everyday life in Istanbul, enjoy the sounds of the birds and to get great views of both European and Asian sides of Istanbul. This is the fifth Galata bridge to be constructed and replaced the previous one which was destroyed by a fire in 1992
No 6. Free things to do in Istanbul: Listen to the street performances
Along the Istiklal Street you will find many Street performers especially in peak season, weekends and special holidays.
This is free to watch but also think about tossing some money into their cap as entertaining you is their living.
No 7. Free things to do in Istanbul: Walk through the Grand Bazaar
Regarded as one of the first shopping malls in the world, the Grand Bazaar is certainly a place to shop. It is one of the oldest and largest covered markets in the world with over four thousand stalls/shops.
Even if you do not want to come here to haggle your spending money away, check out the design of the place. Take a wander through and absorb the atmosphere. It is definitely a worthy addition to your list of activities in Istanbul. But please do keep an eye on your belongings and do not be a target for pickpockets.
It is closed every Sunday and opens at 8.30 till 1900hrs
No 8. Free things to do in Istanbul: View Galata Tower
At a price of 18.50 Turkish Lira, climbing the Galata Tower really is not a free thing to do in Istanbul.
However it is free to see the tower from the outside and is nice to see at both day and night.
Also if you head down one of the side alleys near here you will find this piece of street art; Make Art Not War. I actually photographed this soon after the refugee crisis in Syria and as you can see on the right hand side of the photo, a Syrian refugee is sleeping.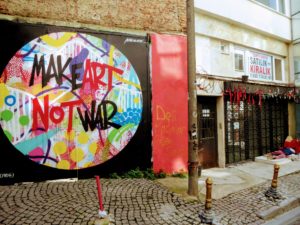 No 9. Free things to do in Istanbul: Çamlıca Hill
Çamlıca Hill is found on the Asian part of Istanbul and it gives great panoramic views of the southern part of Bosphorus and the mouth of Golden Horn. Within the park there are teahouses, cafes and a restaurant.
No 10. Free things to do in Istanbul Volunteer your time
Why don't you donate your time to help the people displaced by the conflicts happening in Syria? There are many projects going on in the city. A quick google search will put you in touch with some places. One website to check out is Small Project Istanbul who are a responsible place to help you start your search and run many projects.
Bonus No.11 things to do in Istanbul: Take a boat ride.
OK so this one isn't free but it was really cheap and I felt like you get plenty for your money. I took the boat from one side of the Bosphorus Straits to the other between Eminönü to Kadıköy costing only 3TL. It takes approx 20 Mins and is recommended if you are sourcing ideas on what to do in Istanbul.
Sit on the top deck and watch the seagulls flying with the boat. Feel the wind in your hair and watch the disappearance of one side of Istanbul and the approach of the other.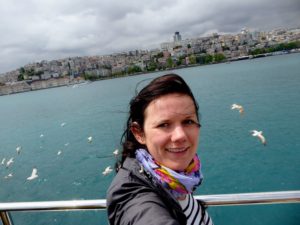 But please be aware of pickpockets when queuing and boarding the boat. In such a crowded place this is a pick pocketer heaven.
So there you have it! My top 10 free things to do in Istanbul, Turkey. A city I highly recommend you visit. And if you are heading to the Antalya or Cappadocia then check out my posts on that region.
Have you ever been to Istanbul? If so then what did you enjoy doing the most there? Is Istanbul somewhere you would like to visit? Comment below and don't forget to subscribe (It's free) for fortnightly updates on travel tips and adventure trips.