Cappadocia is one of my favourite areas of Turkey. With its fairy chimneys, spectacular scenery and the beautiful morning sky full of balloons – there are lots of things to do. Travelling on a budget can be hard, so to make it easier, here are 10 free things to do in Cappadocia in Turkey.
Free things to do in Cappadocia No. 1: Watch the Sunset
There are a few places called Sunset Point in Cappadocia. The two main ones are both spectacular but one is paid, and the other is free.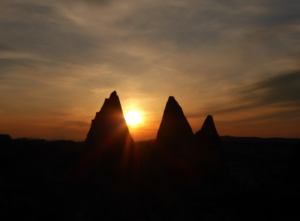 So take the short walk up the road that climbs above the town of Göreme. This is a perfect place to see the sun set behind the Göreme whilst casting its orange rays on the fairy chimneys.
Free things to do in Cappadocia No. 2: Hike
Take one of the many beautiful walking routes in Cappadocia. My personal favourite is Red and Rose valley. Here you can do a loop exploring cave homes and hidden chapels.
At some points, you will be deep in the valley which seems so isolated. Here I met a local family tending to their vineyard and even helped them for an hour after they shared their food with me. Some of the famous Fairy Chimneys can also be found in these valleys.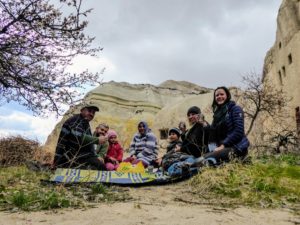 Other well known hikes are Love Valley named after the phallic shaped rocks in the area and Devrent Valley (Imagination Valley) where you will see rock formations in shapes such as a camel, lions etc.
Free things to do in Cappadocia No. 3: Watch hot air balloons
Sunrise is the best time to see the hot air balloons in Cappadocia.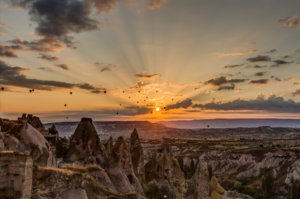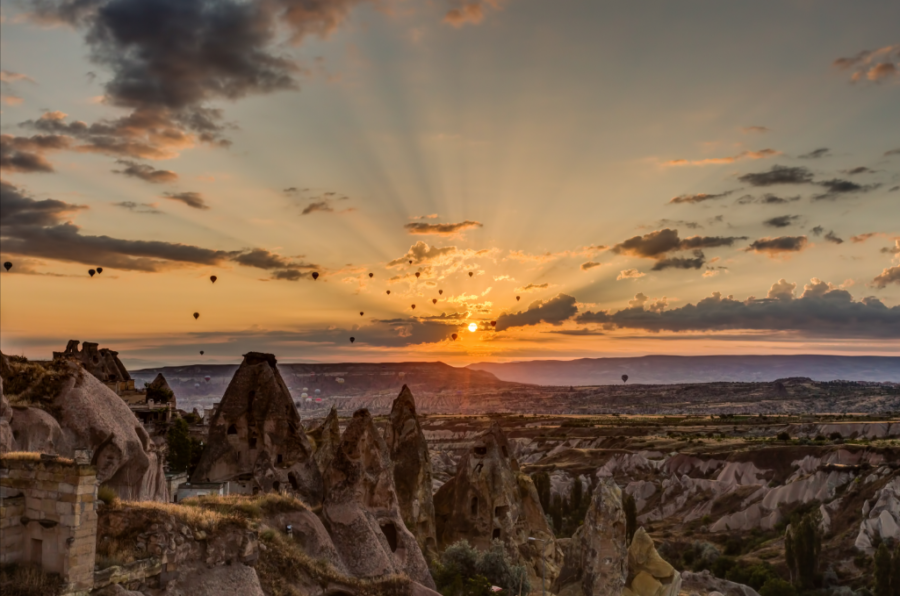 Anywhere high that is near the area around Göreme will give you amazing views as there are so many balloons in the sky. However I would highly recommend the sunset and sunrise point near Göreme.
Get there 15mins before the sun is due to rise for the best views.
Free things to do in Cappadocia No. 4: Explore caves and hidden chapels
There is an open air museum at Göreme which you have to pay to enter. However there are many free places where you can experience the amazing homes and chapels carved into the rock. I met a few people who told me that it wasn't worth the money therefore I decided not to go to the Göreme open air museum preferring to explore areas less visited areas by tourists.
I highly recommend exploring Rose Valley. I spent an afternoon here exploring all the caves and churches.
I sat for a long time, completely alone in Kolonlu Kilise (Column church), in the window with views out into the valley.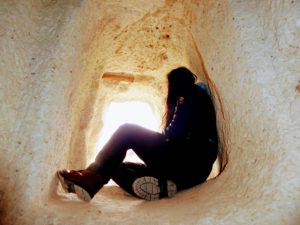 Another place is round Uçhisar rock castle but there is more about that below.
Just remember that any cave with a door on is out of bounds. You do not want to be walking into someone's home.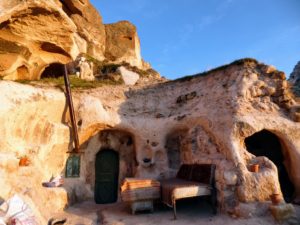 Free things to do in Cappadocia No. 5: Cavusin Village
Cavusin  is a village that isn't really on the tourist trail. Its old narrow street and old buildings are just perfect. Sadly this area is becoming more and more developed so you need to see it now before it is over-developed in the name of tourism.
Take a walk to the top of the village which will give you wonderful views of the area.
Free things to do in Cappadocia No.6: Interact with the locals
I found that all over Turkey, locals were so kind. In Cappadocia, whilst hiking, I was invited to take some lunch with a local family. This happened everywhere I went. Take the time to interact with the locals. Even if you are not interested in buying anything. They still like to talk with you.
I even received some warm wine at a viewpoint from a man selling it from his car boot. I didn't have any money with me but he still insisted on me having some.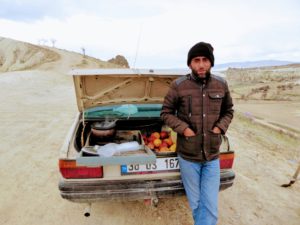 Free things to do in Cappadocia No. 7: Visit the Rock Castle the back way
You have to pay ₺6.50 to climb to the top of the Rock Castle in Uçhisar. But did you know that you can climb two thirds of the way up it by going round the back? This is also a great place to explore some of the cave houses.
All you need to do is walk around the back and follow one of the many paths to slowly climb it. But be careful as it can become steep at times.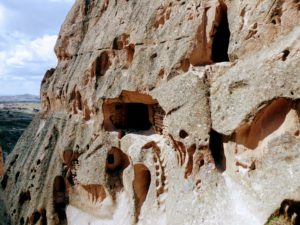 Spend a bit of time in this beautiful area. Here I captured this beautiful moment with the call to prayer echoing around the area.
Free things to do in Cappadocia No. 8: Spend time with the donkey
Now you weren't expecting this one were you? Well there is a donkey which looks like he lives in a hole. But before I am attacked for exploiting an animal (I would be the first one to call someone out for this), I have to tell you that he does not live in a hole. His stable opens out into a nice outdoor area but because of the way the land lies, he also has a window out onto the road.
He loves it if you scratch his head or give him a juicy apple to eat.
Free things to do in Cappadocia No. 9: Watch some pigeons
Pigeon Valley is named just this due to all the pigeons living in the fairy chimneys and caves here. Pigeons have called this home for many centuries and their droppings were collected to fertilise the vineyards. Some pigeon houses have been especially made, carved out of the rocks, whereas others have made their homes in the fairy chimneys here.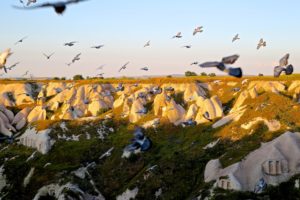 It is free to go here but be careful not to empty your pockets at the many friendly shops overlooking the valley. Here you will find a tree covered in glass Turkish Eyes, warding off evil spirits.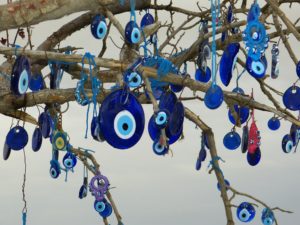 Free things to do in Cappadocia No. 10: Not free but nearly . . .drink coffee
Ok this one is not quite free, but nearly is. Turkish coffee is so so cheap that it is practically free. Be a local and enjoy this popular pastime in a little cafe somewhere and people watch or rest from a day seeing all the free sights that Cappadocia has to offer.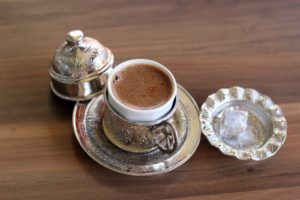 Have you enjoyed this guide? Why don't you check out my other free things to do guides for Seoul and Kuala Lumpur? Have you got any recommendations to add for free things to do in Cappadocia? Have you ever been to Turkey. Leave me a comment below and don't forget to subscribe to me blog (It's free) to receive fortnightly updates via email.
Looking for somewhere to stay whilst travelling on a budget? Check out Chez Nazims, a homely cave hotel where you will be treated like one of the family.

If you have a little bit more to spend then check out Horizon Hotel.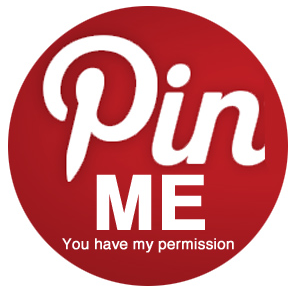 Disclaimer; this post contains affiliate links meaning at no extra cost to you, I receive a small amount of money when you purchase them to help with running costs of my blog. All thoughts I have on these items are my own and I would only ever recommend products I truly believe in. Please support my blog by using the links.