As I walked along the well worn trail through the valley, my eyes couldn't help but look around in amazement at all the doorways cut into the rock. Abandoned homes and chapels that once was full of life. I'm hiking the Red and Rose Valley in Cappadocia.
I love exploring new places, climbing into empty spaces, not knowing what amazing things you will find inside. This hike is perfect for this. Exploring the caves and discovering amazing views out over the valley from small windows carved into the rock. Each home is a reminder of this ancient and mysterious time.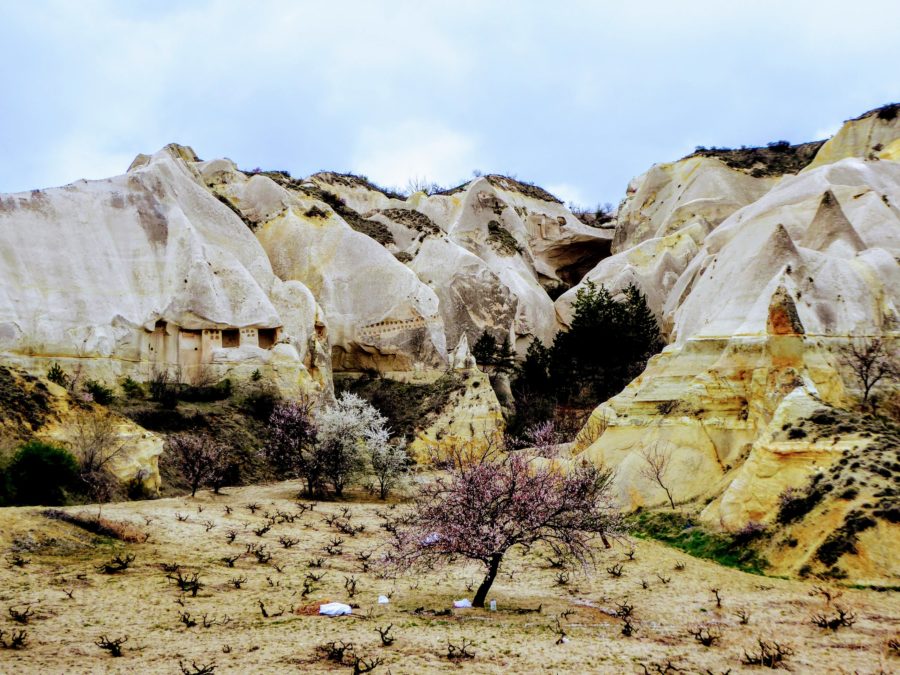 Cappadocia is in the central regions of Turkey. It is well known for its unusual rock formations, troglodyte dwellings carved out of the rock and underground cities. It is also a great place for hiking and having done a lot of the trails in Cappadocia, the Rose Valley is my favourite. Read on to learn about my hike in the Red and Rose Valley in Cappadocia.
I started at Sunset Point and headed straight for the first trail in Rose valley (Güllüdere 1), named after its rose bushes which were everywhere but sadly not in flower.  There are actually two trails through Rose valley, Güllüdere I and Güllüdere II.
A popular area, I had heard but I was completely alone here. However, walking through both Red and Rose Valley in Cappadocia, I came across only a family working there. No other hikers until I reached a popular viewpoint. Some may feel creeped out at the history which is in these valleys but I felt completely at ease with the dramatic scenery around me.
After hiking through the orchards, I came across an old wooden bridge leading into Kolonlu Kilise (Columned Church). I clambered into the gloomy entrance and climbed the stairs and stood a while waiting for my eyes to adjust to the dark. It was an old church with two levels, such skill and hard work had been put into making this and here it stood abandoned, pillars holding up its empty shell.
I sat at the window for a moment, absorbing the atmosphere, casting my mind back hundreds of years.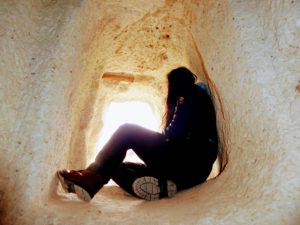 As I continued down Rose valley, I came across a family having a picnic beside a blossom tree. An old man called out to me and invited me to share their meal of different types of flat bread. Just one of the family members spoke a little English but by using gestures and hand signals we managed to communicate.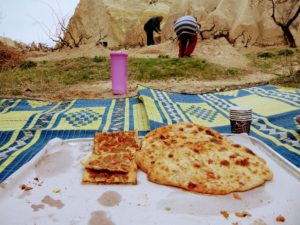 There were three generations here, two children, mum and dad and grandparents. Together as a family they have come to tend to their vineyard deep in the Rose Valley. There are not many places left in Europe where this happens. It is one of the highlights of my hike in Red and Rose Valley in Cappadocia.
They offered me some tea, but only on the condition I work for it. Of course, they were joking but I bit their hands off. My main purpose of travel is to be a local. And here was a massive opportunity.
As I trimmed the  old grape vines and collected the bits, we laughed and joked under the cooling spring sun. They showed me a hibernating tortoise and more abandoned homes.
After the hard work was done, we sat and drank tea and ate biscuits. Time had flown and it was getting late in the afternoon. I needed to get moving. They invited me to stay in their home which I politely declined. I would have loved to but all my things were in the hotel and they were expecting me back. As I waved goodbye, I wonder if they know what a unique experience they had given me.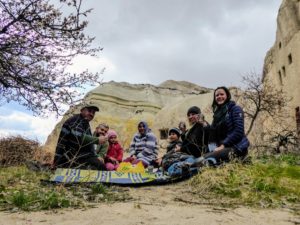 I continued my walk to where the track joined another and as I was deciding if I had time to hike further down or if I needed to return up Red Valley, I heard a yell. I looked up and a man was waving frantically at me. Calling me over. I could see others standing up at this view point, taking in the scenery.
I scrambled up the the hill and followed the path that twisted through the rocks. Here there were a mass of fairy chimneys, chapels and homes. As I explored the area, a man appeared in his banger of a car. His face dirtied by the sun. He explained to me that he had been calling me to come and see the view point. He was worried I was going to miss it.
Declining a lift over the short distance in his car, I hiked over. He met me there, beaming from ear to ear. So proud to show me this scenic viewpoint giving panoramic views of the area.  It was as if he had painted the scene himself.

He opened the boot of his car and offered me a drink. He had a makeshift stove in their with lovely warm fruit wine. Wine from the region. Sadly, I explained that I had no money on me. Only the car keys, my camera and water.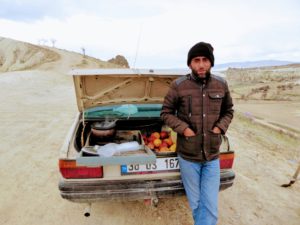 He just smiled and offered me a drink anyway.
As the quad bikers and horse riders came and went, he desperately tried to sell them some 'juice'. Once you managed to zone out of the repeated quad biking traffic, this area really was beautiful. Times were hard he explained. There are only Turkish tourists here. No one to sell his juice too.  His business model wasn't too good as he refilled my cup again for free.
We chatted for a while. His English was great. He even took some jumping photos against the views before once again I realised that I had a schedule to keep to. The sun would be setting soon and I waved goodbye to yet more lovely company I had met that day.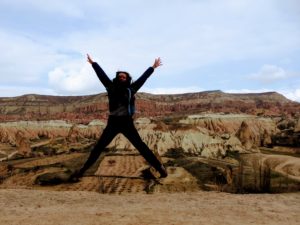 I hiked back up Red valley (Kızıl Çukur Vadisi), which gets its name because the pink rocks which change intensity depending on the time of day. I do feel this valley is for the more adventurous with its tunnels, ladders and stone steps climbing up to the next terrace of the valley. The Red Valley is the lesser visited hike in this area therefore there is a big chance you will have this place to yourself.
Suddenly through a tunnel, you open out onto a plain where there are cute little tea shops, tiny shops and beautiful sitting areas, even some swings. None of these were open due to the time of year adding even more mystique to the area.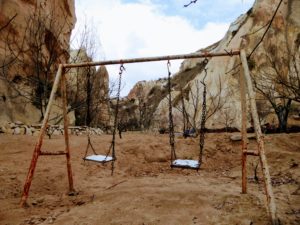 I can see that I am approaching my starting point, but I don't feel finished yet. There are still so much more exploring to be done. But the daylight was fading so there is no more time to explore the second Rose Valley trail, Güllüdere 2.
Another time. It was a fruitful and memorable hike in Red and Rose Valley in Cappadocia, for sure.
Have you ever been to Turkey before? Would you like to hike the Red and Rose Valley in Cappadocia? Subscribe to my blog (It's free) for more  posts like this and interesting travel tips.
Tips for Hiking Red and Rose Valley in Cappadocia
1/ The hike in Red and Rose Valley in Cappadocia is a mildly strenuous hike which will take you 3 hours for a round trip but longer if you are like me and like to explore . .  . everywhere.
2/ I started the trek at Sunset Point, Kizilcukur Valley although there is an admission fee of 2TL for entering this area. It is very popular for tourists to watch the sunset so if you don't like being surrounded by instagrammers then walk along the track a little and find yourself a secluded spot.
However, if you want to avoid paying the admission charge and you are visiting the Goreme Open Air Museum then you can get into the adjoining Meskendir valley then follow the signs to the Red Valley. It is an approx 45 minute walk.
The Panoramic Viewpoint I went to half way through my hike  is near Çavuşin. It is frequented with quad bikes so can be a little noisy.
3/ Make sure you take sunglasses, sun tan lotion and perhaps a sun hat to protect yourself from the bright sunlight. Make sure you have suitable footwear for the crumbly volcanic-ash terrain and rocky outcrops of the land. Also, make sure you take plenty of water to keep you hydrated in the dry climate.
4/ The trails are well marked and maintained but remember if you wander off the trail to explore the old caves then you do so at your own risk. Make sure someone knows where you are going and what time you will be expected to return. It gets pretty cold in the valley when the sun goes down so you don't want to be spending the night there. Think of the film 127 hours!! No thank you!
5/ Some of the caves in Cappadocia are still peoples' homes amongst the abandoned places. A general rule is that if there is a door then do not enter. Also remember this is an area of natural beauty. Take your litter home.
6/ Getting there: Many hotels will offer you a drop off to the starting point of the trek. However Turkish people are so kind and it is easy to hitch hike here. Even without trying, as people will stop and pick you up if they see you walking along the road. Don't worry about communication, just tell them Sunset Point and they will take you there.  Getting back you can hike to the town of Cavusin and either catch one of the infrequent buses from Cavusin or hitch hike back. Alternatively, do as I did and hike back in a loop to Sunset Point.
6/ The best time to visit Cappadocia is in Spring when I was there (April to mid June). In Summer it is too hot to do much, especially hike, and in Winter it is extremely cold but you can see the area covered in snow. It actually snowed when I was there in April but just a light dusting. Be aware that the valleys can become dangerous when covered in snow therefore I would not recommend you to hike in winter.
7/ I really recommend you check out Chez Nazim place if you are looking for somewhere to stay. With his cave guesthouse and fantastic home cooked food at a great price, there is no better place to stay.
If you are looking for a place a little more upmarket then check out Horizon Hotel.
Disclaimer; this post contains affiliate links meaning at no extra cost to you, I receive a small amount of money when you purchase them to help with running costs of my blog. All thoughts I have on these items are my own and I would only ever recommend products I truly believe in. Please support my blog by using the links.