Having been to Morocco 3 times over the past 18 months, it is pretty clear that I love Morocco. Coming from the UK, I can be in Africa, submersed into a whole different culture in just 4 hours. However, my love for Morocco is a little bit more than this. But one city has captured my attention – Marrakesh.
Morocco has it all – sea, city, culture, mountains and desert.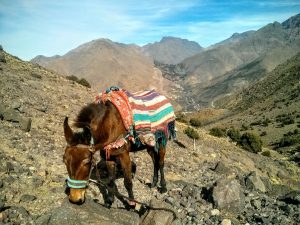 There is a crazy sensory overload in Marrakesh, most travellers starting point in Morocco. Although now cheap direct flights can be found to other areas of Morocco as well.
Marrakesh is chaotic and crazy. So much pollution and noise but at the same time it is beautiful, full of cultures and amazing colours. Yes, I have a love-hate relationship with Marrakesh but it is more a love-slightly dislike relationship.
Having spoken to many Riad owners, travel tour companies and street sellers who rely heavily on the tourist industry, I know that tourism has dropped massively in the past few years. They say this is due to the media, terrorist attacks in nearby Tunisia and negative feelings towards Muslims, theirs being the main religion of Morocco.
Terrorism is a fear for many places and following recent terror events around the world and the previous bombing in 2011 on Djemaa el-Fna, it is hard not to have it on your mind. That said, Morocco is a stable country and has a relatively liberal Islamic society. Obviously, an act of terror could happen, it's not sufficient risk to put you off travelling to Morocco. Follow your country's government advice for each particular country before travelling to any area of the world.
My personal opinion is that Morocco is safe to travel in. To help you stay safe in Marrakesh I have put together this guide to assist you in a city where getting lost will be an hourly occurrence, people will try to get you to part with your money and the culture may not be what you are used to. It can also be applied to most cities in Morocco. Petty crime and harassment requires you to be on your guard at all times. However my advice will make Marrakesh just that little bit easier to handle.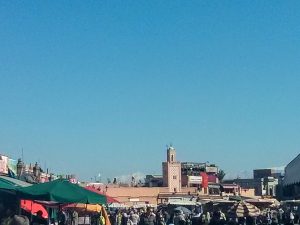 1/ You will get lost in Marrakesh!
Marrakech's medina is a maze, just like the one in Fes. You cannot always trust the signs to find your way to Djemaa el-Fna (the main square) as shop owners will change them to take you past their shops. Asking for help is going to cost you money or lead you into buying something that you may not want.
My tip is to embrace it BUT also there are a few other ways that you can get back on track!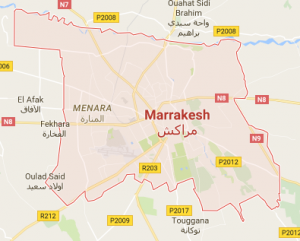 I wrote about Google maps in my blog post; 'Top 8 tips all travellers need to know' .
Download the Marrakech local map in advance on wifi. Open the map on the area of interest, then tap the search box and scroll down past the search suggestions to a link "Offline area". It will allow you to download whole cities of map data for use offline.
When you get to your accommodation always drop a pin (you have to be online). Press and hold the screen and it will drop a red pin. Tap the pin and it will come up with the address. Click the star and that will save it there when offline.
When you want to become unlost, press the blue dot in the bottom right and it will show you where you are. Sometimes it's a bit slow finding your position where there are tall buildings but just give it a moment or two. Then just follow your way to the pin (shown as a star) or to Djemaa el-Fna the central point of Marrakesh. You can also save places of interest.
Within the Medina the individual alleyways will probably not show up exactly, but it will at least give you a sense of direction.
In addition to Google maps you can ask someone to show you the way back to your hotel or to a point of interest. Expect to pay 10MAD if someone shows you back to your hotel etc but only pay if you want to be taken. If people insist on taking you, make it clear if this is not what you want.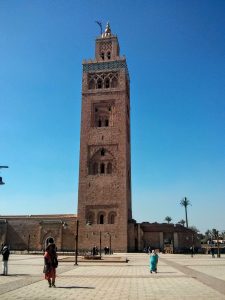 In Marrakesh Medina find the wheelbarrow men who are there to take people's luggage. They are the best people to ask to show you the way. Alternatively, if you do not need someone to show you, then ask someone who is connected to a shop to tell you. Or telephone your Riad and ask them to come and show you the way. Most good Riads will do this collection and drop off service.
Keeping spare coins in your pocket is a good idea to avoid getting your purse out.
My final tip is to always, always pretend you know where you are going even when you are completely lost. Looking lost or worried makes you a target for touts and 'guides'. Try not to get out a paper map in public. Rather go into a cafe and have a mint tea and then consult your guidebook or map. The Medina is a difficult place to map so a map is unlikely to be much help.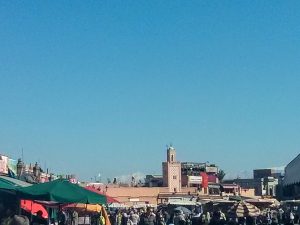 2/ Watch out for scams
If someone invites you into their shop for some mint tea stating that you do not need to buy anything then this is unlikely to be true. At some point you will be given the hard sell. As humans we have an in-built psychological idea of reciprocity meaning that you will end buying something little that you really do not want at an inflated price. Do not accept these ways of getting you into their shop by politely saying "no thank you" and walking away.
"This place is closed today" – Be aware of people approaching you when heading to a tourist site saying that a place is closed for the day. I've seen this scam all over the world. They will tell you of a one-off event, market etc and how they can take you there. Here you will be taken to an indoor market with high commision or be charged for their time to take you. Even worse, the attraction you were going to probably wasn't closed.
Photographing people – Taking a photo of someone will cost you. If you want to take a photo of someone then ask them first and most will if you give them a couple of Dirhams as a tip. With people like the water men it is better to agree a price beforehand. Be warned that if you take a photo of the main area then someone may approach you asking you why you took a photo of them. Do not show them the photo as you may find that you get into a further discussion with them or that your camera disappears with the person. Always be aware of your other personal belongings.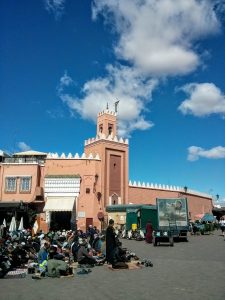 Monkey Men – When walking through the main square be aware of the 'monkey' men. Get too near to them and you will get a monkey on a chain on your shoulder. Not the best for an animal lover like me but also it will cost you money to have it removed. That said, if you do want to have a photo with a monkey then always agree a price first. It will be inflated once you have agreed and a lot of hassle to just walk away.
Henna – Don't let the henna ladies put any henna on your hand before agreeing a price. Be certain you do want henna before even sitting down and browsing as you will find it very hard to walk away.
Guide – People claiming they will be a guide for free definitely want your money. They will charge you a high price at the end or will take you into a shop where they get big commissions and you will have the hard sell.
However hiring a local guide is beneficial but find someone who has been recommended. Ask in your Riad and, on meeting, ensure you are going to see the things you want to see and you are not spending most of your time in shops where they get commission. This means you can refuse to go into shops if you have already agreed this.
Hiring a guide will help keep the scammers/touts discussed above at bay. They also help you navigate the medinas and you will get to experience more than if you are alone.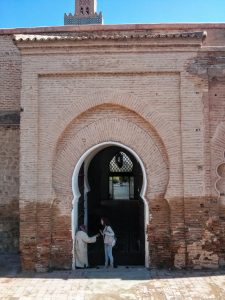 If you do not want a guide but find that someone is walking with you or hassling you then tell them "We do not want a guide and we will go to the tourist police". They will disappear quickly as the tourist police take a stand against tourists being hassled.
The easiest way of getting rid of unwanted guides and sellers is to say "La Shockeran" which means "No thanks you" and then walk away.
3/ Haggling/tipping
It could be said that haggling is Morocco's national sport and you will certainly feel tired after doing it. My only advice is to embrace it, have fun but be sensible. Have a figure that you want to pay and do not compromise unless you feel you are being unreasonable. You can always move onto another stall as lots of places sell the same items.
Remember you can always pretend to leave and they will call you back with a lower price. If they don't then you know you were getting their best deal. There is no shame in then going back.
Always agree on a price before ordering food, taking a cab or taking any type of service. Once the price has been agreed, Moroccan people will stick to that price. Do not accept that they do not have any change. They will always know someone who will as they are one big community.
4/ Dress respectably.
Things you wear in your own country can be quite inappropriate and insulting to wear in Morocco. Out of all the areas I have been to in Morocco, Marrakech is the most laid back place. I have regularly seen tourists walking around with tiny shorts and strappy tops however I would not advise this.
Try and keep dresses at a reasonable length and do not have your cleavage on show. You don't want to be getting unnecessary attention which you will do, just as females would if they walked through a major city in Europe with just a bikini on. Guys, make sure your shorts are of a suitable length and always were a top.
Remember when you leave Marrakesh you need to dress even more respectably, covering shoulders and wearing things below your knee. This is their culture. Respect it.
5/ Avoid expensive jewellery.
As in all countries where petty crime is high, you're more at risk if it is seen. In addition to this you are more likely to attract the attention of scammers as jewellery is a sign of wealth. You will be charged more for things.
6/ Crossing the road
The streets of Marrakesh are madness. Cars will not stop to allow you to cross at zebra crossings, only stopping for those who are brave enough to step out. Watch the locals and walk out with them. When there are no locals to walk with then you will have to brave it or wait forever. Look out for slower moving cars and then walk steadily across the road. Don't stop or you will find yourself stuck in the middle of the road with cars going around you. Where there are no zebra crossings then use this tip on any part of the road.
If this does not sound like your cup of tea then you can get taxis to and from places. In the Medina and main squares there are no cars but keep an eye out for donkeys, carts, motorbikes etc.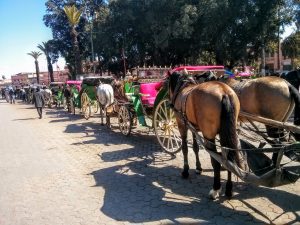 7/ Crime
Although there is crime in Marrakesh it tends to be non violent, petty crime. As many locals are scared of the secret police you will be safer in crowded places.
I never felt threatened in Marrakech
.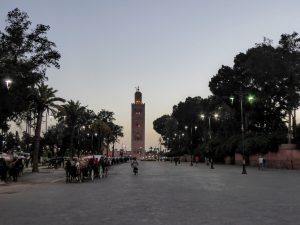 8/ Dealing with local men
I haven't had too much of a problem with the local men. Perhaps it's my dark hair and eyes or it has been that I was either with a male or constantly looking confident in where I was going.
To females, the men there can seem a little intimidating however this is no more than most major cities. If someone approaches you with unwanted attention then be polite but firm. I would repeat "No thank you" a few times and if they are persist then simply ignore them. Never show you are nervous even if your knees are shaking.
Some females I have met wear a pretend wedding ring but I find simply telling everyone you have a boyfriend who is waiting for you at the place you are going to always works.
If you find that you are getting hassled a lot by a particular male near your accommodation and there is name calling, sometimes asking how he would feel if his mother and sister was having this type of hassle works. Respect is everything in Morocco.
9/ Night
Don't walk alone at night. Walking in well lit and busy areas should be absolutely fine. However it is easy to accidentally walk onto a side alley and dark areas where petty crime is frequent against tourists. It can be uncomfortable walking at night due to the dimly lit streets and the narrow alleys of the Medina. I would recommend that you do not walk alone in these areas at night.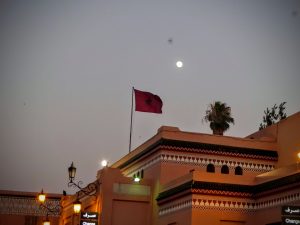 Ask someone from your Riad to walk you somewhere or get a taxi at night. Once at a restaurant, for a price a waiter or someone known to the owners will walk you home.
10/ Get to the airport in plenty of time
Although it is small, Marrakesh airport is one long wait. The check in queue is so slow. You are split into genders at security and each person is frisked when passing through the metal detectors.
Immigration is an even slower process with officers working at the speed of snails – not feeling the urgency of possible missed flights.
Make sure you get to the airport in plenty of time.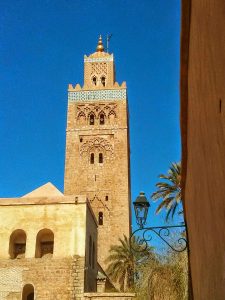 Don't let the above advice put you off visiting this wonderful, colourful city. You might not have a problem with many of these areas. I just wanted to make sure I cover them all.
Remember it is easy to leave Marrakesh and a lot of tour companies arrange trips into the Sahara Desert and Toubkal, the highest mountain in North Africa.  Check out my blog posts to these places. You can also get the local buses to the coast or to the atlas mountains as well as major cities and towns.
This blog post was seen first on MVMT blog where I wrote it as a guest blogger. Check out their blog for more travel related posts.
Please comment below if you have any advice to share or have found this post interesting.  Don't forget to subscribe (It's free!) to my blog for more  posts like this and interesting travel tips.