India is known to be tough to travel in as a lone female but how about the more liberal Goa? A place where things are more laid back but that comes with the problem of Indian tourists (and those of other places in the world) who are not used to the scantily clad Europeans who frequent Goa's beach. The secret for me is to find female friendly places that I know will keep me safe and secure.
I have travelled all over the world as a lone female. Some people are shocked. However I have met plenty of females who are travelling solo. I have never had too much of a problem and this extends to Goa and India as a whole.
However I have found some places which are exceptional for females whilst visiting Anjuna, one of my favourite places to stay in Goa. So I have put together this guide for the top five places I personally recommend in the area in and around Anjuna, which are considered as female friendly places.
Niktas beach bar.
I discovered Niktas in 2013 and I have since used it every time I have a beach day in Anjuna, Goa. In fact I never go anywhere else.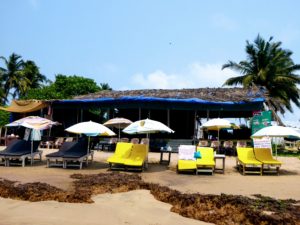 Praveem and the others who work there do not hassle you when using the sun loungers. They will stop you from being pestered on the beach by over excited Indian tourists who want to take your photo. They will even wave away the sly photographers who pretend to be taking a selfie to try and include you in the photo. Unfortunately in a bikini or fully clothed this is a regular occurrence on Anjuna beach and most of the beaches of Goa.
No sleezing, no pressure and no worries. The food is also good here and it is a nice location to watch the sunset.
Off the beach and more towards Anjuna village, you will find a trendy little cafe. Depending what you choose off the menu, you can eat for a reasonable price here. I come every day for my breakfast purely because the grub is good, the WiFi is usable, unlike a lot of places, and I never get any hassle sitting there . . . . alone.
It is mostly foreigners who frequent this place and you are not going to get authentic Indian food here however it is healthy and tastes good. Exactly what I want for my breakfast.
A no hassle area and one of the female friendly places in Anjuna.
This cool Guest House is set in the grounds of the original hippy house in Anjuna. The rooms are really nicely decorated but are a little out of my price range. What is great about this place is they have a 5 bed hostel dorm, for females only. With a nice little curtain around the beds, clean bathroom with hot water, soap and shampoo provided and a locked security locker big enough to store your bag and other valuables. It is one of the female friendly places i Anjuna; its grounds are cool and the manager is friendly and will put even the most nervous female traveller at ease.
If you want somewhere to stay which is away from the sound pollution of Anjuna beach then I recommend The Villa Green Mango. Situated on the road towards Mapusa it is just a 15min ride from Anjuna Beach. They have beautiful apartments with everything you could need. They also have a pool and a really nice garden. The manager Pradeep is very knowledgeable about the local area and will bend over backwards to help you.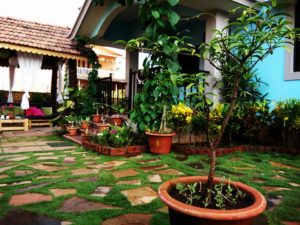 You will also get to meet his wonderful wife and super cute son who will make your stay extra memorable.
An extra bonus for staying in Villa Green Mango is that Green The Map is just next door, an upcycle collective.
I took three trips with Adventure Breaks who offer so many different activities such as canoeing, sailing, cycling, hiking and climbing. Ashwin is an amazing guide and I really felt at ease with him in both private and group tours.
Their tours are well organised with good equipment and very informative. They are based in Porvorim but do tours all over Goa and also Hampi.
There are many other female friendly places within Goa which I would recommend but these are my top five.
Other places I particularly like are:
Beam me up
Green the Map
Artjuna
Have you ever been to Goa? Would you like to visit any of these female friendly places? Please comment below. Don't forget to subscribe (It's free!) to my blog for more  posts like this and interesting travel tips.
Disclaimer: All of these places, I have personally discovered and I have not received any incentive to recommend them other than being hosted on the trips with Adventure Breaks.