Ahead of me, I could see something stumbling across the road. Unsteady on its feet and squeaking. A tiny tabby kitten, hungry and alone. Or so I thought. I scooped her up and held her tight to soothe her and let her know it was going to be alright. Against a wall lay another kitten, ginger, lying still, limp and completely covered with ants. The were no signs of life until I gave him a gentle nudge. He gasped and fell still again. I brushed away the ants and held him with his sister and tried to give them some water.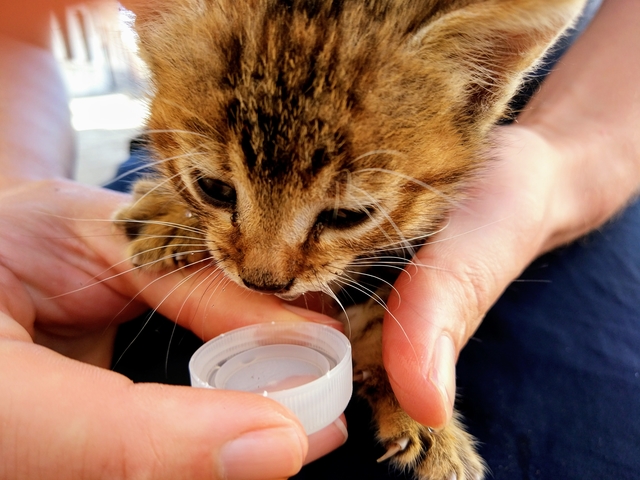 I had only nipped to the shop to get some lunch after waving goodbye to my Airbnb host, Marina. I am in Spain near Leon and travelling around Europe and living out of my car. Unable to speak the lingo, there was only one person I could turn to.
Having just left Marina's house, I knocked back on her door. She was lovely and welcomed me back in. I tried to give the kittens water as they were severely dehydrated. The tabby one drank, the ginger was barely breathing. He needed medical attention but it is the early afternoon and it's the siesta. I comforted him and his sister for the longest three hours of my life until the vets opened, thinking every breath was his last.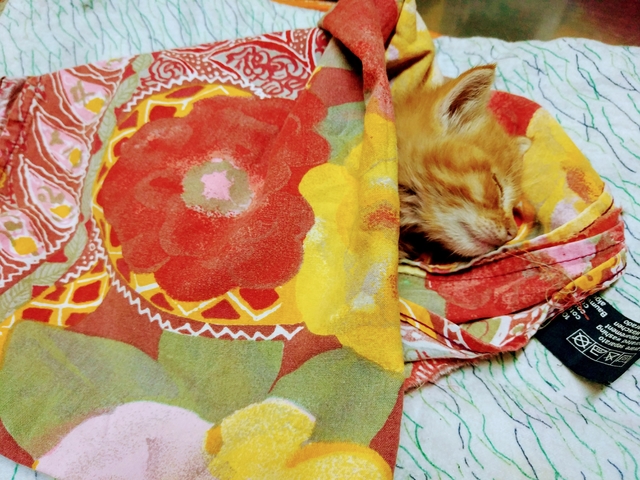 Finally, the time had come and off I sped to the local vets. But there was already a queue forming outside in the hot sun. Dogs that needed vaccinating and other routine appointments. I had to stand in the sun with the kittens and wait my turn. Everyone could see the urgency of my visit yet no one suggested I went first.
I waited 20 minutes and only one of the eight animals before me had been seen. The ginger kitten couldn't wait any longer, I had to leave and get to the main city of Leon with more vets. It was a 30-minute drive to Leon. I wasn't sure if he would make it but I had to try. I pulled up outside Clínica Veterinaria Terranova in León and ran inside.
The veterinary nurse saw my urgency and even though there was a language barrier was so sympathetic to my cause. The vet saw them straight away and started hydrating little ginger and his sister. They told me to come back in two hours. Perhaps they thought my pacing up and down the waiting room would wear out their floor. I tried to occupy my mind by taking a walk around beautiful León, but my mind wouldn't stop thinking about who would throw these approximately 4-week old kittens out onto the streets in the hot sun.
As I came back into the vets, the first thing I saw was the kind veterinary nurse smiling at me. They brought out the two kittens and I was astonished to see the ginger kitten looking up at me, his sister fast asleep. They had to feed him with a syringe some special nutritional feeds which rehydrated him. They had also been through their fur as best as they could with a flea comb and gave me some deflea shampoo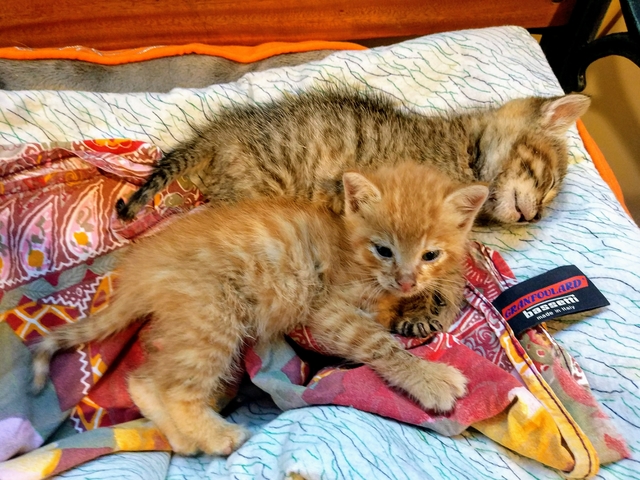 .
Off I left to Marina who kindly let me stay another two nights to care for the kittens. We bathed them with the help of her son Pau and I took the kittens back to the vets for a through defleaing, worming and checkup. Both kittens were doing well. Marina and Pau decided to keep the tabby kitten and named her Chuky.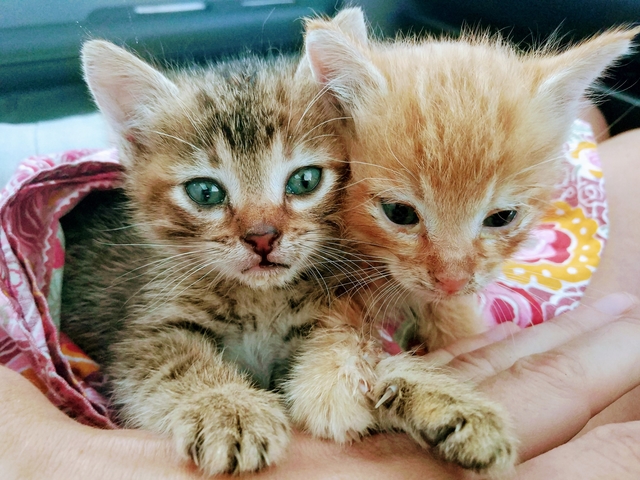 The ginger kitten hit the road with me as he still needed a lot of care. I gave him a temporary name of Tigger as he bounced like Tigger in Winnie the Pooh and decided that his new forever home could give him his new name. Chuky and Tigger had their last few games of chase together before I hit the road, heading towards northern Portugal.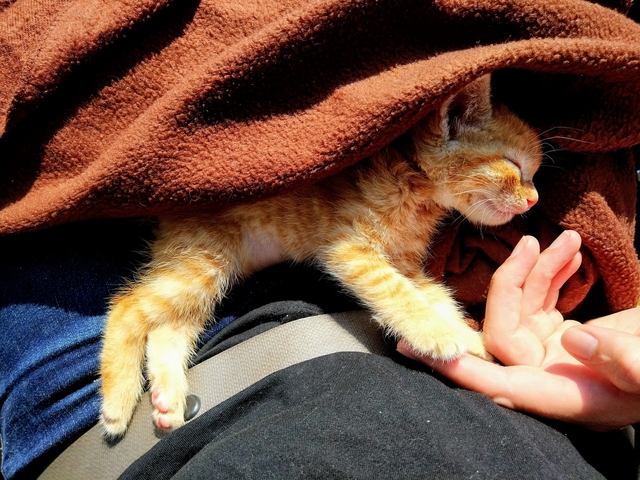 I thought life as a new mum on the road was going to be hard but Tigger was a great travel companion. Every time I turned the ignition, he curled up on the passenger seat and fell asleep. Anytime I had to go into a supermarket, cafe etc, he curled up in the bottom of a material under-the-arm bag on his blanket and fell asleep. In fact, he slept a lot.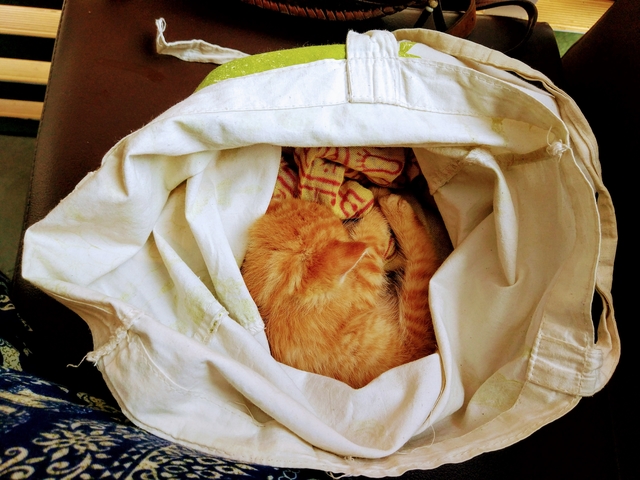 We made it into Portugal, but in Braga, Tigger fell ill. He had lots of problems with urine infections from his dehydration and state when I found him. It turned out that his male bits were very swollen and it was making it hard to pass the urine. He was seen at Centro Veterinário de Gualtar in Braga by Susana the vet. She was so caring towards Tigger and even made a horrible procedure of having a needle in his tummy to drain out the urine, as nice as possible with all the kitten cuddles he got.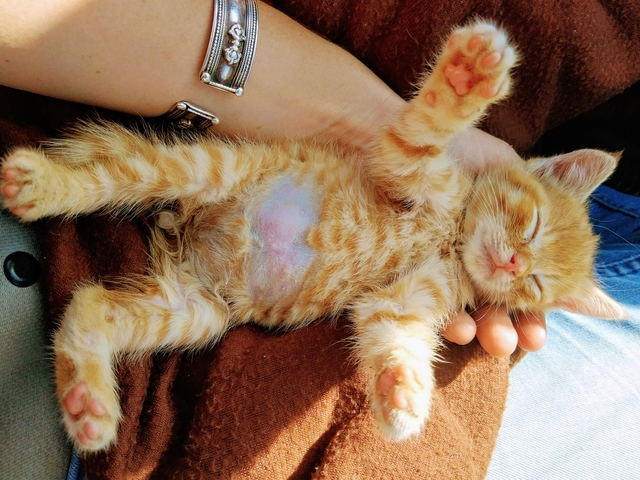 After a few days, Tigger was well enough to hit the road again and we made our way down the coast of Portugal to Ericeira which I made my base for a few weeks. My friend, Louise who I had met in the Philippines welcomed us into her home and this stability really help Tigger recover.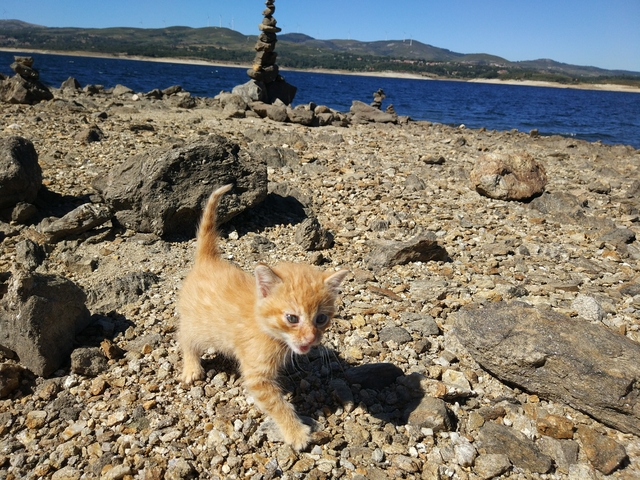 He went from strength to strength with just one final visit to the vets there. After finally finishing his course of medication, he met his forever home with a local man. Along with another 6-month-old cat, Tigger has a massive art studio to explore and lots of open spaces outside. I knew this was the point I said goodbye to Tigger whose new name was Ramon, a Spanish name for a Spanish cat, now living in Portugal. I visited him a few weeks later after taking a circular road trip and he was so happy there.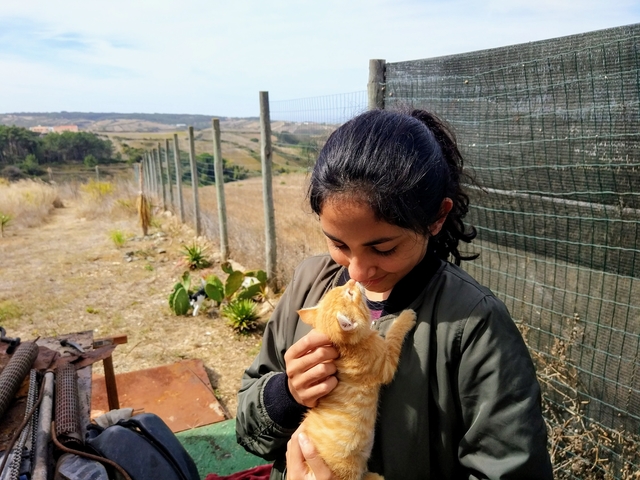 It was hard to say goodbye to this special boy but Ramon needed a stable home and being a travelling cat wasn't really an option for him. I needed to keep myself free to pick up other animals in need just like I did with Echo the dog in the Philippines and a few months later, Gabi in Fuerteventura.
You can follow the animals I rescue on my travels by following L.E.O.N: Leaving Each One Nurtured.
Whenever I have a new animal to help, I post on here. It is named after Leon, my faithful German Shepherd cross rescue dog who touched the hearts of so many who knew him.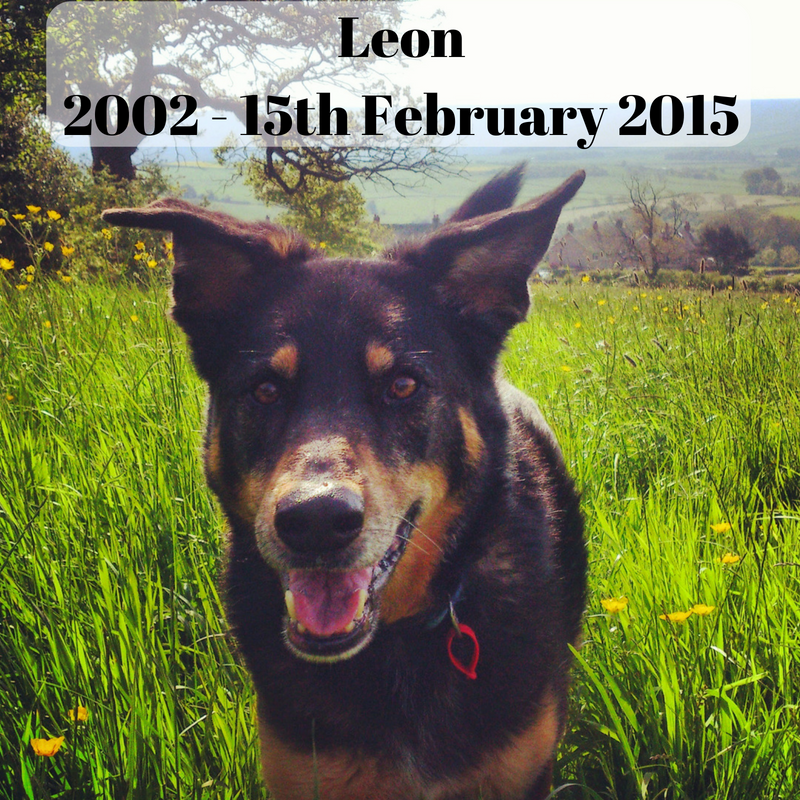 A massive thank you to  Clínica Veterinaria Terranova in León, Spain and Centro Veterinário de Gualtar in Braga, Portugal for providing Tigger with their time for free and some of the treatments he required. You really helped save the lives of these two kittens and your kindness towards them and myself was so valuable. 
Just a note to say:
Have you noticed I do not have intrusive adverts on my page making the site run slow for you, or that interrupt your reading. This is because I want to make your reading experience as pleasant as possible. Writing blog posts isn't as easy as it looks. I spend a long time making sure I give you correct information about places, edit the posts so they read well and then add the edited photos I have taken or add the google maps location. I do this as I love to travel and love helping other people to travel. If you enjoyed what you have read then there are other ways you can support me as a travel blogger other than putting up with annoying adverts:
You could buy me a coffee
Use the links on my sources page which are affiliates.
– Head over to Amazon to buy some products using this link .
– Looking for website hosting? Take a look at Bluehost using this link.
– Need to book some accommodation then check out Booking.com and Skyscanner for flights, check them out using this link.
Thank you for your support.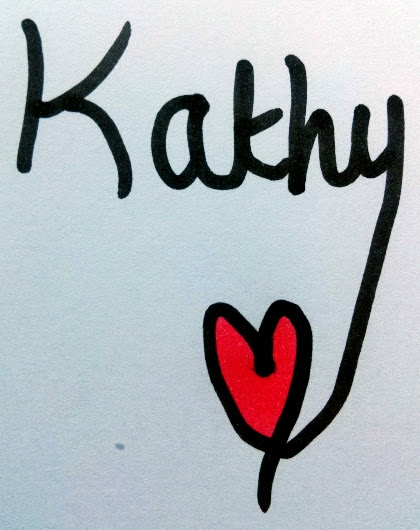 Disclaimer; this post contains affiliate links meaning at no extra cost to you, I receive a small amount of money when you purchase them to help with running costs of my blog. All thoughts I have on these items are my own and I would only ever recommend products I truly believe in. Please support my blog by using the links.