León (or spelt Leon for those who can't find an accent on their keyboards) is a lesser-known city in Northern Spain but is well known by Pilgrims who are walking the Camino Way. I would say it is well worth a visit due to its beautiful architecture and its accessibility to the surrounding national park, the Picos de Europa. As it is less popular than more well-known cities such as Barcelona, Madrid and Santander, it is friendlier on your purse strings. However you can't go wrong with this tourist guide to Leon which will give you the top 10 free things to see as well as other options and some great tips to make your stay in León, Spain more enjoyable.
I visited Leon when I was travelling through Spain and sleeping in my car. I found many rural places around León to sleep in meaning that I didn't have any additional costs in visiting the city. I found these great 10 free things to do when exploring and can highly recommend them. I managed to see Leon in a day, but there is so much to do that you can easily spend a long weekend here or a week-long trip which also includes exploring the surrounding area as I did in my camping car.
Why you should visit León in Spain.
Situated in the province of Castile and León, the city of Leon is in a perfect location in the North of Spain. You can reach the town of Riaño in less than 2 hours which, for me, opened up a whole new adventure in the Picos de Europa. The city itself is very historical and was founded in the 1st century BC. There are so many historic buildings to see in Leon some of which are of huge importance to Spain. From the old quarter and Gothic cathedral to basilicas, crypts and chapels there is so much to see. Within the architecture, you can see the history of the city, from the Roman Empire to the Moors.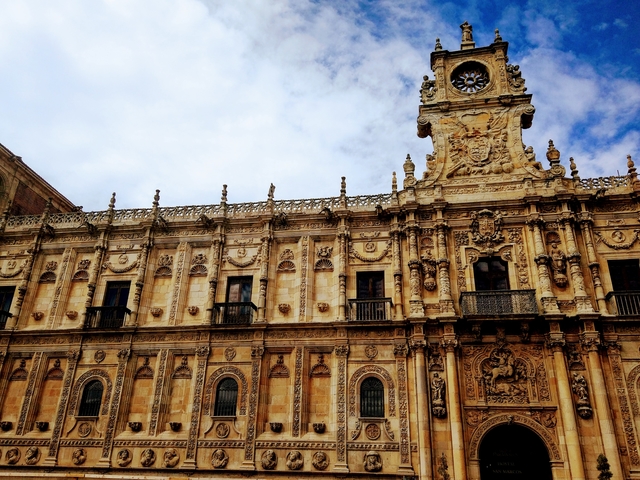 León has also remained cultured rather than keeping up with the trends like some other major cities around the world. You will find authentic Leonese food served in the restaurants and locals keeping their Leonese culture alive. So if you are either a nature lover and heading to the Picos de Europa or into your history, or a foodie then Leon is for you
Free things to do in León, Spain No. 1: Follow the Way of St. James.
As I have already mentioned, Leon is well known for being on one of the many Camino way routes. You will see tired and weary pilgrims in the afternoon searching out some food and resting their tired feet in the afternoon sun. The city marks their route with brass scallops set along the way. Take a walk in their footsteps and follow the route through the city. It will give you a tour of some of the best buildings the city has to offer. For ease, I would start at the cathedral. This is best done early in the morning before the city gets busy, so you can enjoy this route at its best. You will also find that you are actually walking with the pilgrims as they tend to set off nice and early.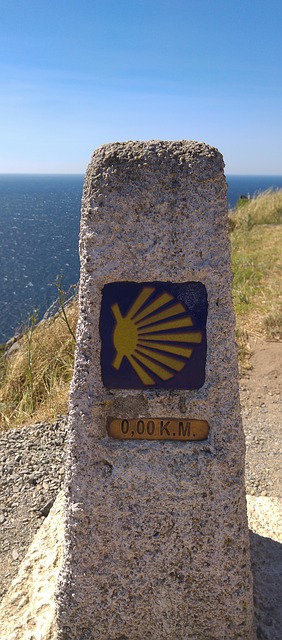 Free things to do in León, Spain No. 2: Leon's Contemporary Art Museum
The beautiful MUSAC is the award-winning Contemporary Arts Museum of Leon. The cathedral was the inspiration for multicoloured panels of Leon's Contemporary Arts Museum which cost a whopping 33 million euros to construct. There is much to see within the MUSAC such as photographic and sculptural exhibitions and short films and its quirky misshapen rooms. The museum is closed on a Monday but free to visit on a Sunday between 5 pm and 9 pm and also free for children.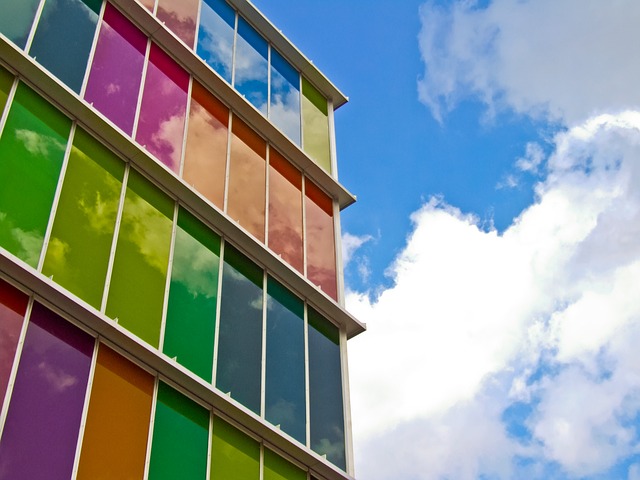 The rest of the time it is 3 euros admission and 2 euros for students. Opening times of the Contemporary Arts Museum in Leon are Tuesday to Friday 11 am – 2 pm, 5 pm to 8 pm and weekends and public holidays 11 am – 3 pm and 5 pm till 9 pm.
Free things to do in León, Spain No. 3: Take a walk in the park and feed the ducks.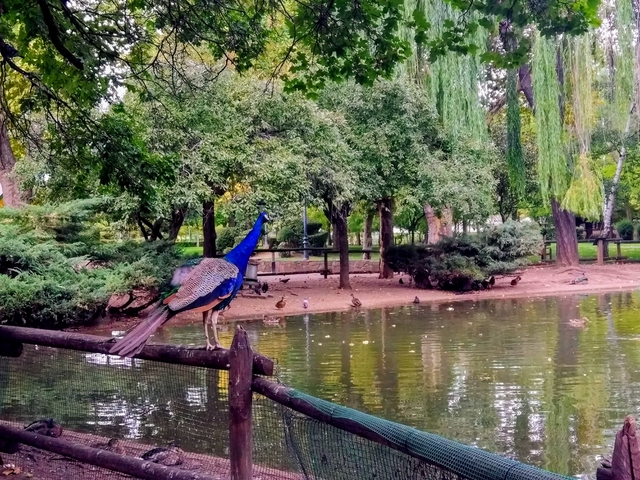 Leon's Park, Parque Quevedo is full of ducks and peacocks who would love to be fed. But please remember that these birds do not naturally eat bread in the wild and things like lettuce, sweetcorn and sunflower seeds would be better. The park is also beautiful to sit in with lots of benches, some under the trees where you can sit out of the sun.
Free things to do in León, Spain No. 4: Take a stroll along the river
Wandering along the park-lined Rio Bernesga towards San Marcos and beyond is a lovely way to spend an afternoon. On a Sunday there is free parking in this area. It is also a great place for people watching. I even saw a man walking his cat here.
Free things to do in León, Spain No. 5: Browse the market
Leon's twice weekly market at Plaza Mayor is worth a visit even if it is just to "window" shop. You will find it there on a Wednesday and Saturday starting at 8 am. Farmers come from all around the area to sell their fresh fruit and vegetables along with other wares here.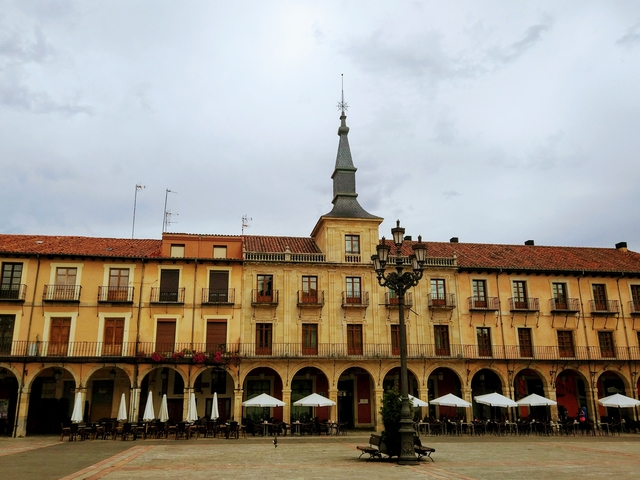 Free things to do in León, Spain No. 6: Walk the streets of León
Leon is a beautiful city full of fascinating architecture around every corner. One of the most scenic streets has to be Calle Ancha which runs from the cathedral to Santo Domingo Square. There are many little shops, cafes, restaurants as well as little stalls selling ice cream. and even bubble tea. It is a pedestrian street so you do not have to worry about traffic.
Additionally, the walk to the Convento de San Marcos takes you through some beautiful streets. This has now been converted into a five-star hotel and a museum which you can read about next. The Convent of San Marcos was a gift from Fernando the Catholic to León city and is seen as the most important Spanish Renaissance building in the whole of Spain.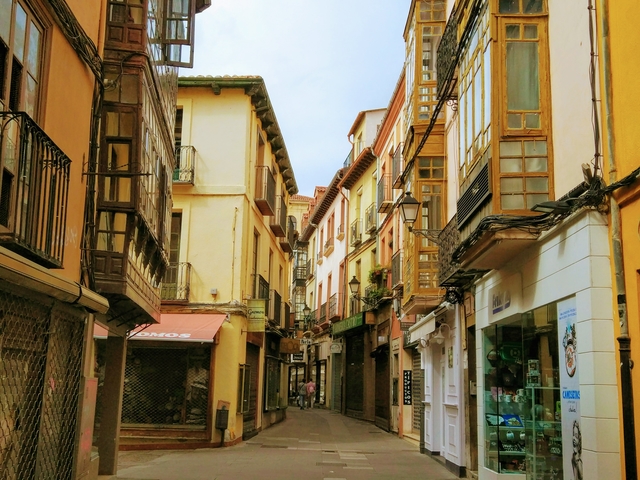 If you don't feel confident enough to guide yourself through the streets of Spain then take a look at this self-guided walking tour of Leon or this free walking tour which relies on tips at the end of it.
Free things to do in León, Spain No. 7: Visit Leon's museum at the weekend.
The Museo de León showcases a collection from the palaeolithic right through to modern times in Leon, Spain. Its free at weekends and during the week it is free for children, students and pensioners. But great news if the free entry does not apply to you and you want to visit during the week. Entry costs 1 euro! You can read about the opening times here.
Free things to do in León, Spain No. 8: Have your photo take on the Leon sign.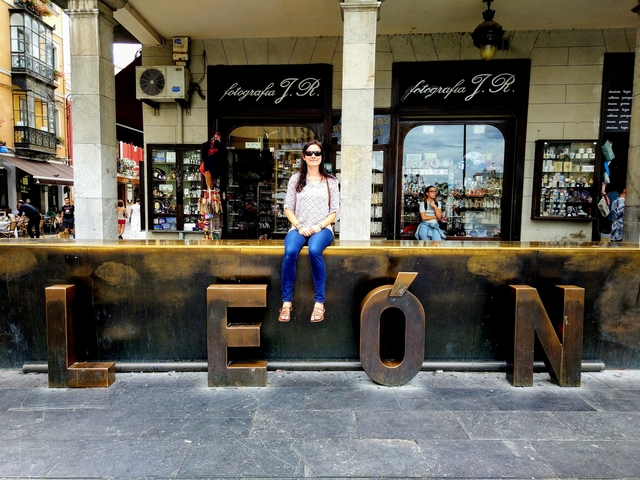 I know it is a touristy thing to do, but who doesn't love taking a photo at a city sign. Unlike a lot of cities which has the tacky I <3 signs, the city of León has gone for something a little more classy than this. The bronze Leon sign can be found next to the Santa María de León Cathedral. Choose your pose and snap away.
Free things to do in León, Spain No. 9: Visit the Basilica of San Isidoro.
The Romanesque and Gothic-style chapel of Basilica of San Isidoro is popular with tourists and pilgrims alike due to several Christian depictions including the 12th-century murals in the Royal Pantheon. The Basilica is dedicated to Saint Isidoro of Seville (an archbishop of Seville) whose remains lies housed in the chapel. Along with Saint Isidoro of Seville's remains, there are 44 members of the royal family buried in the Basilica's Royal Pantheon. The Basílica de San Isidoro de León also has exhibits of medieval art, religious items along with a Mozarabic bible from the year 960 within its museum. This Basilica in Leon is free to visit and the adjoining Royal Pantheon is free to visit on Thursdays 4 pm – 6.30 pm.
Free things to do in León, Spain No. 10: Take in the altar at Iglesia de San Marcelo (Church of St. Marcelo).
The impressive altar in the Church of St. Marcelo is not the only reason to visit this quaint church in Leon, Spain. Constructed on the site of a 10th-century church between 1588 and 1625, it is also home to valuable ornamental pieces such as a carved silver reliquary chest and silver casket containing the relics of the Benedictine monk San Ramiro. You can visit Iglesia de San Marcelo free Monday – Friday. Free to visit: Monday – Friday: 9.30 a.m. – 1.30 p.m. and 6.30 p.m. – 9 p.m. and Sunday, 10.30 a.m. – 2 p.m. and 6.30 p.m. – 9 p.m.
Bonus Free things to do in León, Spain: Eat free tapas
Ok so you might need to pay the price of a drink for this one but it is still technically a free thing to do in Leon. In most bars in León, you get a free tapas whenever you order a drink. These small meals will keep you going through a day of sightseeing. Choose your spot wisely and get an outside seat in a historical part of town and sit back and enjoy a vino tinto and some tapas.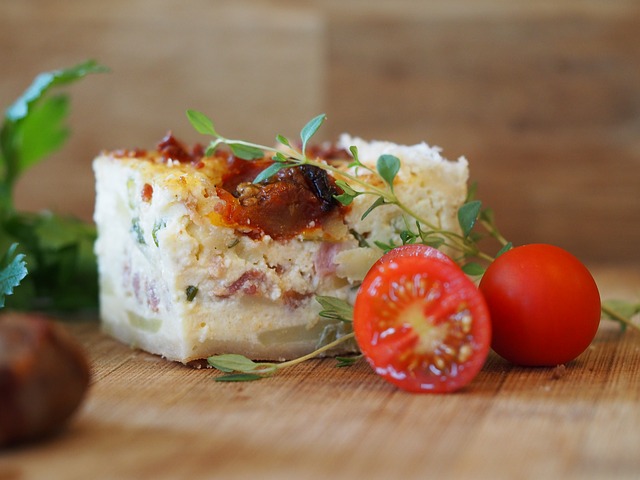 Other things to do in Leon, Spain:
Santa María de León Cathedral
Visit León Cathedral which is dedicated to Santa María de la Regla. With its stunning French-style Gothic architecture, it is free to view from the outside but is well worth the cost of a ticket to go inside. You can find up to date information about visiting times and prices here.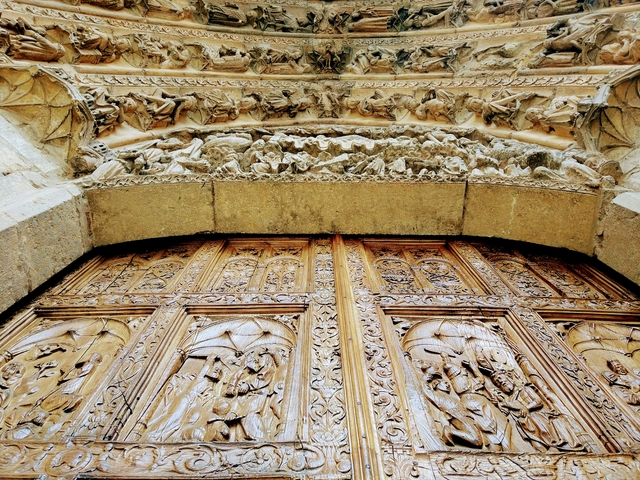 Built over the ruins of ancient Roman baths in the 13th century, the cathedral boasts 125 medieval stained glass windows. This has resulted in it being nicknamed the House of Light due to the rays of sunlight filtering through its windows onto the pale stone walls. Most days you will see tired and weary pilgrims who are walking the Camino way of St James resting their aching feet.
Convento de San Marcos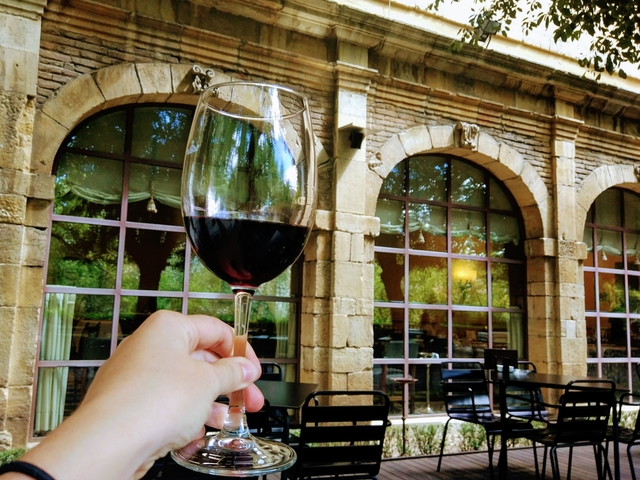 You most likely will not have the budget to stay the night in the five-star hotel in the Convento de San Marcos but it will not break the bank to have a drink there. Sit in their bar and take in the beautiful interior or take a table out in their courtyard. I would highly recommend it.
Tapas tasting in the Old Town of León.
The area known as Barrio Húmedo which translates directly as "humid neighbourhood" is where most of the city's pubs and bars are located. Why not do a tapas tasting bar crawl and sample Leon's nightlife.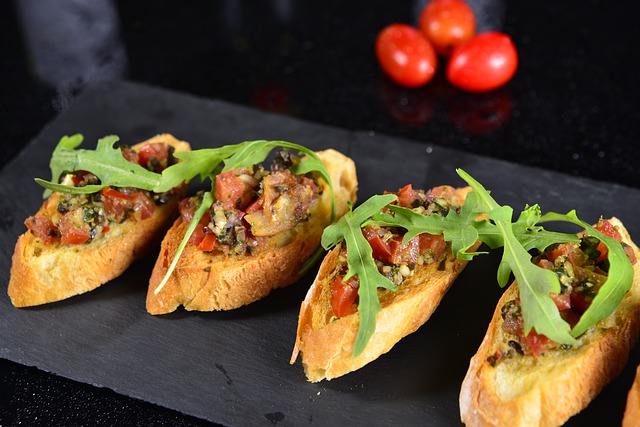 Visiting Picos de Europa.
I highly recommend a visit to the Picos de Europa which is, I believe, the most underrated place in Spain. Translated as Peaks of Europe, the Picos de Europa are in the Cantabrian Mountains and not too far away from Leon.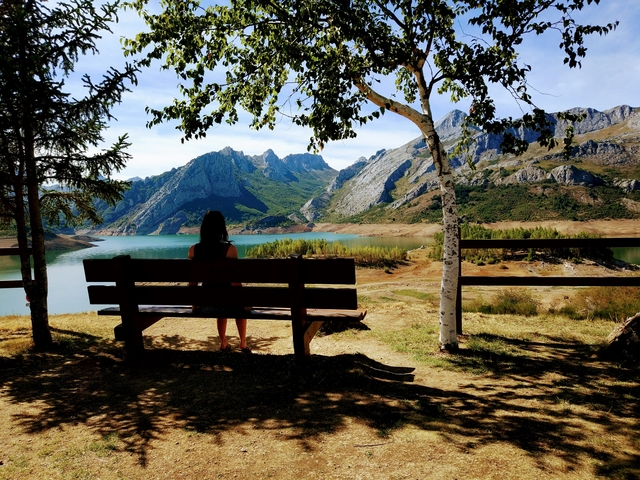 Additional things to know when visiting León in Spain.
1/ Many of the attractions in Leon are free so make sure you call in at the Tourist Information to find out when these are.
2/ Many attractions are closed on a Monday so bear this in mind when planning your visit to León.
3/ Opening hours are short in Leon, Spain. Most places are closed in the middle of the day so make use of this time to have a long lunch in one of the many lovely tapas bars.
4/ León is a small city and easily accessible by foot.
When to go to León in Spain.
The summers in Leon are short and very dry and hot and the winters are long and cold. The shoulder seasons of Spring (April and May) and Autumn (September and October) are the best time to visit. Not only do you beat the crowds but the heat is a lot more bearable than in the summer months and due to the Mediterranean climate the sun will still be shining.
How to get to Leon, Spain.
By car
The journey from Madrid to León takes approx 3 hours travelling along the A-6. However, there are tolls on this route. I drove to Leon from Santander and used it as an opportunity to drive through the Picos de Europa. This amazing National Park is well worth a visit. Just be aware that parking can get expensive when visiting Leon.
By bus
The bus station in Leon (Estación de Autobuses de León), is served by many long-distance buses from places such as Alicante, Barcelona, Bilbao, Gijón, La Coruña, Madrid, and Seville. Take a look on the ASLA website to see the different routes available.
By train
There are two train stations in Leon. RENFE station on Calle Astorga is where most of the long-distance trains leave from. FEVE station on Avenida Padre Isla 48 is where you can get more local trains and trains to Bilbao.
There is a good train connection to León from Madrid (2 hrs and 15 mins) several times a day. From here you can get trains to all over Spain. Additionally, there are direct trains to Barcelona (8 hours) and Valladolid (1.5 hours).
By plane
Leon has its own airport but it is only for domestic services within Spain and an international connection to Paris. You can get the bus here for a few euros.
For flights coming from further afield then Madrid is the best bet, as there are good train connections from Madrid and a direct bus from Madrid Barajas International Airport. There are also airports at Valladolid (125km) and Asturias (170km).
Where to stay in León, Spain.
Staying in a popular city like Leon for pilgrims and tourists alike can be pricey so here are a few options that will cover all budgets.
Budget:
Don't forget to take a look on CouchSurfing in plenty of time before your trip and see if there is someone who is willing to host you in León. Safety is of importance so check out my post on how to stay safe whilst couchsurfing.
Airbnb is great for finding places to stay on all budgets. You can either rent a room in a shared house or find an apartment to yourself. Don't forget to use my link to get money off your first Airbnb stay.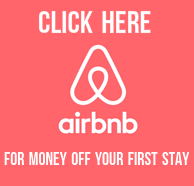 A good budget option for Leon is to stay in one of its many hostels such as Check In León and Hostel Rua 35 where you can get great prices on dormitory beds and if you are lucky, a single/twin room. If slumming it in a hostel is not your thing, then check out the Pensión Las Fuentes for its budget rooms situated just 750 yards from Leon's Cathedral.
Mid-range:
Again check out Airbnb where you can pick up a beautiful apartment for not too much damage to your purse strings. Alternatively check out your home from home at Apartamento Valdivia which has great reviews but is a short bus ride into the city centre of Leon, For a more central location there are these apartments with views of the historic city walls.
Luxury:
For those who are looking for something a little bit extra special, I suggest the NH Collection León Plaza Mayor. In a superb location within Leon's old town, it is situated in a renovated 19th-century building. With amazing reviews, it is a place not to be missed.
So there you have it, my tourist guide for things to do in Leon in Spain and everything else you need to know about visiting Leon. Would you like to visit Leon? What from the list of things to do, would you want to do? Comment below. Make sure you check out my other 10 free things to do posts and don't forget you can subscribe to my blog (It's free!) to keep updated each fortnight with what I am doing and for more posts like this one.
Just a note to say:
Have you noticed I do not have intrusive adverts on my page making the site run slowly for you, or that interrupt your reading? This is because I want to make your reading experience as pleasant as possible. Writing blog posts isn't as easy as it looks. I spend a long time making sure I give you the correct information about places, edit the posts so they read well and then add the edited photos I have taken or add the google maps location. I do this as I love to travel and love helping other people to travel. If you enjoyed what you have read then there are other ways you can support me as a travel blogger other than putting up with annoying adverts:
You could buy me a coffee
Use the links on my sources page which are affiliates.
– Head over to Amazon to buy some products using this link.
– Looking for website hosting? Take a look at Bluehost using this link.
– Need to book some accommodation then check out Booking.com and Skyscanner for flights, check them out using this link.
Thank you for your support.