Where is one of the most underrated places I have visited in Spain? That is an easy one to answer. It would definitely be Picos de Europa in Northern Spain. Translated as Peaks of Europe, I really understand how it got its name. I drove through this beautiful area which reminded me a lot of the Lake District near my home in Northern England but on a grander scale. It was one of the highlights of my trip and something I recommend everyone to do if you love nature. So here is my guide to driving through Picos de Europa, in the Cantabrian Mountains in Spain.
Picos de Europa is well known by Spanish tourists as a beautiful place to go, but amongst the British tourists, less so. However the area is perfect for British tourists travelling by car or campervan due to its location close to Santander which has the ferry from Plymouth. I actually crossed from the UK at Dover to Calais as I was undertaking a 4 month trip, travelling Western Europe in my Nissan X-trail which I converted into a camping car so I could do off the grid car camping.
My main drive through Picos de Europa was from Comillas to Leon. Here I took routes off the main road through Picos de Europa, hiking and exploring around the area. Most of the hiking routes in Picos de Europa are well marked. To me this beautiful area in the Cantabrian Mountains was a playground, just waiting for me to explore.
About Picos de Europa in Northern Spain.
Picos de Europa is 482 square km (300 square miles) of dramatic limestone peaks, rolling green hills and amazing views. The National Park borders Asturias, Cantabria and Castilla y León and is one of the best National Parks I have been to in Europe. Due to it being a best kept secret, the middle of the National Park is mostly unspoilt by large numbers of tourists which seem to collect at the monasteries nearer the edges of Picos de Europa near Potes. The highlight really was coming across the smaller communities in more rural areas of the park and sitting down to a coffee and tortilla (Spanish omelette) or a glass of vino tinto (red wine).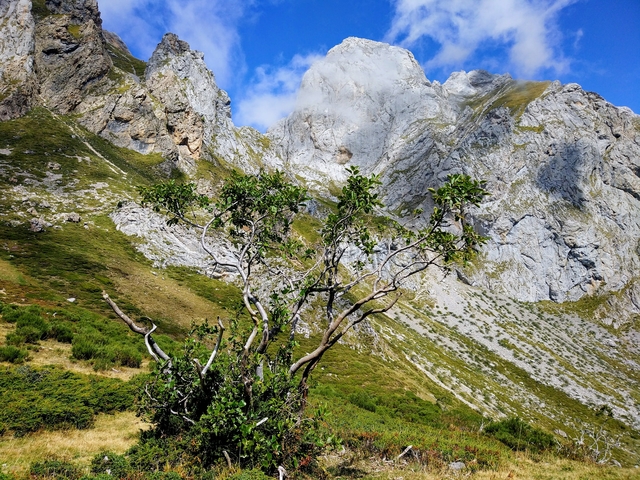 Many endangered species survive in the Picos de Europa due to the total hunting ban. Animals such as the European brown bear and asturcon (wild horses) can be seen in very rural areas. Looking up, the skies are home to Golden Eagles, peregrine falcons and vultures. Looking down, the ground is home to many different types of fauna and flora. I was lucky enough to be there when autumn crocus were in bloom making a purple carpet beneath my feet.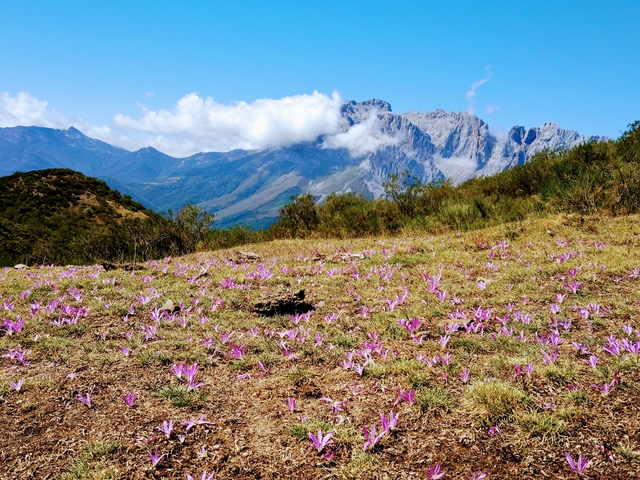 How easy is it to drive through Picos de Europa?
In a car I had no problems driving the narrow windy roads in the National Park. In a big campervan/motorhome it would be harder however this could be the price to pay to get away from it all in the beautiful surroundings. I was travelling through the area in September, meaning it wasn't the peak tourist season in Picos de Europa. I think I would feel a little differently driving the area being stuck behind lots of slow moving vehicles. However as I said, most of the tourists tend to stick to the outskirts of the National Park. Late in the evening, as the sun set on another day, I was the only vehicle on the road for over an hour. The only thing disturbing my drive was the odd herd of cows, who had decided to bed down for the night on the road.
Be aware where the next fuel station is and do not let your fuel tank run too low. I always use Google maps to tell me where I can buy fuel. It is normally pretty accurate however a few times I have turned up somewhere and it has been a mechanical garage rather than one that supplies fuel. I have been known to ask 'Donde está . . . .' (then signal a driving car and me filling up) to many a cafe owner during my time in Spain.
Where can you sleep when driving in this National Park in Spain?
As I was stealth camping, I didn't need to worry too much about where I was sleeping. My trusty Nissan X-trail camping car was not an obvious bed for the night. I actually slept a couple of nights in the village of Portilla De La Reina in a little layby and had a few drinks in a little local bar for the night so that I had a beer jacket. It was very cold in the evenings especially in September so I needed a little something to warm me up before bed.
However if you are not so stealthy, make sure you read signs and know that you are allowed to be parking overnight. You can ask the locals although be aware that many people do not speak English in this area due to the lack of British tourists although they are very friendly people and will try to help if they can.
Be aware that in places where you are not allowed to camp overnight nearer the more touristy areas of the national park, police will check even in the early hours of the morning when you are feeling like you have got away with it. One area where this happens a lot (I read this numerous times on forums) is Rodellar, close to Sierra de Guara National Park.
Around more touristy places there are many camping sites and camper car parks that are available but these can be closed in winter. Alternatively if you are not in a vehicle that you can sleep in, then take a look at many of the choices on Booking.com and Airbnb.
Driving routes.
León to Riaño (1.5 – 2 hours, 100kms) then the Posada De Valdeon loop (2 – 2.5 hours, 74 kms).
Once you get away from León and into the National Park on the N-621, the drive to Riaño is really scenic. One part brings you up hairpin bends and across a dam. On the approach to Riaño, I drove through fog in the early morning before it cleared to show amazing views of the lake. Riaño is really nice to take a look around and perhaps take a bite to eat.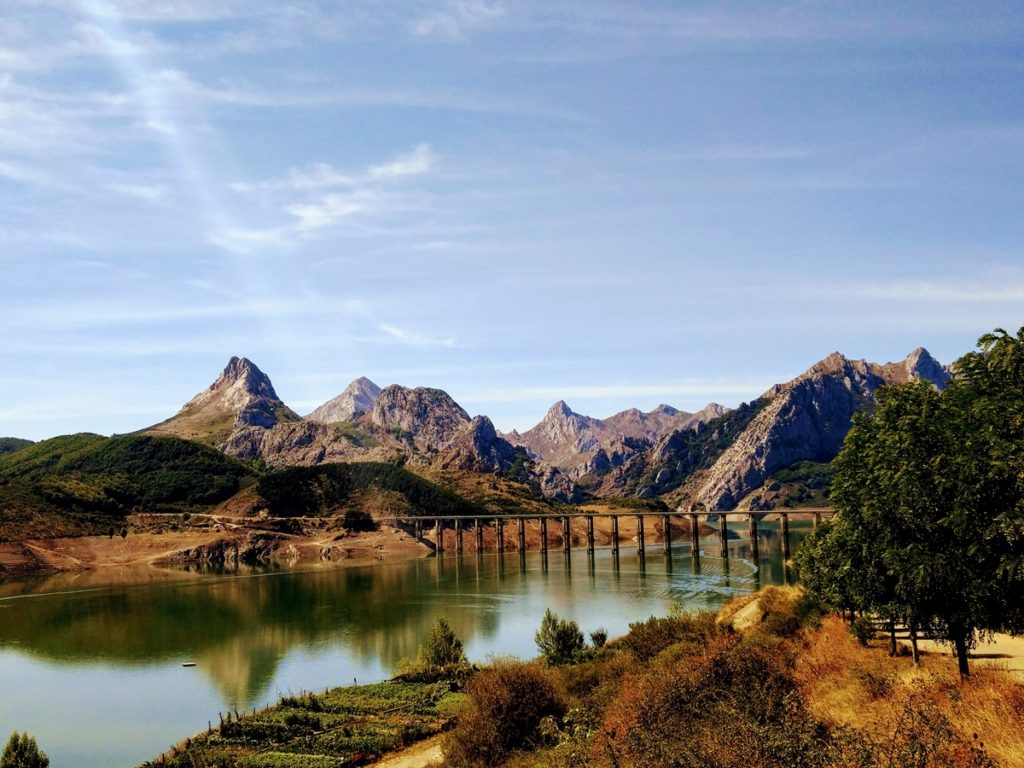 From here, there is a loop that you can drive to Posada De Valdeon. This is a really nice little village with lots of places to eat. You can also hike part of the PR-PNPE15 path.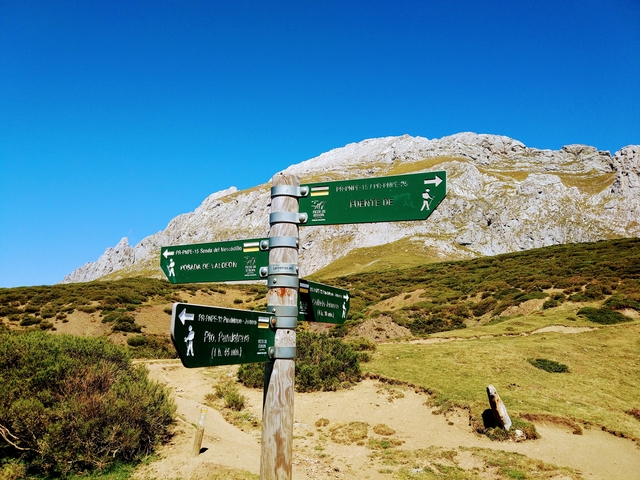 There are a few places where you can park on this route in laybys but try and check with locals if they allow overnight parking. Additionally there a camp site in Riaño which allows campers and a paid camper park in Posada de Valdeon.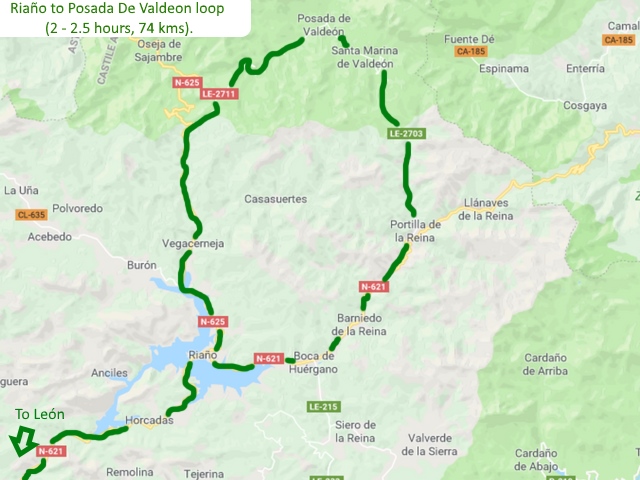 Potes to Riaño loop (3-4hr, 150km).
Staying in the same area as the above, you can base yourself in Potes or Riaño. The route from Potes will take you along the N-621 to Portilla de la Reina. You will go back along this road on your way back. There are a few nice restaurants with set menus in Portilla de la Reina. From here you do the same loop as you would do on the above route, just joining it at another part.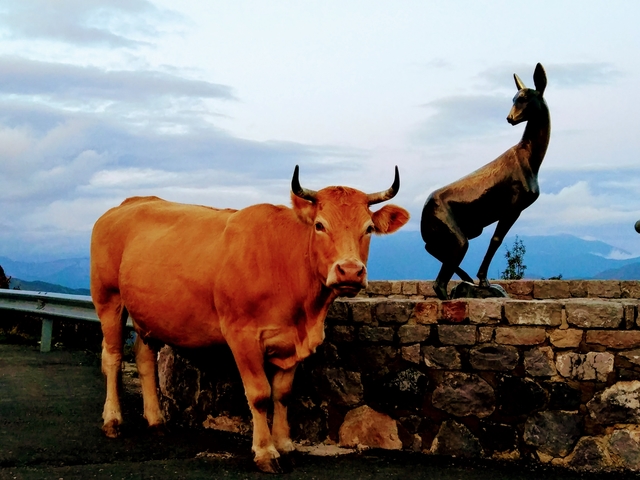 I actually parked in the village of Portilla de la Reina in my camping car overnight but I was very stealthy about it. However there is free campervan parking in Potes at Lupo supermarket aire and at Central Parking. Additionally there are a few paid camping sites which allow camper parking in the area. Again as mentioned above there is a campsite in Riaño and a camper van parking area in Posada De Valdeon where you can also stay. My parents (frequent visitors to Picos de Europa ) also recommend Hotel San Glorio in Llanaves de la Reina. They have stayed a couple of times and highly recommend it as it is a friendly hotel full of character.
While the Picos de Europa are a walkers' and climbers' paradise, drives in the area, predominantly in the valleys surrounding the mountains, are also very rewarding.
Potes to Fuente Dé then up in the cable car (40 mins, 23 kms one way).
Leaving Potes, follow the CA-185 all the way to Fuente Dé. Fuente Dé is on the main tourist route in Picos de Europa so it can get busy along this road. The best part of this route is that you can park at Fuente Dé and take the cable car up into the heart of Picos de Europa. The Fuente Dé cable car is the longest single-span aerial lift of Europe. You can find more information and prices here for this trip that takes you to the elevation of 1823 meters in 4 minutes. Get to the cable car early before the coaches to avoid queueing.
You can explore the top and take a return trip on the cable car or walk back down to the main car park via Refugio de Aliva. There are also a number of other trails in this area that you can hike along to enjoy the full beauty of Picos de Europa.
There are a few places in Potes as discussed above where you can park up overnight. Additionally there has been talk on the internet about motorhomes parking overnight in the carpark of Fuente Dé without any problems but I wouldn't risk this in peak season.
The Beyos Gorge – Cangas de Onís to Oseja de Sajambre (1 -1.5hours 34 km one way).
The journey from Cangas de Onís to Oseja de Sajambre is a 34 km drive and takes you through the stunning Beyos Gorge. The river that runs through the gorge is 1000 metres lower than the towering peaks around it. The road twists through the valley and you cross a few bridges.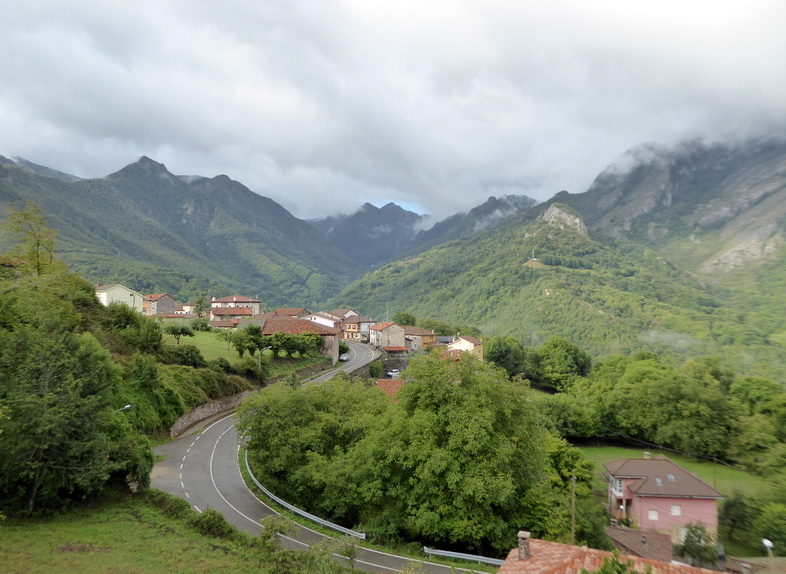 Follow the N-625 from Cangas de Onís to Oseja de Sajambre. This will take you approx 90 minutes. Oseja de Sajambre is a nice place to stop and have something to eat. Once you have reached here, you can either go back the way you came or continue another 30 mins (12 kms) to the junction of LE-2711 where if you turn either way, you will connect to the Riaño /Posada De Valdeon loop (2 – 2.5 hours, 74 kms) as described above.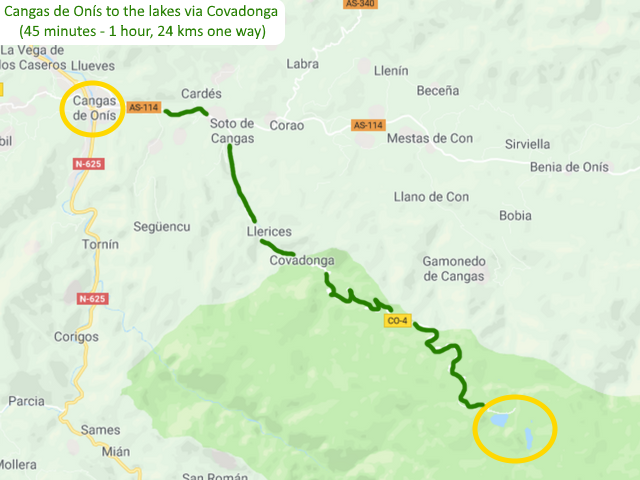 In Cangas de Onís there is free campervan parking here. Cangas de Onís is a 1.5 – 2 hour (84 kms) drive from Potes where there free and paid places to stay overnight as discussed above. Also there are the campsites at Riaño and paid camper parking in Posada De Valdeon.
Cangas de Onís to the lakes via Covadonga (45 minutes – 1 hour, 24 kms one way)
Another route from Cangas de Onís is to the Covadonga. From here you can see the magnificent views from the mountain lakes, Lago de Enol and Lago de la Ercina. There are some walks that you can take around the lakes, which you can get more information about here.
During the high season this road is closed from around 08.30h until early evening so check locally. The local bus/taxi service still runs during these hours.
Follow the AS-114 out of Cangas de Onís then join the AS-262 at the roundabout at the Zoo La Grandera. Follow the AS-262 until you reach a roundabout here, join the CO-4 until you reach the lakes. There is a large car park near the lakes where I have heard people do park overnight. It isn't allowed and you certainly would not be able to do this in peak tourist season. Alternatively you can stay in the free campervan parking in In Cangas de Onís as shown above.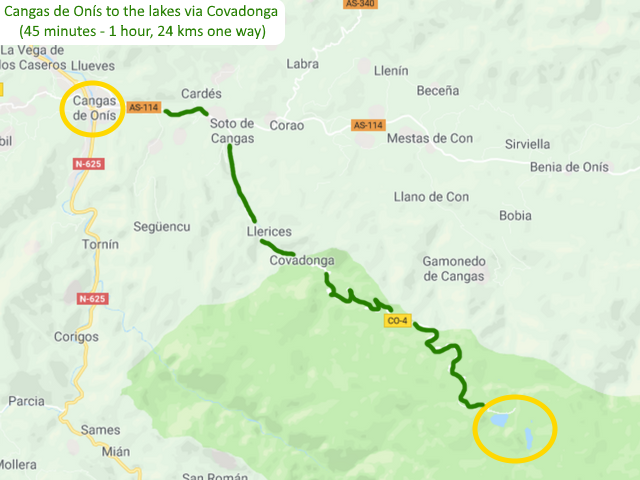 A drive through the Picos de (4 -6 hours).
If you are travelling from popular León or Santander then there is a nice scenic drive through which allows you to see some stunning views. Marked here in green you can see the route I would recommend with the mini off drives in blue. The drive through will take you 4 hours non stop (154 km).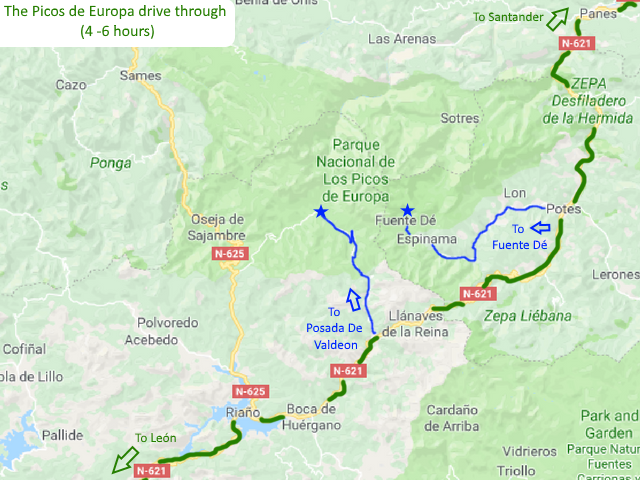 The Picos de Europa circuit (6 – 8 hours).
Combining the routes above, you can drive the complete circuit of Picos de Europa in a day, however I recommend that you take a few days to enjoy the beauty of the area. You can use Riaño or Potes as a base and the route as marked below in green with the blue one way trips as additions. The complete circuit should take you 5.5 hours non stop (200 kms) without these additions.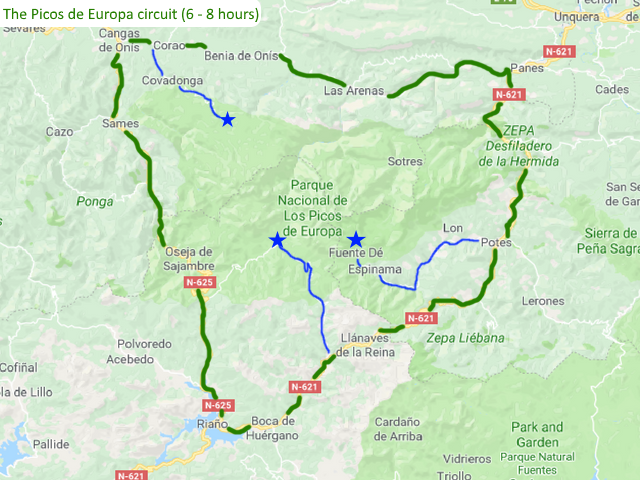 Tips for driving and campervan camping in Picos de Europa:
1/ Not many people speak English. If like me, you struggle with foreign languages, use Google Translate which you can download when you have WiFi or learn a few basic words like vino tinto, café con leche and donde está . . .And then use sign language and role play for the rest.
2/ It can get very cold at night even in spring and autumn. Even in summer the temperatures really drop at night.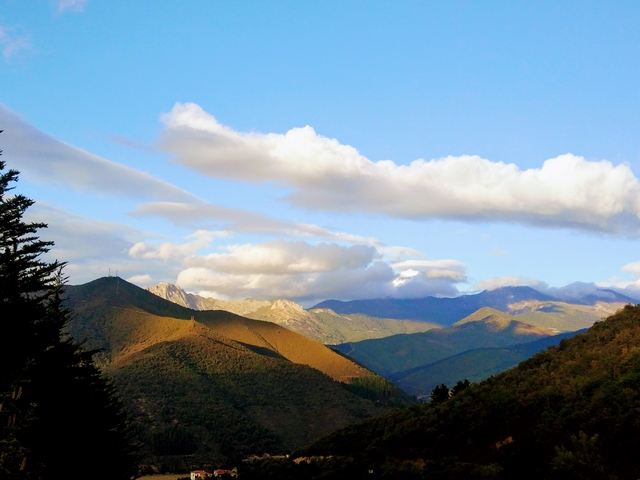 3/ Police check the touristy areas even in the early hours of the morning so will issue you a fine. Make sure that you do not park where there are signs saying no overnight parking.
4/ Know where the fuel stations are. Use Google Maps but do not rely solely on this as some are marked as selling fuel, yet are just mechanical garages.
So there you have it. Everything you need to know about camping and moterhoming in the Picos de Europa in northern Spain including driving routes.  Do you think this is somewhere you would like to do?  What do you think about staying in

camper vans

 rather than hotels? Comment below. And don't forget you can subscribe to my blog (It's free) for fortnight updates on my travels straight into your inbox.
 Just a note to say:
Have you noticed I do not have intrusive adverts on my page making the site run slow for you, or that interrupt your reading. This is because I want to make your reading experience as pleasant as possible. Writing blog posts isn't as easy as it looks. I spend a long time making sure I give you correct information about places, edit the posts so they read well and then add the edited photos I have taken or add the google maps location. I do this as I love to travel and love helping other people to travel. If you enjoyed what you have read then there are other ways you can support me as a travel blogger other than putting up with annoying adverts:
You could buy me a coffee
Use the links on my sources page which are affiliates.
– Head over to Amazon to buy some products using this link .
– Looking for website hosting? Take a look at Bluehost using this link.
– Need to book some accommodation then check out Booking.com and Skyscanner for flights, check them out using this link.
Thank you for your support.