Beautiful Noja in northern Spain gets a massive thumbs up from me. With its long sandy beaches, spectacular rocks jutting out of the sea and historic places there is so much to do and see. Encircled by green hills which are irresistible to climb I spent my days swimming in the sea and hiking. But there is more to Noja than what a lot of people come for, the beach. This is why I have decided to write this tourist guide of things to do in Noja, Spain and guess what! They are all free!
I so enjoyed Noja, that following visiting Noja as a day trip from Santander, I decided to stay a couple of nights there in my camping car which I was travelling around Europe in. At night you will find many campers parked up in the carpark and track that runs alongside Tregandin Beach.
Free things to do in Noja, Spain No. 1: Visit the beaches
Like I have already said, Noja is really popular for its beautiful beaches. It has two main beaches, Playa de Tregandin and Playa de Ris.
Playa de Tregandin
The Playa de Tregandin is a 6 km stretch of fine golden sand and is one of the longest in Cantabria. It is located down the hill from the church of San Pedro. It is one of the quietest beaches in Cantabria which is why it has a section where you are allowed to be nude. At low tide a rock formation is uncovered which juts out of the sea.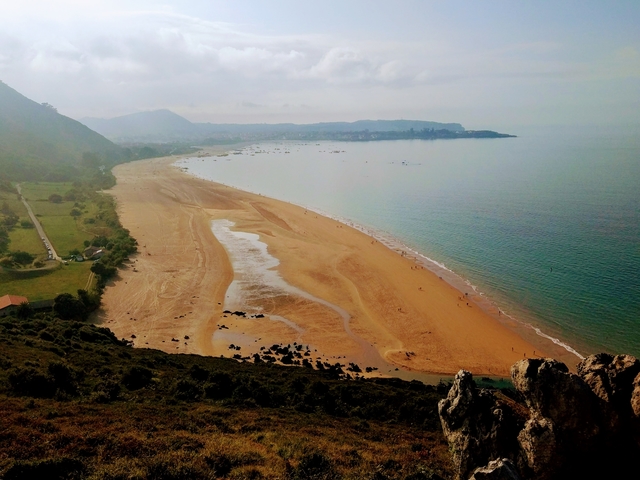 Lots of pools are uncovered meaning it is great for exploring rock pools. But remember this is the creatures' home, so please look, not touch. The crystal clear waters of Noja makes this a great place to snorkel and scuba dive. Playa de Tregandin also has long stretches of shallow waters which also make this a great, safe place for swimming.
Playa de Ris
Playa de Ris is a clean family-friendly beach which is known for water sports such as surfing, SUP and canoeing. It is a 4 km long golden sand beach that can get rather busy in the popular months especially on weekends. However it is watched by lifeguards.
Like Playa de Tregandin, Playa de Ris has many rock pools and is great for swimming due to its shallow waters. From Playa de Ris, at low tide you can walk across to Isla San Pedro which I will talk about more in No. 2
Free things to do in Noja, Spain No. 2: Beat the tide at Isla San Pedro
Just off the Playa de Riz, you can get to the Isla San Pedro which is home to the hermitage of San Pedro, the highest point of Noja. This beautiful chapel is difficult to reach other than crossing at low tide due to it being very overgrown but this makes it even more fascinating. There is a legend that the image of San Pedro was kept in the chapel and brought to Noja town church for prayers. The day that this did not happen, there was a huge wave that crashed over the town.
Free things to do in Noja, Spain No. 3: Feed the fish
Both the beaches mentioned on No.1 are a great place to feed the fish but I do recommend Playa de Tregandin more as it is a lot quieter. As I waded into the water, it was amazing how many fish were around. Take your leftover bread from breakfast and feed the fish.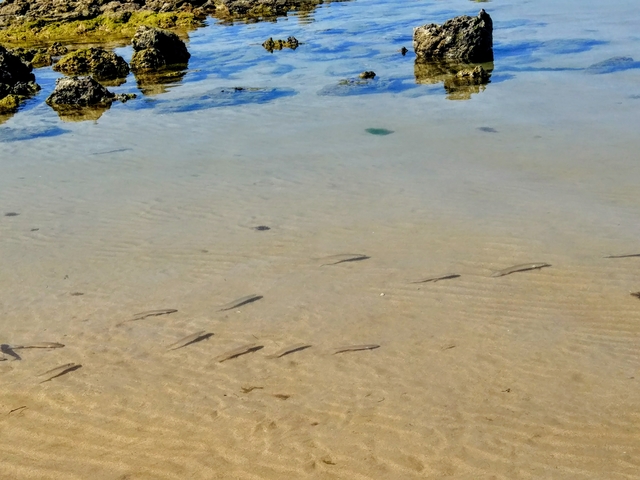 Free things to do in Noja, Spain No. 4: Walk along the coastline.
The well marked Ruta de la Costa runs from Noja town, along the coastline. This is a great walk to take to see the waves crashing dramatically against the rocks. At one point you wander through a forest area and there is a route off that leads you to some ruins. You can follow this 2.5 km path the whole way to Playa de Ris.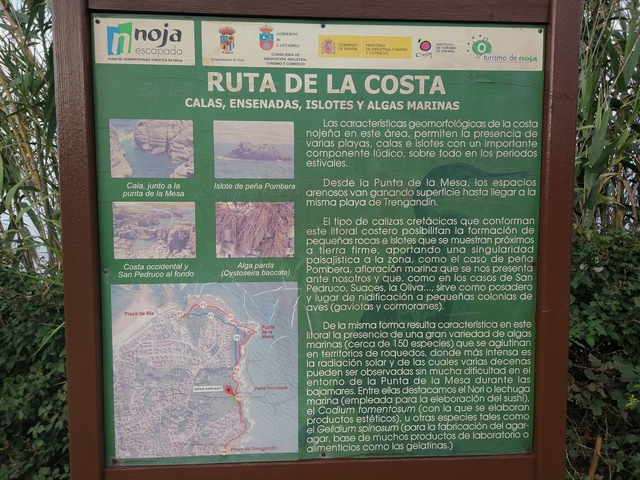 Free things to do in Noja, Spain No. 5: Climb to the viewpoint next to Playa de Tregandin
At the far end of Playa de Tregandin there is a clifftop viewpoint that gives you views over Playa de Tregandin and the beach the other side.
The footpath which takes you up here starts at the back of the beach and is well sign posted. It is a nice short walk to the top of the hill and is well worth it. Good shoes are necessary and some water.
Free things to do in Noja, Spain No. 6: Watch the sunset
The sunset from both beaches are spectacular especially if it is timed with low tide and the rock formations are on full display. An alternative really beautiful place to watch it is from the top of the hillside overlooking Playa de Tregandin as mentioned in No. 5 but make sure you get down pretty quick after the sunset or else you will be walking down in the dark.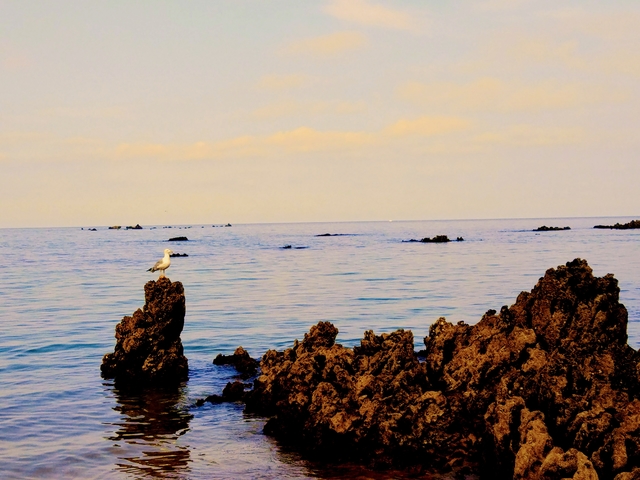 Free things to do in Noja, Spain No. 7: Walk part of the Camino de Santiago
The Camino de Santiago (the Way of St. James) is a network of ancient pilgrim routes stretching across Europe, all meeting at the tomb of St. James in Santiago de Compostela in north-west Spain.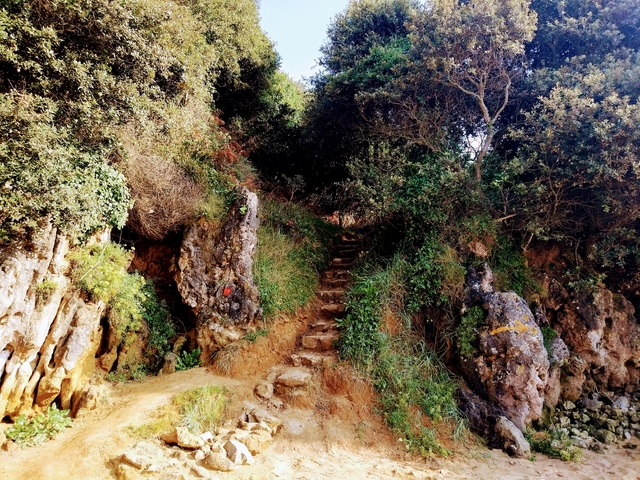 The route between Laredo and Güemes passes through Noja, so it is easy to walk part of this route for as long as you want. Look out for the scallop shell symbols and the yellow arrows that mark the route. The scallop shell looks more like a half sun to me. If you are climbing to the viewpoint over Playa de Tregandin you will see the scallop shell symbols.
Free things to do in Noja, Spain No. 8: Explore the nature reserves around Noja
There is a large area of wetland around Noja which is home to many species such as ducks, gulls and cranes. Head over to Reserva Natural de las Marismas de Santoña y Noja for a bit of bird watching in the long grass and lagoons or explore the old tide mills. If you are any type of nature lover, you won't be disappointed.
Free things to do in Noja, Spain No. 9: Wander around Noja town.
Noja is home to many traditional stone houses, medieval bridges and chapels. Take the time to explore the area and visit the market on a Wednesday which is in Noja town square.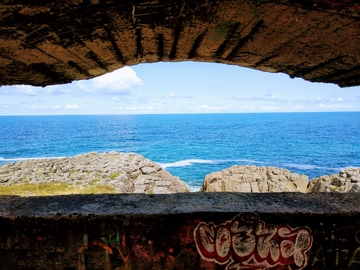 Pro Tip : While you enjoy the mesmerizing essence of coffee sitting at one of the café in Noja if work interrupts? Connect to the free & fast Wi-Fi and get an instant remote access to your online private work space with cloud hosted citrix vdi with remote access to windows applications from anywhere on any device(PC/android/iOS) powered by one of the leading providers of Hosted QuickBooks Cloud and Enterprise E1 – Apps4Rent.
Free things to do in Noja, Spain No. 10: Build a sandcastle
With all this golden sand in Noja, why not build a sandcastle! One really nice place to sit and do this is a small lagoon at the far end of Playa de Tregandin. Here even in Autumn the water is still warm enough to swim in when heated by the sun.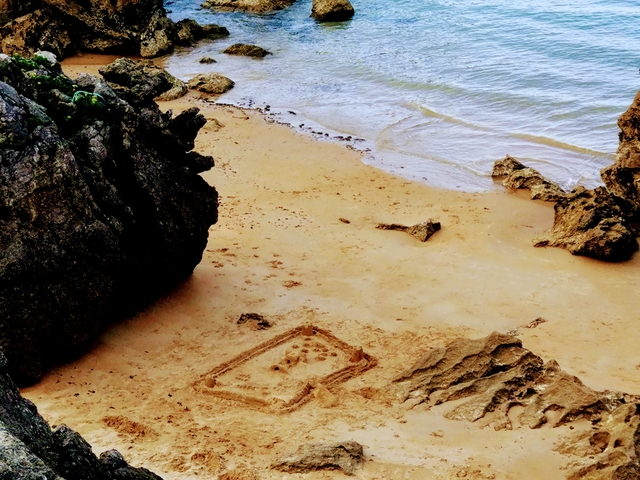 Bonus free things to do in Noja, Spain No. 11: Visit the nuns
Convento de Sta Maria de la Merced is a small convent with 9 resident nuns. These nuns bake yummy cakes and pastries. I have put this one as the bonus tip as you will be tempted to spend a small amount of money on these delicious treats which are very popular amongst the locals. Set up 20 years ago by the nuns, they are really well known in the area.
When to go:
If you want to avoid the crowds then I would avoid Noja on the weekends in the summer months as people from the local area head to the beaches and the bars here. The weather is lovely between June and mid September but it is still nice to visit during the autumn and winter if you are going for reasons other than for the sun and beach.
Why Noja is a perfect day trip from Santander and Bilbao.
As Noja lies on the coast between Santander and Bilbao, it is a perfect day trip from either major city. Away from the summer public holidays and the weekends, Noja will give you the sense of a typical Spanish town as well as plenty of things to do shown above.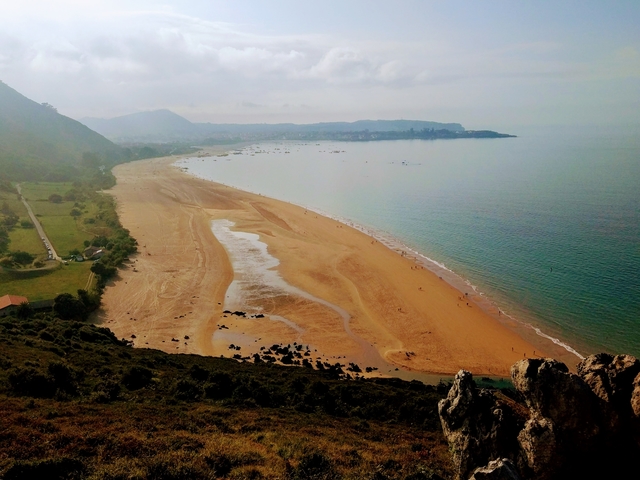 How to get there;
The two closest major cities are Santander and Bilbao.
By Car
Noja is close to the A8 Santander-Bilbao motorway. It takes approx 40 mins from Santander and under an hour from Bilbao. Exit the motorway at the Gama exit, follow the N634 to Gama, and then take the CA148 towards Argoños. Here you need to take the CA141 and look out for signs to Noja.
From Somo in Santander you can take the CA141 straight to Noja.
There is plenty of free road parking in Noja, but when the summer holidays and weekends come the area can get a little bit busy. Take advantage of the free carpark at Playa de Tregandin.
By Bus
Santoña and Laredo are well connected to Noja with approx 15 buses a day. There are also around 5 buses to Santander, and 4 buses to Bilbao per day.
By Plane
There are airports in both Santander and Bilbao. However there are no direct buses from each airport to Noja so first you will have to go to the city in question's central bus station.
Where to stay in Noja, Spain.
It depends what you are looking for from your trip but you may want to stay in Santander or Bilbao and take a day trip to Noja. However if you are looking to stay in Noja itself then here are a few options that will cover all budgets.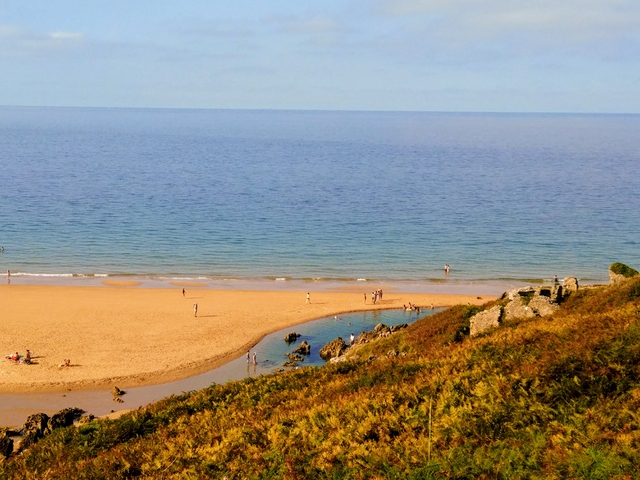 Budget:
Don't forget to take a look on CouchSurfing in plenty of time before your trip and see if there is someone who is willing to host you. Safety is of importance so check out my post on how to stay safe whilst Couchsurfing.
Airbnb is great for finding places to stay on all budgets. You can either rent a room in a shared house or find an apartment to yourself. Don't forget to use my link to get money off your first Airbnb stay.
A good budget option for Noja is Hotel Maria del Mar. It has good reviews and is a great options for solo travellers. It is just a 5 minute walk from Playa de Tregandin and has a buffet breakfast.
Mid range:
Again check out Airbnb where you can pick up a beautiful apartment for not too much damage to your purse strings. Alternatively check out Hotel Marítimo Ris which has a hot tub and sauna and has great reviews.
Luxury:
For those who are looking for something a little bit extra special, I suggest the Loft Suitte Costa Noja. With a superb location, this is a place not to forget.
So there you have it, my tourist guide for things to do in Noja in Spain and everything else you need to know about visiting Noja. Would you like to visit Noja? What from the list of things to do, would you want to do? Comment below.  Make sure you check out my other 10 free things to do posts  and don't forget you can subscribe to my blog (It's free!) to keep updated each fortnight with what I am doing and for more posts like this one.
Just a note to say:
Have you noticed I do not have intrusive adverts on my page making the site run slow for you, or that interrupt your reading. This is because I want to make your reading experience as pleasant as possible. Writing blog posts isn't as easy as it looks. I spend a long time making sure I give you correct information about places, edit the posts so they read well and then add the edited photos I have taken or add the google maps location. I do this as I love to travel and love helping other people to travel. If you enjoyed what you have read then there are other ways you can support me as a travel blogger other than putting up with annoying adverts:
You could buy me a coffee
Use the links on my sources page which are affiliates.
– Head over to Amazon to buy some products using this link .
– Looking for website hosting? Take a look at Bluehost using this link.
– Need to book some accommodation then check out Booking.com and Skyscanner for flights, check them out using this link.
Thank you for your support.