My hair is like a birds nest on top of my head. The words are whisked away from my mouth before I even realise I have spoken. But the sun still beats down on me making the wind that's whipping my skin seem not so bad. It's late September and I am walking the boardwalk between Vila Nova de Gaia and Espinho in North Portugal and I can see why this area is popular with kite surfers.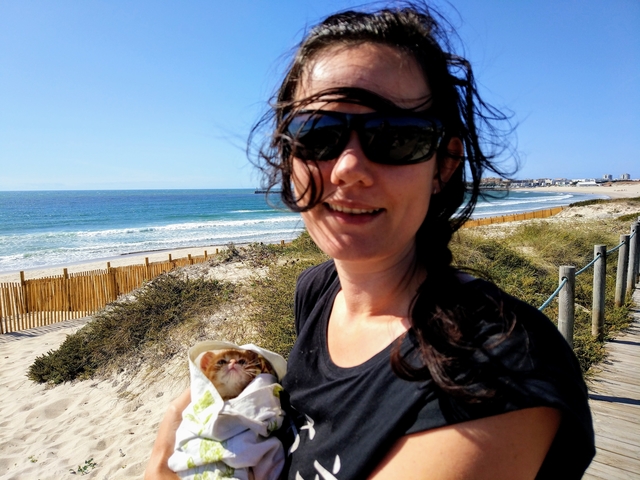 I ended up coming across the boardwalk between Espinho and Gaia by mistake. I am travelling around Western Europe in my camping car and have a little rescue kitten, Tigger wrapped up in a blanket. I stop sometimes, to allow him to play between the sand dunes as we walk. Today we have travelled from the northern beaches along the coastline as a few nights ago I had to stay in Braga for a couple of nights as Tigger needed veterinary treatment. Now we are slowly heading down towards Lisbon to where Tigger will go to his new home. I guess my break at Vila Nova de Gaia is a way to drag my heels. Tigger still has a long way to recovery, and I have become very attached to my new travel buddy.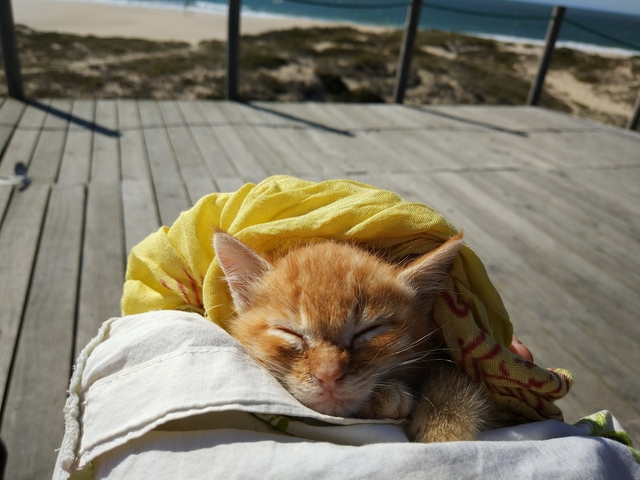 The start of the boardwalk is on the northern beach of Espinho and takes you the 14 miles (23 km) to Vila Nova de Gaia along the entire coastline. From here it is easy to get back into Porto. It is a well-kept boardwalk and one that gives you amazing views of the pristine blue flag beaches along the northern coastline of Portugal. I highly recommend that you stop at the enchanting Chapel of the Lord of the Stone (Capela do Senhor da Pedra) in Miramar, a beautiful little chapel on the rocks.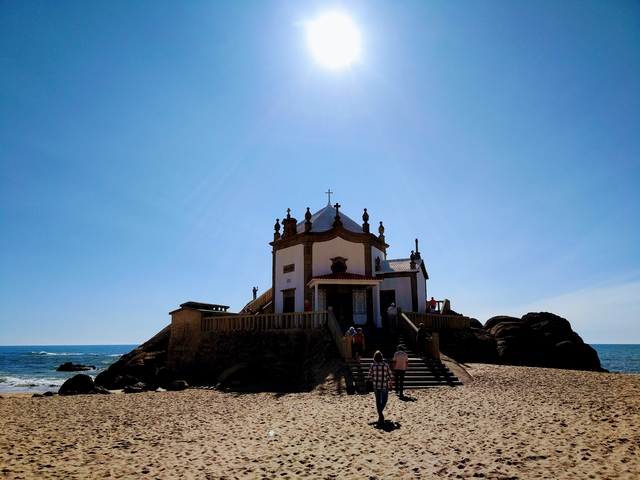 Another eye-catching thing I saw when walking the Boardwalk were the colourful fishing boats hauled up on the beach. These are Espinho's small fishing fleet and make for a beautiful photo.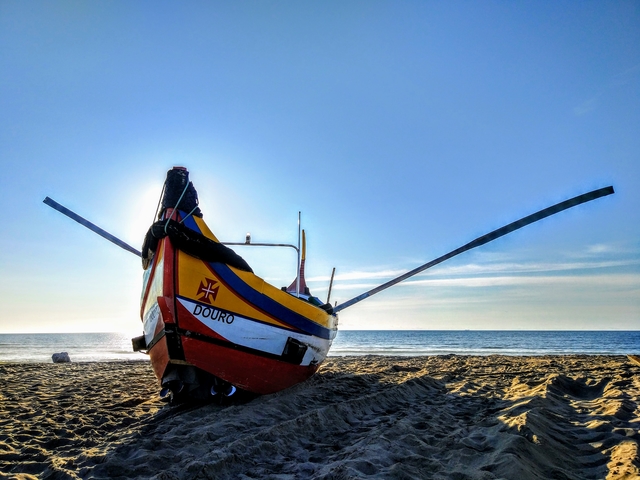 Tips for walking the boardwalk between Vila Nova de Gaia and Espinho:
1/ The powerful Atlantic Ocean can produce high winds as I experienced on the day I took the boardwalk. Make sure you wrap up well but have sun protection too as sometimes you do not realise how fast you are burning with a wind.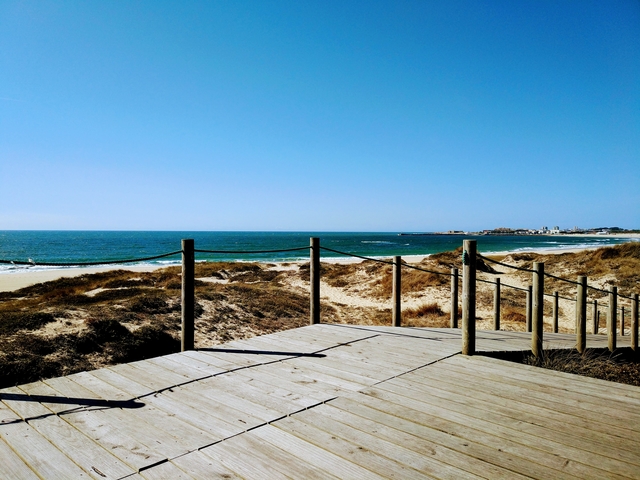 2/ Make sure you take enough water. There are quite a lot of places to stop on the route where you can buy drinks but I made sure that I had plenty of water to take with me.
Other things to do when walking the Boardwalk:
1/ Espinho beach is great to surf on. Surfboards and the essential wetsuits can be hired for €15 for two hours. During the summer season, the beach is supervised by lifeguards and surfing is only permitted between the designated flags.
2/ The beach faces a westerly direction and if you are thinking of swimming, be aware of the strong currents. Additionally, the water is surprisingly cold even in the middle of summer as it is the Atlantic Ocean.
3/ If you want to spend the day on Espinho beach then parasols and sun loungers can be hired and cost €10 for the day.
4/ Espinho is well known for its fish. They have an open-air fish market each morning until approx 9 am where the local fishermen wives sell their fresh catch.
5/ Every Monday, the largest market in north Portugal, Feira de Espinho market is held. Anything and everything is sold here from local fruit and vegetables to handicrafts. It is hard to miss as it covers three blocks of Espinho.
How to get to the boardwalk between Vila Nova de Gaia and Espinho:
Espinho is just 20 kms south of Porto and the main train line connects the two. Take the train that goes to south Aveiro from the São Bento train station in central Porto and get off at Espinho. A return ticket costs €3.90 and the journey time is 30-40 minutes
Between Vila Nova de Gaia and Espinho
Catch the train for the 15 kms between the two towns which takes approx 15 minutes.
Would you like to take a stroll along the boardwalk between Vila Nova de Gaia and Espinho?  Is there anything that catches your eye from the things to do there? Comment below. Make sure you check out my other posts from the time I spent in Portugal and don't forget you can subscribe to my blog (It's free!) to keep updated each fortnight with what I am doing and for more posts like this one.