Are you currently planning your own South Korean travel? Perhaps you want to see the highlights of South Korea but do not want to do the research? In this post, I am going to tell you the route I went and why you should go to these places.
This is my final post of South Korea which will tell you my highlights of this beautiful country.
My 3 weeks of South Korean travel started in Seoul, the capital city of South Korea where I spent a week. This was plenty for me but some people like to spend longer in Seoul. I spent this week doing things which got me closer to the locals. It was one of the best ways to kick off my South Korean travel.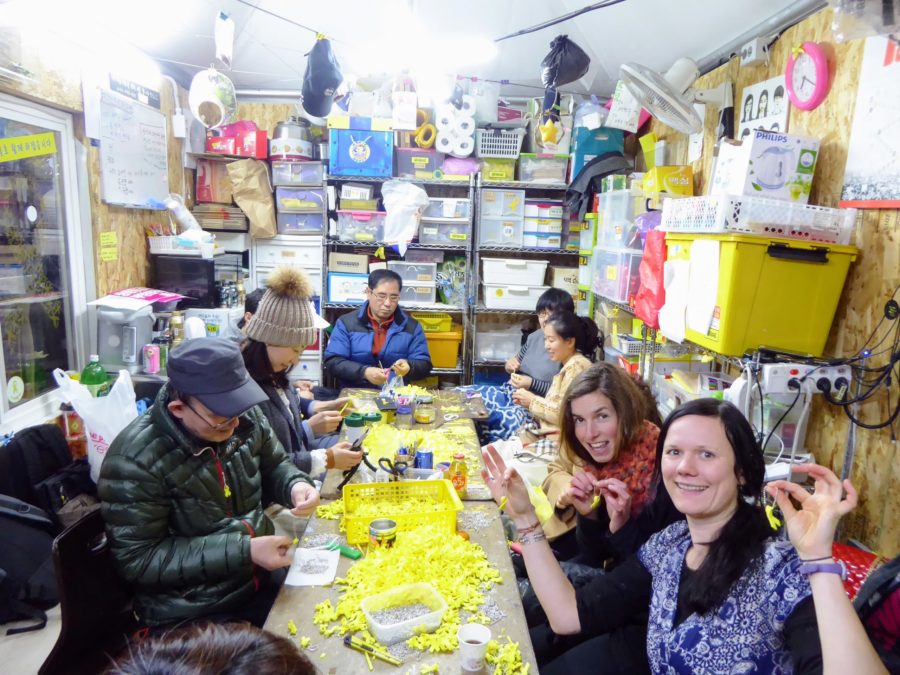 One of the highlights of my South Korean travel was spending time at the Templestay Information Centre in Gwanhun-dong region in Seoul. Here I learned about the Buddhist Monk tea ceremony and learned how to make a lotus flower out of paper. The lady there, Yeonok Lee is so friendly and can give you so much information about the area. You can read about my time getting cultural crafty at the in Seoul HERE.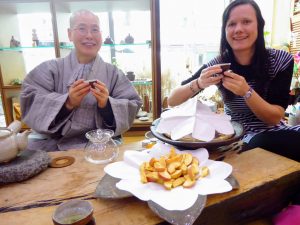 Whilst talking to a friend of mine, Haley who is an expat in Seoul, I was shocked to find out about the use of comfort women in World War II. To reduce the risk of Japanese soldiers raping local women, they were provided with 'comfort women' who provided sexual services. Most of these women  were lured by advertisements offering them other work or were taken against their will. Approx 75% of women died and a lot of survivors were left infertile. Females who refused to provide services were executed.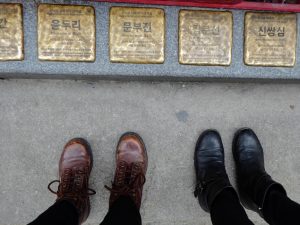 Haley also told me about the House of Sharing  where the surviving women now live. Although I did not get to visit their home which is now an education centre, I did learn about the demonstration which is held every Wednesday outside the Japanese Embassy. Here they ask to be acknowledged in Japanese history books but more importantly ask for a proper apology from the Japanese for the torture they endured. You can read more about my experience at the protest, more about the comfort women and most importantly about how you can join in with the demonstration HERE.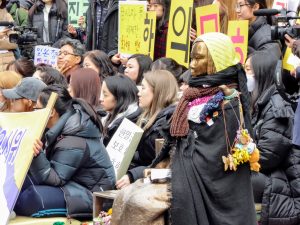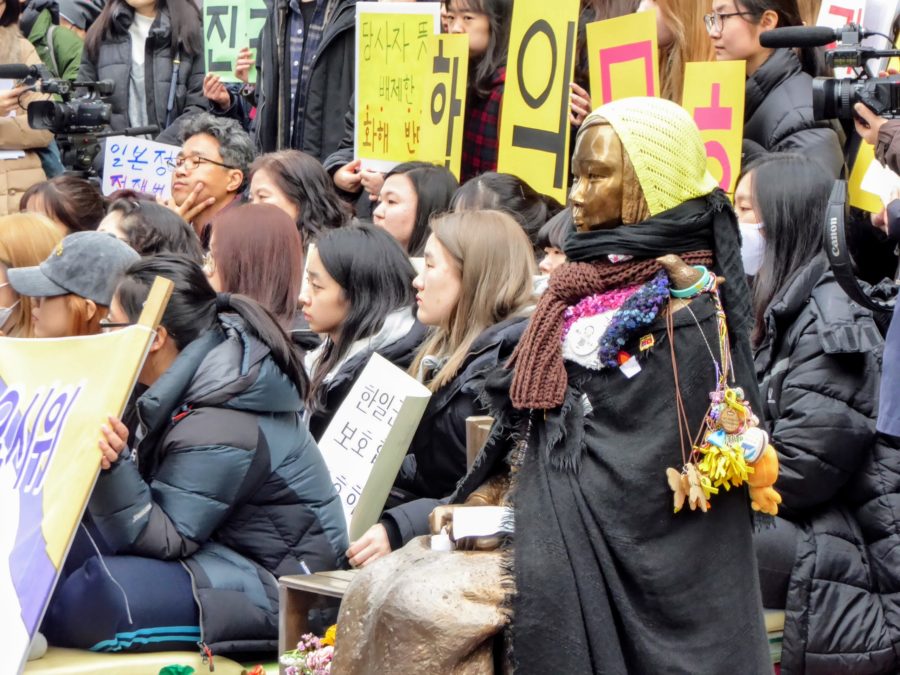 Seoul is full of lovely urban parks which you can walk, run or relax in. However one of my enjoyable walks was down the Cheonggyecheon Stream. Hidden from the city due to it being metres below street level this was a scenic 10.9 km (7.0 miles) walk both by day and by night. The amount of wildlife I saw was amazing. The depth of the stream means it is hidden from the hustle and bustle of the city life of Seoul. By night the whole area is lit up making it a great place to walk and enjoy each bridge which is lit up.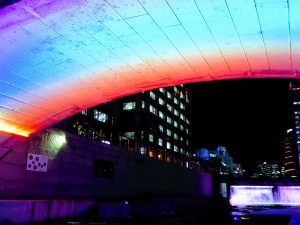 A great day trip and a must see is the DMZ tour to the border of North and South Korea. This is so interesting. If you go with the company I went with you get to meet a North Korean Defector and ask them questions. The highlight of the tour was stepping into the Joint Security Area under the watchful eye of the United Nations Command and the Republic of Korea Army. Here I stood over the agreed line of the divide of North and South Korea.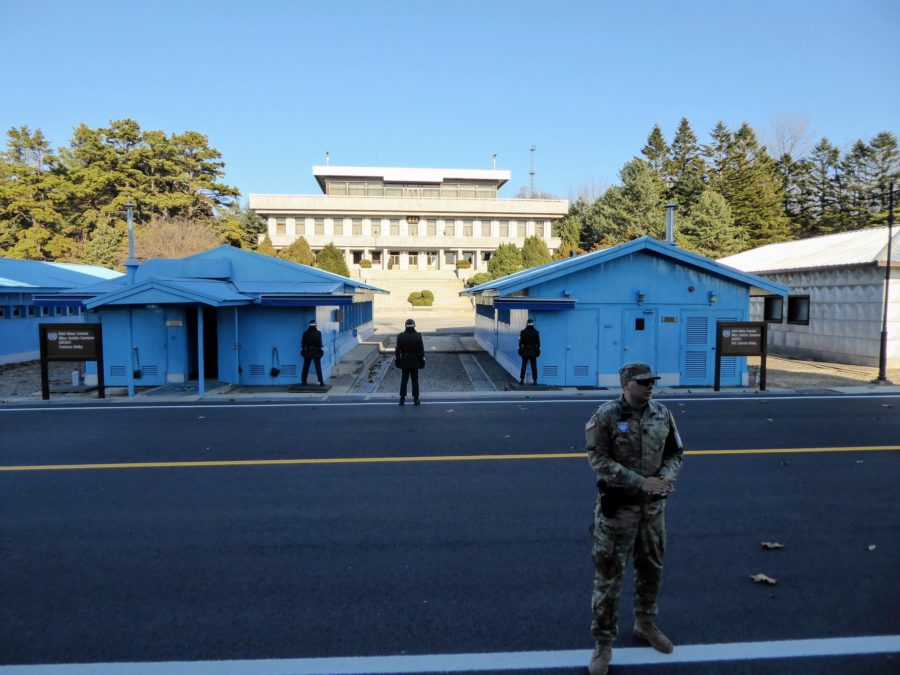 You can read all about this exciting day trip from Seoul and about which company I went with HERE.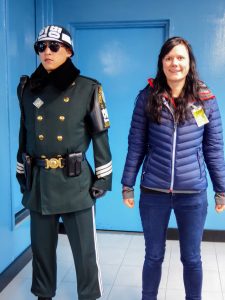 When I was in Seoul, the whole of South Korea were protesting about their president, Park Geun-hye. This was due to growing frustration about the President following a number of incidents, a major one of which is the sinking of the Sewell Ferry killing over 300 people, mostly children on a school trip.

I was there for the sixth Saturday when they protested and witnessed approx. 1.7 million people coming to Seoul to make their voices heard. I was there on the streets of Seoul to witness this and you can read all about it in my post HERE.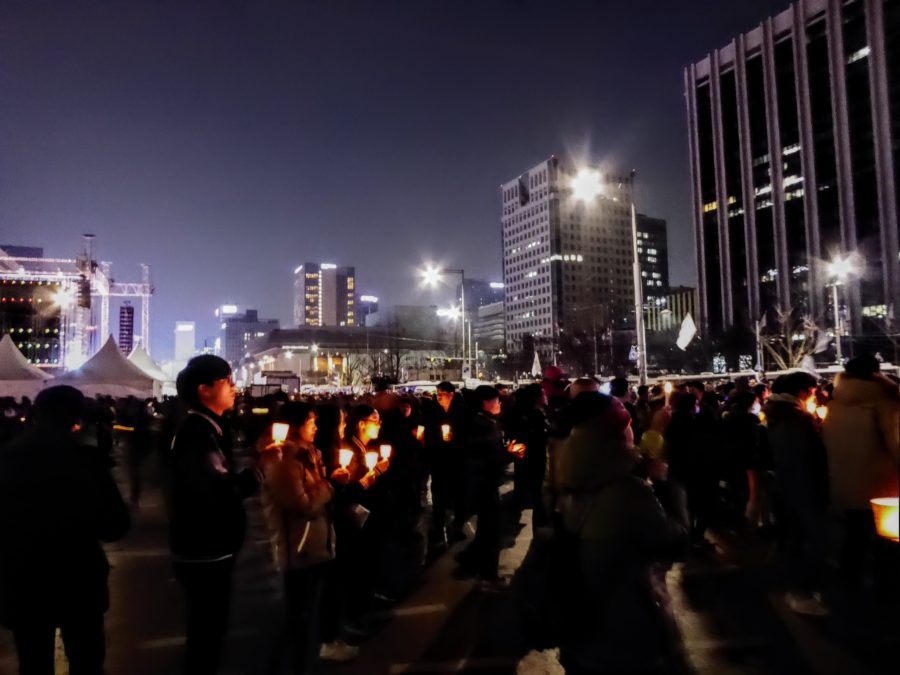 This protest was peaceful and the people of South Korea had their voices heard with a tsunami of candles and without any violence. This is the video which I recorded that night:
There are many places to stay in Seoul. I stayed in Sinchon area at WS Hotel Sinchon
. This was cheap but very basic. I paid for what I got and it was adequate for me. The guys behind the desk were friendly, it's close to the metro and it came with all bathroom amenities  that you require.
Seoul is easy to navigate via their metro system and is so cheap. It is easier to buy a prepaid card from most corner shops and keep it topped up. The buses in Seoul are very confusing though and I wouldn't recommend them purely due to this fact.
After Seoul, it was pretty easy to move on by bus. Just head to Dong Deoul Bus terminal and a bus leaves every 30 minutes. The long distance buses are really spacious and comfortable in South Korea. It was 2.5 hours hours from Seoul to Sokcho which I used as a base to see Seoraksan National Park.

Sokcho is situated on the north east coast of South Korea. It has both the mountains and the sea making it a popular tourist destination. It is a large fishing town and has a massive fish market. In fact everywhere you turn there is fish.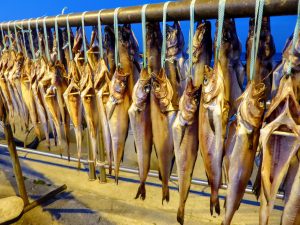 Taking the number 7 or 7-1 bus from town, it was an easy ride to the Cheonbuldong valley area of Seoraksan National Park which is the last stop. I spent all day hiking here with plenty of well marked paths – you could actually spend more than one day hiking. You can read all about the route I took up to Ulsanbawi rock HERE.
There are 3 main hiking areas of Seoraksan National Park to go to from  Sokcho making it a really nice base for hiking.
I stayed in the Egg House Sokcho Guesthouse
which I can highly recommend. With competitive prices, comfortable rooms and a free breakfast to start your day, I would not hesitate to stay there again.
I left Sokcho and decided to hitch hike my way down the East coast of South Korea to Gyeongju. This was a massive task considering as the crow flies, it is 267 Kms. I had such a wonderful experience doing this which you can read about, and my tips for hitchhiking in South Korea HERE. People were so kind to us, sharing their food and trying to help us as much as possible. We successfully did this over two days.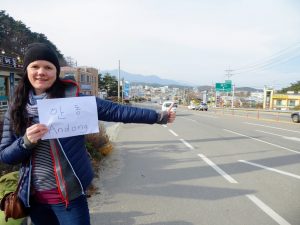 In Gyeongju, we stayed at a great CouchSurfers and used it as a base to chill-out and make a plan. I spent my time in Gyeongju wandering around the hundreds of tombs and tumulis and hiking just outside the city.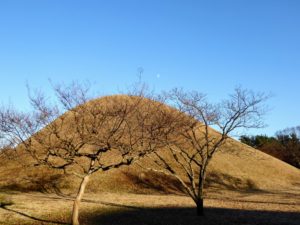 Next stop in my South Korean travel was Busan, my final destination in South Korea. As the second largest city in South Korea it has a lot to offer both by day and by night. My highlight here was Gamcheon Cultural Village. During the Korean war Gamcheon was a place for refugees. More recently due to an injection of colour and art, it has received a cultural excellence award.
Another highlight of my South Korean travel was Gwangan Bridge, which looks amazing when lit up by night and has spectacular nightly light shows.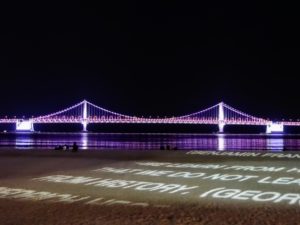 With the temperature dropping to -2 degree C I decided to leave South Korea for warmer climates. I really enjoyed my South Korean travel, especially the people I met whom I talk about HERE. The people of South Korea are so friendly, giving and gentle. I would not hesitate to go back there and explore the west coast.
Have you been to South Korea? Where would you recommend? Any plans to pursue South Korean travel in the future? Please comment below. Check out some of my other posts about South Korea HERE. Don't forget to subscribe (It's free!) to my blog for more  posts like this and interesting travel tips.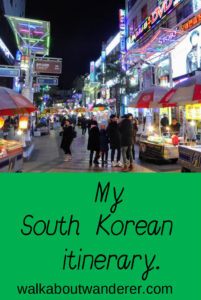 Disclaimer: This post contains affiliated links. If you book through my link, I get a small commission at no extra cost to you. This helps pay for the running costs of this blog and costs you nothing. I only recommend products and places which I believe in and have tried myself.